Steer your career in the right direction
Build a career that suits your lifestyle, in a company where your voice matters. Let's build a sustainable world together.
Working at Netguru means flexibility, trust and meaningful choices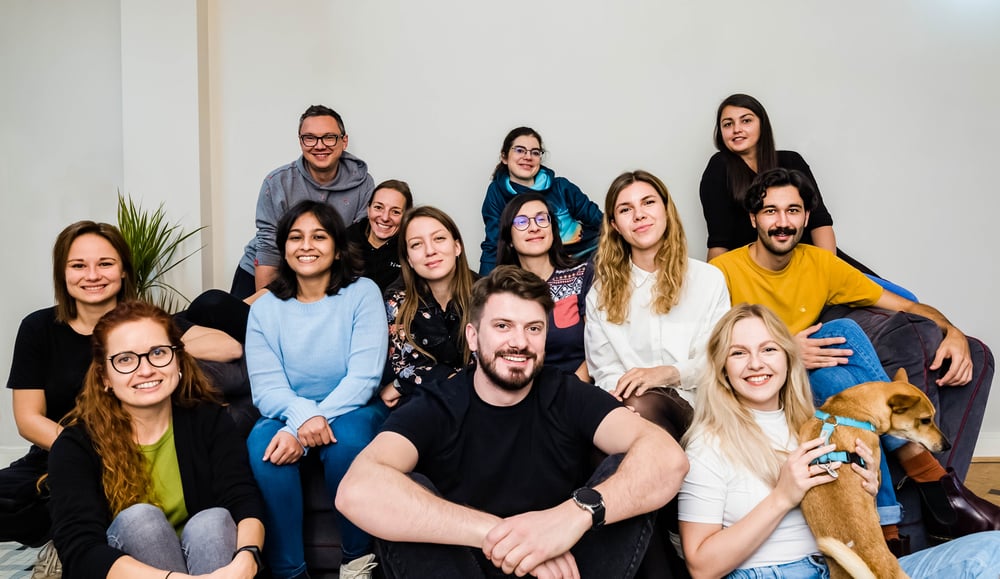 Netguru's Core Values
These values reflect what's important to the entire company. They guide our efforts, define our culture, shape the way we approach software development, and change alongside us as we aim for more and more ambitious goals. Initiatives such as Live Books, the Burning Minds conference, regularly scheduled feedback, and Netguru Hero & Super Heroes, are examples of how our values affect daily life at Netguru.
Download Culture Book
Exceed clients' and colleagues' expectations

Take ownership and question the status quo in a constructive manner

Be brave, curious and experiment – learn from all successes and failures

Act in a way that makes all of us proud

Build an inclusive, transparent and socially responsible culture

Be ambitious and grow yourself and the people around you

Recognize excellence and engagement
It's all about people. Let's hear them out.
We're building work environments in which we feel good – supported and safe. Because of our awareness of other people's needs, of information exchange through the internet, we can practice more empathy.

Working in an inclusive environment that allows you to grow makes all the difference. And knowing that the company has great values and is not afraid to stand up for them makes me feel very proud of the culture we created.

As an IT professional, I always strive towards being a part of a team with strong individuals and personalities. With Netguru, the people are meeting those expectations, and more! With a strong-minded and dedicated person managing communication and project organization, it makes it easier for me to analyze the technical nature of the business model and in the end produce more quality results. If you care about working in a professional environment and with motivated people, Netguru is the place for it.

Why is Netguru way different? Because they care, it's as simple as that. I knew where I was heading from the very first day of my recruitment process. My first weeks at Netguru were no different – the onboarding process went smooth and I felt at home. I was even assigned a dedicated mentor whose role was to support me throughout my first weeks. Being a Project Manager at Netguru means being friends with a whole bunch of experienced people who are willing to help and share their knowledge.

Working with Netguru gives me a solid base for constantly growing, something I missed working as a freelancer. I am really impressed by the high standard of their management, their professionalism, the way they are pushing their ideas, and their level of care. There is a cozy atmosphere here. Most of the projects start from the ground up, so I can bring my thoughts and ideas. The most important thing for me is that I feel myself as part of something great, and it's all thanks to the people.

At Netguru, every team member is eager to show appreciation and give recognition to the people who they collaborate with whenever they do an awesome job. I believe it is thanks to the culture of continuous feedback and open communication – we all feel responsible for it.
Perks & Benefits
Learn more about the perks & benefits we offer.
Remote work

Flexible hours

The best equipment

Worksmile platform

Private health insurance

Mental health support

Life insurance

Fast-paced career path

Leader's support & mentoring

Internal initiatives

Discounts on Apple products
We want to create a workspace that will make you proud
At Netguru, we work hard to create a welcoming space for the team, and we're happy to share the results.
2021 IT Community Survey by Bulldogjob

2021 Netguru "Great Place to Work®" Certified

2021 Employer Branding Excellence Awards

2021 Employer Branding Excellence Awards
What you wanted to know about working with us – FAQ
All your frequently asked questions about working at Netguru answered
What are the possible forms of cooperation with Netguru?

It depends on the position you're applying for – you can check that in the top right corner of each job offer. We offer permanent contracts of employment or full time contractor (B2B) options; for some positions you also have the possibility to work part time as a freelancer.
What does the recruitment process look like?

Below, you will find the basic stages of the recruitment process. Please note that depending on the team, there may be slight differences, but generally speaking, here's what's going to happen:


Send your application



Once you click the "apply" button on our careers page and fill the questionnaire. We recommend you upload your CV in English as the majority of the recruitment process is conducted in this language.

If you're a developer, paste a link to your Github or Bitbucket profile - we will be able to check your code before moving forward with the next steps. If your application meets our requirements, you'll be invited to the next stage.



Recruitment tasks


During the recruitment process, we would like to get to know your skills and thinking in practice as much as possible - that's why we encourage you to do the assignment that is strongly connected with the tasks performed on a daily basis.
You will have a chance to show us your best self. As much as your resume and experience matter, we care about your attitude and skillset a lot! The deadline for sending us the tasks is usually up to 5 days (but you can get more time if needed), depending on complexity. The task should take you an average 3-5 working days to complete. We'll be in touch for the whole time.
Please, keep in mind that you are doing work solely for the purposes of the recruitment process. We guarantee that the content of the task will not be used commercially.

For non-tech positions, where we require an advanced level of English speaking skills (C1/C1+), we often conduct a short online language audit at this stage. The conversation led by our auditor aims at checking your level of proficiency in English, after which you will receive full feedback from us in regards to your vocabulary, grammar, flow, and pronunciation.

The interview

After we have checked all your tasks, we send interview invitations to candidates who rocked with their answers. The interview is usually conducted online via Google Hangouts by one person from the Recruitment Team and one person from the team you're applying to join.

This part of the recruitment process will focus more on your suitability for the role - your experience, skills, and attitude, as well as your motivation and aspirations.
What we care about most is simply to get to know you better, and thus we would appreciate your honesty & openness.

The final meeting

During the final meeting, you will have a chance to meet your potential leader. We will delve deeper into the answers from the previous stages and focus on your career goals, experience, and motivation. We will provide you the space to clarify any doubts or questions that you may have.

Pair programming (for developers only)

Pair programming sessions are constructed in a way that allows you to show your best self while working on everyday tasks. We will expect you to code and share your screen so that we can understand your way of thinking. You are of course allowed to search for any information needed to complete the task – check the documentation, Google anything you need.
We conduct this whole meeting remotely, via Google Hangouts, so you can relax and sit comfortably on your own couch.

Job offer

If everything goes well at each of these 4 steps - you'll find a job offer in your mailbox very soon.
Will I be recruited for a specific project?

We're looking for long-term cooperation and at the same time we have job opportunities for freelancers.
Each projects are assigned by our PMO team when you're onboarded. You usually work on one project at once, and it's possible to change it after some time if you've been assigned to a very long one.
What does the deadline mean in the recruitment process?

This means that we will expect your solution within a certain period of time. Of course, if you need more time to prepare your answer, we can extend it, but the sooner the better. We want our recruitment process to be as smooth as possible, so we try to keep it within the timeframe.
I didn't get through the recruitment process the first time. Can I try again?

Sure! We encourage you to boost your skills and try again. If you didn't get the job you applied for - feel free to send your application for any other position that suits your requirements. In case you'd like to give the same position another try, we ask you to wait 6 months before your next attempt. Also remember that you can always ask for feedback.
Why is the recruitment process conducted in English and what does the language audit look like?

Over 90 percent of our clients are foreign companies, including most from such markets as the US, UK, Germany, and Switzerland. This is why, to ensure transparent communication and foster an inclusive culture, the basic language of Netguru is English. It's also why it's natural for us to check your language skills during the recruitment process.
During the language audit, we use the help of an external language auditor in processes where we require level C1 or higher. These are, for example, Business Development positions or Project Managers, where contact with the client is required on a daily basis. We care about a reliable assessment of a specialist who, after the audit, provides us, and then the candidate, with a detailed description of the audit results.
I went through the recruitment process and joined Netguru - what's next?

Once you accept our offer, the Community team will take care of your onboarding process which is 100% online nowadays.

Two weeks before the onboarding, you will receive additional info about the agenda. We will ask for your contact details and let you know exactly when you can expect the delivery of your laptop and contract.

Approximately a week before your first day, you will receive a signed contract via email and a courier will deliver your laptop along with a small surprise – your welcome pack. We will also send you an email to introduce you to your team, as well as your onboarding agenda. Everything to make sure that you can start your first day fully prepared :)

During the first day of onboarding, you will meet other people who are joining Netguru at the same time as you. Together, you will take part in presentations about the best practices of working at Netguru, our culture, benefits, and development opportunities. Our IT Ops team will help you configure your laptop and share a few tips on data security. You will also meet our CEO, who will give you some insight into Netguru's values and plans for the future.

You can find more information about the onboarding process here: What Does Online Onboarding Look Like at Netguru?

After the remote onboarding, you will meet your mentor as well as your leader. Together with the mentor, you will go through a further checklist where you'll learn about our processes and tools we use. After the onboarding, you'll probably start working in a client or internal project.
Can I work 100% remotely?

Majority of our job ads offer you the possibility to work 100% remotely and within flexible working hours. If there is a requirement to work partly from the office, then we write about it in the ad.

Remember that you can work however you feel is best for you, as long as you are able to join your meetings.
I would like to expand my expert knowledge, do you have any resources that could help me?

We highly value knowledge-sharing and take a lot of internal initiatives in order to give our colleagues the opportunity to learn new things and develop their expertise. We also believe that we should spread the word and give access to some of our "knowledge vaults" outside of our organisation. This is why you can easily find a lot of information and resources on our website. What exactly is available there for you?
How do you care for the self-development of employees?

At Netguru, we address employee development in quite complex ways - we want team members to evolve by fulfilling their day-to-day duties and tasks and using additional resources and activities.

You can rely on the regular support of your leader with whom you establish your development goals to combine your individual ambitions with Netguru's growth and objectives.
As Netguru cooperates with dozens of clients, including enterprises, you have a chance to work with different technologies and specialists from different areas of expertise.
You can also participate in internal projects driven by the Research and Development department.
Support for your growth – a head/manager's budget available to every employee.
The Netguru team can participate (as a speaker or an attendee) in internal webinars, conferences, workshops, and other initiatives. Employees can also represent Netguru at open events like Burning Minds, Netguru College or Netguru Disruption events.
What is the career path?

Each person working full time at Netguru has their own career path - defined and followed with the support of a leader. Official career paths exist to give people a framework and reference point for their development. However, Netguru also offers a second, less formalized development path that can be combined with the main path or separated at some stage. We are open to suggestions from our people about what they would like to do.


How did the company react to the pandemic, how did it affect employment?

In response to the pandemic, in March 2020 we have introduced a set of precautionary measures intended to keep our team members, clients, and partners safe. These included closing offices, suspending business travels, moving onboardings online (learn more in Netguru COVID-19 Policy Statement). This 24-hour shift to remote working wouldn't be possible without our 12+ years of being a remote-friendly company.
Netguru remains a stable company: we are constantly developing and taking on more and more new projects. We're also constantly looking for new people to join us.