From a Small Software Shop to a Global Agency in 10 Years. How Netguru Stayed True to Its Principles While Constantly Changing to Provide Cutting-Edge Solutions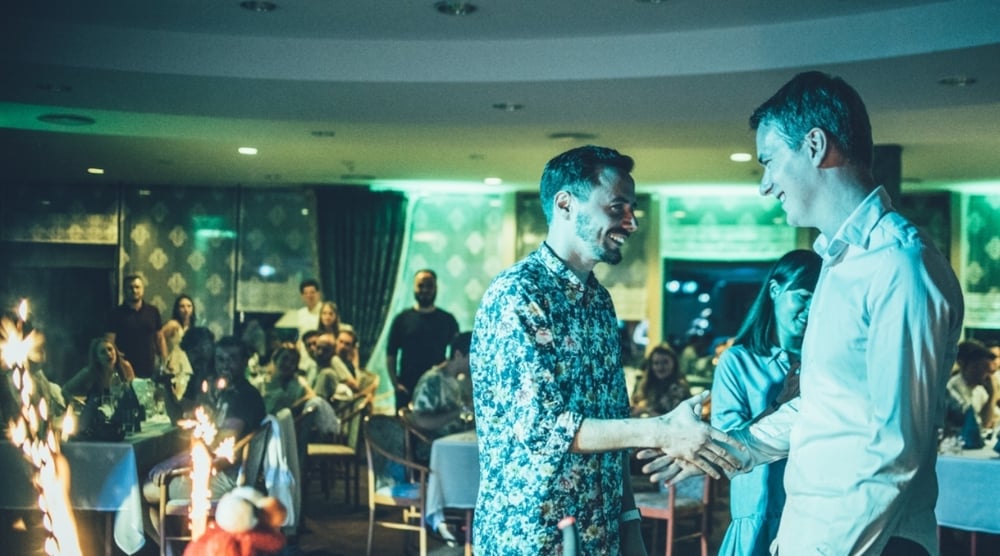 It looks so easy now. Netguru is growing at an accelerating pace (we will soon onboard our 500th employee), boosting its international footprint across banking, healthcare, retail, property, and travel industries. The growth is fuelled by trust from a whole bunch of customers - from startup founders to large corporations.
The journey of the founding trio of Netguru wasn't all roses. The road was bumpy, the direction unclear. At the time not many advisors bet in favor of the small software shop from Poznań. The software shop which dared to dream big about competing, on equal terms, with agencies from the UK, US or Germany. Paradoxically, this little credit motivated us even more to prove everybody wrong and to do it our way.
We stayed true to our principles from the birth of the company;

We were (and still are) constantly reinventing ourselves, thinking how and what to change to fulfil our goals, but always staying in line with these principles;

We have learnt how to unlearn, not sticking tightly to old solutions, even though they might have helped us get where we are. Which proves that we are agile and adaptable, and that no matter our size, we always act quickly. We add new technologies in a snap, and at the same time we forget or transform the old ones without regret.
And it worked. Over the last 10 years these three mantras opened the door to Netguru's success today. As the head of growth at Netguru, I may sound as the most biased, and, perhaps, the least trustworthy person to tell this story. But I may actually be the best one to do it. This is because I've had a chance to experience Netguru from both sides of the table: as a client and as the company's growth leader. I have known Netguru since its launch and watched it change with my own eyes.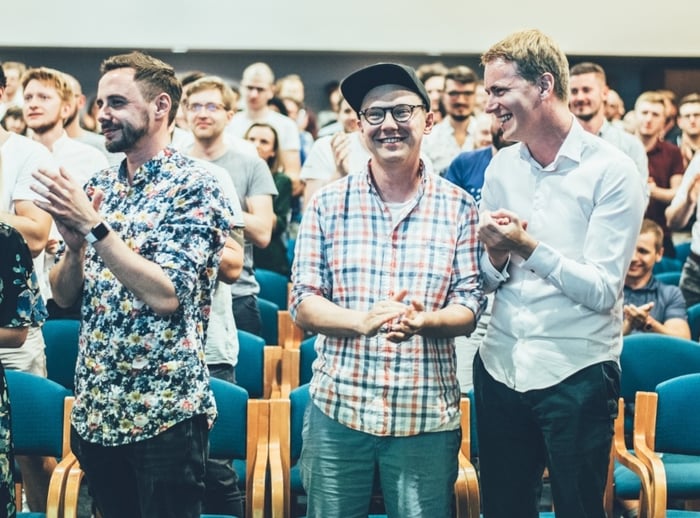 Head of Growth at Netguru Radek Zaleski with the company founders - Kuba Filipowski (left) and Wiktor Schmidt (right)
10 years of Netguru in 10 Bullet Points. The journey as told by the Head of Growth
Back in 2007, I was working for the online division at one of the biggest media companies in Poland. I was, as we say, a typical "internal entrepreneur" at a large corporation. I had the green light to do new, often quite risky projects. We wanted to digitize fast and were looking for an energetic team to help us with all of the "whats, whys and hows". Someone recommended Netguru.

They were opinion leaders, sharing a lot of insights and tech know-how for free on their blog (which continues till this day) and they have started a debate about the future of technology in Poland. Was it enough to entrust them with our breakthrough project? They got us with their honesty, proactive attitude, and software skills. Not to mention customer excellence - from the very first meeting I knew we would have their full support at all stages of the project. So we started our first project in the travel sector.

In that period Netguru became very active on the technological scene - they built their own products, such as the recruitment app Human Way, a search engine game, and Flaker - a super innovative platform for that time, which was something between Twitter and Slack. They did a series of events called Hype 65, started Reaktor, launched one of the first BarCamps in Poland, and begun to build an international network. All these experiences made Netguru empathic to other startup founders' journeys, which is indispensable while working with our clients today.




Overall, we ended up with two digital projects - a travel platform and a social app - delivered by Netguru from scratch to my previous company. Each of them got millions of views and hundreds of thousands of active users in several years. It wouldn't be possible if it wasn't for Netguru's focus on supporting entrepreneurs with software, design, and consulting skills, which still remains our core mission.

Then we came back to each other in 2011 at the new company I joined - CD Projekt, one of the best Polish tech companies, makers of the "Witcher" series. Thanks to Netguru I delivered a project - a digital platform in unheard-of 100 days, which debuted with tens of thousands of users - on a live stream. That launch was magical and risky for me at the same time, but I knew I had the whole team's support. This is another trademark - whatever the business outcome, Netguru remains your partner and takes responsibility for what the team delivers.

After that me and Netguru parted ways for a while. I started my own company, Kuba and Wiktor entered the path of rapid growth and became recognizable on the market. Building an international network paid off with the first large client - Skrill, one of the leaders of the fintech industry (we're still

growing our fintech expertise

). Skrill's project was the moment of truth for the entire company. Netguru realized that they want to support entrepreneurs at various stages of life, be it startups or global organizations. That in order to grow they need to provide professional services. And they continue to develop in this direction till this day.
To get even more professional, Netguru recruited a group of experts, mainly engineers and managers. With time we added more services to our portfolio, like project management, quality assurance, product security, and design. While growing really fast, we needed new teams to join us: one to help us recruit the best talent both in Poland and abroad, and the other to built the brand's visibility and good PR.
I joined Netguru in 2015. Taking into account my previous experience, I did not hesitate for a second. I joined as the first manager recruited from the outside. We added new outstanding experts to the core team (Marek, our COO, Gosia, our Head of Finance, Dorota, our Head of People, and recently Przemek, our Head of Project Management) and developed internal talents (Mateusz, Head of Technology and Design). From that moment on, we started building well-thought-out growth on strong foundations.




The industry took notice of our growth and the quality of projects we deliver, and Netguru got awards from Aulery, Deloitte Fast 50, and Financial Times. In addition, the team built the award-winning Transterra. The project, which had a significant social impact, proved our core mission: to build software and design products that let people do things differently.

From day one, the core feature of Netguru is the willingness to improve quality and practicing continuous transformation. We never

rest on our laurels and constantly reinvent ourselves.

Throughout all these years we have added a layer of new services, added new technologies and solutions, increased customer excellence, and built up our knowledge about technologies thanks to R&D. But, above all, we have gathered a group of talented people who are passionate about what they do. To sum up these 10 years: we have gone from an outsourcing software house to a fully-fledged digital software consulting agency, staying true to our values on the way. The next step is to add

business consulting

and help other companies grow. The reason? We all have to learn to navigate in a world that is being eaten by software.



And we're just getting started.