21% Conversion Increase With Product Design Services for Otodom
Augmenting highly demanding team with top-notch product design experts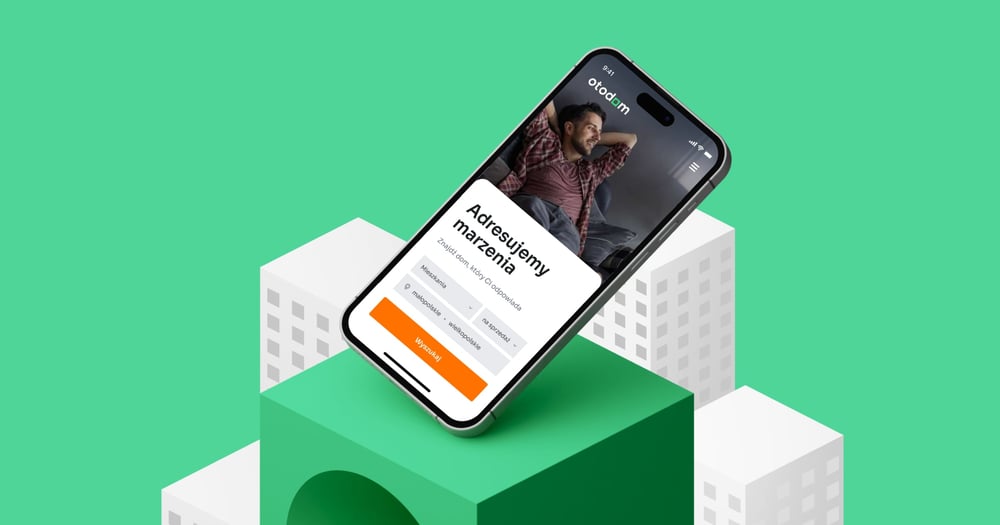 About this project
Due to having very high standards, Otodom had trouble finding Product Designers that could satisfy the needs of the product, stakeholders, and users. Netguru provided experts who were able to contribute to OKRs and strategy across different business teams, while generating added value for users.
Otodom – the leading Polish real estate marketplace
Otodom is an online marketplace where sellers or landlords can add and manage offers, and buyers or renters can explore postings to find their dream home, office space, or fixer-upper to flip. The brand is owned by OLX Group.
OLX Group has exceedingly high standards when it comes to their digital products, and it shines through in every brand, including Otodom. With high standards comes the demand for expert talent, and in this ongoing collaboration, we help satisfy that demand with top-notch Product Designers.
New team members are vetted by us, then vetted by the Otodom team, and only then they can join the project. Starting as consultants, our experts were taking on increasingly more responsibilities over different design aspects of Otodom.
Project challenges
At the beginning, the project posed several unique challenges:
Low availability of talent that meets the high requirements of Otodom stakeholders.
Recruitment couldn't fully satisfy the demands of the fast-changing Otodom development environment.
Product Designers need to have a vast product background, but also understand how design influences OKRs of different teams.
High level of agility required from designers, with an ability to jump into different projects and quickly create added value.
Complex design process involving cooperation with many stakeholders and multiple teams.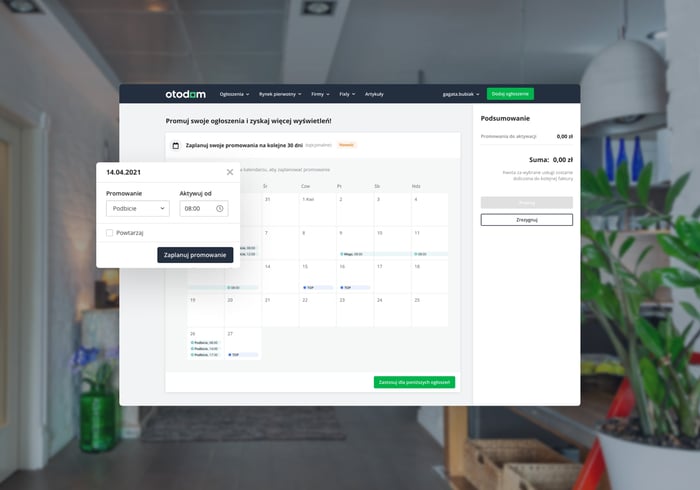 Influencing business metrics with design
Throughout the collaboration, our Product Designers were engaged in a wide range of operations:
Research – qualitative and quantitative methods to find data to support the design process
UX/UI Design – creating new and reworking existing designs
Testing (A/B, Usability) – Otodom team is data-driven to the bone, so testing is essential
Workshops – structured meetings of designers with product managers and developers
Tech Migration – transforming all design operations from Sketch to Figma
UX Writing – crafting messages that inform and delight users
Roadmap planning – suggestions and insights to inform OKRs and optimize the roadmap
The collaboration began in 2021. Our Product Designers are responsible for driving different OKRs across multiple teams, including the Acquisition & Retention team and the Monetization team. Some notable examples of value provided include:
Customizable email notification system
Vastly useful functionality that positively influenced business results in terms of website traffic and user retention. Users can use this system to save their search and receive relevant offers by email, which keeps them engaged and regularly coming back to the website.
A/B tests for registration flow
To use the notification system, users had to register, but data showed that a lot of people abandoned the registration process before finishing it. We organized an A/B test of four registration flows to experiment with different options, such as social logins, a minimal number of clicks, a process broken down into multiple steps, and clearly highlighted registration benefits.
The handover workshops
To improve communication with developers and product managers, our Product Designer prepared workshops that improved the handoff process, facilitated better understanding for all parties involved, and created a safe space for brainstorming.
Sketch to Figma migration
Our Product Designer supported the OLX team in the safe and efficient migration of all designs from Sketch to Figma.
Results of the collaboration so far
Our experts became a fundamental part of Otodom's team, influencing strategic decisions regarding the platform and contributing measurable improvements to Otodom operations:
Subscription rate to saved search notification grew by 116%.
Conversion from email to reply increased by 21%.
Share of logged-in users grew by 14%.
Monthly amount of sent emails increased by 13%.
Subscription acquisition grew from -89/per month to +6,488/per month in five months.
12,028 new saved searches two months after launching the feature.