Be yourself and belong
We foster an inclusive workplace culture, boost social participation, and advocate it outside of Netguru.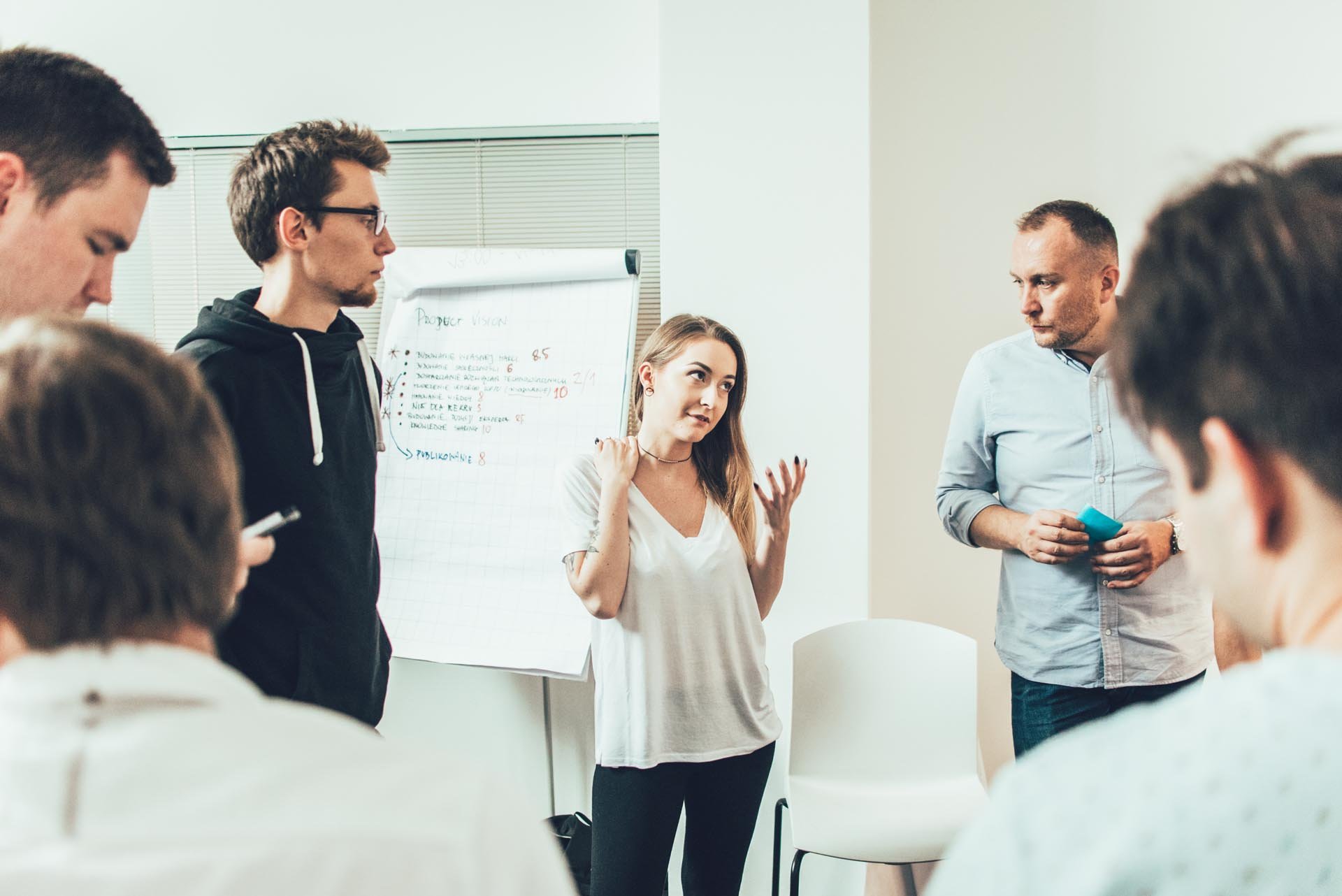 Our people
One of our core values is to build an inclusive, transparent, and socially responsible culture. We strive to make everyone feel a part of our team.
Our team

600 People on board

Gender diversity

36% Women in the team

Demographics

87% People 25-39 years old

Cultural diversity

51 International team members on board
The feeling of agency, trust, and being challenged with ambitious and interesting tasks to solve, boosts self-confidence and empowers me to take the steering wheel into my own hands. Having fantastic people around who can act as copilots is the cherry on top.

Diversity and inclusive culture: A step-by-step practical guide for organizations
Co-authored by the Sustainability Lead at Netguru, the guidebook is a helpful resource for organizations to build an inclusive workspace culture.
Get your copy
Narratives Matter
An internal Netguru campaign that aims to foster an inclusive workplace culture through increasing knowledge of inclusive language and its role. The language used in everyday communication, both formal and informal, is an essential tool for creating a friendly and inclusive work environment and a culture of belonging.
Gender

"Like a girl" – what does it mean to you? Be mindful about not using gendered terms. Instead of salesman, opt for a more inclusive version – salesperson.

Cultural Diversity

"Illegal immigrant" – a person cannot be illegal, an act can. Phrases such as "flood of immigrants" and "wave of refugees" are a manifestation of the dehumanization of migrants. The use of such language may increase prejudice and contribute to negative attitudes.

LGBT+

"I couldn't even tell you were gay" – this carries presumptions. LGBT+ community rights in our society are gaining more attention and coverage in the media. Some of the arguments and discussions reveal presumptions or misunderstandings and are hurtful to the community and its members. Educate yourself to understand the language and arguments used to undermine LGBT+ rights and dignity and refrain from using them.

Mental Condition

"Mentally ill" – use "person with a mental health condition." Avoid using negative or judgemental language when talking about people with mental health conditions. Use language that conveys hope and optimism to support and promote a culture of recovery.

Disability

Disability does not define a person. Say "person with a disability/disabled person" or "people with disabilities/disabled people," not "the disabled" alone. Do not label a person and define them by their diagnosis, it is secondary to who they are.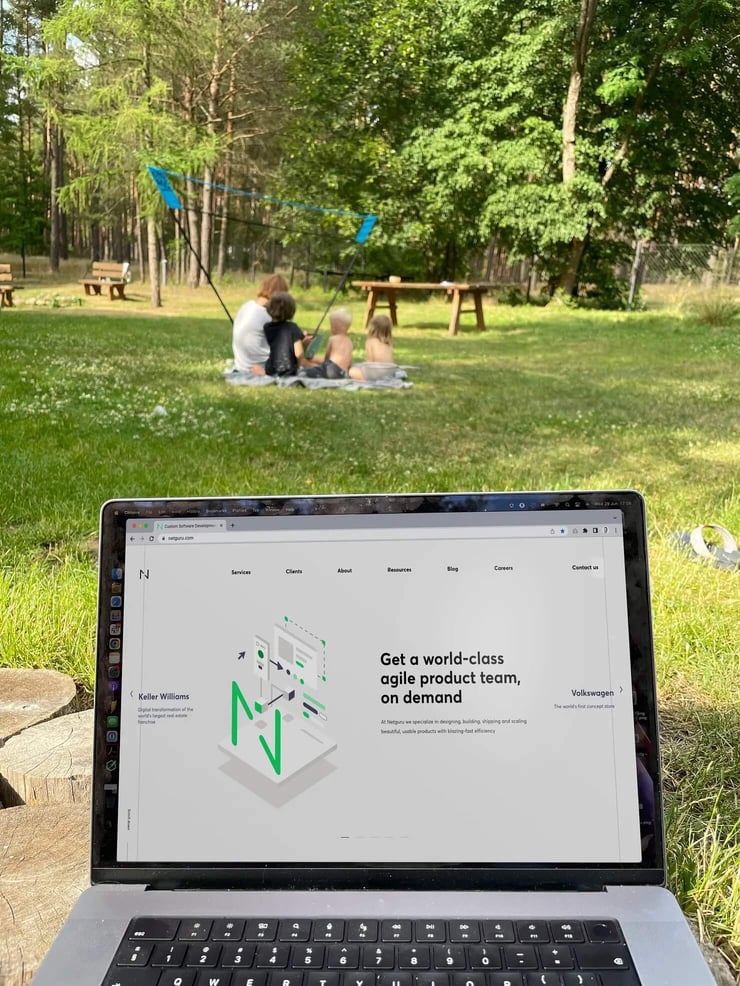 Working families
We want to ensure we are inclusive regardless of the living situation.
We want to ensure we are inclusive regardless of the living situation. We offer flexible working hours and follow the hybrid working model so our employees can choose between their home office or one of our offices or hubs, depending on their preference. In 2022, we also launched two workation hubs in an isolated natural environment with dedicated slots when employees can come with their families. We support women and men returning from parental leave with a dedicated onboarding program. We include persons on parental leave in the regular salary review process to reduce pay gaps. And in 2021 alone, we handed out over 49 cute little teddies to Netguru family newborns.
Netguru allows me to find balance between work and private life. Women play multiple roles, from mothers to caregivers to breadwinners. Flexible working options provide women with much-needed balance and serenity, as they manage numerous roles, constantly juggling various responsibilities.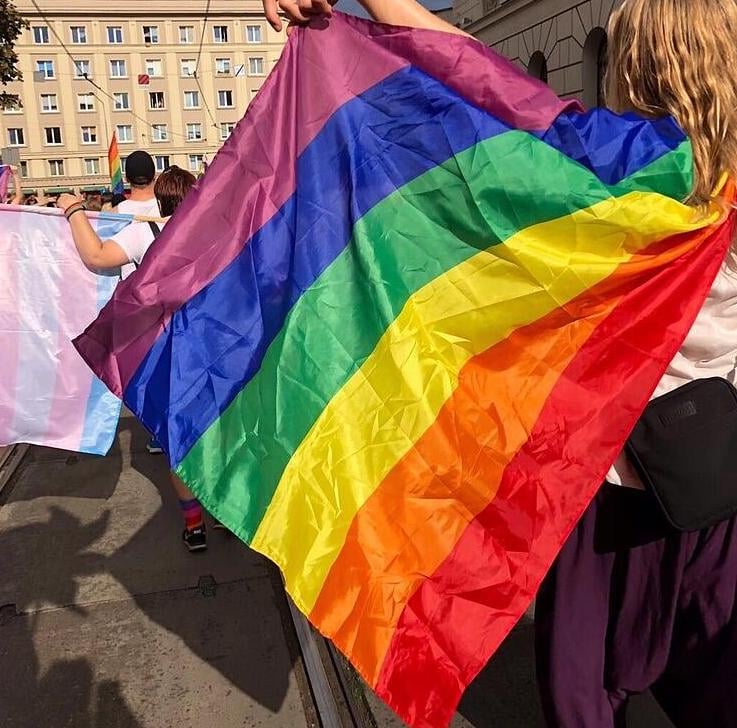 LGBT+ advocacy
We celebrate Pride Month every year.
For the whole of June, we change our green logo to rainbow colors and fully engage in initiatives in the community. We join Pride parades, run panel discussions and webinars both internally and externally, and share resources that bring us closer to the perspective of the LGBT+ community.
Support for Ukraine
The war in Ukraine is not a local affair.
We see it as our duty to support not just our Ukrainian community at Netguru, but all our neighbors who fear for their lives and the future of their country. Our team took a set of actions to support our employees and the Ukrainian people in the best ways we can offer.
Mental health
We are aware of mental health challenges people face nowadays, and we strive to actively support our employees' health and wellbeing. We provide a set of tools and resources for our people to take care of their mental health.
Mindgram

Headspace

Internal webinars

Knowledge sharing

Yoga practice

Dedicated training for leaders

Flexibility & long leave if needed

Workation & workation hubs
How does it feel to work at Netguru?
We feel accountable for making our workspace culture inclusive so everyone can realize their full potential while being their own person.
I never felt so "home" as being a part of Netguru. I had a lot of concerns and fears but all of them were crushed as soon as I joined. I never felt like people treat me differently because I am not Polish. I can't speak Polish, but it still creates zero barriers for me when I interact with my colleagues.

It feels great to work here! Even much better than I anticipated before joining. I feel like I belong here, everyone is so friendly, helpful, and respectful.

I have worked in a variety of countries across five continents, so I have had to work with many different cultures (often simultaneously) and find myself a pretty adaptable person. At Netguru, I don't think I have had to make cultural sacrifices or attempt to "fit in" – I can be myself and although that hasn't surprised me, it has surprised me at how I feel this same way about my experiences in Poland to date.

Netguru's culture is something I can relate to on a day-to-day basis. We are nice, hard-working, optimistic, brave, and we're honest. We're passionate about our work, but we also value a good life balance. In Spain, sooner or later you'll end up being part of the "family," and there's always room at the dining table for one more. I think that can correlate with how it feels to be a Netgural.

With the support of the team – both from Netguru and the client – it has been a smooth ride so far. I can say my software development skills are improving with each new task and the best part is I am absolutely having fun while at it too!

Personally, I was never treated as an alien here, and people are not treating me differently based on my ethnicity.
Feels like your kind of place?
Build a career that suits your lifestyle, in a company where your voice matters. Let's build a sustainable world together.
Apply now