Rapid Prototyping for

Pharma and

Healthcare Leaders
Effective, time-framed business idea validation of your digital innovation
How to validate ideas. Fast.
Why Rapid Prototyping?
A clickable prototype accelerates user-centric innovation by generating immediate feedback from your target users. It allows you to validate your idea fast and minimize the risk of the product failing:
Design prototype

Application prototype

Solution PoC

Further product development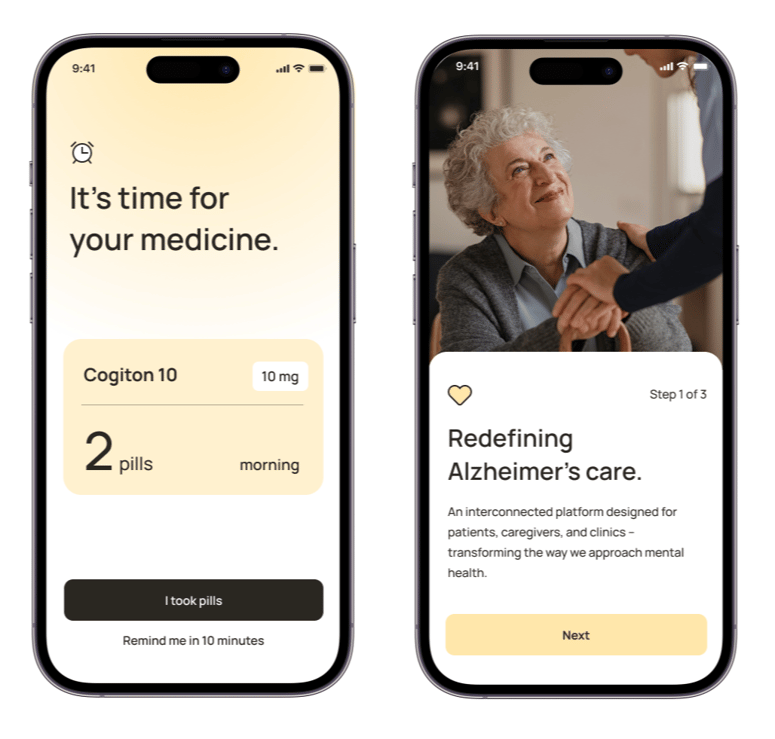 Your prototype delivered from scratch in under 6 weeks
NeuroNest - the future of Alzheimer's care within your reach
At Netguru we believe in fast idea validation. That's why we have created a combination of a clickable Application Prototype with the Solution Proof of Concept of a digital therapeutic platform supporting Alzheimer's Disease patient care.

We wanted to showcase how within 6 weeks an initial idea can be brought to life in a way that allows investors and decision makers to see its future potential and to enable gathering valuable user feedback for further development.
Netguru Digital Health Product Teams
Develop your product prototype with the support of experienced Product Managers, Solution Architects and Healthtech experts.
Our holistic approach, paired with an entrepreneurial spirit, gives you a trusted partner to help build real, working and effective software.
Developing medical apps requires getting the basics right
. We got it all covered.
Our experience in the Healthtech sector allows us to guide you through the opportunities, challenges and limitations of modern digital health products delivery.
Security & compliance

Accessibility

Data interoperability

Design & validation

Innovative technologies
See how our support helped those companies
It's great how Netguru adapted to our highly regulated development lifecycle. I also liked that we were able to consult Netguru experts outside of the agreed assignment.

I've really appreciated the flexibility and breadth of experience we've been able to tap from the Netguru team.

Excellence and speed. It's rare to get both, and Netguru delivers.
Start your project with us or take existing one to next level
Share your challenge and our team will support you on a journey to deliver a revolutionary digital product
Estimate project

Read more on our Blog
Check out our knowledge base collected and distilled by experienced professionals, and find answers to some of the most important questions on Healthcare Innovation.
Your partners in
digital healthcare acceleration
Monika Mroczkowska

Consulting Director

Marcin Oziemski

Engineering Lead, Healthtech

Agata Rączewska

Innovation & Service Design for Healthcare

Agnieszka Hyla-Pochrzęst

Delivery Lead, focused on the topic of compliance within digital health sector.

Przemek Turkowski

Client Partner