Customer Service Process for Volkswagen With Product Design Consulting
First-In-The-World Concept Store for Volkswagen

About this project
Volkswagen's ambition was to build a first-in-the-world boutique, a place where customers would be compelled by a combination of coziness and luxury. Netguru provided consulting services to design a customer service process. We analyzed the automotive sales funnel and deconstructed it to see its fundamental parts. Our team worked on Volkswagen Home doing research, review, and 3-day workshops with the client.
Take 200 square meters. Throw in some wood, moss, and stone. Add brand new top-notch cars. Now cook it. Finally, season it all with five-star customer experience. It's ready to serve.
That's exactly what Volkswagen prepared in their first-in-the-world concept store. If you ever happen to visit Warsaw on a business trip, pin Volkswagen Home to your map.
While the visible outcome is a beautifully designed space (inspired by the VW Arteon Gran Turismo LED lamps and grille), the effort behind the scenes is even more impressive. The architecture was a real challenge (hats off to the mode:lina design studio), but there were a few more hurdles along the way. That is why we are so proud that Netguru was invited to take part in this challenging and innovative project.
The report that changed it all
"It all started with a report from a global management consulting firm", says Artur Kryzan, team leader and CX manager at Volkswagen. The company interviewed about one million customers who bought a car in the past ten years. They asked them to rate three factors:
overall car performance,

customer service,

willingness to purchase their next car from the same brand.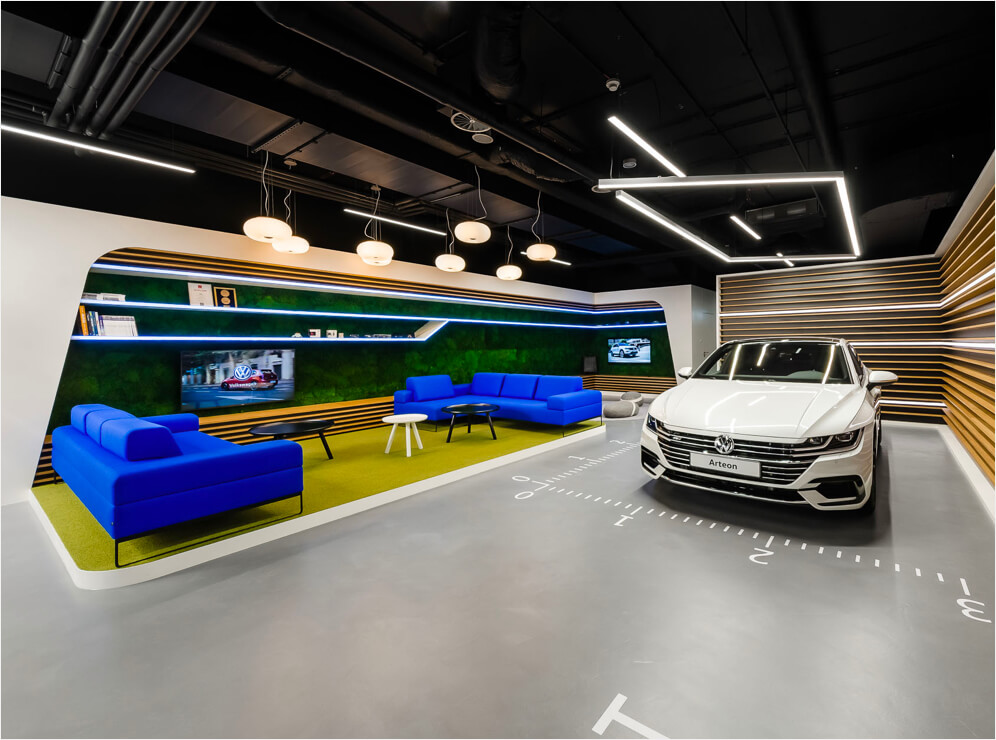 The findings were pretty disturbing for the automotive industry. Only one in ten customers of those who rated their car as a superb, but were displeased with the customer service, expressed willingness to buy from the company again.
On the other hand, as many as 25% of customers who rated their car on the lower end of the scale, but were delighted with the service they received, would buy from the same brand again.
The message was clear. If you put in the maximum effort to manufacture great vehicles but devote less focus to customer care, your business won't succeed. Numbers speak for themselves: the quality of service is 2.5 times more important than the car itself.
The goal was clear, the road to achieve it rather bumpy
Volkswagen set a clear goal: design a place where customers would be compelled by a combination of coziness and luxury and would feel almost like at home. The target: aspiring middle class (AMC). Doesn't sound like a typical car dealership, right?
Because it's not. It's a first-in-the-world boutique for the world's largest automotive brand.
And, as it usually happens with innovations, there are many obstacles to overcome along the way.
Major challenges of the Volkswagen Home project:
Legal - due to EU directives, car importers are not allowed to directly sell cars to customers.

- This meant that VW had to engage their dealer network with the new concept, gain acceptance, and win their hearts.

Location

- VW's dealerships are located mainly on the outskirts of Warsaw, not necessarily convenient for a visit.

- Although VW didn't want to build the space in the very center of the city to avoid the high-street, and they were looking for a place with convenient access.

Customer excellence

- How to design an extremely friendly and transparent customer sales service when there are multiple stakeholders involved (dealers)?

Internal

- This was the first project of its kind, and it prompted Volkswagen to change their routine. In short: the company had to bend their standard practice (typical for a company of that scale) and bond different business units to achieve success.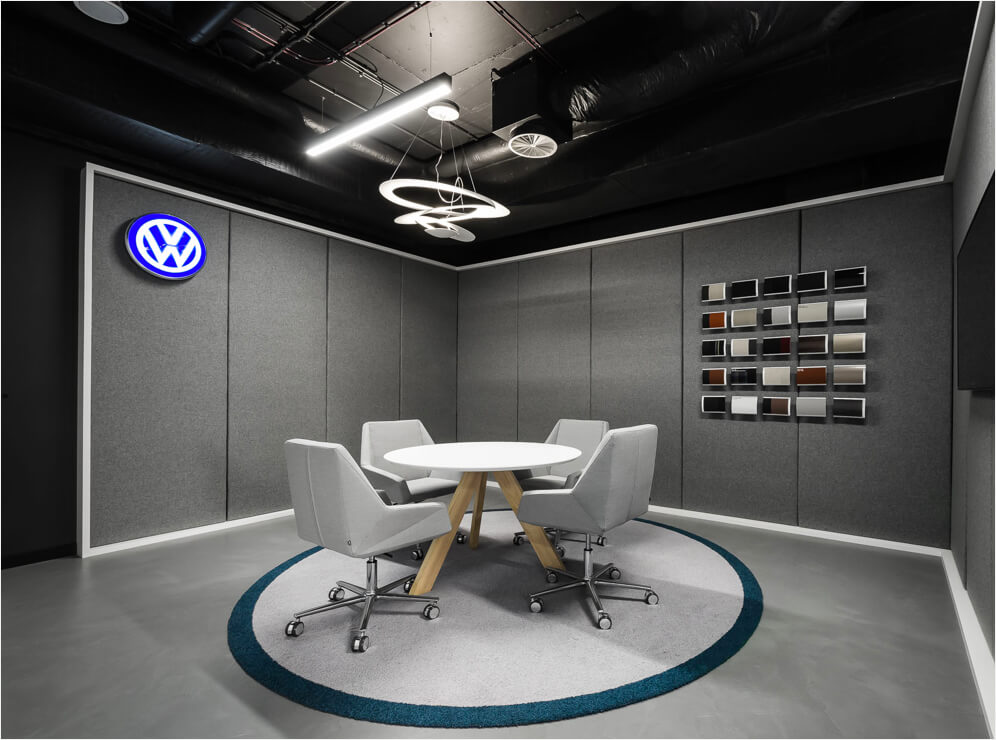 How Netguru helped Volkswagen "reach the second floor"
To make the project work, Volkswagen asked Netguru for help. Our team worked on Volkswagen Home for about 2 weeks doing research, review, and 3-day workshops with the client. We analyzed the automotive sales funnel and deconstructed it to see its fundamental parts. This is how the foundations for the 'Volkswagen Home Bible' were crafted.
During the workshops, a joint team from Volkswagen and Netguru:
Identified all the stakeholders and potential blockers, designed the required employee positions and defined their tasks;

Designed every possible interaction with customers, from arriving at the parking lot to coffee service, and, finally, the goodbye;

Defined the whole process of dealing with dealers – after all, they are the ones selling the cars.
We also held workshops with Volkswagen to show them Netguru's usual routine:
How to liaise with different units and engage all stakeholders in the process;

How to work in an agile way, dealing with daily standups, reporting, project sprints, and MVPs;

How to communicate and make decisions within fully remote teams.
It was a project sprint unlike any other. We didn't develop an app, design a website, didn't do any coding. We were invited to do a totally different task - to design a customer service process for Volkswagen Home.

Kamil Puk

Service Delivery Manager at Netguru
Volkswagen Home's magic: cars sold without clients touching them
Volkswagen Home opened in October 2017, without much fanfare or even an awareness campaign, as a building in front of their windows was still under construction. Thus, VW wasn't expecting much at the start. Which is why finalizing 5 deals through VW Home in the first month must have come as a surprise. December was even better – in the midst of the year-end sales, they closed 16 deals, with only two buyers drawn in by their sales campaign.
The project's real value lies in numbers:
The average sale price at VW Home is now 4-5k PLN higher than the average in traditional sales channels;

One in two customers of VW Home chose a car with a much better, but more expensive direct-shift gearbox (DSG). Market average - 25%.
"Our Home really proved the point. Customers love the concept, they feel valued, and although the total price is still important for them, now it somehow stays in the background," says Kryzan.
VW Home is much more than just nice-looking red bricks, big windows, and elegant design. Volkswagen enhanced their boutique with a few technologies meant to improve the customer experience. For instance, customers can ask the staff to show them a car online – it will be broadcasted live through an iPhone camera. And it works. They have sold the first T-Roc soon after the launch, and the buyer didn't even touch it.

Future of the industry
To make a significant change within the brand, Volkswagen had to get the dealers on board. 'We thought that they might be a bit defensive. But it proved to be otherwise. They adapted to the scheme surprisingly quickly', says the CX Manager at Volkswagen. And they even managed to involve low-level employees in the experiment.
In fact, the first-of-its-kind project for Volkswagen resonated well within the company globally. "The concept was warmly welcomed, even in such faraway places as Taiwan. The other units in the VW world are now assessing how the concept might work in their countries," concludes Kryzan. "We learn from VW Home every day. We definitely feel it might be the future of the car industry."