Rapid MVP Development for Żabka – Leveraging Innovation to Combat Food Waste
The largest chain of modern convenience stores in Poland turns their mobile app into a force for good.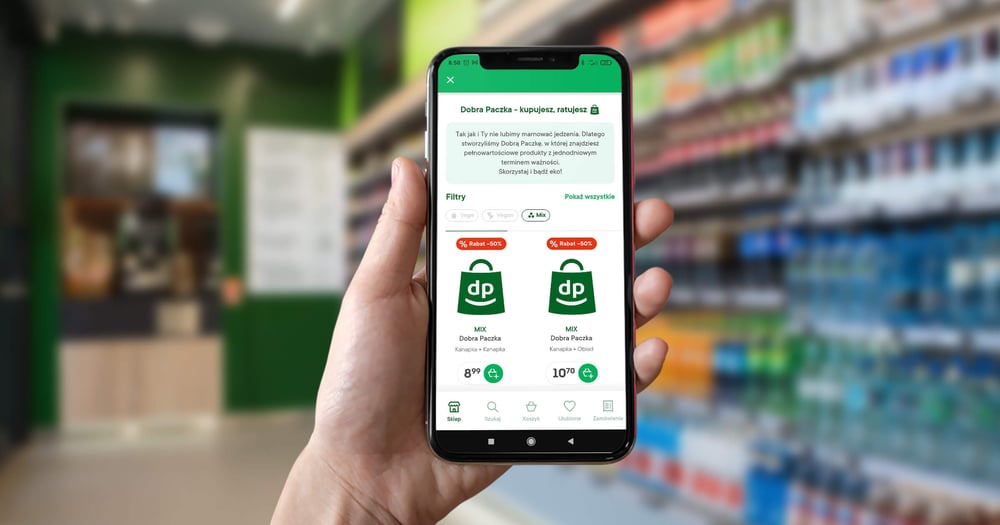 About this project
Żabka is the leader in modern convenience stores in Central and Eastern Europe. The client aims to address the problem of food waste with a smart solution that's aligned with both their technology strategy and their environmental responsibility strategy. Netguru provided the end-to-end digital services necessary to quickly deliver an MVP feature in the store's mobile app.


According to FAO, one-third of food produced globally goes to waste. Each year.
Addressing the problem of food waste on both consumer and retail levels has become one of the top sustainability initiatives driven by governments, NGOs, and responsible businesses worldwide.
One European chain of modern convenience stores took action and aligned its digital acceleration strategy with its sustainability goals, and food waste reduction in particular. Here's Żabka and their Dobra Paczka [Good Package] solution that ties together business, technology, consumer satisfaction, and sustainability objectives.
Produced = Consumed
Modern convenience solutions ecosystem such as Żabka offers much more than essential products — providing a complex shopping experience that encompasses FMCG, ready-to-eat meals, parcel collection, cashback services, bill payments, urban transport cards top ups, hot coffee and snacks, and comfortable Click & Collect shopping.
Modern consumers, however, opt for solutions that not only save time and money, but also the planet's resources. Żabka, the leader in modern convenience innovations in Central and Eastern Europe, recognized food waste as one of the most pressing issues to be solved by the society and the industry. In 2021, they decided to include the goal of food waste prevention within their technology strategy.
Żabka planned to expand their mobile app with a feature that would offer their customers a chance to buy sets of products, at reduced prices, just before they expire. This is a perfect example of responsible retail that translates sustainability gains into business gains and shows just how good a Good Package can be.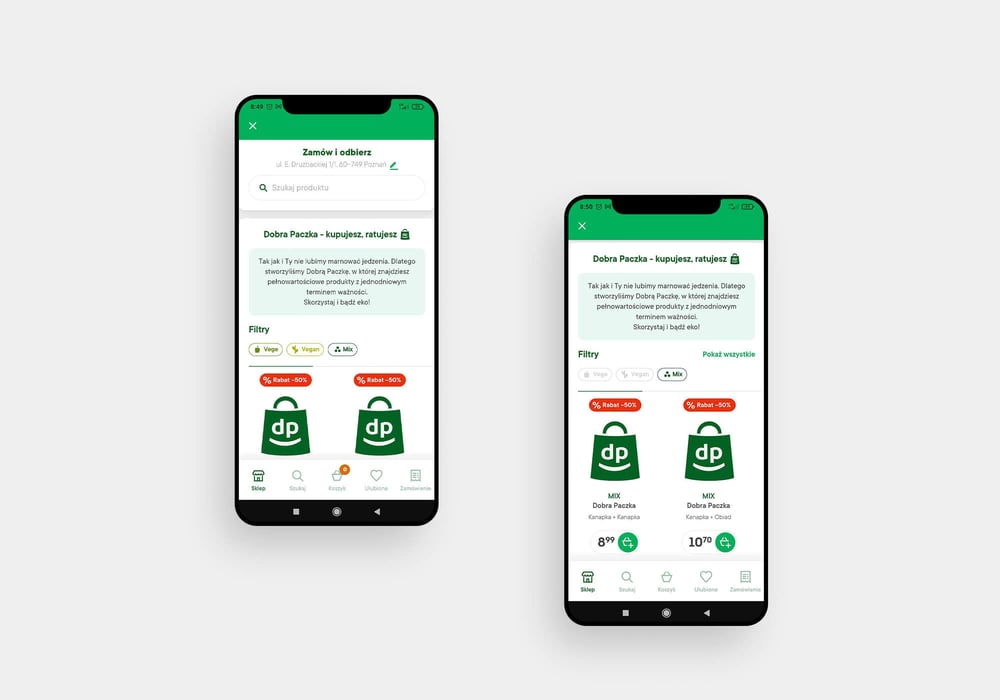 Client's challenges
Żabka wanted to quickly validate their revolutionary concept — no other chain of modern convenience stores in this part of Europe had a similar solution.
The client's loyalty application was downloaded 8 million times and the new feature had to seamlessly fit into the existing architecture.
Żabka needed support with feature ideation, design, development, and launch.
Client's expectations
Żabka wanted to translate their idea into a functional MVP meant for a user trial in phase one of the project.

For fast time to value, the client needed to speed up the ideation and evaluation processes necessary to implement the new feature.

The client prioritized collaboration based on full transparency and commitment to a rigorously estimated budget.

As the feature was intended for an existing mobile application with a large user base, it was critical that its development, testing, and launch didn't interfere with app performance.

The new feature was meant to leverage the Click & Collect module within the app.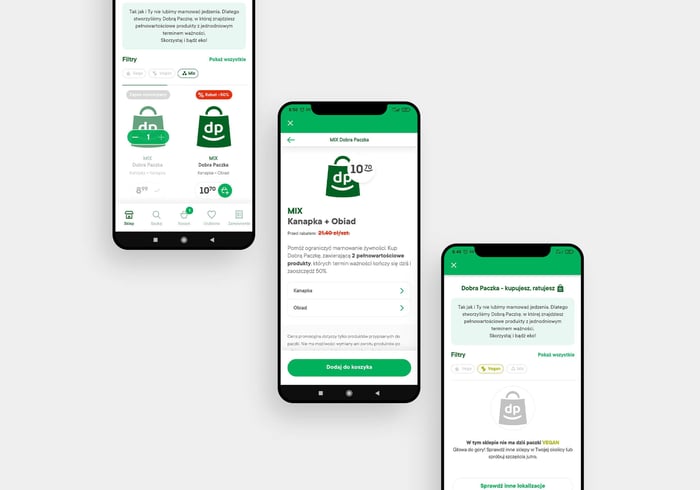 Netguru role
Netguru has been a Technology Partner for Żabka since 2018. Good Package is one of multiple projects realized for Żabka, this time focused around:
Feature design, development, testing, and launch in phase one
Feature refinement and larger rollout in phase two of the user trial
How Netguru did it — approach to the project
For Żabka, Good Package is all about a positive impact on the environment paired with customer satisfaction and cost optimization for the franchisees. For Netguru, the project was a great example of lean time to value.
To be efficient and on budget, we worked in sprints based on a predefined roadmap, customizing our agile approach to meet the client's needs for precise timing and financial estimates. We developed a handy custom tool to track progress in the project, and gathered a cross-functional team with a flexible setup, ready to be adjusted by the project manager on the fly.
The team that included a designer, an event storming facilitator, software developers, QA specialists, a senior project manager, and an engineering lead who oversees all of the client's projects:
Designed the user flow and recommended the right UX/UI approach.
Analyzed the designs with developers to pre-estimate the cost and confirm it with the client.
Created a risk log and assigned action points to each party.
Put together a roadmap, based on historical data, to achieve clarity on the next steps.
Drafted a WBS (Work Breakdown Structure) to streamline the next steps in the project lifecycle.
Ran an event storming workshop with the client to gain full process transparency.
Designed an automated dashboard to keep the client in the loop on progress, team performance, and efficiency.
Worked in six sprints to deliver a fully functional MVP.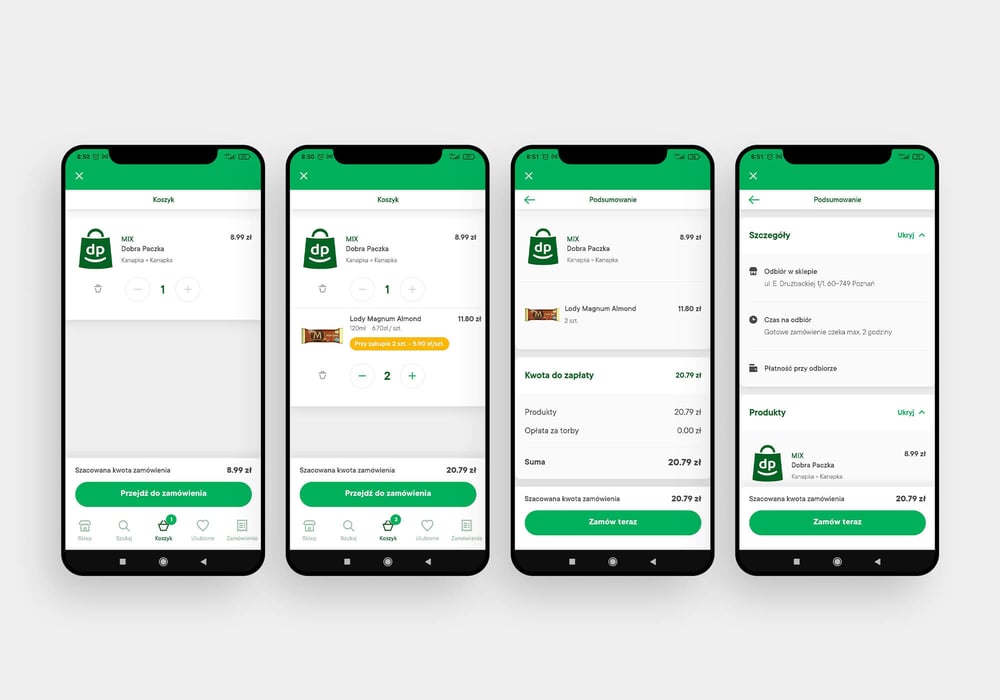 Results of the collaboration
The MVP was developed and seamlessly connected to the existing mobile application in just six weeks.
The feature was delivered below the estimated budget and ahead of schedule.
Good Package trial rollout included 55 stores in Poznań. Phase two of the trial aims to extend the service to new cities and expand the feature.
The MVP enables the user to choose their preferred outlet offering the service, view available categories of surprise sets, and place an order.
Automated notifications let the user know when their set is ready for pickup.
After successful trials, Good Package has the potential to reach to all of Żabka customers, efficiently prevent food waste at scale, and promote responsible practices among other retailers.
The project received an NPS score of 10 from all stakeholders involved.
Collaboration highlights
The rapid and successful delivery of the MVP was made possible thanks to:
Clear measurable business goals set from the start
Collaboration based on trust and full transparency
The team's commitment to guard the project budget
Fully optimized delivery