OLX Motors Europe – Top-Notch UX for a Trading Platform
Offering long-term product design consultancy and hands-on support through a stable partnership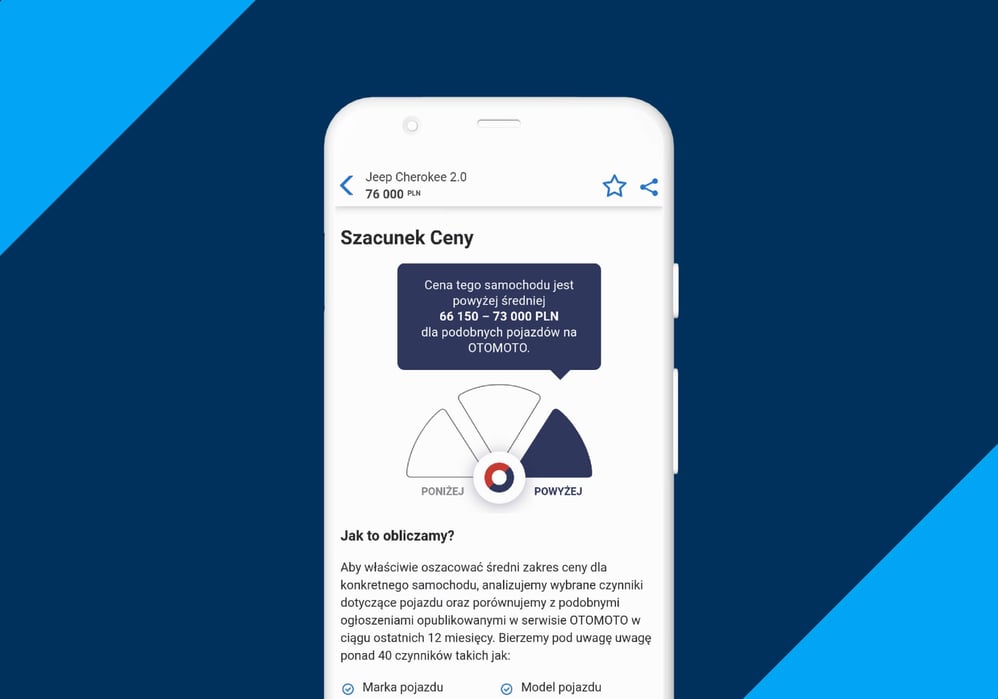 About this project
OLX Motors Europe needed a partner offering product design consulting services and flexible team extension to support them in designing products. The main value of the cooperation was exploration and evaluation of ideas. We supported the client in estimating the business value and ROI of the products we were responsible for providing and participated in implementing best practices into OLX Motors' Europe product design process.
About the client
OLX Motors Europe, a "one-stop solution for all your vehicle trading needs", sought design consulting services and expert designers who would work on OLX projects on a daily basis, in close cooperation with OLX's internal teams.
They needed a partner offering flexible team extension to support them in designing products through:
Product discovery, Product design sprints, Help in creating and implementing best practices and processes, Running workshops.
The main value of the cooperation was going to be exploration and evaluation of ideas.
Supporting a fast-growing network of trading platforms
OLX Group gathers over 20 brands operating in more than 30 countries around the world. Together, they build leading solutions for buying, selling, and exchanging products and services, used by 300 million people every month.
Importantly, they create a diverse environment with the spirit and agility of a startup - which translates into a unique working model.
OLX is a company oriented around agile team organization, using units like tribes, teams, chapters, and guilds. It's an approach preferred by product companies like Netflix, Spotify, and Apple.
OLX needed a consulting partner who would understand its value and be able to work according to its assumptions.
OLX needed a consulting partner who would understand its value and be able to work according to its assumptions.

Building a lasting partnership focused on delivering great products
OLX Motors' Europe main goal was finding both product design consultants and hands-on experts who would supplement their internal team when the need arose, delivering successful products.
They would have to work with OLX Product Managers, Engineering Managers, Product Analysts Engineers Product Researchers, and other team members. Netguru had to meet these expectations, while dealing with two other major challenges.
The first one was estimating the potential business value of the redesign of a form for adding new classified ads to motors platforms (Otomoto, Autovit, and Standvirtual).
The second one was empowering buyers in making informed decisions about pricing during the purchasing process and ensuring seller transparency across platforms.
This was accomplished through the design and implementation of a price evaluation feature that presents in a clear, visual way whether a given car's price is within expectations, higher, or lower compared to other similar offers.
Taking responsibility for building attractive new products
The Netguru team members cooperating with OLX Motors Europe were responsible for the whole process of building design proposals assigned to them.
We worked on:
Product discovery (research, PDS workshops, buy-in),
Prototyping,
Validation,
Go to market strategy,
Iterations, and market monitoring.
We used agile methodology for each step of the process.
Our approach reflected the Design Thinking methodology (empathize, define, ideate, prototype, test, iterate), and matched the client's company culture.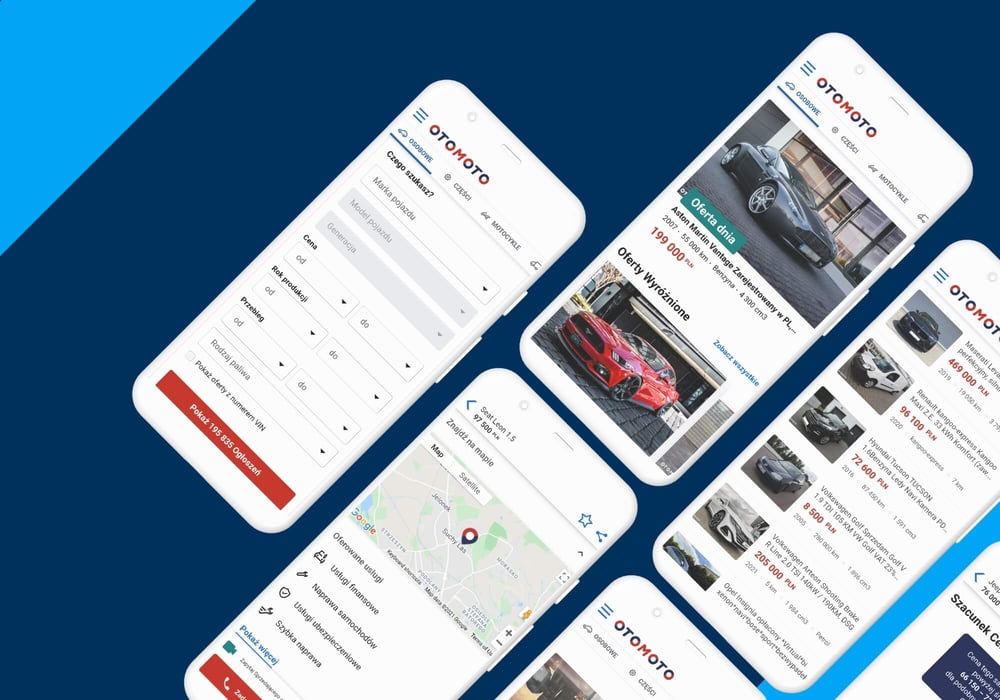 Delivering two successful projects for a long-term partner
Estimating the potential business value and potential ROI of the form redesign was meant to support OLX Motors Europe in making a decision about investing their resources.
The KPIs were:
To increase conversions for C2C seller ad submission forms,
Increase the number of sales leads by supporting sellers in creating relevant offers,
Increasing lead generation through creating more relevant and informative listings,
Decreasing listing creation time,
Increasing the web form's conversion rate through flow optimization.
We started with qualitative research, including interviews with stakeholders and users, business analysis, prototypes, and user tests.
Upon this data we've built meaningful user personas with needs and pains reflecting the actual usage of the ad posting form.
The next step was an in depth quantitative study based on behavioral data which included conversion rates for different platforms and user segments, error rate analysis and feature adoption evaluation.
We prepared a detailed report with recommendations, a business value prognosis for the redesign and plans for validating different product hypotheses.
The client decided to proceed with the redesign. Currently, our recommendations are being implemented step by step.
Price evaluation is an indicator that shows whether a specific car is within an average price range compared to similar offers, lower or higher.
It's available on many product pages, such as Listing Page, Ad Details, Posting Form, My Ads, and Sourcing Insights.
The price evaluation for OLX Motors Europe was created in cooperation with the Lisbon Data Science Team and local teams: Otomoto, Autovit and Standvirtual. Netguru's main input involved exploration and evaluation of the idea.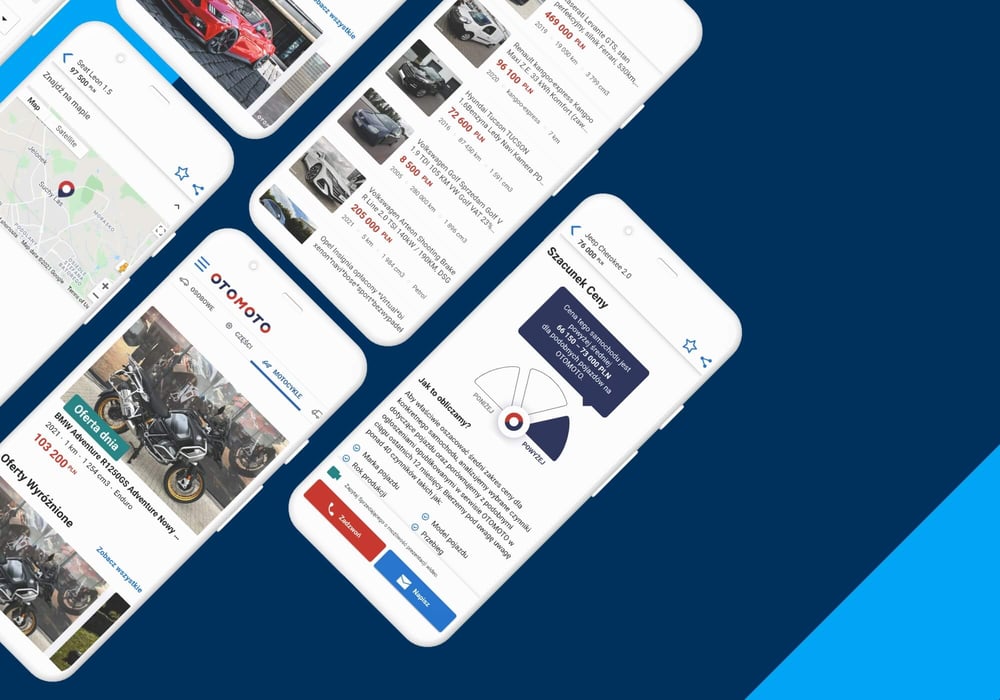 Building high quality experiences and efficient processes
By building a strong partnership with the client and providing effective design consulting, we contributed to the

development of crucial OLX Motors Europe products.
We supported the client in

estimating the business value and ROI

of the products we were responsible for providing and participated in implementing best practices into OLX Motors' Europe product design process.
We provided

a flexible team of experts

that supports the client in building products through long-term cooperation.
The products we worked on have been implemented step-by-step and are

ready for even the most demanding users.
We also supported OLX in creating a remote work setup
Netguru achieved a 10 on NPS score for services provided