Knowledge Sharing Is Caring – How We Approach It in the QA Team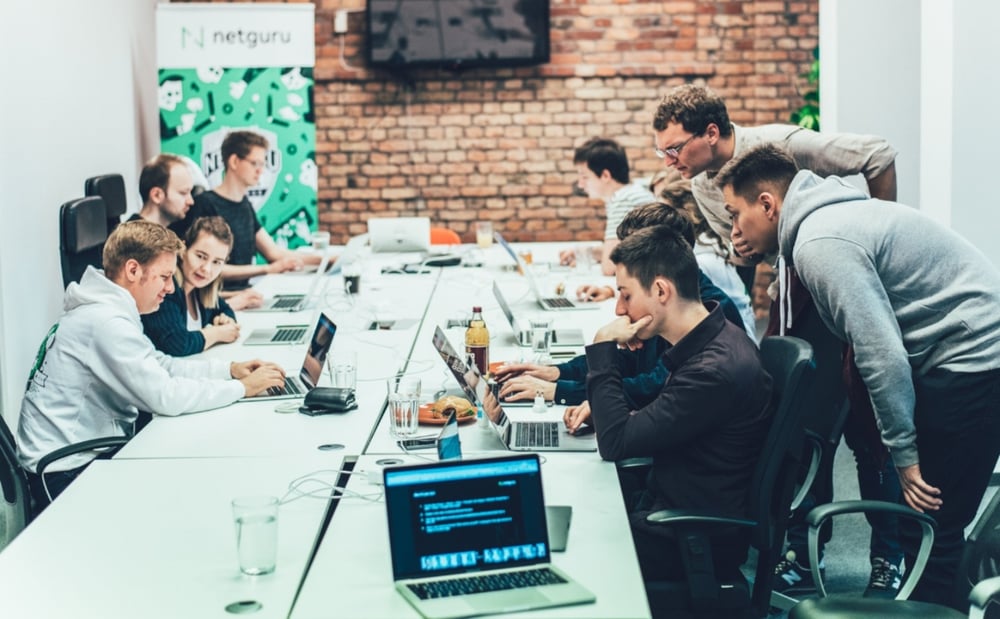 According to a University of Minnesota study, Professional Development is one of the seven main factors that have an influence on the success of our careers.
Especially in the IT field, employees are adamant that the learning opportunities are just as important as an attractive salary or interesting job content.
Knowledge sharing in Netguru
At Netguru, we love knowledge sharing and this is one of the reasons it is a great work environment that enables growth and diverse skills development.
Since I joined Netguru six years ago, a lot has changed – not only has the company grown nine times, but our QA Department has also grown tremendously. So, no wonder a lot of processes and initiatives had to grow and evolve as well.
In a company where knowledge sharing is rooted in the core – it's not only welcomed but greatly encouraged to share your knowledge and experience with your peers.
It's very heart-warming to see how our team of now 80 QA experts has become more and more experienced and independent. I remember the times when the competencies around test automation only started to grow within our structures, and we used to pick developers' brains in our monthly automation workshops.
Now, the knowledge in the team has grown enormously, and the truth is that most of the skills we seek to develop further, we can learn from other QAs. There's always someone specializing or interested in the next thing you want to learn, and you can easily find people who are eager to share their knowledge.
Internal initiatives in our QA team
Let's start with probably the oldest knowledge-sharing initiative in our team. Once every two weeks, we have a slot in our calendars that is reserved for knowledge sharing inside our team in the form of a case study. A person who has just had an interesting problem in their project and wants to share the solution, has discovered a new helpful tool, or any other topic that might be interesting for the whole team can simply join and present their subject. It usually comes in the form of a 15–20 minute presentation and a Q&A session afterward.
On top of that, when you have a skill you want to share in a workshop format, you can easily schedule such training, invite people interested in the topic, and conduct the training during working hours. Each initiative like this will be highly appreciated both by your leader and the team. We also use Bridge, which is a special learning and development tool, and it's the perfect space to create your workshop for the team (or the whole company).
Not to mention the enormous internal wiki space where you can find multiple articles about Netguru testing practices, Netguru processes, and general QA knowledge. It's definitely the first place to visit once you join the company as a QA.
If you do join our team, you will be able to experience our mentoring program, which consists of having a dedicated buddy who is there for you for your whole first month in the company. The purpose of the mentorship is to introduce you to Netguru processes, help to set up necessary tools, and generally be there for you whenever you have questions or concerns.
Apart from the mentorship, you can always count on your leader and your teammates if a project gets too difficult, or you need advice in your day-to-day tasks.
Netguru is known for its transparency and our regular QA Meetings are the perfect opportunity to sum up the Department's accomplishments and get to know the strategy. They often come with a Q&A session which allows us to dig deeper on some more important topics.
Internal initiatives: Areas
It's also worth mentioning our Areas process, which is a unique place for people to join and develop specific skills. People who are interested in certain aspects of Quality Assurance, e.g., performance, security, automation, etc., form what we call Areas. Each Area has a dedicated Slack channel and Jira board, which helps with task management and work planning for the following quarters. At any time, you can join any Area you're interested in and develop your skills further by working with other specialists on the topic. The community aspect of it helps to brainstorm new ideas and work on common objectives. One of the purposes of the Areas is also knowledge sharing: together with your peers, you can work on blog posts that will land on our internal wiki or become workshops for the team.
Even if you don't necessarily want to join a certain Area, if you have a project-related problem, e.g., with the performance of your application, you can always count on your colleagues by simply asking a question in the dedicated channel. Having those separate spaces has improved our internal communication over the recent years.
One of the perfect examples of the work that happens within Areas was the QA Mobile Academy – a series of workshops prepared, organized, and conducted by the Mobile Area. Everyone from our QA team could join the workshops and boost their knowledge about mobile testing and mobile test automation.
Happy Hours
Another initiative that seems to be working pretty well in our growing team has been introducing Happy Hours.
It's a slot of time each Friday when a person specializing, e.g., in Cypress automation, is available on a call, and you can book their time and consult a problem you are facing in your project. It is a great opportunity to have a one-on-one call and to receive detailed help from someone experienced in a certain area. The Happy Hours format also helps to organize your time when you are the expert – people know exactly when you are available, and you will not end up being constantly pinged for help and getting distracted.
QA Forum
Another example of knowledge sharing that we try to cultivate is the QA Forum – a meeting that is moderated by one of our QA Engineers and usually has the form of a discussion on a previously chosen topic. It might be a new trend in the QA world, maybe some interesting statement we heard recently, or a hot topic in the company. The meeting is informal, and it is a great way to spend some quality time integrating with team members. Additionally, once the pandemic hit, we started looking for ways to integrate within the team even more and organized bi-weekly KawQA events where anyone from the QA team can join and casually talk with other QAs over coffee or tea (depending on the preference).
If you have knowledge, let others light their candles in it. — Margaret Fuller
External initiatives
Apart from the internal initiatives, we also try to share our knowledge externally. In 2018, we conducted the Netguru College QA Edition for a bunch of QA-wannabes. 20 people attended our two-day intensive workshops that prepared the attendees for their first job as a QA.
There are also times when we organize external workshops with experts, especially when we want to dive deeper and become experts ourselves in some areas like security, performance, or cloud computing.
Pre-pandemic hosting events used to be our thing as well, and regular PTAQ events at the Netguru office were a great opportunity to exchange knowledge and experience within the QA community. Now, when the world works mostly online, we try to keep up by attending online conferences and meetups and share our experience there.
If you decide to share your knowledge with a larger audience, e.g., at an external conference, the Netguru community won't leave you without the help either. If you need a presentation review before your gig, you can join a dedicated channel where you can find people who are eager to share their thoughts and useful tips. Afterward, you can always count on a special bonus for representing the company at the external event.
One of our core values says: Be ambitious and grow yourself and the people around you, and we definitely take it seriously by making sure we have processes in place to ensure the growth and development of our team members.