atStats Is Launching Today. Get It On Google Play And Interact On Slack In a New Way!

Slack has become one of the most important tools in the armoury of many companies.
Its capabilities reach far beyond the everyday chat between co-workers, and it's time we took advantage of them. atStats is a mobile app for Slack users that will visualise their social relations with other users and help them monitor their online social behaviour.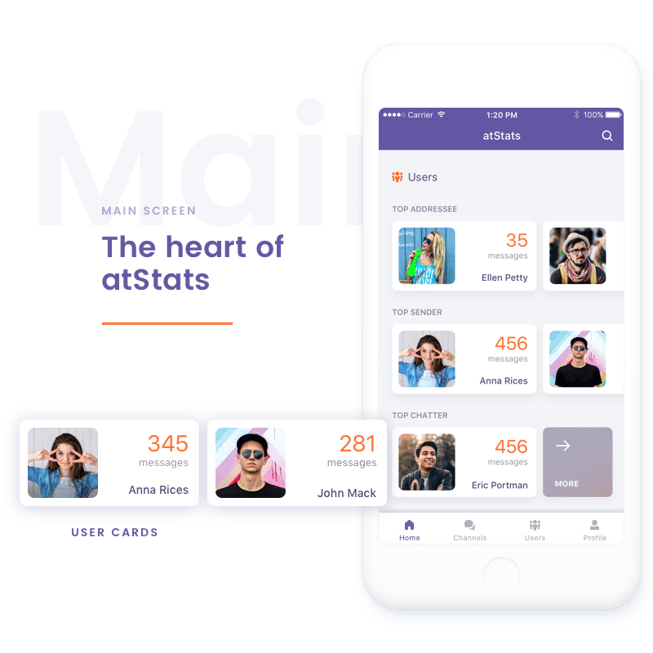 Why did we create atStats?
We love Slack at Netguru, and so do millions of people around the world. We wanted to challenge ourselves and create an app which would help all Slack users understand their interactions better and track their activity in their company's environment. We also wanted to make Slack interactions more enjoyable and rewarding for users. For our development team, it was an opportunity to showcase their coding skills and work around some mind-bending challenges in this internal project that took a few months of hardcore coding.
Developing relationships and fixing productivity issues
Most of us use Slack on a daily basis, but can you tell who your best Slack buddy is? Or which channel is killing your productivity through frequent mentions? No? We couldn't either. At least, not until we created atStats.
With the help of atStats, you will be able to track those statistics and see which sources (users, channels, and even mentions) on Slack distract you from your work and, in the end, are killing your daily productivity.
We divided our application into two main sections: users and channels. Each section can be filtered and show different statistics.
For channels, you will be able to track down such statistics as:
the most active channel,

the channel on which you have been mentioned the most frequently,

the channel on which you have been most active.
As far as users are concerned, you will be able to see:
top addressee (the one you reach out to most of the time),

top sender (the one who sends you more messages than anyone else),

top chatter (the one you exchange messages with most of the time).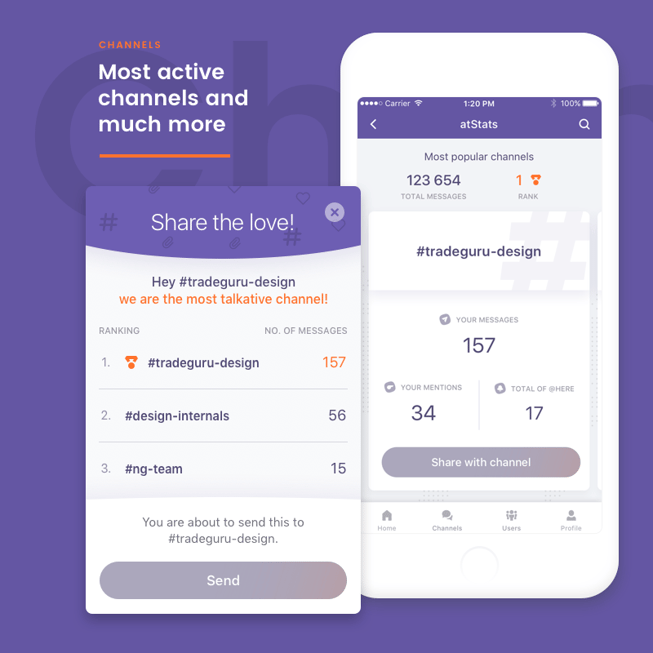 Check out the full case study on Behance!
Beyond fixing productivity issues
Based on these statistics, you can start developing a better relationship with your colleagues or even find new colleagues to talk to. Quickly select a filter you like and browse people that require your attention. In most cases, there will be a massive gap between the number of messages at the top and at the bottom of the list of the people you talk to regularly.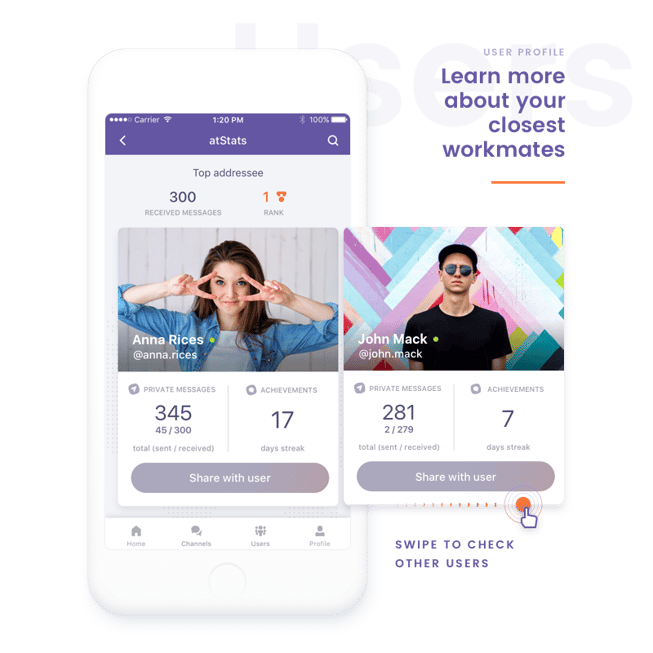 Care about your community and peers
You can always improve your relationship with the users you care about by sending them slick-looking stats directly on Slack. The same option is also available for channels. It encourages people to take action and helps to start new conversations within teams and on private channels.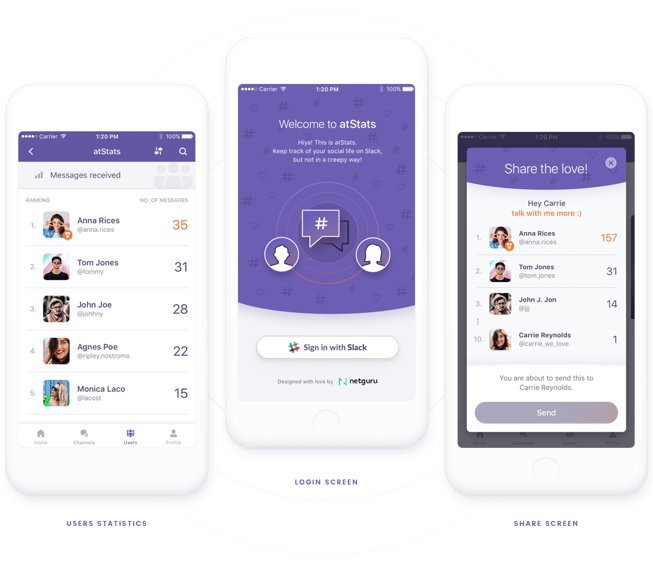 Slack-life balance
"Slack-life balance" is a term that we came up with when we were designing atStats. These days, it's increasingly difficult to stay perfectly focused on your work due to many distractions, e.g. Facebook or even Slack itself. We wanted atStats to be a helping hand – an application that would make you more aware of your life on Slack.
App security
This app dwells wholly on statistics and a token. The moment you get the statistics, all messages and other app data are wiped out - pure and simple. What's more, the security review we performed ensured that your personal data be safe and validated.
Conclusion: we think atStat is pretty cool
Today, we're launching the core atStats experience on Google Play. Our development work will continue, of course. Soon, a React Native version for iOS will be released on Apple's App Store. We will be introducing new cool features regularly. We are also waiting for your feedback and ideas for the features we could add to atStats in the future.

Credits: the team
Today is a very special day for us. After seven months of designing and developing atStats, we are finally able to share our application with you!
App concept & Product Owner:
Designer
Development Team
Rafał Gawlik

Gonzalo Acosta

Rafał Adasiewicz

Michał Mokijewski

Dominik Rownicki

Artur Andersz

Paweł Jędrzejczyk

Maria Korlotian

Radek Szeja

Netguru Support Team
Anna Hellwing

Marta Ciesielska

Olga Trąd

Natalia Chrzanowska

Szymon Sobecki

Bartosz Suchodolski