10 Event Companies Pivoting or Modifying Their Business Due to COVID-19

Event businesses during the COVID-19 outbreak
According to Allied Research, the global events industry was expected to grow by 10.3% annually and reach a valuation of $2.33 trillion in 2026.
However, when the COVID-19 pandemic hit in March, event companies worldwide suddenly saw their calendars wiped. With the option to either pivot their business or lose months of revenue, firms innovated in their existing fields to continue providing value and joy to their clients.
We'll discuss how 10 event companies – including Sofar Sounds, Club Vino, and Stagekings – added new elements to their business to be able to effectively operate despite social distancing restrictions in place.
What is a business pivot?
Even though the term 'pivot' is frequently understood as a drastic business change, it doesn't always entail changes that shake the business to its core.
Rather, it's the process of addressing an important problem or challenge the company is facing – one that is keeping it from achieving its goals. Therefore, a pivot can mean anything from introducing a new product or service into the business' offer, through to an entire redefinition of the business and entering a new industry.
1. Sofar Sounds
Started in London in 2009, Sofar Sounds created a unique spin on in-person concerts. Prior to March 2020, it focused on transforming everyday spaces – living rooms, coffee shops, retail locations – into areas used for live shows.
These intimate events created an immersive experience where local artists played, and people gathered with their own food and beverages. The acts were diverse, there were no headliners, and it was a casual environment for all.
Yet, Sofar is among the event companies impacted by the coronavirus. When in-person events were postponed, Sofar had to pivot their business for the safety of both guests and artists.
In March, they canceled all upcoming shows for the foreseeable future. Nevertheless, they announced that they would be working to support local artists in a variety of ways:
Continuing to listen: They created an online listening room so that fans around the world could continue to support artists. Through these online listening rooms, live shows are broadcast, and 100 percent of donations go directly to artists.
Creating the Sofar Sounds Global Artist Fund: It provides direct financial support to artists that rely on Sofar and other local gigs (which have been canceled due to COVID-19) to make a living.
Building a directory of local resources: To help provide support for artists around the world who are affected by the global pandemic. It includes everything from healthcare resources to the relief fund application.
Establishing In Session: This is a series of artist webinars where educators, industry experts, and seasoned Sofar alumni share their knowledge and experience with other artists in the community.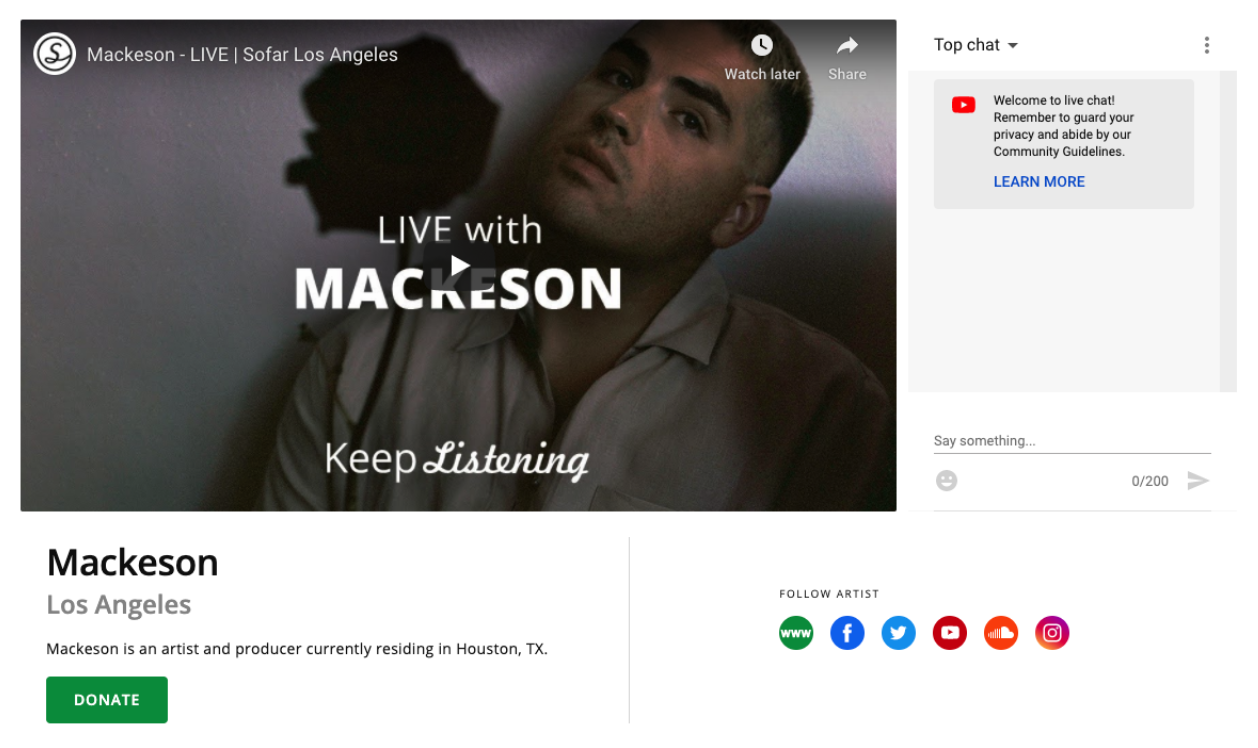 Source: Sofar
2. Pierpont Place and Premier Event Services
Pierpont Place and Premier Event Services is Salt Lake City's premier event venue. Before COVID-19, it offered full-service event planning, design, and coordination.
It had a centrally-located venue, where you could host a wedding, corporate or private event, non-profit fundraiser, or any other type of event you desired.
The founder of Pierpont Place and Premier Event Services, Janice Boes, and her team created the "Beat the COVID-19 Blues with Some Colorful Bloom" marketing campaign in response to market changes.
They began offering unique, customized floral arrangements for only $45, with door-to door delivery. Customers could also send a floral arrangement to a first responder, essential worker, or healthcare worker for only $40.
The campaign was built around distraction, creativity, and internal joy to Pierpont Place staff, as well as keeping the business alive. As of August 2020, the venue had partially resumed event operations, offering live concerts and charity events.
3. Club Vino
Club Vino is a UK-based company known for its great wine tasting events in a variety of Manchester locations. All of these events are delivered by renowned Italian sommelier, Marco Castelanelli. Prior to the lockdown, the company offered live, individual wine tastings, corporate events, and private parties.
However, because COVID-19 shut down all non-essential businesses and limited the number of people who could gather, Club Vino had to pivot their business in order to reach their clientele.
Now, customers can order a home tasting package from the Club Vino website. This includes a themed case of bottles as well as printable tasting notes and food pair suggestions.
Finally, participants also receive a video link that guides them through each wine and explains the "story behind the bottle." This process does everything possible to simulate the in-person event.
Through launching their 'Virtual Wine Tasting' services on the website, Club Vino has created a scalable addition to their physical business.
4. Boozi
Booziis a new Australia-based events company. Its parent company is Wat's On Events, which specializes in festival bar management, licensing, and pop-up bars.
However, when COVID-19 hit, they noted that the virus "wiped out their core industry." The founder, Michael Watson, had been looking forward to a packed six months of business, but within two days, all of their events were canceled.
The question he began to ask was, "how can we utilize what we already do to keep everybody busy?". With all events on hold, it was natural for Boozi to create an alcohol delivery service, and from there, Boozi was launched.
Luckily, the business had a package liquor license that it's been renewing (but not using for 10 years), so they had the means to sell and deliver alcohol. From start to finish, it only took two-and-a-half weeks to get Boozi off the ground from the initial brainstorm to a new website and logistics plan.
While they may not be able to create the events that they love, they can continue to serve people around the city of Sydney. In fact, the business was so busy that Watson had to complete some of the deliveries himself, instead of coordinating them from his office as he'd planned originally.
5. Stagekings
Stagekings is an Australia-based company, founded in 2015, which specializes in custom stage design and decoration for the music and entertainment sector. Prior to the pandemic, they served primarily large scale, European musical festivals.
After The Prime Minister of Australia announced an immediate lockdown, Stagekings quickly decided on the direction they'd reinvent their business.
Namely, they pivoted to what tens of thousands of people would soon need and what they could easily provide with their resources, i.e., work-from-home desks. Stagekings now produces flat-pack, fast-to-assemble units that require no tools or skills to put together.
As of August 2020, the company has expanded their product range and now also offer tablet and phone stands, wine racks, and even skateboard racks and cat towers – all made of high-quality, birch ply.
6. The New Black Studio
The New Black Studio is a creative event agencybased in London. They guide their clients through the event management process, from concept to design to product. When COVID-19 occurred, they pivoted from a service-based business and launched their "Bespoke Events in a Box" campaign.
Their new service aims at emulating real-life events as closely as possible and bringing joy to 'guests', even though they're not in the same space.
The New Black Studio lets companies assemble and send out boxes that include items that would normally be provided to participants during award ceremonies, conferences, product launches, and networking events.
This can be anything from conference timetables and educational materials, through company swag, all the way to eco products, cooking kits, and even meals from catering companies.
Rebecca Brennan–Brown, from the New Black Studio says "we've had to learn everything from scratch. Delivery methods, alcohol licensing, pricing strategies, everything is so different". Luckily, the business is flourishing and they have already received thousands of orders internationally.
7. Kidadl
Kidadlis a London based startup that helps parents find the best things to do with kids, such as events and online courses. When COVID-19 happened, and schools and daycares shut down, parents suddenly had their children home with them full-time.
As they juggled to meet both work and family needs, Kidadl was there to help out. They doubled down on their editorial output within the business and decided to launch more free resources on their website.
Kidadl currently offers dozens of free online classes from learning how to draw funny cartoons to Instagram poetry classes. It also introduced a variety of online events including fitness classes, reading with Michelle Obama, and virtual tours such as visiting Yosemite Park or exploring the Grand Canyon.
Focusing on online resources has helped the company bring in more traffic and remain operational during the lockdown. As of Summer 2020, the company had also resumed sales for real-life events and historical venues within the UK.
8. Speaker Ideas
Based in Amsterdam, Speaker Ideas has been connecting clients with engaging experts, speakers, and leaders from a variety of disciplines for the last 25 years. As of 2020, they offered hundreds of speakers from around the globe.
Though online and virtual gatherings have already been part of the Speaker Ideas' offer prior to the pandemic, COVID-19 has forced them to move to a fully-online event organization model.
In order to pitch their online event services and familiarize people with the operational changes brought about by COVID-19, the company has launched a complimentary resource – a webinar titled 'Peak Performance in Challenging Times'. It has been watched by over 1,500 viewers from across the globe and is available for download on the Speaker Ideas website.
Currently, Speaker Ideas allow platform speakers and audience to connect virtually for online keynotes, Masterclasses, and briefing sessions. Despite the distance, the event company maintains that its "boutique" nature provides highly individualized attention to both speakers and clients.
As of late 2020, the company had reintroduced some of their offline services by offering 'hybrid' events, which are partially conducted in a real-life setting.
9. Intelligo
Intelligo is a UK-based company, offering an all-in-one smart streaming platform. You can set it up and stream from anywhere. While Intelligo originally focused on corporate events and live streaming for content creators, the pandemic has prompted them to pivot to virtual education.
Thanks to their video expertise, they managed to launch their first product within three weeks. Intelligo offers their customers an all-in-one broadcasting studio in a box, which they can take home and use for teaching immediately. Their aim was to provide schools with solutions that will enable them to continue delivering classes to students.
The company's lead developer says that:
"Intelligo is great because it is an all-in one package. We've taken our expertise and applied it to creating a product that does exactly what schools need it to do, without unnecessary features or complicated setup requirements. It's really exciting".
While, as of August 2020, Intelligo has resumed some of its pre-coronavirus offerings, it has also decided to incorporate virtual classrooms into their services permanently.
10. Encore
Encore is a booking agency that helps musicians and artists living in the UK earn through live gigs. When the COVID-19 lockdown started, it was extremely difficult for the company to make ends meet.
However, they have quickly decided on launching a new, fully-online service, which would not only support artists but also contribute to battling the virus by donating to charities. This is how Music Messages was born.
Now, instead of booking a musician or artist for an in-person event, you can have them create a personalized music message for you or a loved one. Prices start at £15, and from each gig sold via the website, £2.50 is transferred to NHS charities to support their efforts in fighting the disease.
The service was met with a positive market response and has been featured on multiple media outlets, including the BBC, Forbes, The Times, and TechCrunch.
The event industry during the lockdown
While unanticipated, the COVID-19 pandemic has prompted the events industry to rise to the occasion all over the world. Many of the companies listed above introduced some sort of eCommerce elements to their business – either taking it online or making their service available in a box.
In rare cases, companies like Stagekings pivoted to an entirely new product that could be developed using all of their existing resources. All of the innovative solutions discussed above will undoubtedly change how people consume and experience events.