App Store Optimization – a crucial part of your mobile app strategy
There are many factors that contribute to a mobile app's success on the market. Apart from the overall UX and the value it delivers, it must also be easy to find by potential users.
If you run an Android app, one of the key ways of ensuring its high discoverability is by optimizing it for Google Play Store – so, making it stand out among the tens of other options available. Especially, as we're talking about 2.9 million apps on Google Play worldwide!
In the following post, we're going to share with you our top 11 tips for making your app distinguishable for the Google Play Store algorithm and users alike.
11 hacks to help you with Google Play App Store Optimization


1. Aim for keywords with the right volume-to-click-through ratio

For anyone starting off with ASO (short for App Store Optimization), it's a popular mistake to focus entirely on using keywords with the highest possible search volume in the app description.
While it's certainly important, not all of such phrases receive an adequate amount of clicks from users (a factor known as CTR – click-through rate). Choosing a low-CTR phrase can potentially harm your app listing, because – if you don't get enough clicks – Play Store might determine that it's irrelevant to users.
When choosing your keywords you should also consider your target users' search intent. Can you expect them to know what your app does? Have they used a similar solution before, or are they new to the subject?
An example of a well-thought out user intent strategy is Google Maps' listing in the Play Store. Despite the app's immense popularity, it's name in Google Play Store is descriptive: Maps – Navigate & Explore.
By choosing these two keywords, Google made sure that anyone searching for a navigation solution without using their brand name will still come across their app.
Long-tail keywords for effective ASO
Given that CTR and user search intent are such important ASO factors, we advise that you turn to long-tail phrases, which are more specific and tend to have a higher CTR. The good news is that by choosing longer keywords you won't necessarily have to compromise on the search volume!
According to an Ahrefs' study of over 1.9 billion keywords, 29.13% of phrases with over 10,000 monthly searches were made up of three or more words!
How to choose keywords and keyword combinations for your app?
In order to make a list of keywords you should optimize your app listing for, we recommend that you use an App Store Optimization keyword planning tool. Some examples include KeywordTool, AppFollow, and KeywordKeg.
2. Don't overdo it with keywords in your short description
While keywords are important in making your app discoverable, they shouldn't be your primary focus in the short description. Especially since the short description can only be 80 characters long!
We recommend that you treat it as an elevator pitch.
You have only a couple of seconds to catch your prospect's attention, make a good first impression, and sell your app's story. Naturally, you can mention a keyword or two – just make sure they don't disrupt the message you're trying to convey.
Instagram does a great job at this with their claim: "Bringing you closer to the people and things you love".
3. Use keywords in your long description
Unlike the iOS App Store, Google Play scans the long description of your app in search for relevant keywords. Here's where you should focus your efforts and mention the terms you want to be found for.
The difference in app ranking has proven to be quite significant for certain industries. For instance, the marketing agency AppMasters noticed a spike for two keywords after having ASO-optimized the long description. The first keyword's position went up from number 13 to 8, and the second – from 11 to 8.
This means that the app reached the top 10 search results for both phrases!
4. Add social-proof or statistics to your description
If there's a number you're particularly proud of or if you have an endorsement from a prestigious client, you should definitely show it off in your Google Play listing!
Mentioning these can give you a credibility boost and differentiate you from your competitors – especially if the numbers or endorsement are visible above the fold.
For instance, here's an example of Expedia's Google Play profile:
Source: Google Play Store
As you can see, the app creators made sure that anyone browsing through the listing notices that they have over half a million hotels available worldwide.
You can experiment with this approach yourself by doing an A/B test – one listing that doesn't feature a particular number or customer endorsement, and one that does.
AppMasters' Steve Young reported a 14.6% rise in downloads after they added social proof in their short description.
Such a significant spike in download rates might also result in having the app mentioned in the "Trending" list on Play Store.
5. Make sure your app icon stands out
Making your visuals stand out from the crowd is one of the best ways of getting more hits in Google App Store.
If you know your competitors, you can do this by using colors that contrast with their visual identity. Another approach is going for a bold statement and creating a brand that is unmistakable and instantly-recognizable.
A great example of this approach is Snapchat, with its bright yellow icon and key visuals:
Source: Google Play Store
6. Get your app featured in Google Search App Packs
Not all search queries for apps take place directly in Google Play – some people simply turn to Google Search (with 63% of all US searches done on mobile devices in 2019).
For this reason, Google created App Packs – a special snippet featured near the top of search results.
Here's an example of App Packs displayed for the "to-do list app" search query: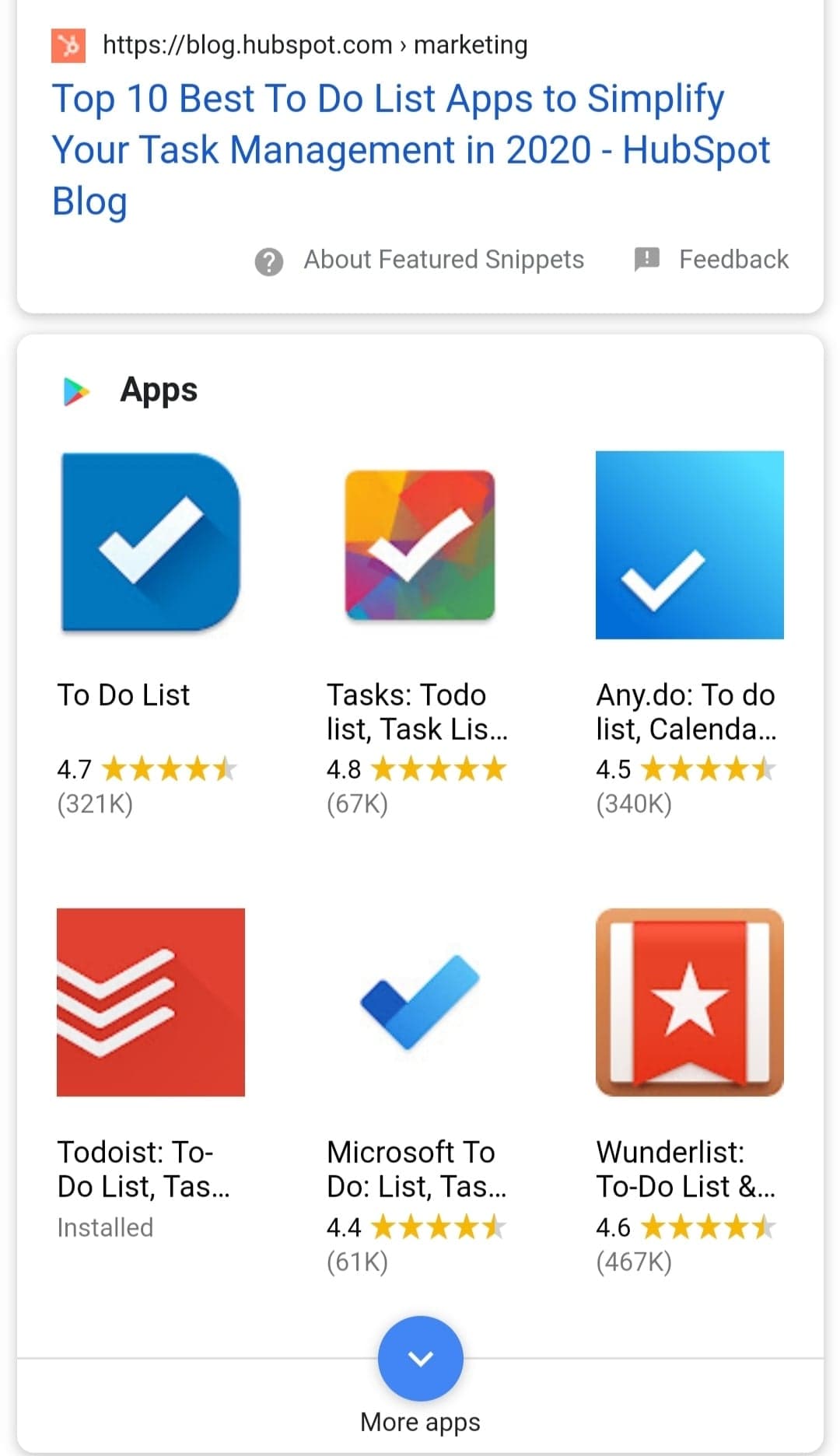 Source: Google Search Results
Clicking on any of the icons will take you directly to the app's Play Store listing.
This means that you should not only focus on ASO but also SEO (Search Engine Optimization). Luckily, many of the basic rules are similar for both instances, so you can quickly get a grasp of Google Search and Play Store optimization.
7. Don't rely on Google Play automatic translations
To make it easy for you to be present on several markets quickly, Google offers automatic translations of listing descriptions. However, they also openly recommend that you treat them as a temporary solution only and hire a human translator.
This is because optimizing for multiple markets isn't just about translating – it's about localizing.
Localizing your app's descriptions means you'll have to perform separate keyword research for each market. A term that is easy and has a huge search volume in one market might not be as simple to rank for and equally popular in the other.
For instance, according to UberSuggest, the keyword "bed and breakfast" has a search volume of 110,000 and difficulty score of 46 in the United States, whereas in Canada the volume is 18,100 and the difficulty score is 24.
This means that while the term is 5x as popular in the US than it is in Canada, it's also twice as hard to rank for the phrase in the American market.
Source: Neil Patel's Blog
8. Optimize your app to reflect cultural differences among markets
We strongly recommend that you localize not just the copy, but also the visuals that accompany your app's listings. This applies not just to the text on the images or the audio in your promo video.
Think about the specificity of the markets your app is present on – do their lifestyles, values, or beliefs differ significantly? For a brand like H&M, this might mean publishing different swimwear snapshots within listings in Europe and the Middle East.
9. Invest in an app retention strategy
There are two types of metadata in the Google Play Store. The first type is called 'on-metadata' (the listing content you control and can change – e.g. images, title, or description). The second is called 'off-metadata', and includes information like the number of installs, user reviews, or customer ratings). As the app's developer, you can't modify any of this information.
When the Play Store algorithm decides whether your app should be ranked highly, it takes both types of metadata into account. If you have poor user reviews or your installation rate suddenly drops, this can also negatively influence your app's position in search results.
There's only one way to have off-metadata work in your favor – making sure that your app is useful to its users, they leave positive reviews, and that they keep returning to it regularly.
10. React to Google Play Store Algorithm Updates ahead of your competitors

We highly recommend that you use an App Store Algorithm Tracking tool to make sure you never fall victim to Play Store updates.
A tool like this will alert you if it notices any unusual or abrupt keyword ranking changes for your app listing. This way, you'll be able to quickly check if it's caused by an algorithm update.
If that's the case, you'll be able to adjust your app store content promptly – perhaps, even before your competitors realize any algorithm changes have taken place.
AppTweak is an example of a free tool you can use for this purpose.
11. Use Google Android vitals
A while back, Google introduced a new feature called Android vitals. It's a set of app performance indicators that tell you whether your app's performance is spot-on.
The feature provides you with data on your app's top technical functionalities, and lists any issues that might negatively impact app performance or users' experiences.
Just like in the case of off-metadata mentioned earlier in this post, the statistics from Android Vitals can also significantly influence your app's rankings in the Play Store.
Hence, make sure that Android vitals are an integral part of your ASO strategy.
App Store Optimization is an ongoing project
In order to make sure that your app ranks highly in Google – both in the Play Store and search results – it's important that you stay on track with any algorithm changes or general ASO/SEO guidelines.
Remember to pay attention to all types of metadata in your app listings – both those controlled by you as well as the data that comes from user sessions, reviews, or performance trackers.
Last, but not least, you should perform market research regularly and check your competitors to adjust your strategy. In the end, people use apps in the long term not because they're easy to find, but because of the genuine value they bring and the emotions they evoke.
Good luck!