17 Hacks for Google Play Store Optimization (2021 Update)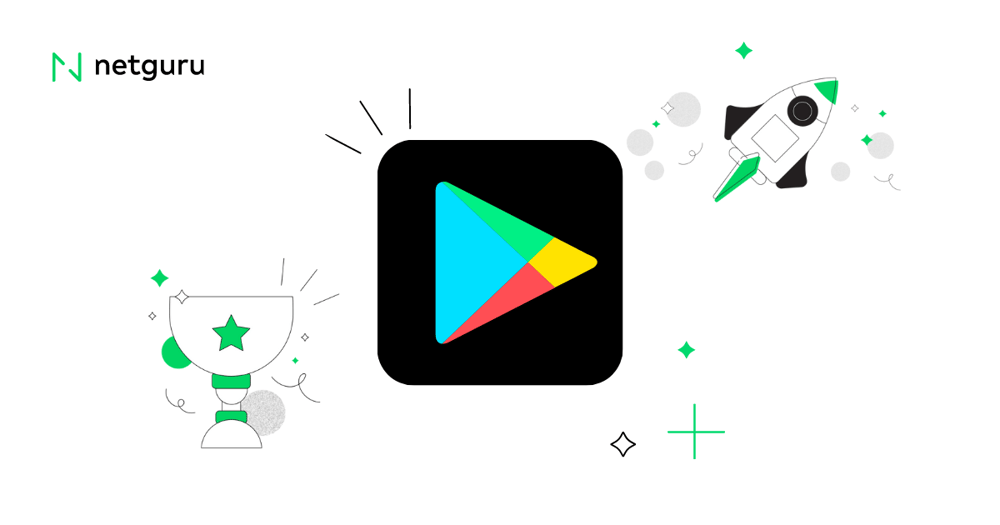 Whenever you develop a mobile application, you want to give it the best chance of success and make sure you can reach as many users as possible.
Find out how to optimize your application for Google Play Store, with 17 special hacks to get more views, downloads and installs.
First, let's take a look at what we mean by app store optimization.
What is app store optimization (ASO) in Google Play Store?
App Store Optimization (ASO) refers to the process of improving your mobile application's visibility in app stores. ASO focuses on boosting your app performance in app store search results and click-through rates (CTR), which can translate to the success of your mobile app.
If you've heard of SEO before, then ASO is basically app store SEO, and can help in optimizing mobile apps for better business performance.
Why is Android app store optimization important?
There are many factors that contribute to a mobile app's success on the market. Apart from the overall user experience, and the value it delivers, it must also be easy to find by potential customers.
The two major app stores to list your mobile apps are Apple App Store and Google Play Store. If you've developed an Android app, one of the best ways of ensuring its high discoverability is by optimizing its app store search rankings for Google Play Store.
Make it stand out among the dozens of other options available. This is crucial, because there are over 5 million Android apps on Google Play worldwide.
In such a competitive area, Android app store optimization helps you to deliver more app downloads. Improving your app store rankings and discoverability is the quickest way to increase downloads and reaping the associated business benefits.
Research shows that nearly 50% of users download apps using Google Play search - so if your app doesn't rank high in those search listings, you're going to struggle to get more clients and to make it viable as a product.
Check out our list of top 17 Google Play Store optimization tips, helping you make your app distinguishable for the Google Play algorithm and Android users alike.
1. Add app preview video to increase user engagement
Most app marketing tactics consist of text, images and video. Of these three, video proves to produce higher user engagement, as evidenced by the huge sums of money paid to produce and distribute in online video ads. In 2021 for example, digital video advertising spending in the US alone was estimated at USD55.34 billion.
Headspace, for example went as far as creating a Netflix series, using the same branding, color schemes and imagery, which presents a unified visual approach with their app, so if someone searches for "meditation app", they will immediately recognise the brand from the screenshots or video previews used.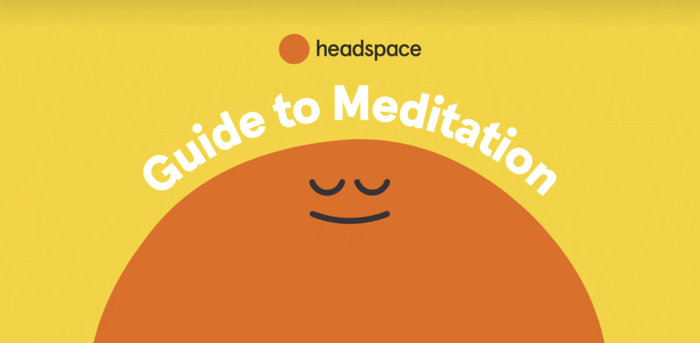 Source: Netflix.com

This can work for your Google Play Store app too. You can add an app preview video as a feature graphic, replacing the static picture thumbnail you would normally go for.
Tip: How to add a Google Play Store video to your app store page? Just copy and paste the Youtube link for your video into the "Promo" box on your Play Store listing.
This comes with an added bonus: Google Play Store video plays add to your YouTube video play count. So, you're not only boosting your ASO, but also ranking your YouTube video better.
Pro tip: Localize your video for different languages. This broadens the target markets for your app. Just make sure not to use age-restricted content, and only paste individual video links - not playlist or channel links, as these won't work.
2. Aim for keywords with the right volume-to-click-through ratio
When you're starting off with app store optimization, you don't want to make the mistake of focusing only on using keywords with the highest possible search volume in the app description.
While it's certainly important, not all of such phrases receive an adequate amount of clicks from users. The number of clicks you receive is known as click-through rate (CTR). CTR is the ratio of users who click a link versus the total number of users who visit the page that hosts the link.
Choosing a low-CTR phrase can potentially harm your app store listing. If you don't get enough clicks – Play Store might determine it as irrelevant to users.
When choosing your keywords you should also consider your target users' search intent. Do you expect them to know what your app does? Did they use a similar solution before, or are they new to the subject?
An example of a well-thought out user intent strategy is Google Keep' listing in the Play Store. Despite the app's immense popularity, its app name in Google Play Store is descriptive: Notes and Lists.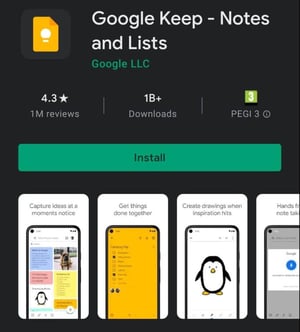 Source: Google Play Store
Google chose these two keywords to make sure that anyone searching for a notes app solution without using their brand name will still come across their app. As such, it is crucial to use this in your Google Play Store Optimization strategy.
3. Use long-tail keywords for effective ASO
Given that CTR and user search intent are key ASO factors, you should use long-tail phrases, which are more specific and tend to have a higher CTR. The good news is that by choosing longer keywords you won't necessarily have to compromise on the search volume!
According to an Ahrefs' study of over 1.9 billion keywords, 29.13% of phrases with over 10,000 monthly searches were made up of three or more words!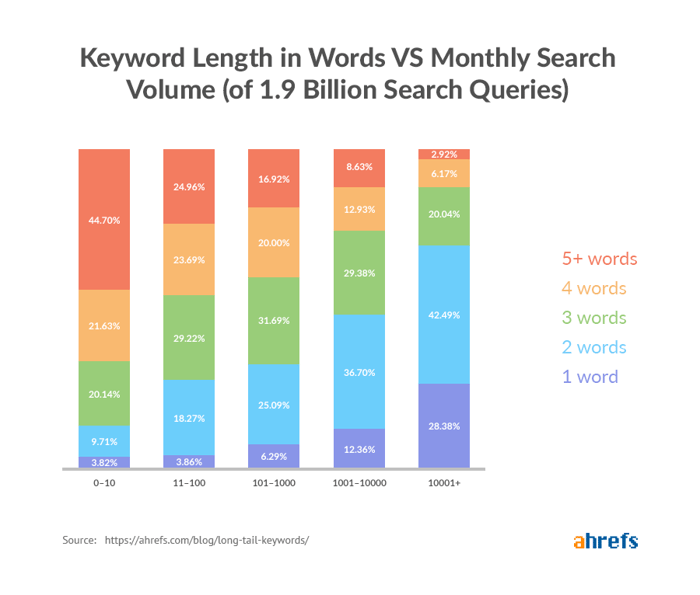 Source: Ahrefs
How to choose keywords and keyword combinations for your app?
In order to make a list of keywords you want to optimize your app listing for, use app store optimization tools. Some examples include KeywordTool, AppFollow, and KeywordKeg.
4. Create an optimized app title
As with search engine optimization, you need to ensure your app has a catchy title which incorporates keywords your potential users are likely to search for.
Note: In Google's Play Store, you can only use 50 characters in your app store listing title.
Use them wisely. As such, you'll need to keep your app name short, catchy and memorable, and easy to spell.
Next, include the most relevant keywords next to your brand name in the app's title. If you're unsure how to do this, use the keyword tools listed above, or go into the Play Store and look at your competitors' listings.
Take 'Canva' for example. Canva is a graphic design, video collage and logo maker. So, naturally, it has these words in its Play store title (currently): Canva: Graphic Design, Video Collage, Logo Maker. Anyone searching the Play store for 'logo maker' will see Canva as a high-ranking result, and will be likely to click through.

Source: Google Play Store
Remember that localization works here as well. Certain keywords will perform better than others in different regions. Try using emojis in your app title to grab attention, but don't use these at the expense of keywords.
5. Don't overdo it with keywords in a short description
While keywords are crucial in making your app discoverable, they shouldn't be your primary focus in the short description. Especially since the short description can only be 80 characters long!
Treat this part as the "elevator pitch" for your app.
You have only a couple of seconds to catch your prospect's attention, make a good first impression, and sell your app's story. Naturally, you can mention a keyword or two – just make sure they don't disrupt the message you're trying to convey.
Instagram does a great job at this with their claim: "Bringing you closer to the people and things you love".
6. Include screenshots of your app
Much like a video or image, app screenshots don't impact the Play store search algorithm. They do, however, help to increase install conversion rates.
Screenshots and mockups provide an easy demonstration of what your app looks like in action, and give some idea of the user interface and how the user flows through the different functionalities of your app.
Think about how you browse and decide which apps to download. If you don't know anything about an app when you see it, you're unlikely to install it unless it is obvious that it will benefit you.
You can add up to 8 app screenshots in the Google Play store for each device type your application supports. The minimum Google allows is 2 screenshots.
Follow these specifications for your screenshots:
JPEG or 24-bit PNG (no alpha)
Minimum dimension: 320px
Maximum dimension: 3840 px
The maximum dimension of your app screenshot can't be more than twice as long as the minimum dimension
Follow these handy tips to optimize your screenshots:
Use your first app screenshot slot to get your most important message across.
Don't leave the images to do the work on their own - provide explanations, like you would in a slideshow
Make sure there's a consistent style or theme running through your screenshot selection
Mention awards or media praise, if you have them
Make sure to highlight any offers/discounts
Test different options so you can choose the one that converts the best
7. Use keywords in your long description
Unlike the iOS App Store, Google Play scans the long description of your app in search for relevant keywords. Here's where you should focus your efforts and mention the terms you want users to find your app for.
The difference in app ranking is significant for certain industries. For example, AppMasters noticed a spike for two keywords after having ASO-optimized the long description. The first keyword's position went up from number 13 to 8, and the second – from 11 to 8. This means that the app reached the top 10 search results for both phrases.
8. Add social-proof and/ or statistics to your description
If you are particularly proud of a certain stat or figure,or if you have an endorsement from a prestigious client, show it off in your Google Play Store listing!
Mentioning these can give you a credibility boost and differentiate you from your competitors – especially if the numbers or endorsement are visible above the fold.
See the example of Expedia's Google Play profile: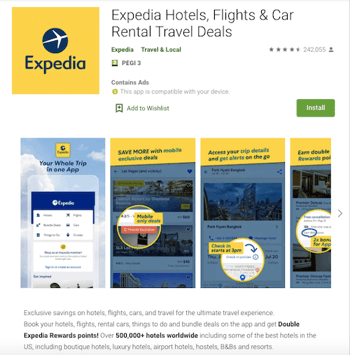 Source: Google Play Store
The app creators made sure that anyone browsing through the listing notices that they have over half a million hotels available worldwide.
You can experiment with this approach yourself by doing an A/B test – with one listing that doesn't feature a particular number or customer endorsement, and one that does.
AppMasters' Steve Young reported 14.6% more downloads after they added social proof in their short description.
Such a significant spike in download rates might also result in having the app mentioned in the "Trending" list on Play Store.
9. Use keywords in URL or package
Just like in a Google search, keywords included in the URL helps to improve your app's search ranking.
Super Mario Run used the keyword "zara" in its app store URL. This is, of course, the name of a popular clothes brand, but has seemingly no relevance to Nintendo's game. Nevertheless, once Super Mario Run was launched, it quickly generated millions of installs and app user reviews and now ranks very highly when people simply search the term "Zara" in the Google Play Store.
10. Make sure your app icon stands out
Making your visuals stand out from the crowd is one of the best ways of getting more hits in Google's app store.
If you know your competitors, you can do this by using colors that contrast with their visual identity. Another approach is going for a bold statement and creating a brand that is unmistakable and instantly-recognizable.
A great example of this approach is Snapchat, with its bright yellow icon and key visuals: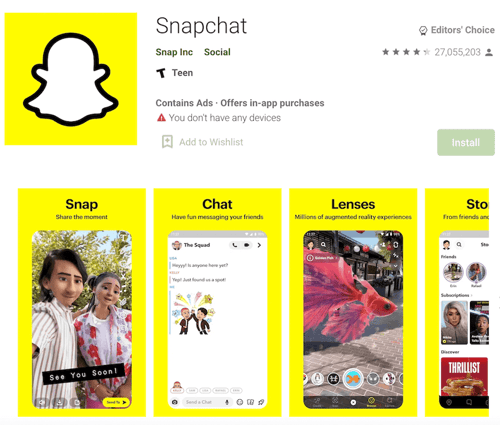 Source: Google Play Store
11. Get your app featured in Google Web Search App Packs
Not all search queries for apps take place directly in Google Play – some people simply turn to Google Web Search results (with 70.38% of all searches done on mobile devices in 2020).
For this reason, Google created App Packs – a special snippet featured near the top of search results. Here's an example of App Packs displayed for the "to-do list app" search query: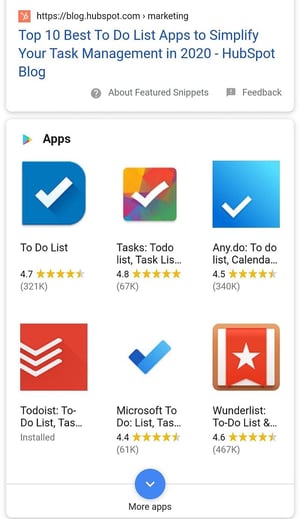 Source: Google Search Results
Clicking on any of the icons will take you directly to the app's Play Store listing.
This means that you should not only focus on ASO but also SEO (search engine optimization). Luckily, many of the basic rules are similar for both instances, so you can quickly get a grasp of Google Search and Play Store optimization.
12. Use keywords in your developer app name
Another good place to use keywords is in the "developer name" field. Google tends to favour listings from app developers with more positive history and thus ranks them higher in search listings.
Consider using keywords in your developer name. For example, if you have released a free drawing app, consider adding the words 'draw' and 'for free' in the developer field, along with your developer name. Obviously, you need to make sure these fit, but it;s a handy way to achieve ASO.
13. Don't rely on Google Play automatic translations
To make it easy for you to be present on several markets quickly, Google offers automatic translations of listing descriptions. However, they recommend that you treat them as a temporary solution and hire a human translator.
This is because optimizing for multiple markets isn't just about translating – it's about localizing.
Localizing your app's descriptions means you'll have to perform separate keyword research for each market. A term that is easy and has a huge search volume in one country, might not be as simple to rank for and equally popular in the other.
For instance, according to UberSuggest, the keyword "food delivery app" has a search volume of 33,100 and difficulty score of 84 in the United States, whereas in Canada the volume is 1,900 and the difficulty score is 73.
This means that while the term is 17x as popular in the US than it is in Canada, it's also harder to rank for the phrase in the American market.
Source: Neil Patel's Blog
14. Optimize your app to reflect cultural differences among markets
Make sure to localize not just the copy, but also the visuals that accompany your app's listings. This applies not just to the text on the images or the audio in your promo video.
Think about the specificity of the markets your app is present on – do their lifestyles, values, or beliefs differ significantly? For a brand like H&M, this might mean publishing different swimwear snapshots within listings in Europe and the Middle East.
15. Invest in an app retention strategy
There are two types of metadata in the Google Play Store.
On-metadata is the listing content you control and can change – e.g. images, title, or description.
Off-metadata, includes information like the number of installs, user app store reviews, or customer app rating. As an app developer, you can't modify any of this information.
When the Play Store search algorithm decides whether your app should be ranked highly, it takes both types of metadata into account. If you have poor user app reviews or your installation rate suddenly drops, this can also negatively influence your app's position in search results.
There's only one way for off-metadata work in your favor – making sure that your app is useful to potential users, they leave positive app store reviews, and that they keep returning to it regularly.
16. React to Google Play Store algorithm updates ahead of your competitors
Use an app store algorithm tracking tool to make sure you never fall victim to Play Store updates.
A tool like this will alert you if it notices any unusual or abrupt keyword ranking changes for your app listing. This way, you'll be able to quickly check if it's caused by an app store search algorithm update.
If that's the case, you'll be able to adjust your app store content promptly – perhaps, even before your competitors realize any algorithm changes have taken place.
AppTweak is an example of a free tool you can use for this purpose.
17. Use Google Android vitals
A while back, Google introduced a new feature called Android vitals. It's a set of app performance indicators that tell you whether your app's performance is spot-on.
The feature provides you with data on your app's top technical functionalities, and lists any issues that might negatively impact app performance or users' experiences.
Just like in the case of off-metadata mentioned earlier in this post, the statistics from Android Vitals can also significantly influence your app's search rankings in the Play Store.
Hence, make sure that Android vitals are an integral part of your app store optimization strategy.
App store optimization is an ongoing project
In order to make sure that your app ranks highly in Google – both in the Play Store and search results – it's important that you stay on track with any algorithm changes or general ASO/ SEO guidelines.
Pay attention to all types of metadata in your app listings – both those controlled by you as well as the data that comes from user sessions, app reviews, or performance trackers.
Last, but not least, you should perform market research regularly and check your competitors to adjust your strategy. In the end, people use apps in the long term not because they're easy to find, but because of the genuine value they bring and the emotions they evoke.
Good luck!