How to Hire a Good Node.js Development Team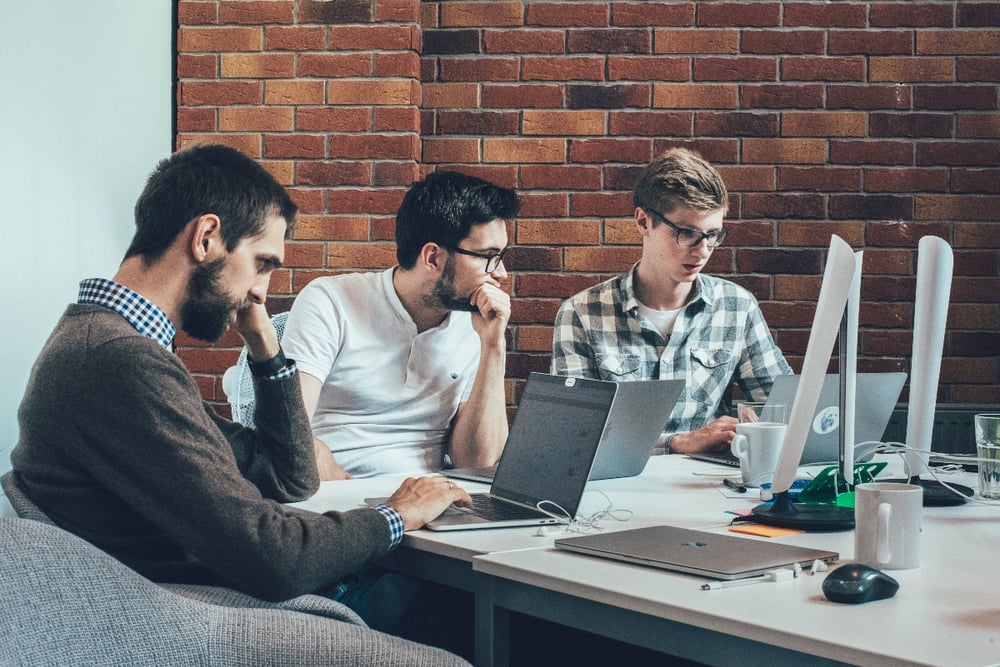 If you want to develop a successful product, you need to have trusted people on board. You may have the best idea for a new app the world has ever seen.

You've chosen Node.js as your JavaScript runtime environment, because you're expecting big traffic and want your app to be scalable. You've done your market research, and know for absolute certain that there's a keen and eager customer base practically bursting at the seams to get their hands on the very solution you'll soon be launching in app stores. However, if you don't have the right people behind your project, the chances of your application even reaching the launch stage - let alone taking app stores by storm - are slim to none.

The tech market is constantly changing. Competition in app stores is fierce. New versions and updates for Node.js get released thick and fast. And new JavaScript features are being developed all the time.

This all makes the role of the Node.js development team crucial. In this fast-moving and competitive business environment, the quality of a Node.js development team doesn't just impact project success or failure rates; it impacts business success and failure rates.

So - what makes an effective Node.js development team, and what should you look for when hiring one?
What Skills and Knowledge Should a Good Node.js Development Team Have?
Hard Skills
Node.js is an excellent choice for building scalable apps where big traffic is expected. Lightweight, fast, and modern, everything from collaboration tools to social media, streaming apps and real-time chat applications are the perfect fit for Node.js development.
But what are the hard skills a Node.js development team needs to create a robust app and maximise its market potential?
For starters, it's important to hire a team that closely follows tech trends, and constantly updates its knowledge about everything happening with Node.js. New major releases of Node.js appear every six months. However, it is only even-numbered releases that receive Long Term Support (LTS) of about 18 months. Odd-numbered releases are only supported for six months, after which they enter End Of Life (EOL). As such, it is incredibly important that your Node.js development team is right on the button with major Node.js releases to keep your project up to date.
A Node.js development team should also be current with JavaScript, and should have practical knowledge about leading cloud computing platforms, such as AWS, Microsoft Azure, and Google Cloud Platform. These platforms fully support Node.js and JavaScript, and provide numerous ready-to-apply solutions which considerably enhance and speed up the whole development process - crucial for keeping costs under control and giving you access to the best services.
In addition, your Node.js development team should have good, practical knowledge about design patterns - i.e. general, reusable solutions to commonly occurring problems. Node.js developers have a lot of freedom when creating software, and insufficient knowledge about design patterns can lead to small, common problems quickly becoming big problems without a ready solution.
A good Node.js development team will also have exemplary SQL and NoSQL knowledge. Either can be used in place of the other - but knowing when to use each, and having the ability to adjust to a project's particular requirements, are necessary skills for a development team working with Node.js.
Finally, your Node.js development team needs extensive knowledge in automatic testing. This will ensure that they produce high-quality code,detect any errors as soon as possible, and eliminate potential bottlenecks during the product's development.
Soft Skills
While hard skills related to specific technical knowledge and expertise are crucial when it comes to building a successful application, so too are soft skills - and a good Node.js development team should have both in abundance.
On the soft skills side of the coin, communication, transparency and responsibility are the top three attributes you should be looking for. Your Node.js development team should be making communication pathways open from the very outset of the project. Weekly calls, emails, instant chat - you need to know what's going on with your project at every stage of its development, who's responsible for it, and who to reach out to when you have a concern.
In addition to these core soft skills, it's also important that your Node.js development team is committed to continuous skills and knowledge improvement, and can demonstrate what team members do to keep their fingers on the pulse with all things Node.js. For example, it may happen that a vulnerability in a Node.js package appears - your chosen team should know about it immediately, and know the actions to take to solve any problems the vulnerability may cause.
The Team's Composition
A good Node.js development team won't simply comprise of a handful of unruly developers. At the head of the team will be the Project Manager who will be personally responsible for overseeing the project, talking with you as a client, and communicating your ideas to the team. There will also be a product designer, a UX (user experience) designer, and a QA (quality assurance) specialist responsible for ensuring the highest quality of your application, testing its features and functionality, and unearthing any bugs and reporting them to the team.
Software team organisational structure often affects the success (or not) of a project as much as any combination (or lack thereof) of hard and soft skills, so make sure you choose a team that's well-organised with all roles clearly defined.
The Team's Approach
The success of your project significantly depends on the quality of the team that will work with you on it, and the team's approach to tackling the job at hand.
Importantly, your team should approach application development as more than just building a product, but from a position of consultant and trusted advisor as well.
Before the Project Starts
A good Node.js development team will take the time to research your market, understand what your potential customers will want from your application, and get to know your business and its unique position in the marketplace.
Communication is once again important. Your team - and the PM in particular - should be forthcoming with questions about your project as they strive to understand your vision and precise requirements. You will also, of course, have many questions yourself, and you should know exactly who will provide answers for them - and be more than satisfied with the information you receive. In all, the team should be approachable, its members eager to align themselves with your vision, and able to provide you with the best, practical advice for how to realise it.
When the Project Starts
Choose a Node.js development team that takes an Agile approach to application development. Agile development means adjusting projects to customer requirements, and having the ability to respond to change rather than being stifled by a stiff plan. That said, Agile does involve planning, but it is an approach that is designed to welcome change requirements - even late in the development process - and harness those changes for the benefit of the product being built and the competitive advantage of the app owner.
The Node.js development team should also take a continuous integration and deployment approach. This is the practice of testing each change made to your codebase automatically and as early as possible (continuous integration), then pushing the code at least into a staging environment or actual production (continuous deployment). This enables the QA specialist to review the latest versions of your application and provide feedback, helping you find and fix problems early. In addition, the team should take a continuous improvement approach to development, whereby members continuously examine their processes to proactively identify improvement opportunities.
Monitoring tools should also be deployed to keep track of the app's performance, and regular app reviews should be conducted to ensure everything is working as it should and delivering optimum performance.
Final Thoughts
Choosing the right Node.js development team is a must for the success of your project. Effective teams are not only experts in their field, but also excellent communicators with the ability to translate your business's needs into smart project objectives. A good team has both hard and soft skills, is well-structured, and takes a modern, agile approach to software development.
More posts by this author