Full Stack Development to Build SaaS that Finds Talent for Projects
Internal talent and knowledge matching SaaS system presenting digitised expert profiles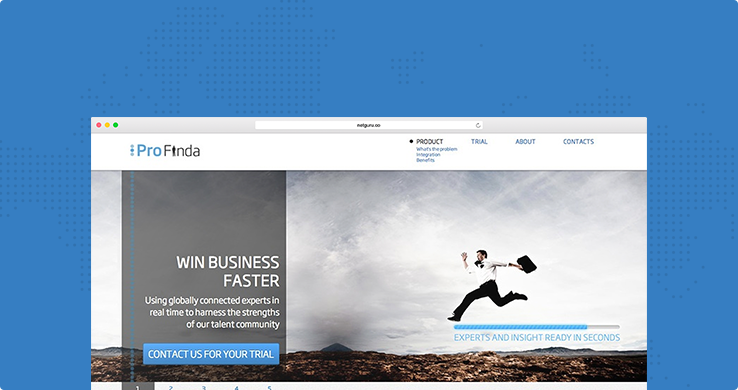 The client needed to create an internal talent and knowledge matching Software as a Service (SaaS) system for all types of professionals and experts.
Goal
Making it easier to find the best possible talent and connect it to the right projects.

Winning pitches, helping with tasks and supporting the client's needs.

Building high-performance teams, driving superior overall organisational performance.

Process
Netguru offered an all-around solution, from development through testing to integrating the product with multiple services.
Providing a full-stack development team and additional services.

Building new features and testing them thoroughly.

Integrating the platform with Heroku, Google Analytics, UserVoice, CloudMailin & Engine Yard.
Results
ProFinda is a unique SaaS Cloud Collaboration Platform with an exceptional matching technology that helps users find experts for their teams.
A platform that transforms businesses making team integration as easy as never before.

The process of searching for internal talents streamlined and inconspicuous.

Powerful real-time data on staff, departments and workflow.
Numbers
1003 Days of development and maintenance