The Complete Guide to App Store Optimization

App Store Optimization – setting your iOS app up for success
According to the New York Times, there were over 2 million apps in the Apple App Store as of Q4 2019. However, it's reported that the average retention rate of an app is less than 5% within a month after download. This means that competition for users' attention is fierce, to say the least.
Many factors determine whether an app makes it to the top of the search results or gets buried among the thousands of unpopular choices.
In the following guide, we explain what App Store Optimization is and how it works for iOS apps. We'll discuss the factors that contribute to a favorable App Store evaluation and provide you with a comprehensive list of areas you'll need to address. By crossing them off your list, you'll know you've tried your best to reach your target audience.
What is App Store Optimization and how does it work?
App Store Optimization (also referred to as ASO) is a term used to describe all the processes aimed at improving your app's visibility in the App Store.
It includes areas like optimizing your app listing description and visuals, as well as influencing your App Store reviews, user retention rates, and app performance.
While certain App Store Optimization rules apply to both iOS and Android apps, there are significant differences in how the Apple App Store and Google Play Store evaluate listings. While Android ASO is beyond the scope of this post, you can refer to our separate piece on Google Play Store Optimization.
Below, we've featured five key areas that you need to address for your iOS app.
Section 1: Keywords and listing descriptions
Perform thorough keyword research
Creating an effective App Store description starts with making a list of keywords that relate to your app. You can brainstorm and write down all the terms that come to mind, use a keyword research tool, and look at the phrases used by your competitors.
You'll notice that some keywords have a higher search volume than others. However, it's important to know that some popular phrases also have a low click-through rate (CTR) among users.
If you use a phrase that doesn't prompt users to click on your listing, Apple might think your app is irrelevant and lower its ranking.
To make sure this doesn't happen to you, we recommend that you focus on long-tail keywords (those with three or more words). They tend to have a much more favorable volume to click-through ratio. The good news is that you won't necessarily have to resort to low volume terms, either. According to a study by Ahrefs, nearly 30% of long-tail keywords have a search volume of at least 10,000!
Use your keywords in three sections
Unlike Google Play Store, Apple App Store doesn't scan all descriptions for keywords. You must use them in three sections only:


1. App Name. It should be up to 30 characters long. Make sure that the name is memorable and doesn't sound like competing brands.
Importantly, app names with keywords have proved to perform twice as well as those without

. Here's an example from the popular travel app Expedia, with three keywords included:






Source: App Store
2. Subtitle. Use the section right beneath the App Name to summarize what your app does (like the app name, it lets you use a maximum of 30 characters).
3. Keywords field. This is where you can list the keywords you chose to rank for – you can use up to 100 characters. Make sure that you:
Separate the keywords with a comma, but with no space in between. Here's an example from the Apple App Store Guidelines: Property,Real Estate,House
Do not use plural forms or special signs unless they're part of your brand name. It's an unnecessary waste of your word limit.
Use the promotional text and long description to sell your app
The promotional text (up to 170 characters) and long descriptions don't affect your app rankings. So, keywords aside, this is the place where you should explain what makes your app truly unique. You should focus especially on catching users' attention in the first two to three sentences, as users can see them without clicking on "read more". Here's an example from TikTok's listing:
Image source: App Store
Add the "What's New" description after any update
While it's not compulsory to complete, letting your users know what you've changed can positively impact your app's retention rates. When users are prompted to update the app to the newest version, they'll see that you invest in the app and listen to their requests and feedback.
Use a consistent developer name across all your apps
This will work to your advantage if you've developed a successful app in the past or if this one succeeds. Simply put, using your credentials can positively impact your listing's position if you're a reliable developer as the App Store algorithm takes this information into account.
Section 2: Visuals
Create a one-of-a-kind icon
Make sure your app icon stands out! If you know who the competition is in your category, you can do this by using contrasting colors. Another way is creating a one-of-a-kind brand and going with a bold statement. By creating a unique icon, you'll make your app instantly recognizable – just like Airbnb or Snapchat.
Add an App Preview video
App Previews are short videos (up to 30 seconds long) that demonstrate what your app does. You can add up to three videos on your listing. The first App Preview is auto-played on the listing with the sound off. Hence, you should focus on catching your viewers' attention in the first couple of seconds of the video.
Feature screenshots that capture the essence of your app
You can feature up to 10 screenshots of your product. If no App Preview is available, the first two or three screenshots appear at the top of your listing. The screenshots should explain to users in a nutshell what the app's main features are and what they let them achieve.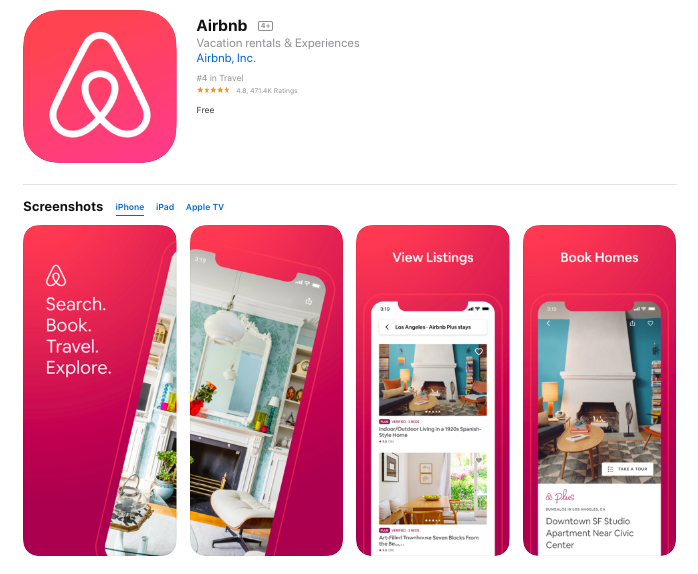 Source: App Store
Section 3: A/B testing

A/B testing is a crucial part of ASO as it lets you evaluate which listing content works best for your app. You should A/B test both the written and visual content on your listing.
We recommend that you:
Experiment with keyword optimization in your subtitles – if you get it right, your app may be boosted by the App Store to "Top Charts", which means higher conversions rates.
Change your promotional text continuously

. You can update the promotional text as many times as you deem necessary, unlike the long description, which can only be changed when you release an update.

A/B test your images. You can, for instance, test the conversion rates of a listing with screenshots versus app preview, or – if you're an e-commerce business – experiment with images of products.
Section 4: App Store listing optimization
There are several areas you'll need to address as your app evolves or expands to new markets.
Localize descriptions and visuals for specific markets
If your app is present in more than one market, you'll need to localize your written and visual content. As far as the listing copy goes, you'll need to conduct separate keyword research for each country. Various terms can rank differently across markets and might not be equally effective.
For example, according to Ubersuggest, the search volume for the term "hotel app" is 25 times more popular in the U.S. than it is in Australia – with 4,400 and 170 searches each month respectively. However, using the more general keyword "hotel room" in Australia would provide better results, with over 1,000 searches a month.
Source: Ubersuggest
You must also make sure that the visuals on your listing reflect users' lifestyles and beliefs. For instance, think of the reception screenshots of a swimsuit campaign could have for a listing in Europe versus the Middle East.
Depending on your category, you might also benefit from localizing your videos or images based on the location. A ride-hailing app like Uber could promote itself with a map of a city from each target region.
Source: App Store
Leverage social proof or statistics
If you've got a statistic or a customer you're especially proud of, make sure to display it in your images and copy.
For instance, Booking.com makes sure that anyone visiting their listing knows they feature over 27 million places, which have received a whopping 135 million user reviews.
Source: App Store
Make off-metadata work in your favor
Off-metadata is a term used to describe all the content on your app listing that you don't have control over as the developer. This includes user reviews and all-time app ratings (the latter of which are shown next to your app name in the search results).
When off-metadata stats like these are poor, you're not just fighting to convince users to trust you, you're also going to get your app dropped to the bottom of the search results by the App Store algorithm. Hence, you should make sure to invest in customer experience and support as part of your ASO strategy.
It's also our recommendation that you pay special attention to your retention rates. The higher they are among users, the more favorable you'll be in the eyes of the Apple App Store.
Optimize your listing for Google App Packs
With 63% of all U.S. searches done on mobile devices in 2019, people browse for apps not just in the App Store, but also in Google Search. Aware of this trend, Google created App Packs – a special snippet that features apps available for download via the App Store.
If you want your app to be shown in App Packs, you must also optimize your listing copy according to SEO (Search Engine Optimization) guidelines. Fortunately, many SEO and ASO rules are similar, so you can easily create descriptions that are loved by both Google Search and the Apple App Store algorithm.
Section 5: App Store updates and App Analytics
React to App Store algorithm updates ahead of your competitors
To stay on the safe side of ASO, you'll need to keep an eye out for any App Store algorithm updates. Even a minor change could impact your app's popularity and search results position.
We recommend that you set up an App Store algorithm tracking tool (for example, AppTweak). You'll receive an alert as soon as the tool detects any abrupt changes in your keyword rankings. If it does turn out to be caused by an algorithm update, you'll be able to quickly adjust your listing. Perhaps, even before your competitors do.
Use App Analytics in the App Store and beyond
If you're a member of the Apple Developer Program, Apple offers you access to an advanced App Analytics panel. It lets you track not just your app's technical performance, but also gain insights on data like sales, in-app payments, user trends, and financial reports. You can use this data and cross-analyze your findings from those in Google Analytics or other mobile analytics tools and adjust your tactics.
App Store Optimization – the key to an app's long-term success
App Store success is a result of continuous work not just on your listing, but also the app itself. Factors like keyword research, listing content localization, and app performance all impact how you're evaluated by the App Store algorithm.
To stand out from your competitors, you must put a strong emphasis on improving your ASO strategy. The results of A/B testing your listing content can be a great indicator of which direction is worth pursuing.
Last but not least, you should remember that your app will only be successful if it plays a genuine role for its users and helps them achieve their goals.