How We Delivered Value in Just 14 Days and Helped the Client to Find Strategic Investor

Barometa is carefully curated by experienced recruiters and adjusted to the specific needs of the hospitality industry. The Barometa team assess and categorize every candidate by hotel type and job type to ensure that our clients get the best matches. Talent rankings are constantly updated, based on aggregate ratings and comments on candidates generated by users. This way Barometa is able to standardize and optimize the recruitment process for hospitality, making it fast, accurate and cost-effective.
Barometa saves candidates' time and provides a better user experience. Instead of having to record multiple videos for different job applications, they simply record one standardized video via the platform, answering a few questions that employers will be interested in listening to. These enriched profiles provide valuable insights for employers. In hospitality, intangible soft skills – kindness, personality, smile, or language – are often more important than a degree or even previous experience.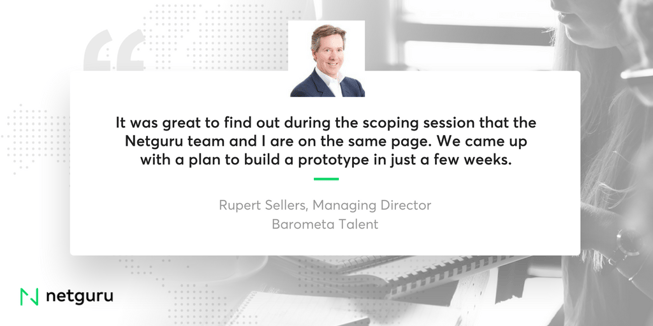 How to Start Your Product Fast, Keep It Flexible and Not Sacrifice the Quality
Having had experience in bootstrapping a startup, Rupert Sellers knew that it had to be kept lean and flexible. We were happy to help him with that.
That is why the first step – even before developing an MVP – was to build an impressive prototype. This way we had time to discuss the idea behind the product, find competitive advantages over LinkedIn on the user experience side and deliver something useful in conversations with potential investors.
From my previous startup experience, I knew that I needed to build a prototype first, even before building an MVP. I'm a perfectionist, and I knew that I could easily get stuck in improving details. It was important this time to prioritize and focus on user journeys and develop essential functionality. There are many 'nice-to-have' features I am planning, but these can be designed later . Rupert Sellers, Managing Director at Barometa Talent
Being limited to a couple of weeks and having scarce resources, we had to act very efficiently. The key to success was a productive scoping session, during which we succeeded in translating the founder's product vision into functional objectives. The vital part of it was to identify the flaws of LinkedIn's business model and UX design.
Meeting face-to-face made it easier, too. This way, we were able to get to know the client and communicate better during the sprint. An in-depth understanding of the founder's vision was crucial to working efficiently.
Creating the right visual design was a time consuming process, where communication and critical feedback from our designers proved to be very useful. Weekly calls, Slack interactions, and prototyping in InVision made everything very smooth.
The project was finished only three days behind schedule, and potential investors can now see how the platform works. The prototype is fresh, clean and different from competing platforms. Barometa shows much more relevant information in the thumbnails of each candidate than LinkedIn. This saves time and is more convenient for employers.
A Reliable and Scalable Tech Partner Proved to be Handy in Negotiations
Using an advanced prototype ahead of developing software makes the project much more flexible. A prototype is as useful as MVP when pitching a product to potential investors.
It was great to find out during the scoping session that the Netguru team and I are on the same page. We came up with a plan to build a prototype in just a few weeks. This efficiency makes it possible for me to tweak the model once we get feedback from the first users. Rupert Sellers, Managing Director at Barometa Talent

Of course, an MVP with first users would be much more of an asset, but at the very early stage of a project, it is often better to have more flexibility and spend less money than immediately splurge on an MVP.
What the investors want to know is how the founder is going to turn the idea into life. Having an experienced, scalable software development team working with the most promising technology can add a lot of value to the project and help attract a strategic investor.
And this is the case of Barometa and Netguru.