What Will the Fashion Industry Look Like in 2030?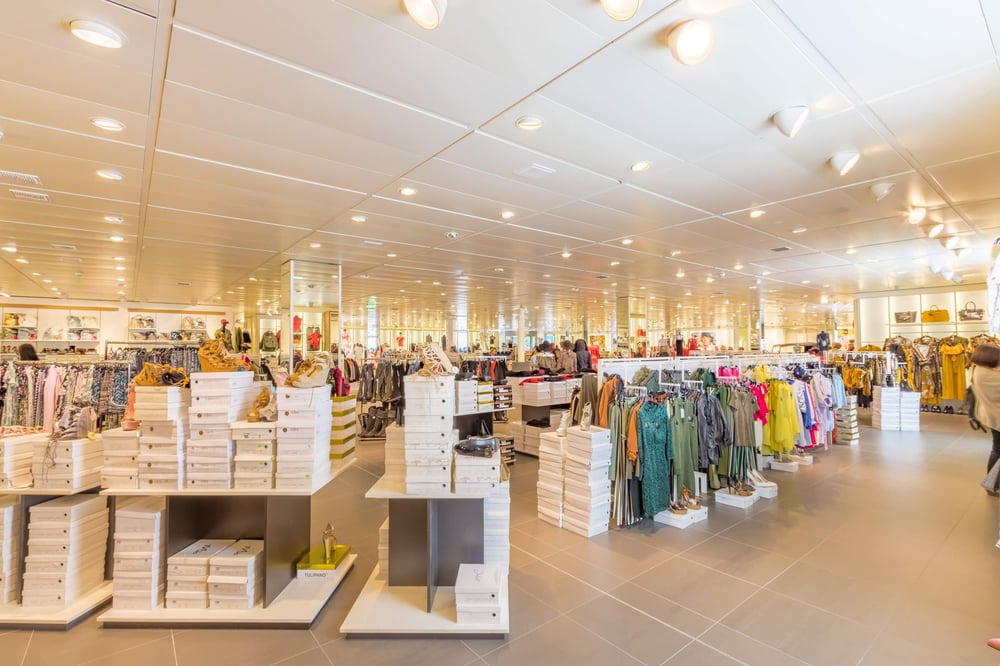 The fashion industry welcomes new trends, looks, and styles each year.
But the impact of COVID-19, as with so many other industries, has inspired even bigger seismic shifts than seasonal changes in tastes. The pandemic has particularly affected fashion's fundamentals such as how consumers shop and the ways in which retailers source and sell their goods.
As a result, many businesses are embracing digital technology and aligning their sales strategies with consumer buying habits moving online. Expectations of a perfect digital shopping experience are only expected to increase, although physical retail outlets continue to be valued. According to the State of Consumer Behavior 2021 Report, 46% of consumers still prefer to shop in person, suggesting a balance between offline and online could be key.
Other pressures on retailers come from more conscious consumerism, a lack of brand loyalty among shoppers, and logistical concerns around sourcing goods and materials. With such upheaval during the last year, we explore how the fashion industry has reacted, what it could look like in 2030, and some of the top trends we expect to see.
Trends in 2030
Made to Measure
In the digital age, as with every other area of their lives, shoppers increasingly expect a smooth and personalized online experience. According to the State of Personalization Report for 2021, 60% of consumers would likely become repeat buyers following a highly personalized retail experience.
Leading luxury brand Ralph Lauren has gone to great efforts to offer unique shopping opportunities. The company has opened the Ralph Lauren Beverly Hills Virtual Store, an Augmented Reality (AR) experience, while introducing a personal stylist on its website. The company has also installed smart-mirrors in its fitting rooms to enhance the in-store customer experience.
Elsewhere, brands are utilizing 3D-modelling to enhance the production of bespoke clothing for customers.
Sportswear giant Nike is leading the way in this area. The brand has launched its Nike By You line with customers invited to collaborate on a design of a shoe for greater personalization. Nike's tagline for this offering is 'Let's make something no one's ever seen before' and underlines how this service provides shoppers with the chance to create a product unique to them.
Social media as a sales channel
The social commerce market is rapidly growing and expected to reach $604.5 billion over the next seven years. This figure illustrates how the opportunity surrounding this area of retail is an exciting one - currently it only represents 2% of global e-commerce sales, with social media platforms mainly used as part of brand discovery.
This is expected to dramatically change over the next three years. According to The State of Social Media Investment Report, almost half of those retailers questioned revealed that selling is a key priority in their future social media strategies.
For retailers, the challenge is to discover how their audiences engage with them on social media and the best ways to enhance the in-platform experience. Social media can play a key part in the consumer journey and brands need to work out at what stage of the sales funnel they should engage with a potential customer.
Other technologies, such as AR or Artificial Intelligence (AI), can be utilized alongside these platforms to enhance the customer journey. These data-driven approaches from brands can be augmented by personal livestreams from brands on platforms such as Instagram or Facebook.
Personal bot solutions
Personal bots are AI systems used to provide shoppers with bespoke experiences. The underlying aim for retailers adopting this technology is to improve how they engage with their customers, to make them feel valued, instill greater loyalty within them, and ultimately enhance sales.
By deepening the connection forged via the digital experience, consumers can benefit from greater engagement with a company's customer service team alongside bespoke product recommendations and searches.
This area of innovation is expected to expand quickly during the next three years. By 2024, Insider Intelligence has forecast that consumer retail spending via chatbots will hit $142 billion. This figure is a huge increase on the $2.8 billion recorded in 2019.
Other statistics support how retailers will harness personal chatbots to develop their businesses.
Within two years, 40% of consumer interactions will take place through AI-based technology.
If used correctly, personal chatbots offer huge benefits for companies, from improving customer engagement via quicker responses to creating more and better sales leads.
Virtual try-ons
Virtual try-ons allow customers to try on garments via AR on their desktops and mobile phones. Depending on technology, products might be virtually projected using 3D modelling or utilizing predefined video input.
This technology has huge potential to streamline the online shopping experience, reducing uncertainty on how a product will fit or look. It will enhance customer confidence in a brand and improve the likelihood that they make a satisfactory purchase, and then return for more. VTOs can also serve as a desire-building tool in the initial phases of the sales funnel. Businesses can also benefit from operating more sustainably, reducing the amount of waste they produce and cutting costs from returns.
According to figures, $800m in returns are processed globally each year, an amount virtual try-ons could significantly reduce.
Additionally, the virtual fitting room is expected to grow at an annual compound rate of 25.2% between now and 2028 and reach $15.43 billion.
Smart mirrors
Smart mirrors are an extension of virtual try-ons, allowing customers to instantly change from one set of clothes to another without leaving a fitting room.
Retail giants such as H&M and Ralph Lauren are among the companies to have embraced this innovation. The latter worked with Oak Labs on fitting out its dressing rooms with Radio Frequency Identification technology (RFID). This helps identify the product a customer has brought into a dressing room, create a virtual shopping basket, and complete a purchase.
The benefits are numerous. Consumers can customize the size, color and look of any clothing they want to try straight from the fitting room. Not only is this quicker and more convenient, but it also reduces the number of interactions with staff and means there's no need for items to be scanned. This creates a more hygienic experience and reduces waste, as fewer products will be touched by customers or staff. The technology can help businesses by enabling better staff time management and allowing teams to focus on less repetitive tasks. Data can also be gathered from these interactions, showing what kind of products are being brought to fitting rooms and how many consumers proceed with a purchase. The use of RFID technology provides more efficient tracking of any items too.
Blockchain solutions
Blockchain, the once-niche technology, is now increasingly becoming mainstream and will play an important role in shaping the future of retail and how products are authenticated.
The market is expected to expand by $1,937 million at a compound annual growth rate of 60% during 2020-2025 with opportunities potentially across the whole value chain.
By creating a digital identity for goods, retailers will be able to have complete visibility of a product in terms of where it comes from, how it was made, and the materials used. Consumers are becoming increasingly concerned about the impact of their purchasing decisions on the environment. They want to be informed about the sustainability of the whole supply chain. With less than a third of retailers willing to disclose information on the origins of their goods, greater adoption of blockchain can provide an opportunity for more transparency. Those retailers willing to adopt it will be able to lay claim to greater legitimacy around any sustainable credentials and add more detail to the stories behind their products.
Conscious consumerism
Sustainability and an aversion to so-called 'fast fashion' have become more prevalent among consumers. They are increasingly drawn to brands whose values align with their own, meaning companies need to do more to demonstrate their commitment to the environment and transparency around how goods are produced.
A McKinsey and Company survey revealed that two-thirds of respondents believe it is even more important after the pandemic to reduce the impacts of climate change. A further 88% said they believe that more attention should be paid to reducing air pollution. So far, many have already started to change their behaviors by purchasing products in more environmentally-friendly packaging and adopting greener behaviours.
The knock-on effect for companies is that they need to take their environmental commitments more seriously and adopt sustainable practices around the production of their goods. Brands like Patagonia are leading the way when it comes to utilizing recycled materials in their clothing and calling on shoppers to limit how many products they buy.
Higher personalization
Personalization in retail is increasingly expected to be the norm by consumers demanding faster, multi-channel experiences. This will continue to grow as businesses collect more detailed information about consumers, their needs, and their behaviors.
Retailers are now able to deploy better tools and technologies to quickly process this data faster and gain deeper, real-time insights into how customers shop.
Big brands such as Amazon have led the way by incorporating machine learning technology to help deliver more personalized shopping experiences. For example, the collection and rapid analysis of this data could lead to specific product recommendations, personalized product re-ranking, and customized direct marketing. Automating this process via machine learning can potentially lead to greater insight into the customer shopping journey. For smaller, more niche businesses, this gives them opportunities to reach very specific audiences with a more personalized offering.
Streamlined customer journey
Consumers anticipate convenience in every aspect of the shopping journey and, as businesses gather greater amounts of information on them and their shopping habits, they will be able to access more unique and tailored experiences to meet this expectation.
Data gathered along the supply chain will mean that retailers are able to offer more tailored solutions. The impact on the end-customers is that their shopping experience should be quicker and more efficient, potentially enabling more sales conversions for retailers.
This can take the form of an option to checkout as a guest rather than having to sign up for an account or perhaps pay in installments using a solution such as Klarna. A live chat function can also enhance customer engagement, as can automated messaging if a cart is abandoned without the consumer converting and making a purchase.
Wrap-up
Despite the thirst for technology and the innovations we've seen above driving the fashion industry forward, the customer is still at the heart of the industry.
While online has picked up, authentic experiences, both in-store and digital, are important and still valued by shoppers. Today's consumers want to support brands that resonate with their own values and offer seamless shopping experiences. They appreciate convenience, speed, and sustainability over other factors.