The Future of Retail Technology: Why Retail Leaders Need to Question Their Omnichannel Strategy Now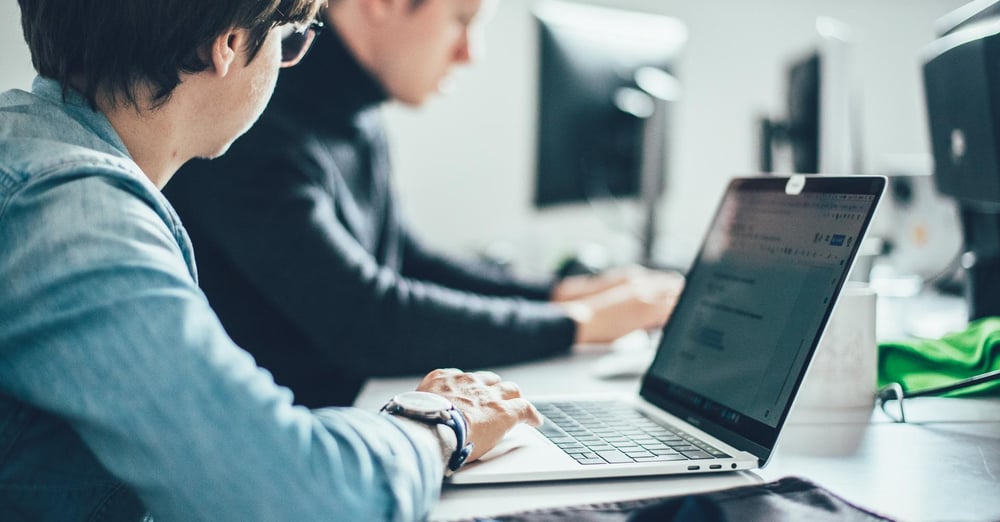 The pandemic is having a devastating impact on private lives and businesses all across the globe. According to leading research, two scenarios are most likely: a delayed recovery or a prolonged contraction.
However the future will play out, we can observe a significant impact on consumer behavior and product demand, as well as on production and supply chains in the retail industry. This text is a motivational letter to the retail leaders that want to leave the economic downturn in a strengthened position, and outperform their competitors.
1. Why invest now?
Your retail business may have been hit hard by the total closure of stores – which is true for many non-essential retailers in clothing, home furnishings, electronics, and beauty. Or your business may be experiencing a boost in sales due to solid market positioning and a thorough omnichannel strategy. Either way, now is the time for retail incumbents to address the increasing opportunities in retail technology and find answers to the challenges in their current business strategies and operating models.
Why invest now? You have to protect your employees and customers, secure your business continuity, and manage the constant ups and downs in demand and supply. These are the first and most urgent priorities for every retail business. But there is no time to waste if you want to win. The speed of technology adoption is accelerating heavily. Looking at history, it took television 13 years to reach 50 million users, Apple's iPod took four years, Facebook took one year, and it took Twitter only nine months to gain that number of users.
Analysis of data from the last major economic downturn in 2007 supports the imperative of investing now. Research shows that companies that invested significantly in innovation during the economic downturn outperformed the market as soon as the economy recovered. The future of the retail industry relies heavily on technology.
Can you, as a leader, really afford not to ask the question of whether this moment presents an opportunity for bold strategic moves and investments?
2. The future of retail technology amidst the evolution in consumer behavior and demand
Consumers will increasingly have more choice and control than before, which is why customer experience, engagement, and loyalty are more important than ever. As choice increases, loyalty becomes more fragile, and retailers need to act. Consumers will continue to demand price and quality transparency along with a wide range of convenient fulfillment options, but customer experience gains high importance now too.
Why? The spread of COVID-19 introduced a paradigm shift in consumer behavior and demand. Although data on consumer sentiment during COVID-19 shows strong differentiation in local markets, the following changes seem to be predominant:
First-time online shoppers: Many consumers are shopping online for the first time now. This presents great opportunities for essential and non-essential retail players to acquire new customers and possibly lock them in as future customers. People are learning new skills and developing habits for online shopping as a consequence of the shutdown in multiple countries. Research shows that one-third of US shoppers purchased food online over the past week, with over 40% of those being first-time online food and grocery shoppers.
Increase in online sales: For non-essential retailers during the pandemic, the online channel has been the only sales channel where they could do any business. Many grocery retailers experienced a strong increase in online sales. Ocado, for example, who has no brick-and-mortar footprint and an estimated 14% share of the online grocery market, even had to go offline from March 18 through March 21 because it simply could not fulfill demand. Sainsbury's made an amazing move and prioritized vulnerable and elderly people for online deliveries. At the moment, especially, retail companies that are already making use of a thorough omnichannel strategy can benefit from increased sales volumes coming from online shoppers, while others need to start experimenting with online purchasing and fulfillment options. Surveys across the Chinese population, which is ahead in the pandemic, show a boost in online sales post-COVID-19.
Safety precautions: All retailers were asked to introduce precautionary safety measures, starting in their production, and involving the supply chain as well as the front-line workforce. For the workforce, this meant introducing respiratory masks or introducing A/B shifts to reduce the risk of spreading the virus. Grocers regulated foot traffic, implemented plastic shields for their cashiers, and urged customers to use contactless payments. Given the assumption that we will see a long-term change in consumers being more cautious and that this may not be the last pandemic we see, this is a wake-up call to carefully consider making use of the technology that is at your fingertips already. Think digital wallets, leveraging CCTV to optimize traffic, click & collect, scan & go, and autonomous checkout.
Historically, the consumer equation was Consumer Value = Cost + Choice + Convenience. It remains to be seen which of the new consumer patterns are here to stay and to what extent after the crisis, but acting early can only play to your advantage. It can be expected that the consumer equation will change and that consumers will not only factor in the evolved cost, evolved choice, and convenience, but also control and experience. The current crisis entails challenges as well as great opportunities to win in the future market of retail.
3. Ecommerce – the future of shopping
Playing the facts, retail will not be dominated by online sales in the next few years. But the value proposition of physical stores will evolve from being a distribution channel to that of a platform for discovery, engagement, experience, and interactions with products and services. A leading omnichannel strategy fueled by state-of-the-art retail technology enables this and will influence the future of shopping.
The global retail market was expected to hit $25 trillion in 2019, while overall growth has slowed down. On the other hand, ecommerce sales went up to $3.5 trillion, increasing by 18% from last year. Sales in ecommerce are expected to double by 2023. So this means that ecommerce is indeed growing faster than retail. But with an ecommerce share of 14% and growth projections of +2% a year through 2023, it is still a minor share.
Looking at these numbers, some retail incumbents may not feel inclined to invest in technologies that seem to be the future of shopping. But let's remember, these are the sales figures only, the consumer equation, on the other hand, is already shifting.
The internet will play an increasing role in driving sales in-store. Consumers collect more information online before making a purchase and have an increasing choice. Leading retail companies will differentiate themselves by offering a stronger online presence, superior customer experience, and better retention strategies.
4. Why legacy retailers struggle with ecommerce
In general, legacy retailers with a large brick-and-mortar footprint have to carry higher fixed costs in their accounts due to the cost of real estate, workforce, etc., and some have been struggling with profitability for quite some time. Legacy retailers struggle to accelerate ecommerce and offer their customers the possibility of online shopping due to a number of factors, including:
Low profit margins in price-competitive markets, exacerbated by factoring in the cost of last-mile product delivery.
Silo-based and highly centralized IT structures not aligned to business needs.
Lack of internal capabilities or capacities that are tied to innovation.
Insufficient innovation budgets for retail technology.
Legacy technologies that may represent expensive barriers to innovation.
Slow progress in cultural change that blocks digital initiatives.
Low profit margins are the key reason why some retailers are cautious with ecommerce. For example, strong price competition underlies the grocery market in Germany. This means that the average basket size of a grocery shopper carries low profitability for each retailer. Delivering products to the customer's doorstep means an additional cost that needs to be built into the pricing structure. In a price-driven market, the cost of last-mile delivery presents a challenge because consumers are also price-sensitive and may make another choice. This aspect may play a role in the future of online grocery shopping.
Unlike Germany, research shows that the UK and France have more consolidated grocery markets, showing less price competition and therefore easing the introduction of online grocery shopping.
The UK market is leading the pack with major players like Tesco, Asda, Sainsbury's, and Ocado adding up to an annual online grocery sales volume of $4.6 billion, which is $110 per customer.
5. The predominant business models of tomorrow
As we see the numbers in online sales rising, customer behavior changing, and emerging future retail trends, shopping in-store or collecting items will no longer be a chore but rather an engaging experience enabled by innovative business models. Winning in tomorrow's retail business means having a leading omnichannel strategy, while the boundaries between online and offline will become more blurry.
Traditional brick-and-mortar retailers such as Macy's, Nordstrom, and Walmart are expanding their online capabilities and introducing delivery or in-store fulfillment of online orders. Pure online players, on the other hand, such as Amazon and Zalando, are opening brick-and-mortar stores.
Retailers with a high degree of vertical integration such as Nike, Burberry, and Bose are using both online and offline to expand their businesses and to adjust to the future of the retail industry. The future market will be dominated by business models that understand the future trends of retail, get the omnichannel strategy in their markets right, and find the sweet spot.
6. The future of retail technology and solutions
There are a number of well-known and also new technologies that retail leaders should have on their agenda. The internet of things (IoT) and artificial intelligence (AI) top future retail trends, followed by augmented reality (AR), virtual reality (VR), solutions for digital traceability, robotics, autonomous vehicles (AV)/drones, 3D printing, and blockchain. The following solutions powered by technology, enable retailers to execute on their digital agenda:
Click & collect is rather straight-forward and easy to implement. The customer orders products online and collects them in a dedicated space, for example, by the entrance of the store (which can also be a dark store), from special parcel lockers nearby, or other supporting locations, such as courier company branches. The majority of retailers have adopted this concept now. Amazon Hub Locker, as well as Walmart's Pickup Towers, allow their customers to choose the exact locations they want their products to be delivered to from the map. Zara's click-and-collect pop-up store even allows customers to make returns and exchanges.
Scan & go makes it possible for customers to scan the products they are about to purchase and pay for them by themselves. While common models have separate self-checkout lines for this, other retailers have experimented with having customers scan their products and present the receipt at the exit. This model saves time in queues and saves retailers effort in labor, but shifts the effort to customers and carries an additional risk of loss. During the outbreak of COVID-19, Fairway Market experienced an increase in app downloads of 300%, with over 20% of transactions being finalized with the scan & go solution. Walmart, on the other hand, suspended its scan & Go solution due to poor feedback and low participation of customers after a long experimentation phase.
Autonomous checkout is a more advanced version of scan & go, which eliminates the friction of any queuing or payment processing. Consumers can pick up their products and will get charged for them when leaving the store. The technology that makes this possible is centered around deep learning computer vision, built-in sensors under the products, and cameras that allocate products to the consumer's wallet. Amazon Go is a prime example, and is using this technology in selected stores.
Loyalty apps offer customers the ability to collect bonus points and make use of discounts. Apps with a built-in digital wallet even allow for reduced friction and fees during the transaction process at the point of sale. For retailers, loyalty apps are well recognized for building customer loyalty and locking them in. Building loyalty will become even more important for retailers as choice for customers increases.
Digital wallets enable consumers to make purchases without directly entering their personal account information by storing users' payment credentials and passwords. Advanced solutions such as closed wallet models even allow the elimination of banking transaction costs. In a market where economies of scale work very well, even a few savings can be a key differentiator to either win a price war or bolster profitability. Walmart and Amazon introduced digital wallets to benefit from built-in payment capabilities. Semi-closed wallet models, as used by Paypal, Apple Pay, and Google Pay, are also rushing into the market. But these models only allow purchases in retail stores partnering with the wallet provider.
Real-time recommendations can be made based on the profile created by a user within the app. Machine learning algorithms suggest the best deals for a given user. Algorithms are used to leverage information shared by the user by signing up with a social media account. Alternatively, polls can be used to collect the likes and dislikes of a new user. Once the desired deal is selected by the user in the app, the AR module will then guide the user to the shop with the best personalized deals using beacons located in the shopping mall.
In-store activity tracking using IoT systems and beacons enables businesses to optimize the set up of their physical shops to ensure higher levels of engagement.
Self-navigating robots can be used to increase engagement for customers as they can resolve simple queries on the store floor. Looking for the price of a product or checking if product variations are available in-store has never been easier. They can also be used for the self-delivery of products directly to customers' homes.
So how do you choose the best digital solution to support your retail technology strategy and keep up with constantly changing future trends in retail? Retailers will have to decide on the best tech solution and model based on their objectives and customer preferences, and then evolve and adapt. Hesitating too long may mean losing market share to your competitors. Acting quickly, starting with experiments, learning, and evolving are the key success factors.
7. Where to start?
Some retailers may have little time to respond because the pace of change is fast, while others will need to push their innovation and IT teams to stay ahead of the pack.
Leading retailers are actively seeking partnerships along their own value chain with production or fulfillment partners, and with innovation and technology partners. Relentlessly focusing on technology and making investments should be done with a realistic assessment of their costs and benefits. Today's legacy retail companies have grown into complex global systems that impose a potential complexity in calibrating your omnichannel strategy and technology roadmap.
But incumbent retailers also have strategic opportunities in leveraging their market power and dense store networks, which allow for high proximity to their customers. Start small, start with experiments that are focused on the customer journey, and execute rigorously.