Building a New Business Branch on a Competitive Market – the Babbel Story

Millions of active paying subscribers, 12+ months of average customer lifespan, and an NPS reaching +59.3.
These numbers prove that Babbel, the world's most successful (top-grossing) language learning app, won the users' hearts with its simplicity and effectiveness. And with the Online Language Learning Market projected to reach $20.21 billion by 2026, the company is on the right path to lead the international market. I spoke with Susanne Wechsler, Director B2B at Babbel, about their secret to success and bold plans for the future.
Ola Prejs: How did it all start?
Susanne Wechsler: Similarly to many startups, Babbel was founded as a result of a personal problems of its founders who couldn't find the right solution to learn a language online, so they simply came up with their own method. The company was formed in 2007 by Markus Witte,Thomas Holl and two others who had previously worked together at a Berlin-based software company. Today the company hires 750 members working across the headquarters in Berlin and the new office in New York City.
Babbel's unique selling point is its simplicity and high level of customization. They don't provide a one-size-fits-all type of the app, but a tool that helps users achieve their own learning goals depending on their own motivations to learn a language. If someone wants to pick up Spanish before going for a holiday they can just do a vacation course, and if one wants to study business English they can opt for a business course, instead of going through all the inadequate modules before they actually reach what they were looking for.
It all happens with spending just around 15 minutes per lesson, so it fits everyone's schedule and it's incredibly effective. Thanks to a motivation-based approach, 73% of Babbel's users feel they'd be able to hold a short conversation after just five hours of using the app. In fact, it was verified by the City University of New York. It found that for novice learners of Spanish, 15 hours of study with Babbel is equivalent to one college semester.
What's their secret?
Ola Prejs: What's unique about this application? What makes it stand out on the market?
Susanne Wechsler: Babbel is a language learning app available for everyone worldwide on both the web and mobile devices. The app offers content that is short and relevant to users' needs. It takes approximately fifteen minutes per lesson and it can also be used offline. We also provide 93 different language combinations that are aligned with learning goals and motivations.
We noticed that even people who thought they were bad at learning languages were able to leverage the application and learn a language. It simply works. There are many studies behind it, but we also interviewed our own customers and seventy three percent of them said that they could have a simple conversation in a foreign language after only five hours with Babbel. That's quite impressive.
And how does Babbel differ from other language learning platforms available on the market? There are several popular platforms.
Many of the available apps are free and in such a model the company probably doesn't have as much resources to invest in expert consulting and product development. Babbel is a subscription-based platform and therefore we can have 150 language experts, including teachers, didactics, and linguists that handcraft each course and combination.
Additionally, we do not have any in-app advertising, which can be distracting in the learning process. We want the user to focus and really make the most from the experience. And speaking of experience, we also cooperate very closely with our in-house customer service department. We get a lot of feedback that we incorporate right away. So that's also something very special on the market.
And finally, as a tech and data-driven company, we leverage stats on user behavior to see which lessons were completed and to what degree. If there is a class that has only been completed by 15% of learners we can look into them, verify what stops them from continuing, and improve the course.
Last, but not least, we make people speak. The content is so practical and relevant they can use it straightaway at work, school, or in a cafe.
What's been the most challenging in operating on the language education market?
At the beginning, the teams used offline materials such as PDF files that they would find in publishing organisations. However, moving the offline methods to the online learning platform was not an efficient solution. We needed more interesting and accessible methods, so that every user could find something valuable and helpful in their learning path. Our new concept with very short and interactive lessons divided into 17 types of tasks turned out to be a huge success.
Moreover, like any other company, we also need to keep learning. We teach our customers, but our team shouldn't stop learning. The standards are really high on the market, so is the competition. We have to constantly have these correction loops and continually improve the product and service.
How about your business model? Any challenges there?
It was difficult to decide which direction to follow in the first place. We were considering different scenarios: profit from advertising like the others and charging users for courses. Thankfully, we opted for a subscription model which has been working great.
At the moment, you have two groups: individual users and B2B customers. What was the process for choosing the target groups for your product?
We started in the private space as there was no option online for those learners at the time. We believe that everybody should be able to learn a language. It's actually our mission statement. Learning languages shouldn't be exclusive for certain types of people only.
When it comes to an individual customer, it's a very broad target group that includes all kinds of motivations. In Germany, for example, people want to study languages because they travel a lot but also for business reasons. However, oftentimes, the motivation is related to finding one's roots and heritage.
It's a very interesting insight.
It's indeed interesting to learn about why people learn languages. Many want to pick up a language for their partners and family. With globalization, people fall in love internationally and their parents-in-law want to be able to communicate with each other. We have many very personal stories there.
Then there are business clients.
Exactly. This started because so many people knew and liked us. We received many messages saying: "Hey, our company also want to use Babbel, why don't you offer it for businesses?" It was not a deliberate choice to find a new market, but the market found us. And now we're pursuing it actively.
How does Babbel for business differ from Babbel for individual users?
Basically the products are the same with three extra things for businesses users. The first one is easy app administration. The company doesn't have to have a separate subscription for each individual team member, they only get one invoice. The second one is they want to know if and to what extent the users are using the app and making progress. They should know if it's a valuable asset. The third one is a higher level of customization. Some companies ask us for specific vocabulary, based on industry, that they want to teach their employees. Those are the three main differences that distinguish the B2B app from the B2C one and Netguru helped us deliver the first one.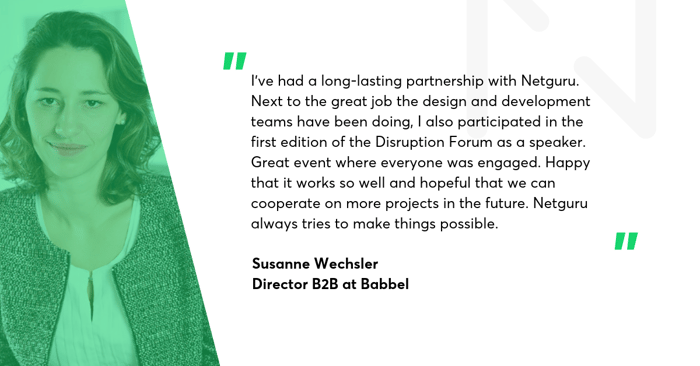 What are the main challenges connected to expanding your business in regards to both target groups?
On the B2C market, where customers make decisions individually, it's pretty straightforward. The decision process is shorter and includes fewer factors, so it's easier for us. With B2B there are many aspects that need to be clarified on the way so the customers can understand our offer better. There is also a challenge or prioritizing activities. The existing business always need to get more resources, as it pays our salaries, but then we also need to think how we can expand to new markets.
And what do you have planned for Babbel?
Our goal is to always stay in the language learning field and we will offer more methods in order to cater to more individual needs. One example is Babbel live – live lessons with teachers. With an app you can develop skills and grow your vocabulary, but then you'll need practice. We want to offer both.
I also need to mention that we have fourteen languages which can be studied from eight reference languages.
Finally, we're already widely recognized in Germany and Europe in general, but also Brazil, Mexico, Indonesia, India, Egypt, Guinea, Australia or New Zealand, Canada, and the USA, and we'll grow stronger in those geographies, but we still have a lot of potential to go.
Babbel is helping millions of people worldwide to fulfill their goals thanks to being able to speak foreign languages. In 2016, It's has raised around $12 million in funding and Fast Company Magazine named them the most innovative company in the education sector. We're looking forward to seeing more success stories from the company that has nailed online language teaching.
Learn more about their journey to deliver a streamlined digital product to business customers in the Behance presentation and our case study.