Disruption Insights: Your Software Serves the Market, Not a Small Group of Users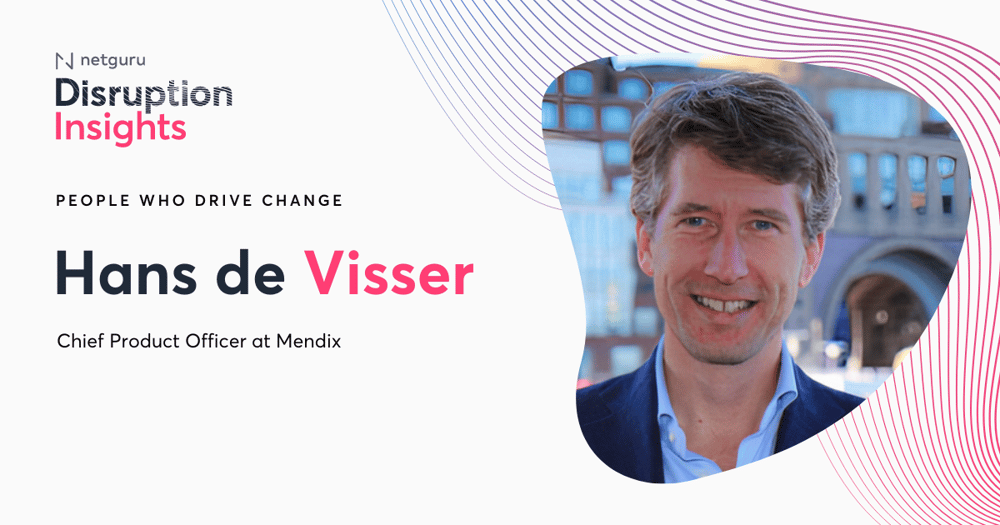 Hans de Visser, Chief Product Officer at Mendix, shares his recipe for building products that not only meet user needs, but also scale seamlessly.
Hans has been with Mendix for over nine years in the company's 17-year-long history. His experience, paired with the indisputable success of Mendix, makes him the right person to learn from about product, operations, and marketing excellence.
This episode of Disruption Insights is packed with practical knowledge and tips on continuous product improvement, gathering user feedback, and strategies for product growth.
Being an outstanding product manager requires a methodological approach, creative thinking, and people skills. How does it work in practice? We answer this question in the Disruption Insights series by presenting proven frameworks and battle-tested tips from top experts who contribute to creating valuable and effective products.
🎁 Product
Tips for communicating product vision and strategy to get others engaged
Defining the long-term product vision by telling a story on how our work will support the overall organization strategy, goals, and mission is what ensures successful communication.
At Mendix, we document this relation in a vision and mission statement and in a proposition statement, where we explicitly lay down what product we bring to the market, what values we would like to adhere to, and how it all aligns with the overall company vision and mission.
The next step is moving to more detailed, short-term plans formulated in the form of key initiatives.
Typically there are four to five key initiatives we carry out and communicate to the company. Each team that finds this information useful can pick it up and relate it to their goals. Some are touched by multiple initiatives, while others deliver to a single initiative. But the fact that we communicate it organization-wide helps people realize that we all work towards a certain goal and hopefully a certain purpose.
Decision-making process when defining strategic bets
While working on a product strategy we define three horizons spread in time and this is our base for defining strategic bets.
Horizon one covers a 1.5-year timeframe and focuses on the current product. As we've been on the market for quite some time and our platform is well-developed, horizon one is mostly driven by feedback from customers and short-term enhancements that we plan to introduce.
Horizon two concerns all plans and actions within two to three years that will bring our product further, like major enhancements or new features. It's influenced by emerging technologies and their impact on the product, motivating us to find ways to relate to particular trends. In practice, when we spot an emerging trend, we consult with small groups of product managers and architects, asking for their opinion on a certain technology, and weigh it against other kinds of tech trends.
To make more educated decisions within horizon two, we sometimes do what we call a research spike. We carve out time to experiment with a new solution, sometimes we even prototype, and with that data we can start thinking about how our findings fit the product strategy going forward.
Horizon three is usually three to five years out. It's backed by heavy research and tightly tied to strategic bets. It answers the question: "Where do we see our product in the next three to five years?" and involves considerations such as entering different markets or developing new products.
There's no clear cut in any of the horizons. They can overlap and we can start product work in horizon two while also working in horizon one. Yet, ideally, a move from horizon one to two, and from two to three, should be almost evolutionary.
To make these plans, define strategic bets, and ensure they're successfully implemented, we adopted the methodology of Amazon six-pagers. The methodology forces everyone involved in the process to think about where the product is today, where it should be taken, what are the key learnings from the last period of product work, where it's going to be in the next period, and how it will deliver value to the organization. It enables us to think holistically about the product, build a storyline and formulate thoughts in a very methodical manner. All this drives the quality of decision-making in a positive sense.
Ensuring continuous product improvement
There are a few approaches we follow to ensure continuous product improvement. While working on our online platform we're not bound to a certain cycle and can deliver innovation whenever we want. As our research and development team works following Scrum methodology, we run two week-long sprints called "tech time", introducing minor changes to the current product version and shipping new features on a daily basis. It ensures there's a monthly cadence of bringing innovation to the market.
For the downloadable version of our product used by developers, we follow a versioning system, releasing a new version on a monthly basis. We give customers the possibility to use the latest product version or a few versions back; we don't force them to upgrade right away.
Strategies for product growth
To build sustainable product growth strategies, we invest in gathering data on the product and platform usage. As it's anonymized, we carry out sequential pattern mining and relate the findings to user maturity. Conclusions from these analyses enable us to plan capabilities growth or feature improvements, such as changes in the onboarding experience for new users.
Another essential element is distilling patterns from user and customer feedback, and combining quantitative data with viewpoints and remarks we get while interacting with single users.
What these two approaches have in common is a focus on the whole experience of the product. Product growth and improvement have to directly translate into an improved user experience.
Product and organization's success during downturn
It may sound simple, but offering a product that plays a role in optimizing customers' operations is what usually makes a company continue to succeed in a downturn, and this is the case for Mendix.
Despite economic headwinds, many organizations are doubling down on digitalization.
Digital advancement yields major benefits like better customer retention or improved customer experience, which lead to loyalty that translates into revenue increases.
The same applies to operational excellence – solutions that enable automation of manual processes or that replace legacy systems, enabling customers to grow their top line or reduce costs. These are the ones that survive even in challenging economic times.
📋 Work and talent
Key personality trait of a great product manager
There's more than one trait or skill I'd point to: passion for the product and technology in general, focus on customer value, and analytical mindset. The first is self-explanatory: you can't be a successful product manager if you're not deeply passionate about what you're doing.
When it comes to customer value, it's absolutely critical not to build features for the sake of building features, but to always think about the benefits product work brings to the customer.
Analytical mindset is also crucial. A great product manager should make sense out of large amounts of quantitative and qualitative data, synthesize it, abstract the day-to-day feedback, and think in terms of patterns they should address, instead of responding to each and every individual request. It's important to keep in mind that we build software to serve the market, not a small group of customers.
🎤 Customer centricity
Top habits, rituals, and frameworks for gathering insights
Win-loss analysis is the core of our activities around gathering customer feedback and insights. Whenever we win a deal or lose a deal, we reach out to the customer (or potential customer) and invite them for an interview to get to know the reasons for their decisions – either in favor of Mendix or not. A series of such interviews is then summarized into a presentation by a product marketing team, enabling product managers to reflect on the gathered feedback.
We also run NPS surveys a few times a year and carry out market research. The research covers technology trends, strategies of our competitors, and our customers' investment decisions.
Involving community in building and growing products
We make strategic investments in building our developer community, and developer insights often become part of the product. The whole community site and its experience are built in our own technology and woven into the platform. There are multiple features that ensure members' engagement – a system of badges, advanced forum facilitation, dedicated spaces, or subcommunities. Our aim is to keep it lively and vibrant.
Spearheads of the Mendix community consist of top-notch developers who understand our product extremely well, explore it, and are its advocates. We really value their feedback and insights.
There are also physical meetups or hackathons we organize to nurture relationships with developers and grow the sense of community among them.
💡 Inspiration corner
Books that every product manager should read
"Escaping the Build Trap: How Effective Product Management Creates Real Value" by Melissa Perri – I keep this book on my desk all the time.
Essential reads to stay on top of product management trends
I don't follow product management trends per se; I spend most of my time determining and assessing technology trends. I interact a lot with analysts from Gartner, Forrester, and similar. That gives a regular flow of new ideas, because I think a product manager has to keep an open mind and look for inspiration outside of their domain.