Great Place to Work® Recognizes Netguru Among Best Workplaces of 2021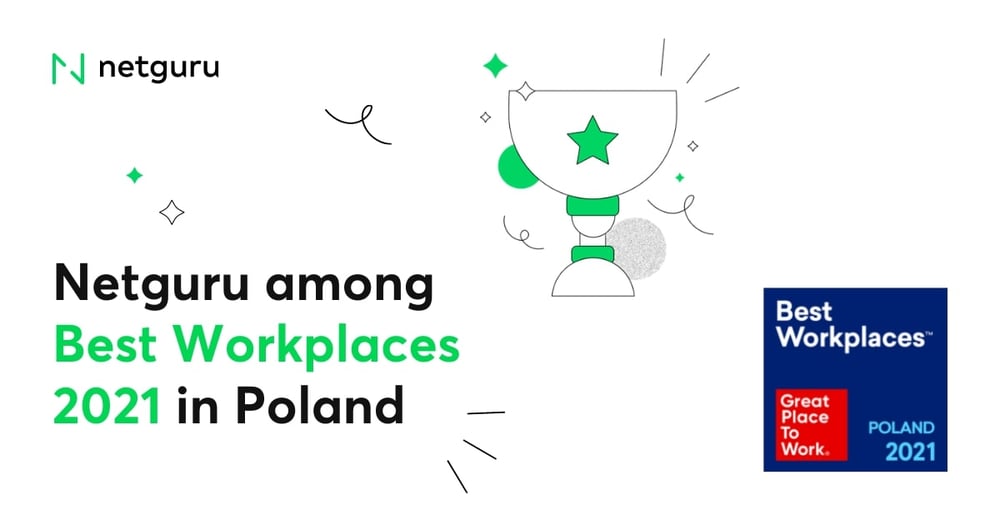 Great Place To Work® is a global authority on workplace culture. For more than 30 years, they have supported companies around the world in developing a modern workplace culture based on trust and thus achieving better business results. We're proud to announce that Netguru has been recognized among the Best Workplaces, Poland in the 2021 edition of the Great Place To Work® listing.
This is a rewarding moment to all of us, especially that it is happening during the time of celebrating the 13th anniversary of launching Netguru; being featured among other innovation leaders only brings more evidence that employees seek trust, transparency and value-driven workplaces, and this is exactly the organizational culture we've been developing since 2008.
"Our ambition is to become one of the world's best IT employers. Even though we still have a long way to go, we can celebrate today, as we're closer than ever to achieving this goal," says Marek Talarczyk, CEO at Netguru. "We constantly improve our offer, nurture our culture and values, or add seasoned managers to our team like the new Head of Talent Acquisition Katarzyna Rój, to make sure that we can attract top talent out there, but also to improve the satisfaction of our own people." Here you can read more about our path towards becoming World's Top IT Employer.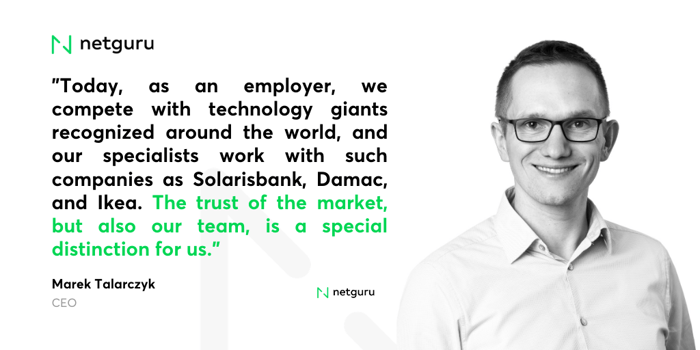 Earlier this year, we were ranked as one of 3 top IT companies in Poland in the Bulldogjob's 2021 report. It has also been a year since we became B-Corp certified.

To see the 2021 Poland's Best Workplaces List visit greatplacetowork.pl.



About Netguru



Netguru is a consultancy, product design, and software development company founded in 2008. Netguru builds digital products that let people do things differently – offering consulting, tools and resources to companies of all shapes and sizes – to make beautifully designed digital products in a way that's fast and fits their needs.

Netguru has become one of the fastest growing companies in the EU, recognized by the Financial Times, Deloitte, and Forbes. The company has completed more than 700 projects, and has 700+ people on board working from all over the world. In March 2021 Netguru was certified as a Great Place to Work®.

Netguru cooperates primarily with companies from the UK, Germany, Switzerland, the United States as well as the United Arab Emirates. The company works with both the largest brands in the world, such as Volkswagen, IKEA and Keller Williams, as well as fast-growing startups in the financial (Solarisbank), education (Babbel) or even robotics (Temi) industries.