Netguru Take On... Values. How to not Reduce Them to Cheesy Motivational Posters?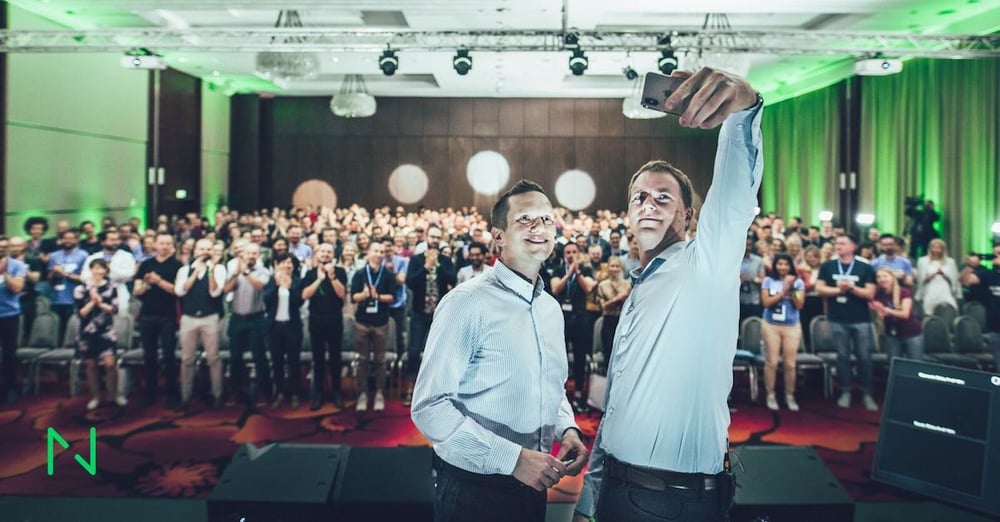 Core values become a guideline on how to interact with teammates and clients, how to choose the right thing, and what's in line with the company culture.
This, in turn, increases the effectiveness of the whole organization and nourishes the engagement of its members. Single words like "Integrity", "Ownership", or "Quality" don't help much to understand how to act – explains Marek Talarczyk, CEO at Netguru.
"Netguru take on…" is a series explaining how Netguru approaches important subjects that are often overused or misunderstood in the industry, such as strategy, digital transformation, or innovation consulting. We break them down to shift the discussion from abstract concepts to tangible actions that influence our everyday work. This article provides our take on company values.
Why companies need values
It is easy to trivialize company values and reduce them to cheesy motivational posters on corporate walls. Marek Talarczyk, Netguru's CEO, has seen many leaders make this mistake and fail to build a strong organizational culture.
"Every company has values. They might be unspoken and not clearly defined, but they exist from day one, as soon as there's more than one person in the company," he says. "Not making an effort to articulate them and keep them alive can seriously hinder your business's growth".
Core values are the essential culture-building tool that helps people collaborate at scale. When a company is small, founders and early employees model the values by their behavior and decisions.
"They're always around, so others look up to them and it's kind of obvious what is the right thing to do. However, as the organization grows and its members need to act more on their own, uncertainty creeps up. Especially when the company scales up quickly or operates on a rapidly changing market," warns Marek.
Shared company values can strengthen employees' confidence and support their autonomy in moments of doubt.
Marek explains: "When people hesitate to make a decision or stall a process because it's not clear what is the expected behavior, they can always fall back on values without a need to call a meeting or ask their leader. Core values become a guideline on how to interact with teammates and clients, how to choose the right thing, and what's in line with the company culture". This, in turn, increases the effectiveness of the whole organization and nourishes the engagement of its members.
How Netguru defined its values
"We've always instinctively felt what the Netguru values are, so we didn't need to come up with them from scratch. During the Core Team retreat, we simply wrote down a list of things we believe are true about our culture," recalls Marek.
However, there is a huge difference between feeling something and writing it down in a way that will make others immediately feel the same thing.
Single words like "Integrity", "Ownership", or "Quality" leave too much space for interpretation and often don't help much to understand how to act.
"That's why we wanted to have phrases that are actionable and communicate the intention behind the desired behavior"— explains Marek — "and this game of words was the most difficult and time-consuming part of the process".
The next step was to share them with a broader community of employees and gather feedback.
"It was very important for the company leaders to get buy-in from employees. The whole company needs to believe in values - it can't be something forced from the top," says Marek.
Having whole sentences to describe values helped a lot in getting the alignment on what they mean and why they are important.
Marek adds: "We've just made small adjustments and, since then, all of our values have been pretty much fixed and helped us to preserve our culture during rapid growth".
Netguru's Core Values
Exceed clients' and colleagues' expectations
"This value urges us to understand the needs of our teammates and customers. It's not always so obvious, because we might act under pressure or seem to know the right answers. We need to recognize the expectations before we can attempt to exceed them. Afterward, it's much easier to find different ways to delight people with positive surprises."
Take ownership and question the status quo in a constructive manner
"This point is about trust and partnership. We hire people with huge potential and don't want to micromanage them, but give them a place to shine and trust they will take full ownership of their area. It means that they need to speak up when things go south or they feel we are missing an opportunity to do better, even if it means questioning tradition or authority."
Be brave, curious and experiment. Learn from all successes and failures
"This value extends the ownership concept to include agency and creativity - we expect employees not only to respond to changes around them, but also empower them to try new things, take risks, and develop their own style. Also, we want everyone to accept that mistakes will be made along the way and it's fine as long as we learn how to not repeat them".
Act in a way that makes all of us proud
"Ideally, we want to create a company where everyone can feel proud of their work, impact, and decisions made in the whole organization. It's hard to achieve in practice as the feeling of pride is very subjective and different people might be proud of different things. But in combination with our remaining values, it triggers important discussions leading to better alignment across the organization."
Build an inclusive, transparent, and socially responsible culture
"We strive to make employees feel safe, regardless of who they are and what they believe in, by building a sense of belonging at Netguru where we can all celebrate the diversity of our make-up.
We also take responsibility for the company's impact on the world. We believe it can be positive on different levels, so we transparently share our accomplishments."
Last year Netguru obtained the B Corporation™ certificate granted to organizations whose previous business activities have been verified in terms of their positive impact on society and the environment.
We joined the community of over 3,200 companies in the world that have committed to developing a sustainable economy model. We would like to use it as an invitation for other organizations to join us and drive the global movement of using business as a force for good.
Be ambitious, grow yourself and the people around you
"We are a fast-paced company with big goals and unstoppable drive. In the last five years, we grew almost five-fold in size and revenue. This creates multiple opportunities for growth and a need to develop new competencies to respond to an increased scale. It works when we inspire and support each other, understating that we can win only as a team."
Recognize excellence and engagement
"While the remaining six values are urging us to act, this one encourages us to stop and look around. We want to appreciate the good work of our colleagues.
At Netguru, we've created many platforms to show our respect and provide feedback - we share kudos on the main Slack channel, nominate teammates to the Netguru Hero award, and simply recognize their impact by providing input to their 360-degree review."
The work is far from over
Some leaders think that writing down company values and communicating them broadly to their organization is the end of their work. In fact, it's just the beginning - the real struggle is to keep them alive and relevant.
"My biggest concern is that we will have a set of beautifully sounding slogans that people ignore or don't fully believe in" — shares Marek — "That's why it's so important for me to make sure every team member knows and understands our values".
I present our values to all new hires during their onboarding process. I do an extended version of this presentation to new leaders so that they can lead by example and spread our values by their actions and decisions rather than just by words.
The idea of going through the effort of establishing values makes sense only if the whole organization, from top to bottom, cultivates them and refers to them on a daily basis.
Keeping values relevant is a balancing act, as every value taken too rigorously or pushed to some extreme degree becomes destructive.
"It was not obvious from the beginning, we discovered it over time. For instance, #1 can lead to a loop of ever-increasing expectations and demands to always go the extra mile, resulting in overwork and stress. #4 can make people reluctant to go with a proven process, experimenting with all the possible options and trying to reinvent the wheel," says Marek. Company leaders need to constantly remind the organization about the intentions behind the values and be role models for their mindful use. Otherwise, even well-intentioned values can spin out of control and have a negative impact on the company.
Values became a backbone of our culture
Netguru has helped multiple companies scale up their businesses and is going through a phase of hypergrowth itself. Marek experiences the challenges of this process first-hand - the struggle to keep a startup spirit, expand operations without losing agility, and balance individual autonomy and company-wide alignment.
He summarizes: "We surely still have a lot of things to work out, but our core values are a crucial tool for strengthening the company culture that helps us along the way. Their articulation, adoption, and use in everyday situations have definitely driven Netguru's growth in a good way. They became a backbone of our culture and I could not imagine going forward without them."