23 Ideas to Promote Your Mobile App for Free (2021 Update)

The competition for the user's attention is fierce – if you want to stand out from the crowd not only will you have to build an outstanding product, but also come up with an effective app promotion strategy.
While promotion is a key component of a successful app launch, it doesn't have to cost you a fortune.
Use these 23 ideas for free app promotion.
What is mobile app promotion?
Mobile application marketing, or mobile app promotion, is an interactive process which takes place throughout the lifecycle of mobile apps.
It involves app developers communicating with existing or potential app users to develop effective mobile marketing app campaigns to increase customer acquisition and user retention.
In essence, mobile app promotion is about reaching your users at every stage of the marketing funnel - from the moment they discover it in the app store (whether that's Apple App Store, Google Play Store, or another) - guiding them to install or download the app and beyond.
In simple words - this is how you create an app promotion journey.
Effective mobile app marketing services can help to increase ROI for new apps, increase lifetime customer value and reduce customer churn.
How can I promote my app for free?
Don't worry if you have limited resources to promote your app. There are plenty of ways for free app promotion. However, 'free' doesn't mean no work will be required on your end – quite the opposite, but you don't have to pay for exposure itself.
How do you attract the best users to your apps?
There are many different ways to attract users to your apps, but you want to make sure you're bringing the right users. These core users will be the ones most likely to download and stay engaged with your app in the long-term.
Here are a few ways that can help you to target customers effectively through mobile app promotion:
Utilize app store optimization (ASO)
Create targeted email marketing campaigns
Use app store ads
Use the power of social media - including paid social campaigns
What are the best app marketing strategies?
This all depends on what type of app you're creating, where you distribute it, and how users interact with it.
However, there are some common mobile app marketing strategies which can help increase your chances of success:
Do Your Research

- It's important to conduct user research so you understand potential customers and their preferences.
Do more research - You also need to perform competitor analysis to see what similar app developers are doing. Is there a niche for your app business or do you need to try a different angle?
Make a landing page - a landing page, or teaser page, is an effective and creative way to inform and intrigue your users. Make sure to include key information, such as app name, app icon, screenshots/ mockups, and a call to action. You can also think about including a feature video or positive app reviews.
Increase your app's visibility in the app store - Use ASO (app store optimization) strategies to increase your app ranking.
Measure your KPIs - A key part of all marketing campaigns is measuring product performance. Mobile app development is no different. Keep a track of app downloads, app installs, in-app purchases, negative reviews and anything else you need to identify areas for optimization.
Target your audience on social media - Social networks can provide you with key information about new users' interests, browsing habits and needs, so you can find and attract users in a more targeted way. Consider promoting your app through Linkedin and Facebook groups, content discovery tools and online forums.
1. Optimize your app for the app store
A lot of app searches are performed on Google Play (53%) or on the Apple Store (47%).
This makes app store optimization crucial to ensure your app is easily discoverable. Here are a few things you should keep in mind while optimizing your app:
Pick the right app name,
write an appealing app description,
include relevant keywords,
and prepare app screenshots or videos.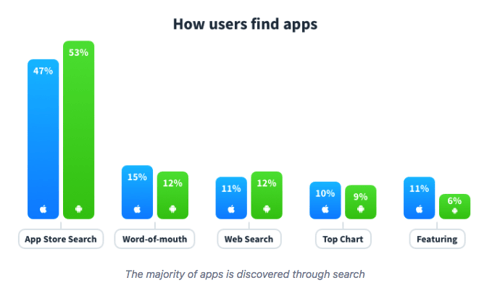 Source: App Radar
2. Create a landing page
A good idea for mobile app marketing is to build a landing page.
It will give you a chance to better communicate the benefits associated with your app, address any questions that your target users might have, and include testimonials that will boost your credibility.
Creating a landing page will also make your app discoverable by search engines – this can constitute a great source of leads.
3. Use QR codes
QR codes are a great, cost effective and user friendly way to promote your app and increase downloads.
You can include QR codes almost anywhere - from product packaging to TV ads, posters, or use them to encourage users to leave reviews on app review sites, share experiences or take advantage of new offers.
4. Ask customers for reviews
Ask your users to leave you a review on Google Play or on the App Store. Positive reviews drive purchasing decisions and have a direct impact on the app stores algorithms – they enhance your credibility and position in search results.
You can also consider other review sites like G2Crowd, Capterra, or Serchen – remember to respond to each review.
5. Create unique content
Create content related to your mobile app. You can publish it on your blog. If you don't have one, you can turn to Medium. Creating content is a great way to bring more traffic to your website as well as build brand awareness and credibility.
6. Produce guest posts
Find high authority blogs which are relevant to your niche and try to get an article published on one of them. Not only will you be able to share your knowledge, but you will also earn a few backlinks to your website.
The more backlinks you have, the better your positioning on Google. In the long term, this should help you with lead generation.
7. Use guest blogging
Obviously you will want to create your own content to promote your app, but you can also add guest blogging as well to provide a 'signal boost' for your content.
Guest blogging involves hosting your content on other sites with the aim of driving traffic back to your own. It's a great way of using more established blogs or sites with broader audiences to raise awareness of your own app.
8. Take advantage of social media
Promote your app on social media. Select channels that your audience is the most active on. Share any updates about your app among other useful content for your target audience.
9. Join groups on social media
There are many groups on LinkedIn and Facebook where you can share content and, as a result, promote your app for free. Bear in mind that frequently it's not allowed to share promotional content within groups, so stick with educational content. Save your sales/marketing messaging for your LinkedIn or Facebook company page.
10. Get your app featured on a podcast
Podcasts are growing in popularity – as of January 2020, there are over 900k podcasts available on iTunes, while there are over 1 billion blogs worldwide.
This makes the podcasting space less competitive than written content – take advantage of it while it lasts.
Select a few podcasts that your target audience listens to and try to get featured as a guest speaker.
It's a great way to spread the word about your app to a large audience for free.
11. Create an email signature
Emails are still a popular communication tool, with people sending 246.5 billion emails a day.
Not including a link to your app in your email signature is a missed opportunity for generating leads. 91% of peoplecheck their emails daily, so include a link to your app in your email signature to boost your brand's visibility.
12. Attend online meetups and webinars
Attend online events where you can either be a speaker or where you can at least talk to people who could be your potential prospects.
13. Make it useful
This sounds really obvious, but probably the most fool-proof way of promoting your app is to make it useful. If you can solve challenges in a user's daily life or provide unique entertainment, they're going to seek it out, find it and ultimately spread the word to other potential users.
This is where your research comes in handy - make sure to validate your app idea before the launch date, so you can be sure it is useful to new users.
14. Get featured in blog articles
Do you recall some of the articles written around "the best tools for"? Try to get mentioned in one of those.
Focus on brands with high domain authority – they usually rank better on Google, which means more traffic to your app.
15. Feature your app on Product Hunt
Product Hunt is full of app enthusiasts. Promoting your app on Product Hunt will not only allow you to gain a lot of exposure but it can also become a great source of leads.
Especially if your app is placed in the top 3 products of the day.
RobinHood, a cost-free and commission-free brokerage app, is one of PH's success stories. The campaign contributed to RobinHood getting $176 million in total funding.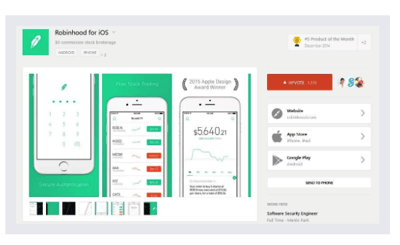 Source: Product Hunt
16. Use referrals
Create a referral system to encourage your existing users to invite their friends to download your app. You can include a "refer a friend" button in your app and offer users rewards for each referral.
The previously mentioned Robin Hood offers one free share of stock for each new friend who joins the app – the referrer could get a stock worth between $2 and $200.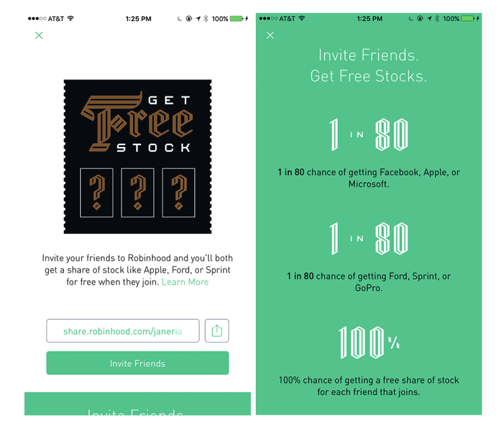 Source: Referral Rock
17. Use app directories
List your mobile app in one or a few app directories such as appchatter, androidapplog, apps400, or preapp. The higher the number of listings your app is on, the higher the chance of getting discovered by potential users.
18. Partner with other apps
Another idea for successful app promotion is partnering with apps that are complementary to yours. For instance, if you sell a survey app, then you could partner with a brand selling a Customer Relationship Management platform.
You can do a cross-promotion – they could feature your app in the newsletter sent to their customer base and you could do the same for them.
19. Release a demo video
Nowadays marketing revolves around video. According to a study by Hubspot, 54% of consumers would like to see more video content from brands they like and support.
If you want to gain more attention, create a 30-second video showing how users can benefit from your app, promote it on your social media channels, and include it on your website.
20. Submit your app for rewards
How else can you market your app? You can enter a mobile app competition like the Best Mobile App Awards.
Not only will it allow you to get more exposure, but if you win, it will also boost your credibility. Here are a few competitions you can consider:
Appy Awards
Best Mobile App Awards
Appsters Awards
Apple Design Awards
Best App Ever Awards
21. Get involved in forums
Show off your expertise by answering questions on forums related to your market. You can try to find relevant questions on Quora – it has over 300 million active users, with over 35% of Americans declaring they use Quora.
Avoid answering questions that have too many responses, as your visibility will be limited. Focus on queries with a high following but few answers.
22. Team up with influencers
I know what you might be thinking: "involving influencers will cost me a fortune". Only if you decide to cooperate with business celebrities, which is not required. You can instead work with micro-influencers or tech enthusiasts who have a decent social media following.
Get them interested in your app, if they decide to use it and they like it, they might review your app and post it on their social media channels.
23. Pitch to App Store editors
Try to pitch your app to App Store curators to have it featured in the "Today" tab. Bear in mind that they receive thousands of pitches daily, so you have to ensure your pitch is carefully crafted. Outline what your app does and what's unique about it.
While reviewing apps, Apple editors pay attention to high app quality, sleek design, and good storytelling. If you're lucky enough to get selected, you can count on a large number of impressions, click-throughs, and installs.
Use various techniques to boost your app exposure for free
Building an outstanding mobile app doesn't guarantee success. You still have to put time and effort into promoting it.
Luckily, it doesn't have to strain your marketing budget, as there are plenty of free app promotion tactics that you can use. One of the most beneficial ones is optimizing your app for app stores, as the majority of consumers search for apps on Google Play and App Store.
Show off your expertise by answering questions on forums like Quora, creating content relevant to your niche and sharing it on social media. Getting positive customer reviews and submitting your app for awards will have a positive impact on your brand image as it will boost your credibility.
Now that you know how to promote an app, why don't you test some of the ideas that we mentioned above? Let us know how it goes.