Why Do We Use Webflow for Website Development? Netguru's Approach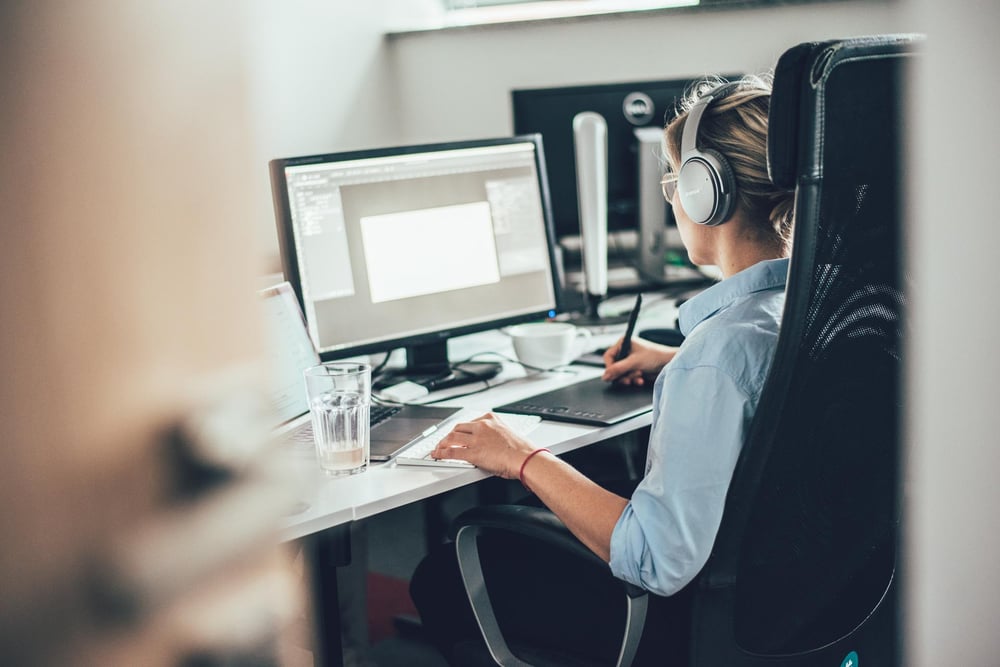 With digital acceleration becoming a must for most businesses, organizations are looking for ways to accelerate the process of web development while staying as resource- and cost-effective as possible.
This is where low- and no-code platforms come, with their promise of speeding up time-to-market without putting much strain on the budget or the company resources. Yet, with the sudden boom of different no/low-code builders on the market, it's becoming harder and harder to choose the right solution for your business.
One of the most exciting tools that we at Netguru like to work with is Webflow. So, let's take a look at what the platform's got to offer and how it's different from other competing web development tools.
What is Webflow?
Founded in 2013, Webflow is a comprehensive no-code web design software meant for website development, content management, and hosting. It's a design-led solution that allows the creation of high-performing, responsive websites entirely visually — without the need to type in a single line of code.
The platform is a drag-and-drop tool for developing websites, which can help organizations speed up the process of bringing websites to life by even as much as 70% without compromising the quality of the final design.
Why is Webflow gaining popularity?
Webflow is the answer to a growing demand for low- and no-code website development. It's easy to use, flexible, and more comprehensive than most of the solutions in the no-code field, which might be the reason it's being favored by websites with higher traffic.
By offering a fully integrated content management system (CMS), it provides users with an even more streamlined website creation process (for both static websites and dynamic, content-heavy sites, including products, blogs, and project portfolios), reducing the gap between development, design, and content.
As a no-code solution, it not only speeds up time-to-market and minimizes the need for hiring new specialized talents for each new implementation, but also simplifies cooperation between different divisions, such as business, IT, creatives, and stakeholders within the organization.
Being a time-, resource-, and cost-effective solution, its boom was just a matter of time. And it's happening right now.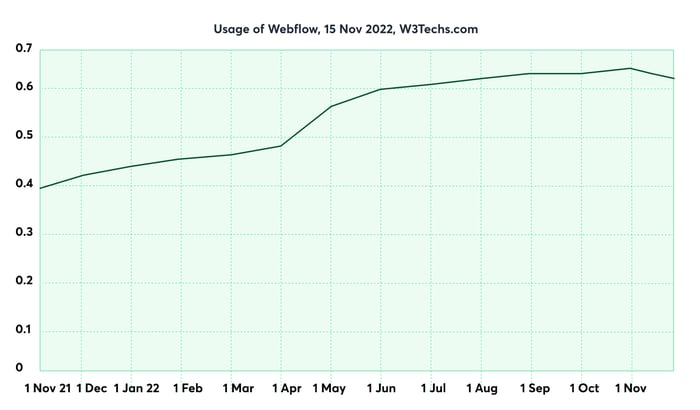 Source: W3Techs Web Technology Surveys
Why Webflow for website development?
Webflow is definitely among the most innovative and versatile no-code solutions we choose to work with while creating websites, but what exactly makes it a good choice for web development?
Discover some of the reasons we decide on Webflow in our projects.
No-coding tooling
Being able to design, develop, and deploy a fully functional, interactive website without coding is hard to compete with. Low- and no-code platforms are a part of the web and mobile app development future.
They can be used by people without broad technical knowledge, which makes them an extremely attractive solution for companies that want to harness the power of communication behind different teams within the organization.
Fast time-to-market
Staying ahead is one of the biggest challenges that almost every business faces nowadays. At the same time, deploying solutions in accordance with user feedback takes time, and time, as we all know, is money.
Here, no-code platforms, such as Webflow, are a true game-changer. They allow businesses to stay as flexible as possible and launch brand new products or implement new features in no time.
Releasing MVPs has never been so easy. No-code tools allow for iterating on them and enable design, sales, and marketing teams to add elements or change content anytime with no effort.
Easy handover
The lack of the need for complex code comes in handy also when it comes to handover. No-code tools enable the team to work at full capacity, even when the project has to be transferred from one developer to another.
The fact that Webflow is a visual builder means websites can also be handed over to people who don't have technical development experience. All things (like style properties or website structure) are laid out (visible in the Webflow interface), so there's no need to fully understand the languages websites are built (HTML, CSS) to understand what's happening and how the site is built.
This significantly reduces the time needed for the website deployment and, overall, raises the team's productivity.
Comprehensive environment
We find Webflow to be the ultimate all-in-one tool for site development and maintenance. It offers features that will help you create and launch the website, a separate module for content edition, a CMS, and a hosting service.
It's not only versatile, having all things under the roof, but also easier to learn and safe. For example, editing the site's content using the editor mode doesn't bring the risk of breaking up the layout.
Furthermore, you can achieve it all without the need to implement a single additional plugin.
Zero maintenance
Regular system updates can be a time-consuming pain in the neck, but thanks to a Webflow subscription, platform users can be sure that they're using the latest secure version of the tool.
This saves the development and/or maintenance teams some much-needed time and helps to avoid costly maintenance services.
Top-notch quality
One of the most important things about every site is whether it's attractive to the end users. Webflow helps businesses create websites that are fast and accessible, but also very pleasing to use – with engaging interactions and impressive animations that need no additional coding.
The code created by Webflow behind the curtains is clean, so the site's performance is high. The platform also gives you control over all the most important aspects of the site – like semantic tags, SEO settings, and digital assets (including images and more).
Webflow comes ahead, delivering and improving its features constantly. Take Audits as an example, a tool that constantly checks your website as you build and suggests accessibility and performance improvements.
There's no simpler way to ensure the quality of the projects.
Enterprise-level website hosting
Thanks to the AWS-powered hosting services from Amazon, sites developed on Webflow can take all the traffic that they get. This means world-class speed and truly reliable service ensured with advanced security, custom traffic scaling, and guaranteed uptime with content delivered in milliseconds.
Moreover, you can gain access to a running log of what design changes your team members are making in real time, so you can easily identify and debug any issues a lot faster.
In need of some extra support? Or maybe your company is trying to achieve a specific security certification? Webflow enterprise plans help you with that.
Netguru's approach to Webflow development
If Webflow seems like the right solution for your business and its needs, make sure you choose the right partner to support you on your journey toward the no-code future.
Certified experts
Netguru has Webflow-certified experts on board. If the project scope requires extra functionalities that can't be done natively within the Webflow environment, the specialized frontend developers have experience in developing custom Webflow solutions and are ready to assist you.
They have knowledge of how to supplement the platform with other no- or low-code tools to build versatile and comprehensive products (and potentially integrate them with tools like Zapier, Make, Memberstack, and more).
Best practices and a well-founded framework
Netguru's experience in web design and development helped pick and prepare a solid framework that allows the teams to build user-friendly websites with proper structure.
Furthermore, the experts develop solutions based on the Webflow best practices and translate them into easy-to-understand rules and elements for clients with little or no technical experience.
Scalable and responsive designs
Netguru makes it a priority to create websites that are not only beautiful to look at, but also scalable and responsive. If needed, clients are provided with the support of additional staff members such as UX or UI designers.
Want to make sure you can grow your site after we deliver it to you? Add new pages on-demand? Within the additional project scope, a whole set of components will make your future work much easier.
Dev-only or full-scope hire
Depending on your business needs and the scope of the given project, Netguru can help you build a website from scratch, migrate your current site from any other platform (such as e.g. WordPress, Wix, Squarespace, or other), support your team in planning, designing, developing, and deploying processes, or be hired for development work only. Additionally, you can receive support in fixing or swiftly rebuilding the whole website.
Custom extensions
Webflow is a great web development tool, but sometimes the scope of the project demands introducing additional, complex functionalities. Netguru experts can extend native Webflow functionalities using custom tools and methods or by utilizing currently available third-party solutions.
Future-proof and easy-to-use solutions
While building the website, the teams make sure that they're easy to use by all, and that includes a client's content teams. Developed CMS structures are well-thought-through and based on the requirements set by clients.
If at any time the business decides to go through a rebranding process, it is ensured that new brand assets can be easily applied to the existing website created in Webflow.
Customer support & training
After deployment, Negruru supports their clients and offers them training on how to use and edit the content on their site to take full advantage of the developed solution so that their interactions with the website are as seamless as possible.
Full support
When working with the Netguru Webflow development team, you are offered full support. Thanks to the "all hands on deck" approach, the developers can fully focus on providing the clients with the best development service while project managers, frontends, QAs, and designers take care of their end of the project. All of this means that projects are developed faster and more comprehensively.
Official Webflow partnership
Netguru is listed as an official enterprise partner offering Webflow design services, which means that you can receive top-tier design assistance to complete your project.
Is Webflow the future of no-code website development?
Webflow is for sure a part of the digital revolution happening right in front of our eyes. It is currently among the most popular and versatile tools for web design development.word
Not only is it simple and intuitive, but it also provides the users with a whole set of functionalities. The fact that it allows one to host and easily manage content without having to implement any additional plugins and custom solutions most certainly makes it stand out from the competition.
The Webflow team also constantly listens to the customers and their needs and improves the solution based on their feedback. Each quarter, users are provided with new features and release updates.
When we think about the future of the web and the faces of the digital revolution, we usually think about the big tech CEOs. Bill Gates, Mark Zuckerberg, Steve Jobs.
Yet, while thinking about the revolution, we should also take a look at the people who poured their hearts into crafting future-proof digital solutions like multitouch screens and mapping the world for GPS. What better way to celebrate them than by using one of the most exciting no-code tools?
Take a look at the stories behind some of the most influential digital inventions of our times, and discover the possibilities behind no-code with Webflow: Hidden Heroes