Why Hackathons Are Always a Good Idea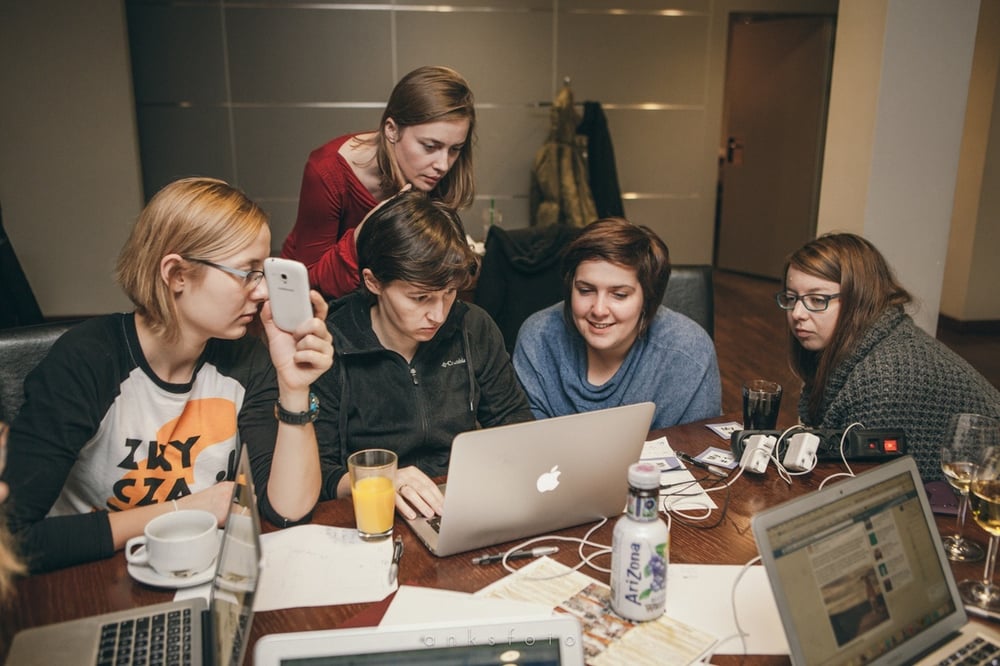 Here are the ideas we developed during the single day hackathon starting our team retreat. And as always, they are open-source, so you can easily contribute if you find something interesting.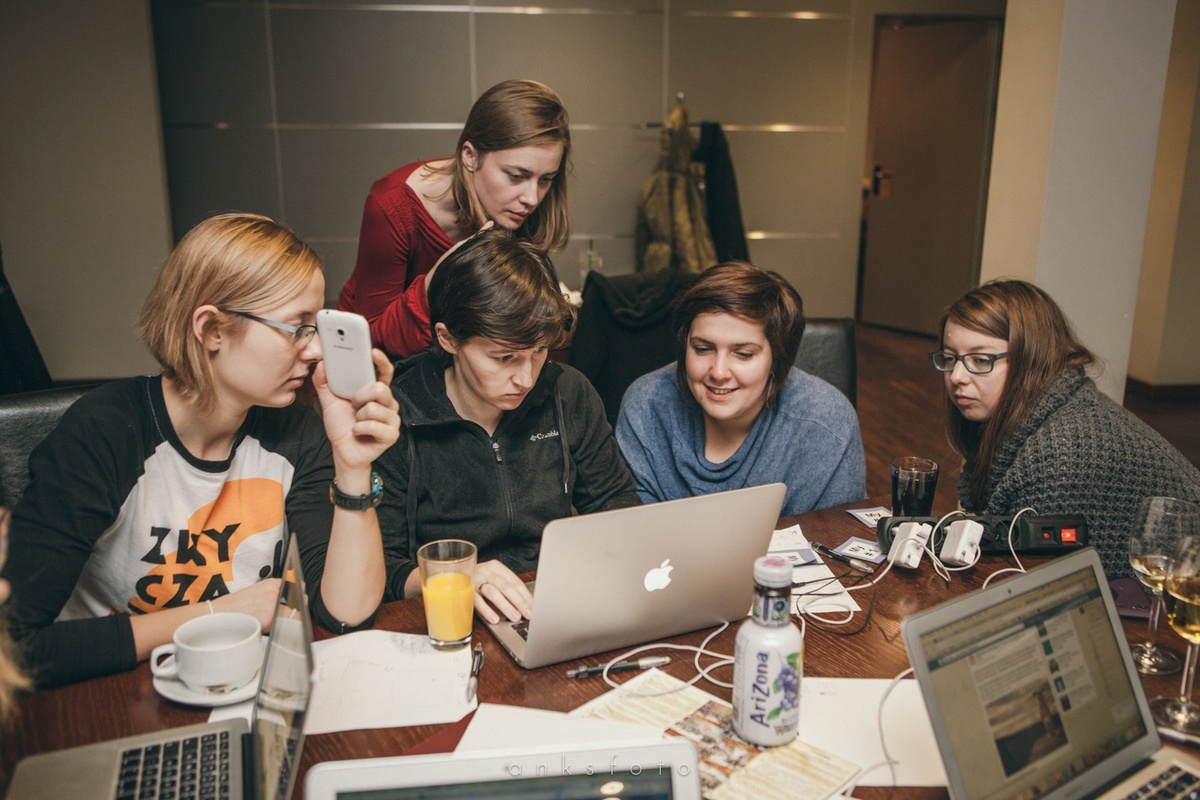 In the first week of December, we gathered everyone from across netguru's locations and traveled to a cosy hotel outside of Poznań to kick-off our team retreat with a single day-hackathon.
Hackathons are a great opportunity for everyone to meet each other outside of our regular projects and collaborate face-to-face with people they may not have been familiar with before. It's especially fun to watch because our usual teams get completely redistributed.
Here are the ideas we developed during that single day. They are not perfect, and mostly far from finished, but hey, it was a real fun to develop it! Even the Internet hiccups couldn't stop us! And as always, they are open-source, so you can easily contribute if you find something interesting.
Foosballguru
We are pretty much in love with playing foosball. Both of our offices in Poznań & Warsaw are properly equipped. To make it simple, we used one of our whiteboards to keep the track of game schedules. But no more! Welcome, foosballguru, our own app for foosball championship management! We warn you, this one will be used fiercely! Get your own app at GitHub.
DoorGuru
You know how it is when you forget your badge card for the office? The DoorGuru team decided to take care of this issue with a set of iBeacons we got a few months back. The idea is simple: place a Beacon next to the doors, install a Beacon App (our MVP supports iPhone 6). The app checks if the you are close enough to the Beacon and if you are, it sends a POST request. After receiving a '200' response code, voila, you are able to come in! Repos available at GitHub & GitHub.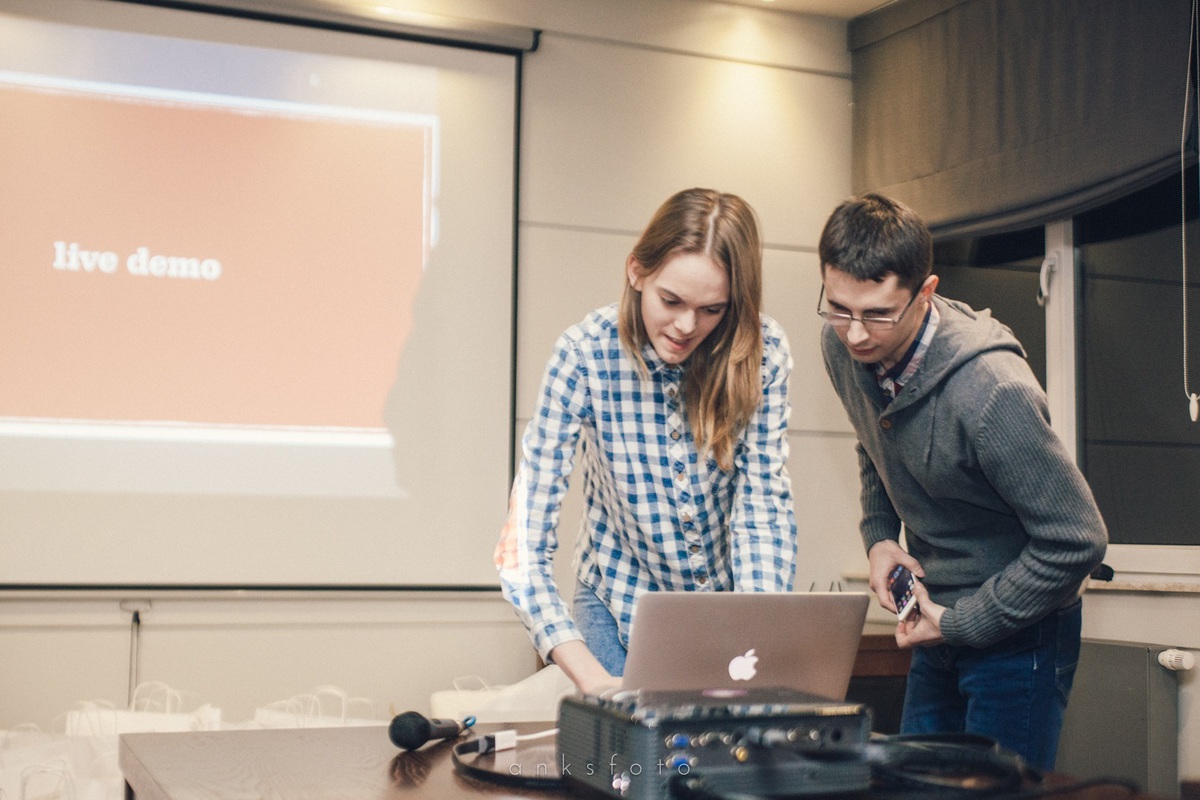 Doorguru demo in progress.
VIM Pivo
vim-pivo is a plugin to the Vim text editor which allows you to manage Pivotal Tracker stories right inside Vim. No more leaving your favorite editor to visit point'n'click land of web browsers—just to start a new task and be done with it. Also, there's a feature to mark one task as "current" and it will be added to your Git commit message in format: [#], so your project manager stays happy! Note: Right now this is our hack-ish VimL playground. It's not even ready in 1%. But hey, it's open source, if you wanna help... Fork it at GitHub.
UPDATE: we said goodbye to Pivotal Tracker and started using JIRA. In this post we explain why it stole our hearts.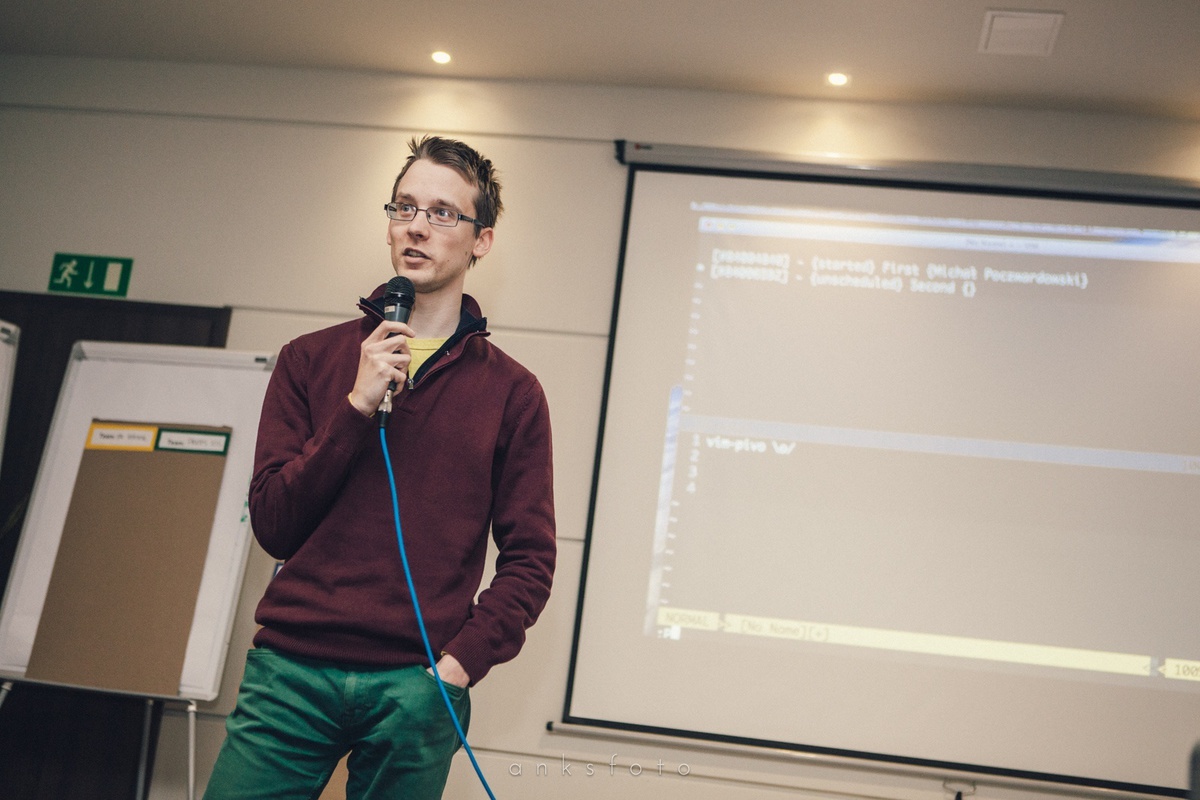 Webinarium
We love to share knowledge across our teams with internal webinars. Up until now, we've used simple spreadsheets to keep the track of all the slides, videos & future plans. But wouldn't a webinar archive app be better? Webinarium allows you to add, edit, upvote and bookmark favorite webinars. You can schedule a webinar and have the app automatically send a reminder to Slack. It includes a suggestion box and voting system for the best webinar subject ideas. The next features to be added include posting new suggestions & newly scheduled webinars to Slack. We think an admin panel would be nice as well. Fork it at GitHub.
Hipbot For Slack
Once upon a time, during our very first netguru hackathon ever, we brought HipBot to life. He became our faithful friend. He lived in our Hipchat-based rooms creating memes, googling stuff for us, or even pushing to prod! When we moved to Slack we had to leave him behind. But Slackbot is not as smart and ironic as our fellow HipBot, this hackathon could not end up with differently than integrating Hipbot with Slack. The job is not yet 100% complete but he can do that so far.
TableGuru
You know how it is… John likes Kate. Kate like Mary. Mary hates John but likes Tom...TableGuru comes to the rescue! Welcome to our app for arranging the best places for your guests to sit at a wedding party, Christmas dinner or… another hackathon maybe? All you need to do is to upload list of guest, define relations, or in other words who likes/hates who—fun! Grab one at GitHub.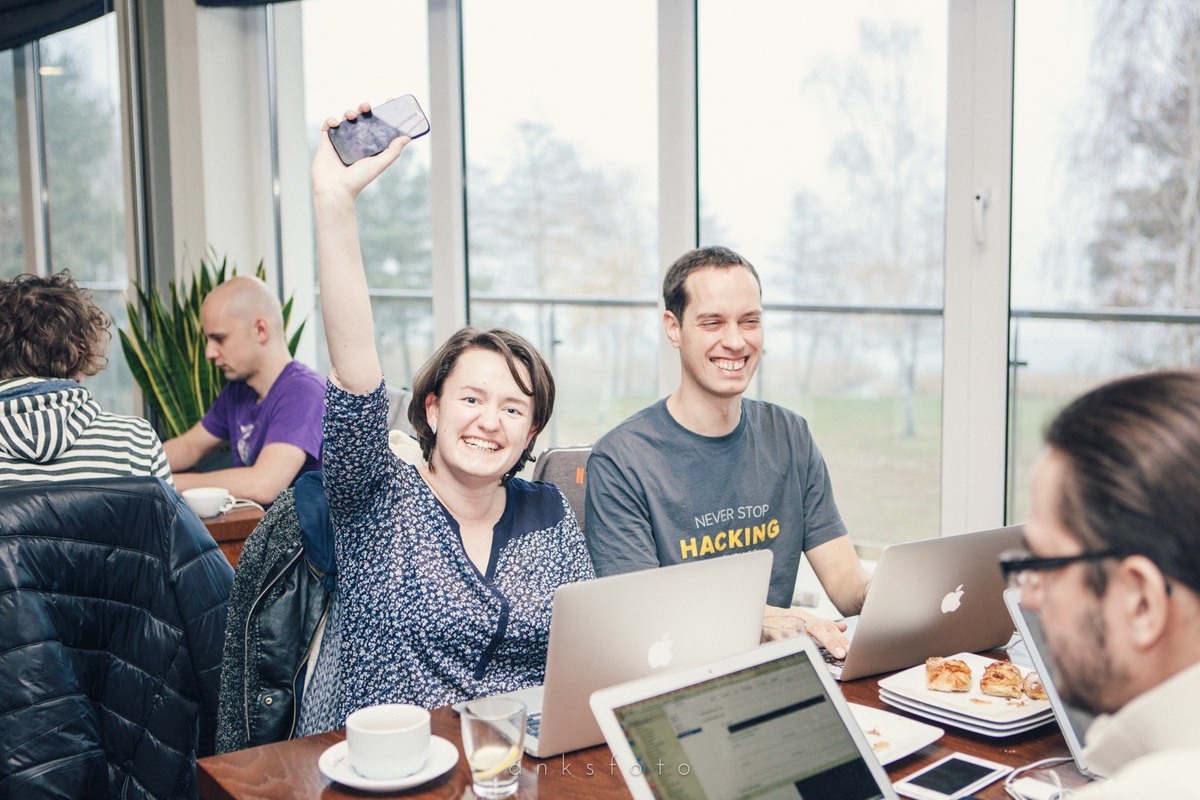 Saying hello and catching some Internet at the same time.
Props App
Props App is probably one of the most used & love apps by the netguru team (thank you Adam!) and we should cover it in-depth soon. Just a little teaser here: the app itself was developed before the hackathon and it serves a geeky way of saying "thank you" to your team mates. During the hackahon, the app got a new feature - multiple props. Now when we want to send some kudos (e.g. for the entire project team) instead of sending them one by one, we can mark all people included and do it with a one-click. Since our hackathon took place, it's also became available for mobile!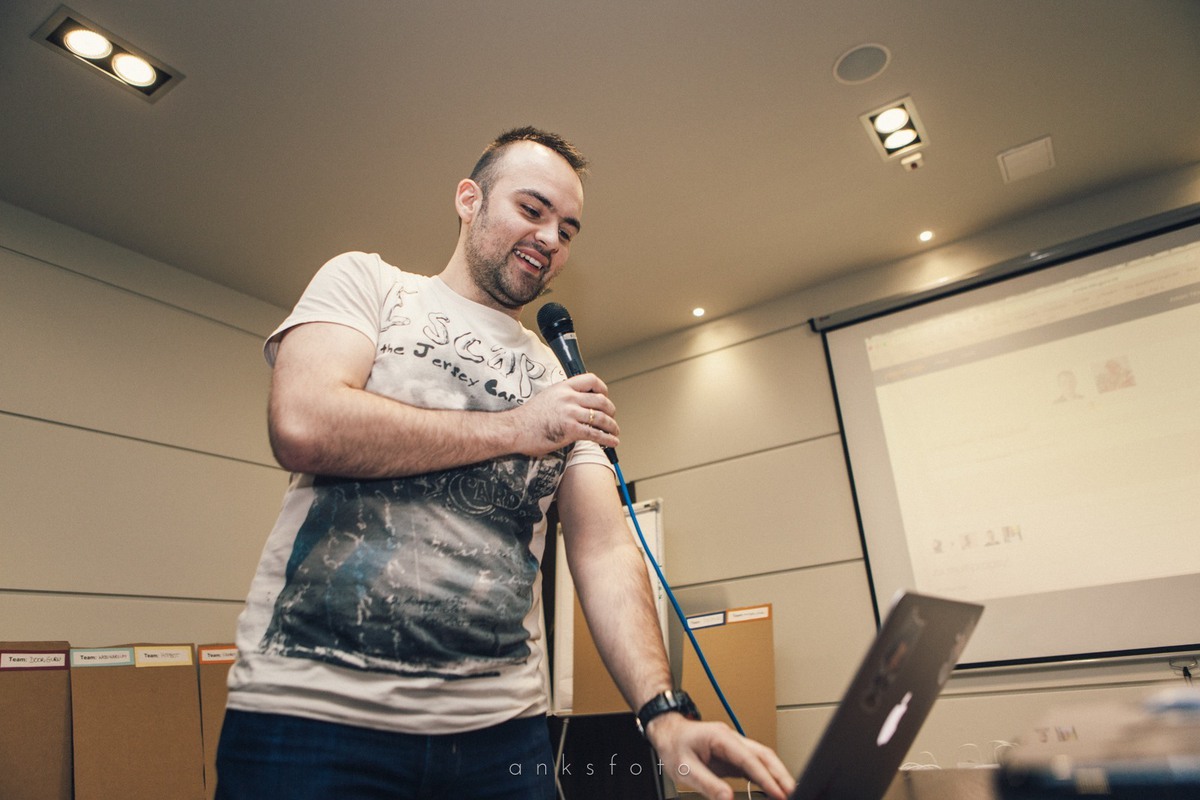 Adam presenting PropsApp's new features.
Callroom QR Reader
Our winner… callroom-qr-reader! Whether it's for a project call, face-to-face meeting, internal workshop—our call-rooms are always busy! Callroom QR reader lets you check call room availability in the next 24 hours without digging into mails & calendars. There are 2 ways to achieve this: use your camera to scan QR code pinned to the room's door (quick and smexy solution for geeks!) or scroll via your calendars to get a call room you want (eh, slightly boring...). The application requires authentication via G+ service.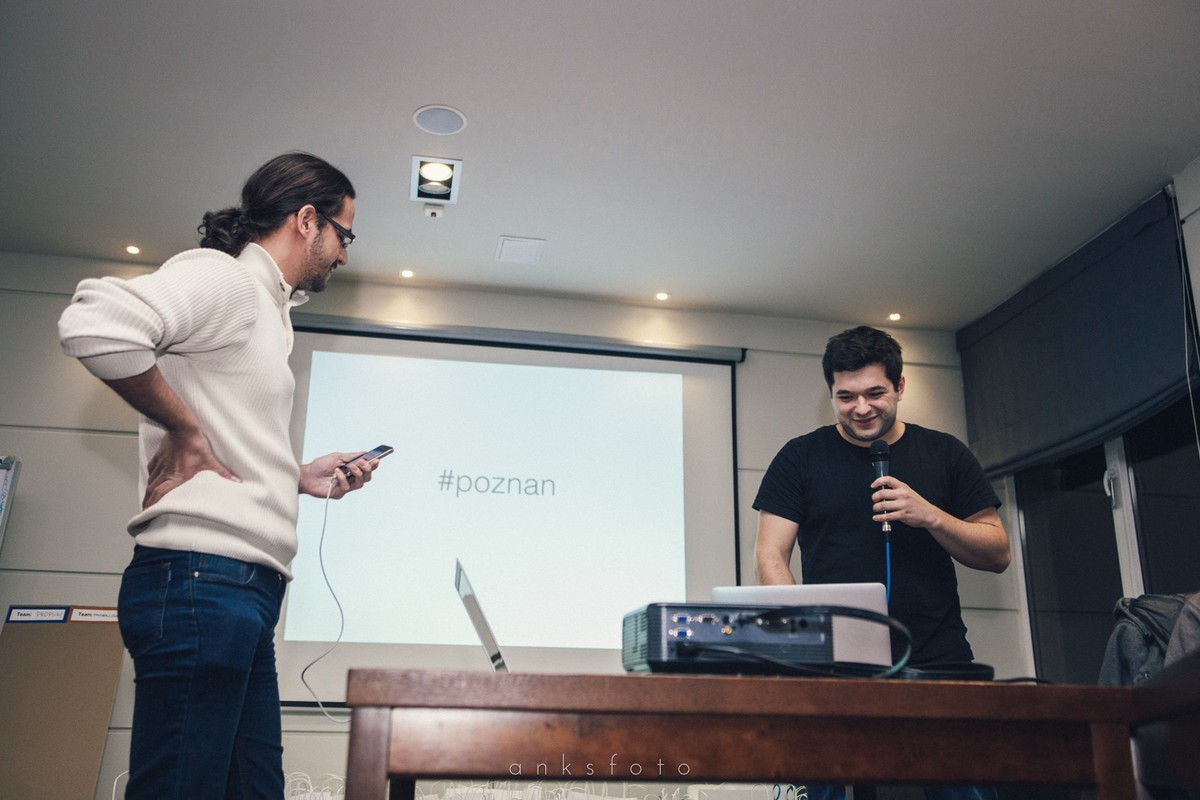 Callroom final presentation.
Hope we've inspired you to organize your own hackathon in the future!
UPDATE: and we did it again! Take a look at the bunch of new apps developed during all-day April hackathon.