Upending Knowledge Management With AI-Powered Knowledge Base
Internal knowledge management processes streamlined with AI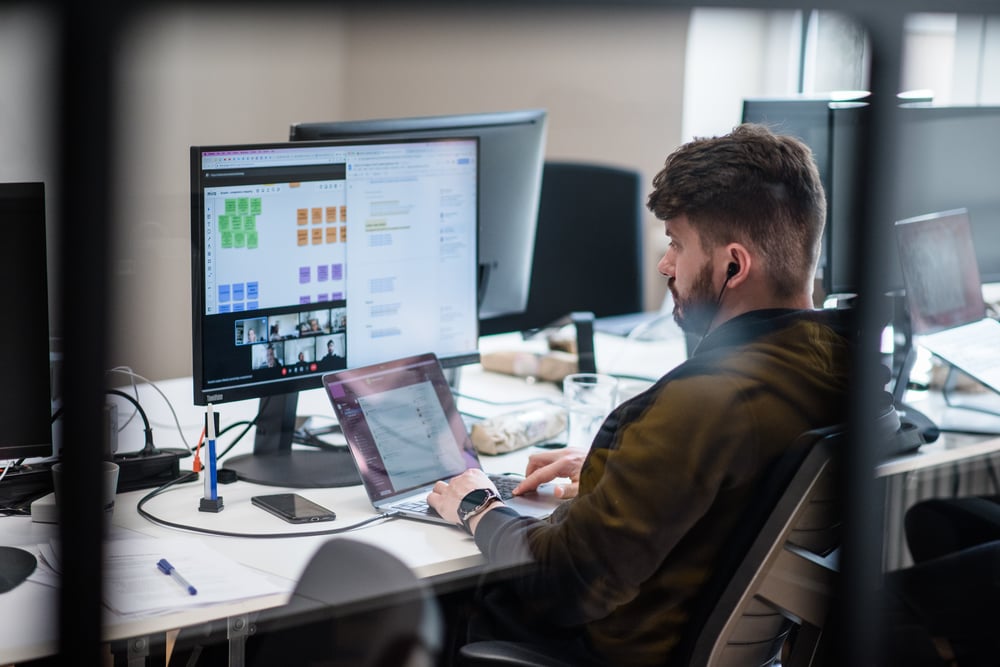 About this project
To make knowledge sharing easier and speed up the production of sales and marketing collateral, Netguru came up with an AI-powered solution – Netguru Memory. The tool cuts case study delivery time by 90% and ensures access to historical and real-time data 24/7.
The challenge
Having information readily available throughout the organization enhances a company's ability to adapt to market fluctuations, respond to internal shifts, promote itself with ease, and ultimately, gain a competitive edge.
The larger the company, the more complex the internal data landscape, and the higher the risk of silos. However, not only enterprises struggle with data and knowledge sharing – you don't need to have thousands of projects to get lost in fragmented information scattered across platforms and channels.
According to Gartner, nearly 97% of data sits unused by organizations.
The solution
Streamlining internal knowledge management processes saves businesses from delays in business development, marketing, and project delivery.
Our answer to inefficient information flows lies in Netguru Memory – an AI-powered knowledge base developed internally as a centralized repository that stores, organizes, and shares knowledge within our business. The tool leverages artificial intelligence and machine learning to help us both search through our immense databases at speed and put together AI-generated case studies for internal and external purposes.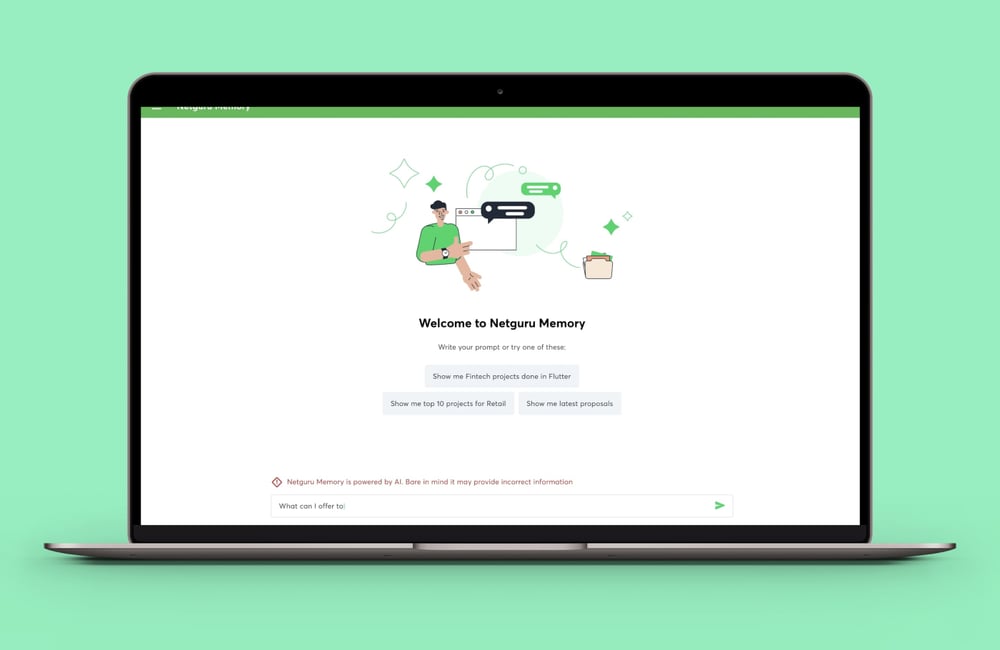 The logic
Netguru Memory utilizes our collective knowledge scattered across platforms and channels to gather and organize information about our clients, their challenges, our solutions, and the outcomes of our collaboration.
The system consists of two components: data gathering and data consumption. The first one automatically collects data from sources such as Salesforce, Google documents, Slack, Confluence, presentations, or published materials, and enhances them with AI mechanisms for easy content retrieval.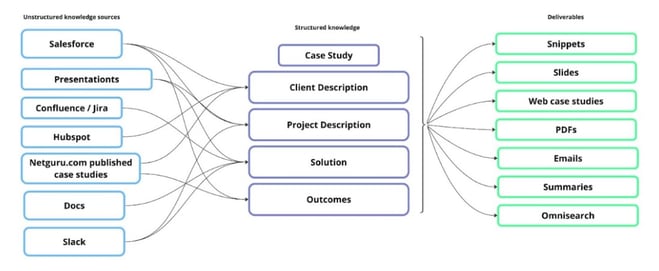 The data consumption component uses the gathered data to customize case studies, presentations, and messages with the help of an AI Assistant.
With just one click, The Assistant enables effortless improvements. It assists the user in generating compelling text by utilizing both automatic and manual input. Text refinement has never been easier! The outcomes can be saved and exported in formats such as google slides and presentations, PDFs, or landing pages drafts.
To enable effortless search, we've built an omnichannel search bot that offers a natural language search interface to help scout for information on similar projects and solutions.
The infrastructure
To elevate auto-generated content, we utilized AzureOpenAI technology. By integrating Salesforce with OpenAI, we created an AI Assistant that is embedded within our CRM, allowing for automated content delivery and management. This has streamlined our processes and made content refinement much more efficient.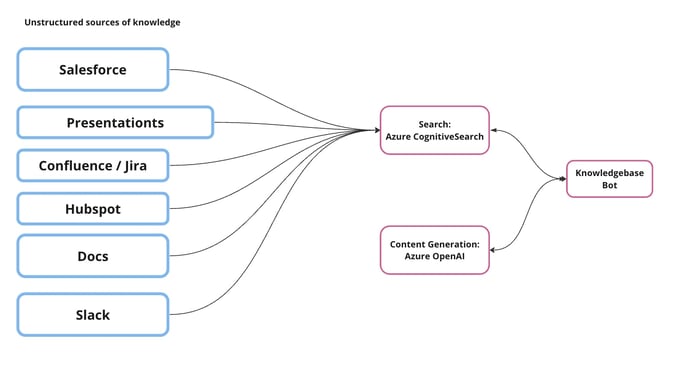 AzureCognitiveSearch powers our knowledge base bot enabling it to answer the most complex queries. It helps us find relevant examples from thousands of past projects within seconds.
The results
Our AI-powered knowledge base:
Accelerates the delivery of sales and marketing collateral
Ensures easy access to historical and real-time data 24/7
Offers sophisticated search and processes natural language
Is used daily by our business developers and marketers
Speeds up decision-making
Automates workflows across the business
The numbers
90% faster case study delivery
49 users asked 479 questions in the first month
Complex and specific queries handled in under a minute
Comprehensive summary for an RFI filled in under 10 minutes