Design, Development, and Relaunch of an Instant Interpretation App
An instant interpretation app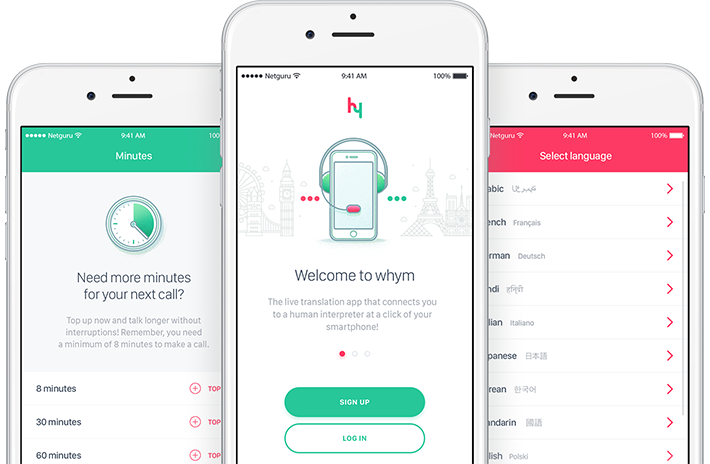 Automatic translation is fast, but in an emergency, it can cause misunderstandings.
Goal
whym is a real-time translation app for travellers and tourism sector businesses, such as hotels and airports.
Rewriting a live app currently available in the App Store and on Google Play.

Facilitating payments.

Providing the option to make online calls between users and interpreters.

Appealing to a wide spectrum of user groups (both individuals and businesses).
Process
It's always good to have access to a professional interpreter. whym chose Netguru for designing and developing their application's relaunch.
Running a detailed product review containing 5 test scenarios.

Using cognitive walkthrough techniques.

Implementing a well-established quality assurance process.

A clear visual design and appealing notifications.

Visually attractive pricing representation to encourage purchases.
Results
The app connects users with interpreters from the InterpretersPortal. Three months after the start of the project, a completely new version of whym's app was released.
A superior interpretation app that exceeds users' expectations.

Increasing the number of InterpretersPortal users available trhough whym.

Improved usability and the user interface that delight users.

Access to a scalable design and development team for future projects.
Numbers
91 design screens
9 team members
1 months for

design work

20 languages supported