Aleksandra Paszkiewicz Joins Netguru as Head of People, Katarzyna Rój as Head of Talent Acquisition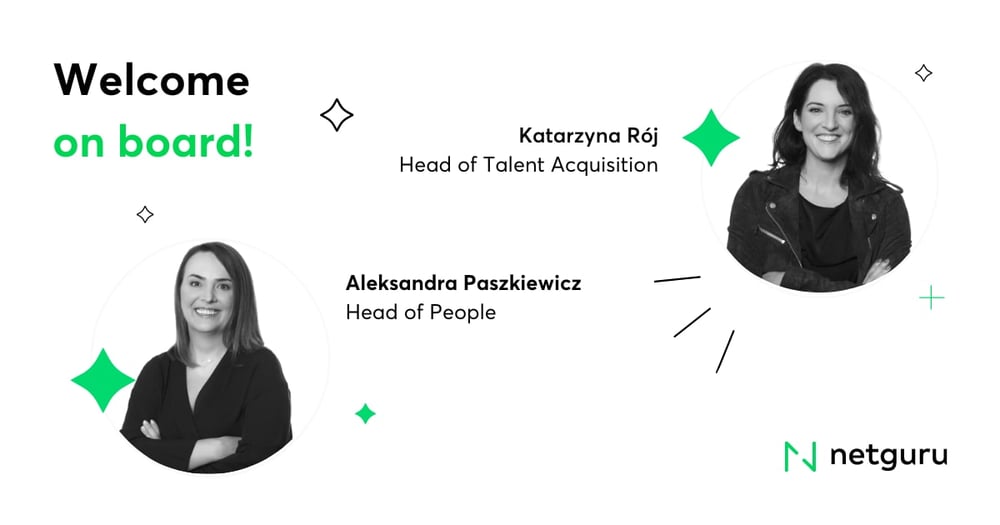 Aleksandra Paszkiewicz joins Netguru as Head of People.
Back in May, the company also formed a new role – Head of Talent Acquisition – taken over by Katarzyna Rój. These changes meet the global market's growing needs for technology services and respond to the increasing competition on the job market.
Aleksandra Paszkiewicz joined Netguru and took over the Head of People position. Paszkiewicz is a manager with a proven track record of strategic HR management, internal communication, and employer branding. She's experienced in creating solutions for agile organizations. At Netguru, Paszkiewicz will be responsible for developing the work environment for a team of nearly 800 people. The overarching goal of her job is to become the world's best technological workplace. Before joining Netguru, Paszkiewicz worked as Chief Human Resources Officer at Nationale-Nederlanden, having held senior positions at that company for over 10 years.
This May, Netguru also announced a new role: Head of Talent Acquisition. It was taken over by Katarzyna Rój. Her scope of responsibilities includes coordinating recruitment projects and cooperating with external sourcing partners. Before joining Netguru, Rój was in charge of implementing and delivering recruitment strategies and coordinated regional activities of recruitment teams as Central and Western Europe Recruitment Director at Luxoft, where she spent over 10 years.
"The Covid-19 pandemic forced an accelerated digital transformation of many organizations, which resulted in an increased demand for specific services," says Marek Talarczyk, CEO at Netguru. "As we aspire to be among the world's best employers, we need to not only take care of our team's needs and satisfaction, but also build an offer that attracts the best talents on the market. I'm happy that Aleksandra and Katarzyna agreed to join Netguru and take the lead in those areas."
The announced changes are not the only ones Netguru has made over the past few months. This year in March, Aleksandra Prejs was promoted to Head of Growth and Mateusz Czajka became the first Chief Delivery Officer in the company's history. More about it can be found at Netguru's press office website.
In June 2021, Netguru became one of the top Polish employers according to the Best Workplaces 2021 Great Place to Work® ranking in the "over 500 employees" category.
Please join us in congratulating Aleksandra and Katarzyna! Feel free to DM them on LinkedIn or share the news with your community 🙌