Transparent Salary Ranges – Our Path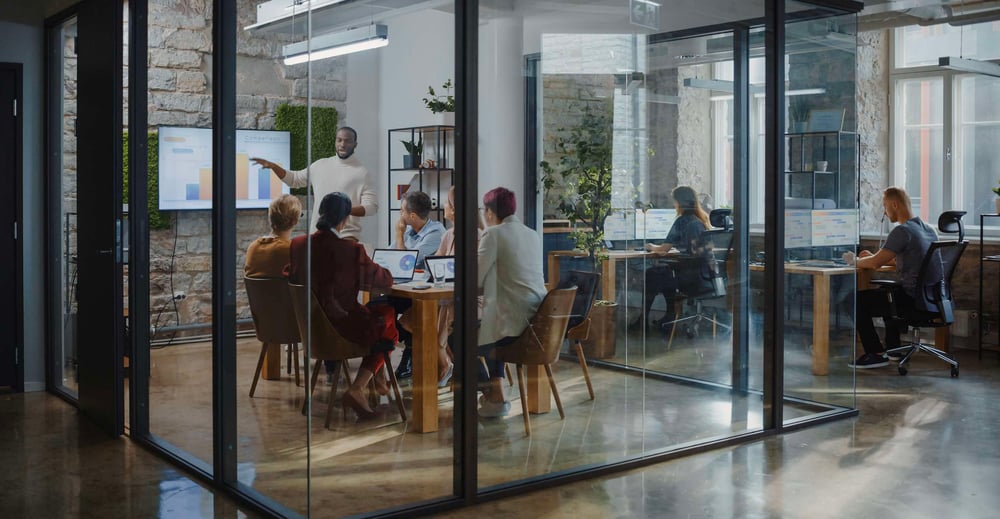 Transparency has always been part of the Netguru DNA. It has been standard for us to include salary ranges in all of our job postings for over a decade.
While the IT industry is only taking the first steps towards more salary transparency, we'd like to share with you what it has brought us over the last ten years.
For years, companies treated salaries as a private matter between employer and employee. Despite the push for more transparency, only a minority of companies disclose salary ranges in their job postings. According to LinkedIn's Global Talent Trends 2019 report, 27% of HR and hiring managers say their company currently shares salary ranges with employees or candidates. Another 22% say they are likely to start doing so within the next five years. For more than half, 51%, salaries are still shrouded in mystery, and that's unlikely to change anytime soon.
Data from 2022 shows even less transparency – according to US job marketplace ZipRecruiter, only about 12% of job postings from US online job boards include salary ranges – and that's up from 8% in 2019.
New regulations on mandatory salary ranges
These findings may seem quite disappointing in light of the growing number of online databases, networking groups, and salary transparency laws taking effect in many US states. For example, a law passed in New York City in 2022 (in effect from 15th May 2022) requires employers with four or more employees to include a salary range in job advertisements. Colorado has a similar law that has been in effect since January 2021, and several other states, such as Rhode Island and Maryland, have laws requiring employers to disclose salary ranges upon request.
Aside from the legal requirements, there is also growing pressure from employees. According to Glassdoor's Global Salary Transparency Survey, 70% of adult workers in seven countries (US, Canada, UK, France, Germany, Netherlands, and Switzerland) believe salary transparency is good for employee satisfaction, and 69% of them want a better understanding of what fair pay is for their position and skills in their company and local market.
Why the big secret?
Why are companies so reluctant to be transparent about pay ranges? One reason is that labor costs are a major expense for most businesses. If they are not upfront about what they are willing to pay, they may hire candidates for less.
Kamil Puk, Service Delivery Manager at Netguru, notes that sometimes a reverse process takes place,
"In the light of the recent Talent War, some companies pay new hires more than their current employees who have worked for years without a raise,"

Kamil Puk

Service Delivery Manager at Netguru
– says Kamil. Also, there are organizations where managers do not really know how to assess an employee's value to the company, so they just pay what people ask for."
Keeping the number secret can also be a negotiating strategy, especially if a company does not want competitors poaching the best candidates. "If a company knows it has lower salary ranges than its competitors, it will try to convince candidates in other ways," says Bartosz Pranczke, Engineering Director at Netguru. "Some companies also want more flexibility in negotiations, and if everyone knows they are willing to pay a lot to a potential top candidate, lack of transparency is not a problem. In other cases, it's simply a matter of corporate culture, where open conversations about money are considered inappropriate," he adds.
In some cases, HR departments lack formalized compensation structures that are free of bias and easily explained. According to a 2021 Salary.com survey, only 35% of HR professionals say their company has a transparent compensation policy, while as many as 95% of respondents see pay equity as a competitive advantage in the war for talent.
What are the benefits of salary range transparency?
Closing the pay gap
Economists have long believed that greater pay transparency could help close the gender and racial wage gaps. In 2020, gross hourly earnings for women in the EU averaged 13% less than men, while women in the US earned 84% of what men did.
Based on this estimate, women in the US would have needed 42 additional days of work to earn what men earned in 2020.
Probably one of the best-known cases where a company has been sued for wage discrimination is the United States Supreme Court case Ledbetter vs. Goodyear Tire & Rubber Co. Lilly Ledbetter sued her employer after a colleague anonymously informed her that she earned less than two male colleagues in the same position. Her fight for equal pay led to the passage of the Fair Pay Act in 2009.
More satisfied and engaged employees
When people have a clear understanding of their role and compensation framework, they are happier, more engaged, and more productive. A study by Emiliano Huet–Vaughn that compared two groups of workers – one that was aware of their colleagues' compensation and one that was not – found that the former group's productivity increased by 10% after they learned their colleagues' salaries
Another example is the story of Buffer, which saw a significant increase in job applications after the company released its compensation data. SumAll CEO, Dane Atkinson, told Business Insider in 2017 that transparency makes employees more productive and collaborative. And a 2016 study published in the Journal of Business and Psychology found that employees are more likely to ask the right people for help if they know how much their colleagues make.
Faster hiring process
Including salary ranges in job postings helps make the hiring process more efficient – for both recruiters and potential employees.
Studies show that job ads that include salary ranges attract 43% more applicants than job ads that do not specify salary.
In addition, 67% of job seekers consider compensation to be the most important element of a job description.
Attracting a large number of candidates does not always mean they are the right ones. However, if you specify the salary level upfront, you indicate the seniority level of the job and make it easier for candidates to make an initial decision on whether or not to apply for the position. This way, candidates can compare offers when they decide to advance in their careers and begin the entire process with clear expectations.
Less tension, conflict, and abuse of power
Salary transparency leads to a better company culture, mandates ethical behavior, and prevents abuse of power. It establishes equal relationships between employer and employee from day one and reduces the employee's fear of not having sufficient negotiating skills.
In addition, employees who know what each other earns have been shown to work better together because there are no inequities that occur when people are discouraged from talking about salaries.
Better employee retention
A report by Bequom found that:
58% of employees would consider changing jobs for more salary transparency.
Among Gen Z, the figure is as high as 70% – a clear sign that a more transparent work environment makes it easier for people to thrive. Knowing what salary they could have in a year or two as they grow in the company gives everyone clear direction.
The Netguru path toward salary range transparency
At Netguru, we believe that transparency in salary ranges is beneficial for both employers and employees. For us, this is not a hollow buzzword but a part of our culture that is deeply embedded in our DNA.
Netguru started as a small company in 2008, but once we developed a proper hiring process, we disclosed salary ranges in job offers. We did this because transparency is more important to us than anything else, and we want to create a place where salary is not a taboo.
Over the last decade, we have built a reliable framework that embodies our transparency principle. Here are its foundations.
11 principles of the Netguru salary policy:
As a company, we benefit from the time, dedication, knowledge, and experience of our employees. We want to attract and retain the best talent. Salary levels and financial terms are an integral part of the contract and our employer value proposition, so we are very transparent in this regard.
Providing transparent salary ranges for all positions helps reduce the risk of gender pay inequities.
We communicate the salary ranges for each position internally and externally. All job postings include clear salary ranges. We do not want to waste people's time – if we disclose salary ranges from the outset, candidates can check whether a particular offer is suitable for them.
When we propose a salary (for a new hire or a person moving up), we base it on the experience and skills required for a particular job, not on the candidate's last salary.
Every team member knows how we view their position, skills, and experience and how that affects individual compensation.
Our employees know what we expect of them and the level of knowledge and experience they need if they want to advance their careers or pursue another position.
We do not share information about an individual employee's salary. This is treated as confidential information.
We believe that salary ranges should be regularly reviewed and adjusted based on market comparisons. As a result, individual salaries should also be reviewed regularly to ensure that they not only reflect development progress but also remain competitive in the market. Our compensation model and policy are transparent, and we regularly survey our employees on their perceptions and satisfaction.
Our salary reassessment includes individuals on long-term parental leave to ensure that we do not create a salary gap for parents.
Proposals for individual salaries and salary increases are calibrated and reviewed by HR Business Partners to ensure they are fair and based on transparent criteria.
Salary review results and general statistics (such as average bump, avarage salary ranges utilization) are shared publicly.
The challenges we face
These principles help us to build trust among our employees because they ensure that employees know what to expect when it comes to promotions and evaluations. Thanks to clear rules, people compare themselves to the requirements of the job and not to other people. Transparent salaries mean less speculation and gossip, fewer conflicts, and more constructive efforts to advance careers.
Of course, like any company, we face challenges with our compensation policies. As Ola Prejs, Head of Growth at Netguru, notes – it's essential to properly manage expectations. "We need to make sure employees understand that the bottom or middle of the pay range does not mean we do not value them as great performers. There are many factors that impact employee's position within the ranges and they need to be aware of them," she points out.
We also find that some employees expect a very linear progression in their careers. They would welcome a salary increase that is proportional to the time they spend with the company, not to their real skill advancement.
For example, if the promotion period lasts two years on average, they would still expect their salary to increase incrementally every six months, while their growth may not exactly be uniform between those different periods," says Kamil Puk. He notes that some are more likely to be demotivated by incremental rather than abrupt salary increases or feel they are hitting a glass ceiling in their current position, especially if they are in an expert role and not leaning toward being a leader or manager.
Sometimes, they also compare their salary ranges or compensation to the market and our competitors – in this case, it's important to recognize that the same role can have different levels of complexity and responsibility depending on the company. What's more, some companies post different salaries in their external and internal job offers, especially when they have trouble finding suitable candidates.
These are the challenges we want to address through:
Transparent communication and awareness of our compensation strategy (including information on market data sources, drivers of senior change).
Developing leaders and equipping them with knowledge and skills to have constructive performance conversations.
Building a strong Employee Value Proposition (EVP) that is not only based on financial benefits.
The methodology behind our salary ranges
Step 1. Scope and describe the role, including all responsibilities and requirements.
Step 2. Job evaluation (grading) – evaluate the complexity, impact, and requirements of the job based on three dimensions:
Know-how
Problem solving
Accountability
Step 3. Compare our description and grade to market benchmarks (based on external compensation reports).
Step 4. Decide what the reference point should be (the middle of the salary), i.e., market median.
Step 5. Benchmark the comparison results against available market studies, job postings, and internal data from hiring processes.
Step 6. Add additional data from the recruitment process, especially the salary expectations of candidates who have met our job requirements.
Step 7. Compare with other positions in our company that are relevant (or similar) to the given role.
The scale of the ranges
We avoid setting salary ranges too wide in our job postings, as this can confuse the candidate and lead to a counterproductive result. The range should be +/- 20% from the established midpoint. This way, we can adjust the final salary to the candidate's seniority, experience, and individual characteristics.
Exceptions
Of course, every rule has exceptions. While we always strive to be as transparent as possible, in the case of a significant change in role, we allow for a slightly different approach towards salary. For example, if someone working as a senior in a stack becomes a regular employee in a new technology, their salary may be slightly higher than other employees in the same position. We always try to justify such exceptions and make sure everyone understands our decisions.
Setting industry standards
At Netguru, we aim to set industry standards and pioneer good practices. We believe that transparency in salary ranges allows both sides – employers and candidates – to make better and more informed decisions.
Should it, therefore, be regulated by law? We hear different voices in our team. We would like to see every company disclose their salary ranges, but we also recognize that this is not always a viable option for some companies.
"From a candidate's perspective, a recruitment process is a significant time investment. Transparent salary ranges mean that a candidate, as a client on the market, can make better decisions in the job marketplace,"

Kamil Puk

Service Delivery Manager at Netguru
– says Kamil. "This is also in line with the free market principle of access to pricing information in general."
Transparent salary ranges are not desired by companies who fear disclosing them can close a way to negotiate or lead to employee frustration. "In some cases, transparent salary ranges are harmful to both the employer and the employee. Sometimes you just don't want them – in football, for example – you want the sky to be the limit," admits Bartosz Pranczke.
When transparency about salary ranges is taken out of context, it can be damaging.
That's why we have carefully designed our processes and consistently opted for transparency in all areas – salaries, investments, sustainability, hiring practices, and others. We know we have a responsibility to over 1,000 employees and their families who have trusted us and chosen to share their skills, time, and expertise with us. We are proud to hold the Great Place To Work certificate. At the same time, we do not want to stop there, we want to continuously improve and create an inclusive, open, and respectful place where everyone feels valued and is fairly compensated for the great work everyone does.