Netguru is Officially "Great Place To Work®" Certified!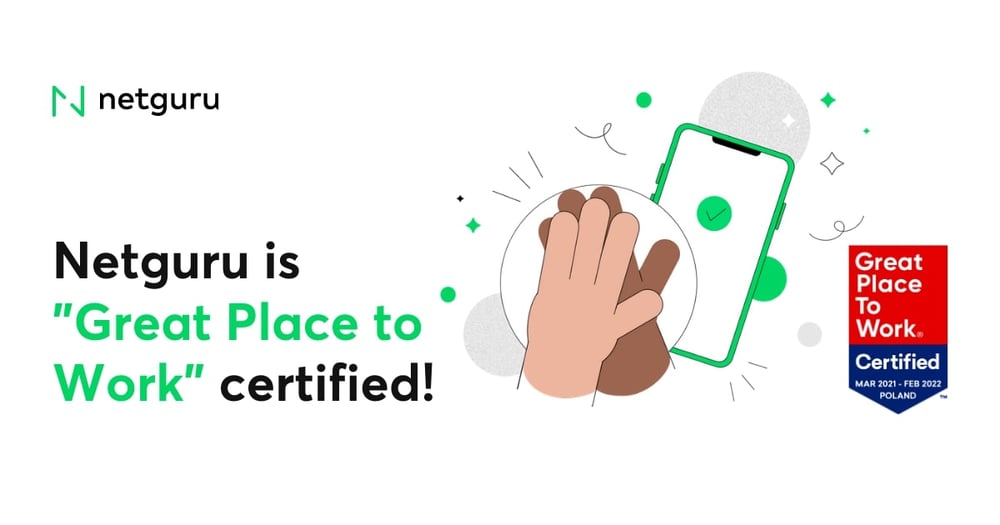 We have amazing news to share! As of today, Netguru is officially "Great Place To Work®" certified and has joined the club of the world's biggest and best companies to share this title.
Great Place To Work® is a global authority on workplace culture. For more than 30 years, they have been supporting companies around the world in developing a modern workplace culture based on trust and thus achieving better business results.
At the moment, the research and recognition program is conducted in over 60 countries. Among the companies that have been awarded the certificate as the best places to work for 2020 are, for example, Cisco, Dell, SIX Global Services, and Bosch.
Great Place To Work® teamed up with Netguru to conduct an extensive audit and company-wide survey in order to check if Netguru is really a great place to work.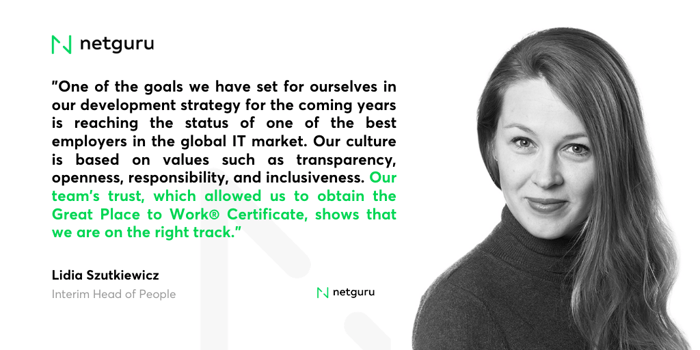 What exactly did this audit measure? Workplace culture would be the easiest answer, but it's way more complex - we presented our:
Salary methodology,

Implementation of Netguru's values (with extremely specific examples),

Growth,

Open feedback culture and how we collect/process it.
It was like an X-ray of the whole company.
In addition to the audit, a company-wide survey was also conducted in which most of the company's employees took part. Based on the results of these studies, we found out how high employee satisfaction with work is in many aspects, e.g.
Credibility,

Respect,

Honesty,

Pride,

Companionship.
Why did we decide to take this exam? Well, "Great Place To Work®" certification was one of the goals - it puts Netguru in a very exclusive group of the best organizations in the whole world. It was also important for us to validate our hard work on implementing our Values. Being a great employer and having proof of it from the outside (objective evaluation from a wider perspective) feels amazing, but, of course, it relates to what's going on inside the company – and that's the most important thing. That's what we want to focus on. First of all, it's about making Netguru a great place to work, and external certificates can only be additional proof of how the company culture works.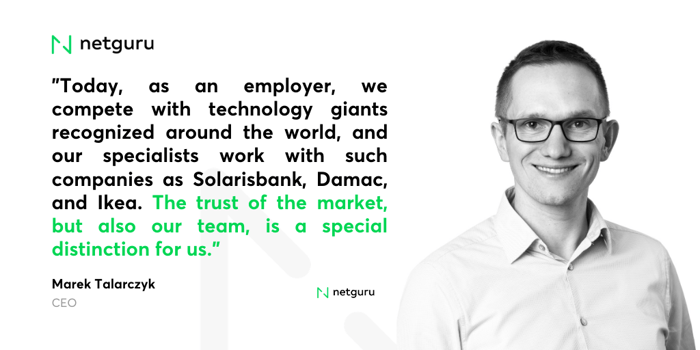 This certificate is another proof that our approach focused on implementing our values into our daily work works - we have just been ranked as one of 3 top IT companies in Poland in Bulldogjob 2021 report and it's been exactly a year since we were B-Corp certified!
Success won't happen overnight, but it is a common goal of all of us to make Netguru the best employer possible. And we want to work on it.
Do you want to see for yourself how it is to work at a great (certified!) place? Take a look at our job openings: netguru.com/join-netguru and apply today.