Exciting News! Mateusz Czajka Becomes Our First Chief Delivery Officer; Aleksandra Prejs to Lead Marketing as Head of Growth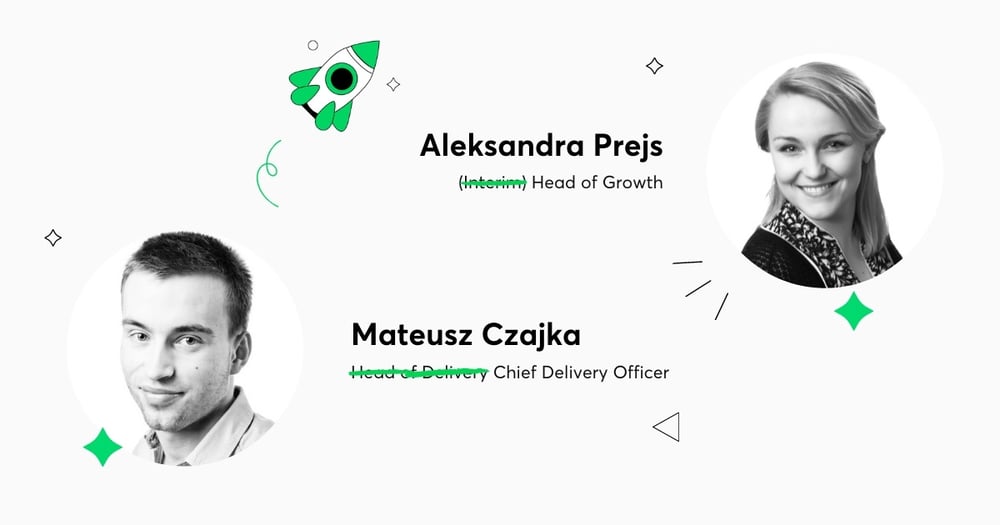 We're super excited to announce two major promotions in our Core Management Team.
We've appointed Mateusz Czajka as our first Chief Delivery Officer in order to significantly strengthen our competence in providing state-of-the-art technologies to our clients and managing a team of 500+ delivery experts. Mateusz has been with Netguru since 2012 – until today's promotion, he managed technology teams as Head of Delivery.
"In many ways, 2020 was both challenging and intensive. The pandemic, travel and retail restrictions – all these factors forced enterprises across all industries to undergo an accelerated digital transformation and to develop digital products on the go. The extraordinary demand for tech consulting services we've been observing recently requires swift decision-making and efficient management, but also efficient coordination in day-to-day work and knowledge distribution between teams. I'm proud that Mateusz agreed to rise up to this challenge." - Marek Talarczyk, CEO Netguru.
But that's not the end of the good news! We're also happy to say that Aleksandra Prejs now leads our 40 marketing & communication experts as Head of Growth! Aleksandra has been managing Growth since October 2020 when Radek Zaleski (the HoG back then) decided to develop a team of Netguru Client Partners enabling global innovation leaders to transform ideas into digital products. Prejs joined Netguru in 2015 and co-created the marketing department from its very inception. Prior to joining the company, she had coordinated marketing communication in a social media analytics startup, and worked as an editor at Brief marketing magazine.
Please join us in congratulating Mateusz and Ola! Feel free to DM them on LinkedIn or share this news with your community 🙌