Why Banks May Be Losing the Talent War for Software Developers. Four Leading Fintechs Share Their Tips
97% say that hiring more developers is a priority;
72% see developers helping sales efforts;
65% are concerned about access to developers;
57% say developer access is a growth constraint.
How come then are banks behind in appealing to the IT crowd? The survey suggests that typical work in banks isn't innovative enough to attract top developer talent who is keen on working on cutting-edge solutions.
Simon Taylor, co-founder of 11FS, has put it even more bluntly. "In banks, engineers are second-class citizens, and yet "digital" is supposedly a priority" - he tweeted.
Doesn't surprise me that talent leaves banks

Hiring *more* developers shouldn't be the goal

Having good developers and empowering them is everything

In banks engineers are second class citizens and yet "digital" is supposedly a priority 🙄🤔 https://t.co/bENCsMOMj3

— Simon Taylor (@sytaylor) September 8, 2018
Such comments are not far from reality, as illustrated by the top deadly sin concluded from the survey:
About a third of developers' time in banks is spent on having to deal with layers of legacy infrastructure and bad code - a practice that globally is costing companies around $300 billion annually, as calculated by Stripe.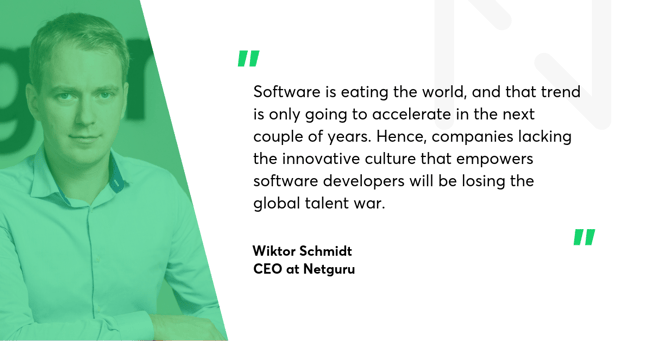 - We've been in this business for over ten years, and the results of the Stripe's survey match what we're seeing. Software is becoming a core competency needed. The challenge is industry-wide, banks are no exception - adds Wiktor Schmidt, CEO and co-founder of Netguru.
Since fintech companies are struggling with the same challenge, I reached out to four leading companies in Europe - Qonto (France), OakNorth (UK), solarisBank and Raisin (Germany) - to get their take on attracting top developers. I asked about what works to their advantage and about the differences in perception.

Alexandre Prot, Qonto's CEO (France)
We do witness the same trend, as French companies now have to compete not only with French CAC 40 companies but also with GAFAs (Google, Amazon, Facebook, Apple) to lure talent.
It is also true that although digitalization is often mentioned as a top priority by financial services companies, very few of them translate these statements into hiring and talent development plans for technical teams.
However, I think one of the "unfair advantages" of France is that we have direct access to high-quality talent pools: our elite engineering schools, such as Ecole Polytechnique, Ecole Centrale, or more recent Ecole 42 founded by tech billionaire Xavier Niel, are known to train some of the best engineers in the world.
Does Qonto feel that being perceived as an innovative company is essential for hiring and retaining tech talents?
We spend a lot of energy explaining why we created Qonto, and why our mission is innovative: creating the bank businesses love.
The great thing about tackling an « old-fashioned » industry is that everyone, including the candidates, understands the value of what we do: every company needs a bank, but everyone complains about their business bank.
Moreover, we work hard to keep our processes as efficient as possible as we scale, with an iterative lean methodology, so that we don't suffer from legacy IT infrastructure or 'bad code' as the incumbents do.
One of the other things engineers enjoy at Qonto is that they work in sync with our Product and Operations teams and can see the direct impact of their contribution.
A Fintech Born out of Frustration. How the Leading Paris Neobank Came to Be
Valentina Kristensen, Head of Growth, OakNorth (UK)
I don't think it's a challenge that's specific to the UK or the US market – if you want to hire the best tech talent, you need to have an innovative and challenging offering that's going to appeal to them. We're in a very fortunate position to have attracted talent from some of the world's largest and most renowned tech companies (Amazon, Intel, Palantir, etc.).
We're able to attract top-talent because we continue to innovate and push boundaries – an example of this can be seen with our move to the cloud. We worked with AWS (our cloud provider) and the UK regulators for months to drive cloud regulation forward, and in May 2016, became the first UK bank in history to be fully cloud-hosted.
Tamaz Georgadze, CEO, Raisin (Germany)
Same is true for Germany and all other markets we observe – hard to get and retain good tech talent. We are perceived as modern and innovative, thus being attractive compared to a normal bank.
What are the advantages / the difference in perception:
a modern tech stack (this is hugely important for developers, also to retain their market value),
short release cycles / agile development,
flexibility (e.g., home office, infrastructure) and office goodies (grill, beer, unlimited fridge supply),
training / coaching and own training budget,
good atmosphere / real care from HR (e.g., help in relocation)
direct interaction with the management, as well as a broad ESOP program with majority of tech people being part.
The Fintech That Takes It All. CEO of Raisin: We See a €15 Trillion Market Not Properly Taken Care of by Banks
Ingmar Krusch, VP Engineering, solarisBank (Germany)

The tech community is becoming more and more global. Thus, both getting access to engineering talent as well as retaining and growing that talent is challenging irrespective of the country and domain you are working in. The key for success in such a highly competitive market is to provide your engineers with a mission they can identify with and a problem to chew on which they find worthwhile solving - all while creating an empowering and diverse environment that approaches product development in a truly end-to-end fashion.
Does solarisBank feel that being perceived as an innovative company is essential for hiring and retaining tech talents?
We are not a bank. We are a tech platform with a banking license. This attitude is also reflected by our hiring approach. In fact, many of our engineers have never worked at a bank before. As opposed to traditional banks that seek engineers to build upon outdated legacy systems, our innovative business model offers the unique opportunity to build an entirely new platform from scratch on a modern tech stack with an agile methodology. And the innovation does not stop there; the launch of our in-house Blockchain factory is testament to our drive to constantly reinvent ourselves. We believe it is this attitude that has attracted our 60+ tech talents from over 30 nationalities.
A Recipe for Banking Disruption? Lego Bricks and No Background in Finance. CTO of solarisBank Shares His Lessons