There are a lot of amazing design tools on the market. It's important to make the right choice and match the tool with the task you want to accomplish to make your client happy. This article will give you a comprehensive overview of the best UX design tools currently available. Check out what these UX design agencies have to offer. Enjoy!
As a designer, you probably use the brilliant combination of Sketch + InVision quite a lot. Great! But there comes a time when you do not need pixel perfect and visually awesome design as much as quickly prepared lo-fi wireframes ready for testing with users.
So if you are in need of:
A quick design to illustrate your ideas (e.g. during a PDS workshop)
A prototype with a detailed interaction available for testing
you might find useful some of the tools described below.
You might also want to read on because, as a bonus, there will be a word or two about tools for:
Getting some help with organizing your user testing sessions

Recording and organizing testing sessions or remote interviews.
Best UX design tools for fast prototyping
The tools below are presented in order from best to worst, but still all of them should be worth your attention. All of them offer an extended library of ready-made stencils, so you don't have to think and decide about every pixel, size, colour or spacing as much as you would using Sketch. They also enable quick prototyping and adding interactions between UI controls without the need to duplicate screens as you would have to do if you were to connect screens in InVision. Below is a breakdown of the main advantages and disadvantages of each option.
Pros:
It lets you not only add interactions, but also enrich them with animations in a very quick and simple way so you can easily awe your client
It is very easy to learn, especially because of the way the learning materials are organized - you are encouraged to complete tutorial tasks in practice, so it's not only stuff you read through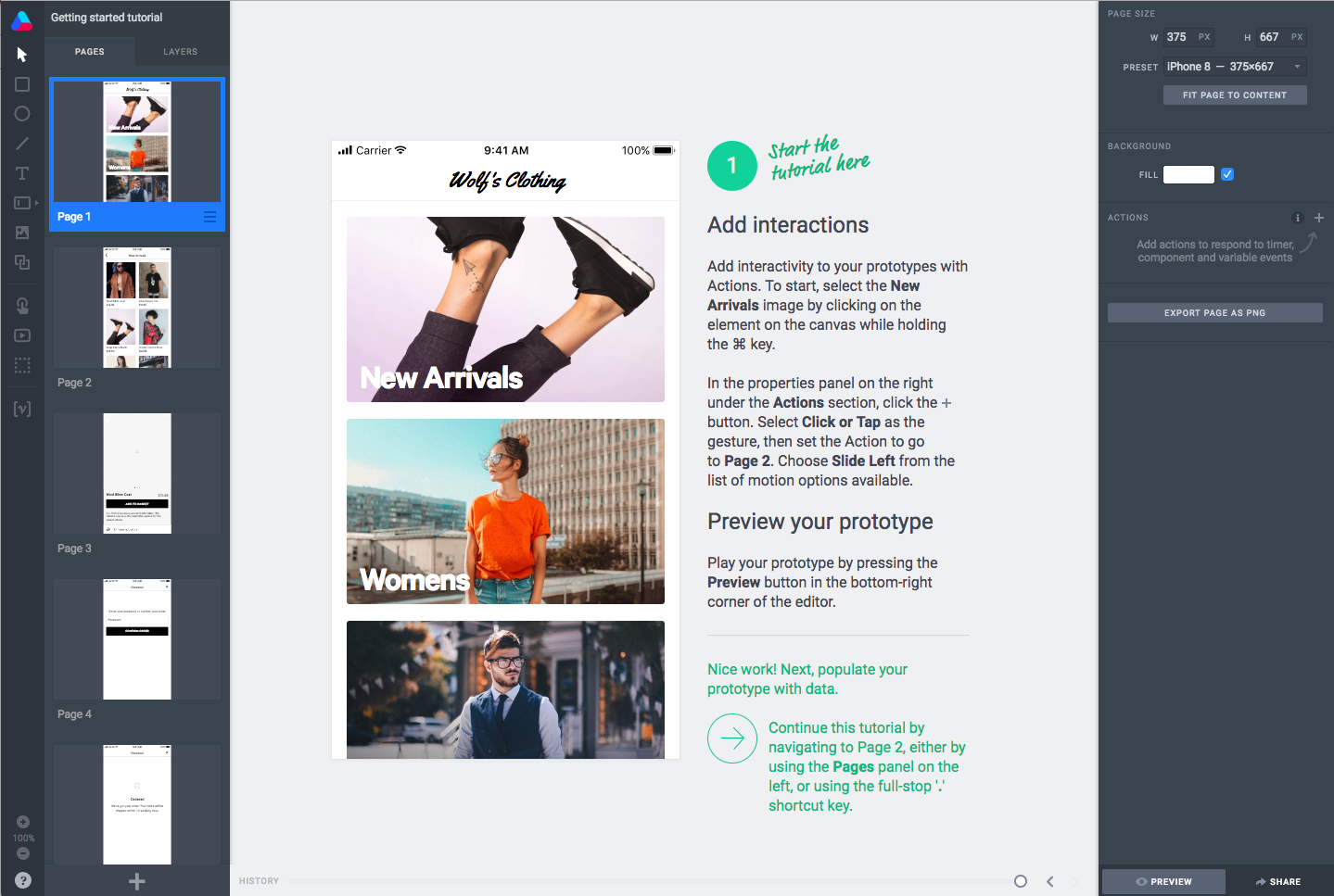 Source: atomic.io
Your interactions can be based on variables you can add yourself or even script if you're into it - so you can set some things up even without coding skills, for example an input field with validation for a real password
Source: atomic.io
Cons:
The stencils library is not very intuitive to use (it is not very visual and thus time-consuming - you need to search through a text list of elements to find the desired one) - however, once you create a "component" (an equivalent of a Sketch symbol), it goes to the elements library and is available throughout all your projects

Pros:
Source: proto.io
Adding interactions is taken to the next level - there are a few ready-made interaction patterns with built-in animations for the most common behaviour types, so you don't need to build them from scratch
Source: proto.io
You can also build interactions the traditional way - they are organized in an intuitive way, with many different types of triggers (variables too) and possible actions (sound effects included) that you can add to different screen states and then add and edit animations using a timeline
Source: proto.io
Cons:
Pros:
UXPin is a powerful tool offering a wide range of ready-made libraries of elements

You can build complex interactions on different states of elements or groups of elements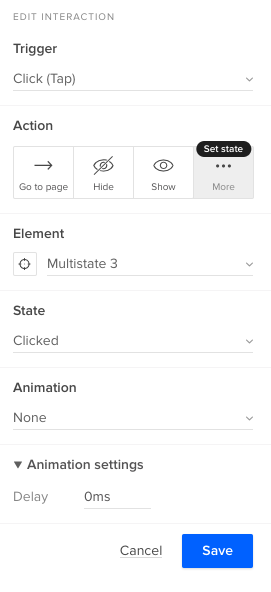 Source: uxpin.com
The collaboration feature is strong, so it is easy to work on a prototype with other team-mates if that is what you need

To some extent, it offers the option to build upon an existing design to create a responsive version of the prototype for other platforms
Cons:
Not all libraries are up-to-date and therefore don't make the best visual impression

Adding interactions is definitely time-consuming and sometimes buggy

The app is subjectively less intuitive than others and may require some persistence in overcoming the high entry threshold
All of the above tools
You can also have a look here to explore further tools if you still haven't found what you were looking for.
Just as a hint, here are some tools you should NOT bother checking out: JustInMind, MockPlus, Fluid UI. The features they offer don't expand beyond the standard features of the aforementioned tools, design creation is usually not that intuitive, and the results are less interactive or eye-catching.
User testing tools
As a bonus, here are two amazing tools you may find helpful if you need to test your prototype with users and have a moderated remote testing session to find out about the "whys" behind the clicks.

Maze is a platform where you can easily create usability testing tasks with the prototypes you have prepared in InVision, Marvel or Sketch. The tasks are called missions and they are presented to the user in a friendly way by sharing a link with them.
Source: maze.design
You can set up the expected click-through path for each of the tasks, and the platform will provide you with statistics of success rates, time on task, etc. (for single sessions as well as aggregated results). It will also present testers' behaviour patterns with the use of heatmaps. Moreover, testers can leave comments about your designs.
Source: maze.design
Maze is very simple in its structure and feature offering, but at the same time it is a great way to organize your testing sessions and gather all data in one place with hardly any hassle.
At the moment, the platform doesn't offer hiring testers, but it is a prospective feature.

With Lookback you can also organize user testing. It is mostly focused on recording testing sessions. Thanks to recording user sessions, you can make sure nothing escapes your attention, which means that you can focus on talking to the user instead of taking notes.
There are 3 types of recording modes which Lookback helps you facilitate:
Live moderated testing - where the user performs tasks and comments on the prototype in real time under your guidance

User self-testing sessions - unmoderated tests, where the users perform the task themselves at a convenient time

In-person mode - which you can use if you happen to perform a testing session with the user in person
Source: lookback.io
All 3 modes have a dedicated onboarding for the user with clear step-by-step instructions on how to install the necessary apps on their phone or computer, so it shouldn't be problematic to connect with you as a researcher.
Source: lookback.io
This is probably the kind of tool you would like to use for a bigger research project, where there is a large number of users or they are not available to meet in person for the session. It's also a good choice if you wish for other team members to be a part of the research - they can view the session recordings live or after you're finished.
All the recordings you make (or get from your testers) are organized in a dashboard, where you get a clear overview of what's going on - how many users have participated, if there are any comments from other teammates, or if there are any live sessions going on at the moment.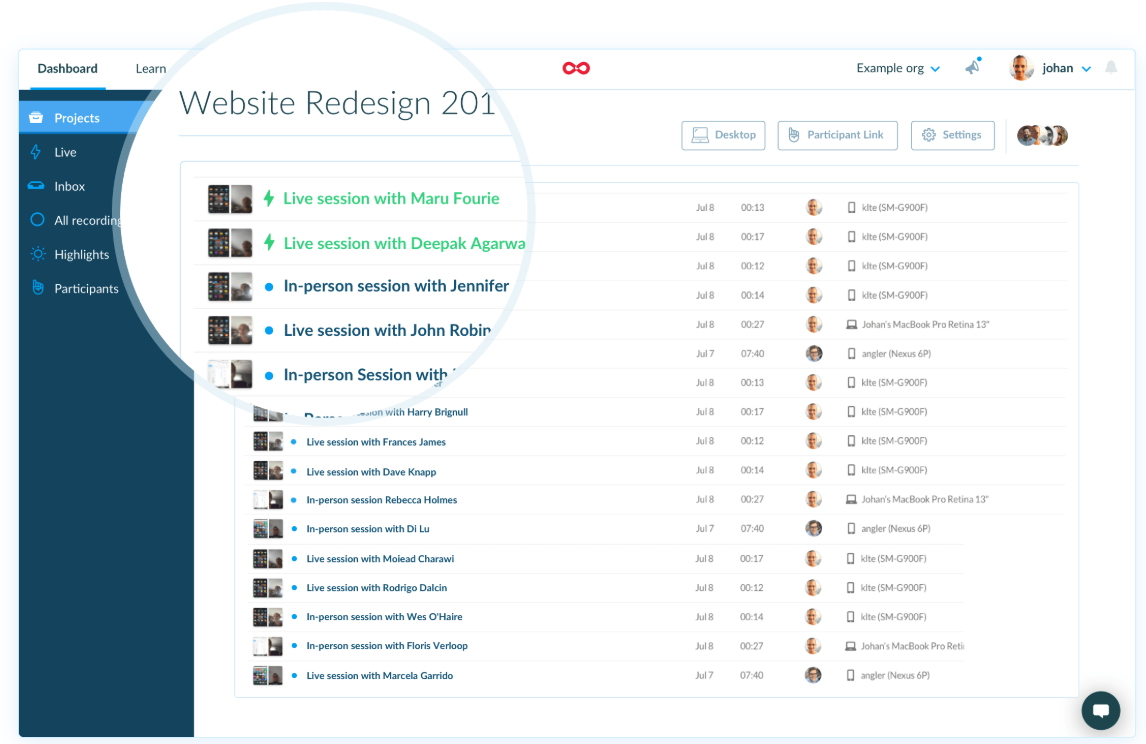 Source: lookback.io
Summary
Here is a more detailed comparison table of the features for a better overview of each tool which has been described:
Prototyping tools: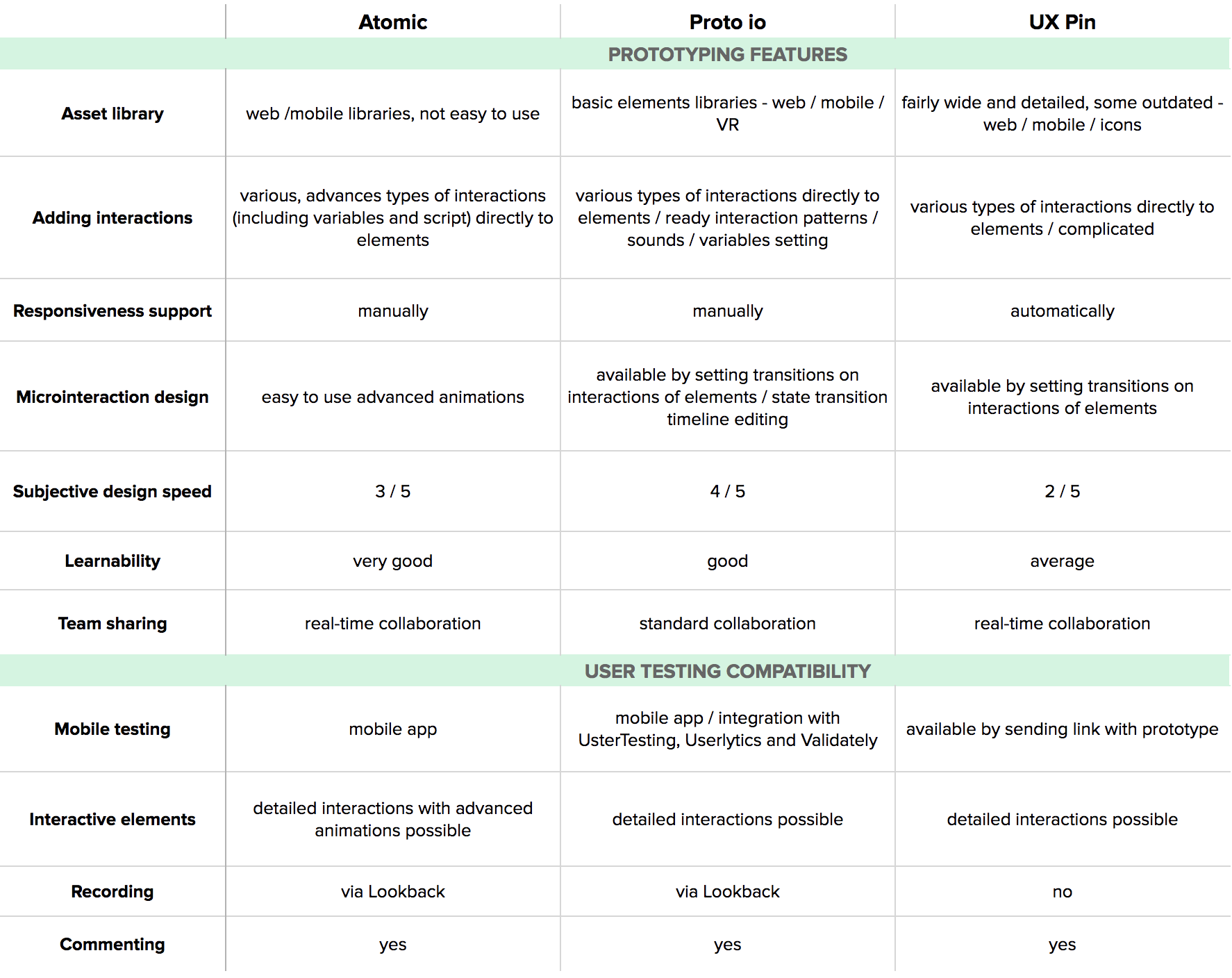 User testing tools:

So, if you're looking for aid in drafting up quick designs to picture early-stage ideas, impress the client with the good visual quality of your prototype and, at the same time, have an easy way to test complex interactions and have your user testing sessions organized, our list of the best UX design tools may be helpful. Just remember to adjust the tool selection to the outcome you are looking for. If you are into design, you can also glance at our ebooks for designers. Good luck!