How Drones and Robots Are the Future of Quick Commerce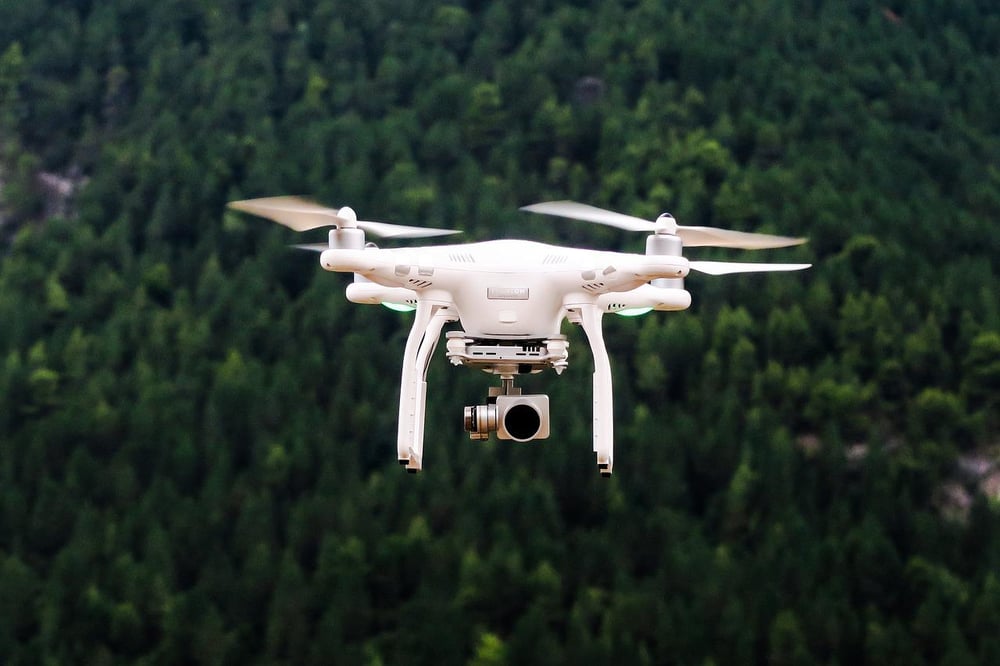 One of the few winners of the COVID-19 crisis was the quick commerce industry.
That missing ingredient for dinner, Ibuprofen for when you've got the sniffles, or a bottle of wine to unwind.
Having essentials delivered at record speed was a welcome addition to lockdown life — with 60% of consumers expecting to integrate these new services into their post-pandemic lives.
Behind the enhanced level of convenience we've become accustomed to, though, lies an industry that's profit-challenged and unsustainably over-supplied. Getir, Gorillas, Weezy, and Zapp — these fast-track delivery services are taking over our streets. However, with huge competition, high overhead costs, and little to no consumer loyalty, quick commerce as we know it doesn't have much space to grow, and only the biggest will survive.
While it still feels like they belong in a sci-fi movie, drones and robots have the potential to address many of the pain points felt by today's road-based delivery.
From covering larger areas, to cutting down delivery times, and significantly lowering costs, autonomous deliveries are closer than we think — with many companies already leveraging these technologies today. Are we ready for delivery drones and robots roaming our skies and footpaths?
To find out, we sat down with Milena Lazarevska, VP Commercial Quick Commerce at Delivery Hero, and Bobby Healy, CEO and Founder of Manna Drone Delivery, at Disruption Forum Retail 2021. Both experts shared their unique perspectives regarding the state of drone and robot delivery and if they really have the potential to dominate the lightweight delivery sector.
First things first, what exactly is quick commerce?
Referred to as the next generation of ecommerce, quick commerce or q-commerce is pioneering the delivery industry as we know it. As the name suggests, it is all about being fast. It makes it possible to deliver goods to customers in just minutes, as opposed to hours, whenever and wherever they need them.
What does this look like in practice? "At Delivery Hero, we have two flavors of quick commerce," explained Lazarevska. "On one hand, we have our own dark stores, which tends to be the model used by the many startups popping up around Europe."
Dark stores are warehouses, distribution centers, or micro-fulfillment hubs that cater exclusively to online shopping.
"Dark" refers to being closed to the public. These stores differ from retail outlets because they are set up solely for rapid order fulfillment. By placing dark stores close to your customer base, businesses can offer fast, on-demand order fulfillment to seamlessly satisfy consumer demand.
Lazarevska continued: "We also partner with all sorts of local shops: supermarkets, pharmacies, convenience stores, florists, and deliver on their behalf. We come with an existing platform and existing customers."
Satisfying the instant-gratification demands of consumers
Whether it's shopping online, ordering food, or grocery runs, the pandemic and social distancing changed the way consumers approach their retail experience. Speedy fulfillment is no longer a "nice-to-have" ​​— it's the expectation of every online shopping experience. In fact, according to a survey carried out by Invesp, 80% of shoppers want same-day shipping, while 61% want their packages even faster — within one to three hours of placing an order.
"Retail experiences that customers had during COVID, which are superior experiences to the ones they had before, are here to stay,"

Milena Lazarevska

VP Commercial Quick Commerce at Delivery Hero
— explained Lazarevska. As consumers increasingly rely on fast and reliable doorstep delivery, retailers face increasing pressure to adopt faster delivery systems to remain competitive.
Drones and robots in the future of logistics
While still in its infancy, drone and robot delivery present strong opportunities to revolutionize the quick commerce industry — and the COVID-19 pandemic could be the catalyst for widespread adoption.
According to Statista's Global Consumer Survey from October 2021, China is the most prepared for the delivery revolution, with over a quarter of respondents saying they'd prefer to receive deliveries from either robots or drones in the future.
Thanks to technological developments and a strong startup ecosystem in the robotics space, the new market is projected to reach over $84 billion by 2027 — and legislation is catching on. There are now a dozen states in the US where it's legal for personal delivery robots to share the streets with people, and where they are even classified as pedestrians.
Many ecommerce giants have also been cleared to expand their commercial drone-delivery operations across the US. Amazon has been secretly testing its service and plans to roll out drone delivery with 1,300 customers in California and Texas by September. Likewise, Alphabet subsidiary Wing has rapidly increased its deliveries in Virginia as a result of the pandemic. FedEx also recently partnered with Elroy Air to test its cargo drone in early 2023 that can carry up to 500 pounds and travel up to 300 miles — all this recent news suggesting the drone and robot delivery market is set to explode.
Technology is the key to overcoming quick commerce's challenges
Bobby Healy, CEO and founder of Manna Drone Delivery, is a strong believer in drones and robots for the future of logistics.
"Drones don't take a tip. Drones don't spread COVID. Drones don't invade privacy. Everything about drones is better,"

Bobby Healy

CEO and founder of Manna Drone Delivery
— he explained during his panel titled "Drone Revolution: Will They Be The Next Step in Grocery and Food Delivery?" Promising faster, greener, and less expensive deliveries, let's take a look at some of the ways drones and robots can overcome today's quick-commerce challenges.
1. Fast and accurate deliveries
With no traffic lights, stop signs, or other road-based challenges, it's not hard to imagine how drones can deliver essentials faster — especially in areas with lower density. "Our median flight time now is just over three minutes in the town where we operate," explained Healy. "What would you do if I could have everything you need right here in less than five minutes?"
Alongside speed, drones and robots also have a high degree of accuracy. Using precision landing, for example, drones can land on a target with around 10-inch accuracy.
While road-based obstacles may still apply for delivery robots, researchers from MIT are working on new navigation systems to steer robots to the path of maximum efficiency. By training them to recognize environmental features like driveways and mailboxes, they can navigate 189% faster than traditional navigation algorithms that rely on complete maps and specific GPS coordinates.
2. Environmental benefits
Conventional last-mile home delivery creates approximately 181g of CO2 per km per item. It's no surprise, then, why battery-operated drones and robots present an economical and sustainable alternative.
"Drones use and produce no CO2 for flight," explained Healy — and the same goes for delivery robots. By reducing the fuel consumption of logistics companies, these all-electric, zero-emission vehicles alleviate the direct impact on the environment.
3. Lower costs
One of the most promising benefits of drone and robot delivery is slashing costs, particularly from human labor. With 50% of total transportation costs weighted in the last couple of miles, reducing labor costs makes a substantial difference.
"Typical road-based delivery in Europe or the United States costs between six and nine dollars to operate, and no amount of optimization can lower that cost," said Healy. With Manna deliveries costing around one dollar per flight, drone delivery is 90% cheaper than Uber Eats or other means of car-based delivery.
Are people ready to embrace drones and robots?
Drones and robots are not future technology — they already operate in the streets and skies of a number of countries. The past few years have been a game changer, moving the adoption of this technology ahead by years.
To meet the ever-growing demand for fast home deliveries, Milena Lazarevska believes delivery robots are crucial. "We have autonomous vehicle deliveries in Sweden on trial at the moment. We have a very sweet robot called Doora that is delivering on the streets of Stockholm."
When asked about people's reactions to Doora, Hans Skruvfors, CEO of Delivery Hero's foodora, was blown away.
"Everyone who saw or met Doora in town was positively amazed. People seem to be more than excited about the fact that the future is here."

Hans Skruvfors

CEO of Delivery Hero's foodora
Things are similar for Manna Drone Delivery, operating in Galway, Ireland. "Sometimes it's hard to convince people that it's real. But this town we're operating in, more than 35% of the population uses the service now, and we have more demand than you can imagine," explained Healy.
Plus, it's not just lightweight food items drones and robots can carry. They can also be used for more humanitarian and even lifesaving purposes. In the UK, for example, the NHS partnered with Skyport to enable two remote hospitals in the Scottish Highlands to exchange urgent medical supplies by drone — something that would have been impossible to do by land.
Similarly, the Fire Ox is one of the few firefighting robots designed to perform tasks too risky for people. Designed as a first response unit, it suppresses fires with its own water tank, assists in search and rescue, and can handle dangerous materials.
So, how close are we to having drones deliver us coffee and robots who bring fresh flowers?
If you fancy a trip to Galway or Stockholm, having your morning brew or flowers delivered by an autonomous vehicle is already a reality.
"We have customers that have used our drones over 100 times already to order something as boring as a cup of coffee,"

Bobby Healy

CEO and founder of Manna Drone Delivery
— shared Healy. However, if you don't feel like traveling, it may take a few more years before drones and robots reach your locale. With 95% of things people order online small enough to be transported via a delivery robot or drone, it's only a matter of time before their use becomes more widespread.
Like anything new, however, there are still a few hurdles yet to be navigated. In many countries, regulations governing where and how drones or robots can be used are still yet to be decided. While Manna was able to quickly secure a drone license for the whole of Ireland, doing so in the US, where regulatory confidence is lacking, could take much longer.
There are also some unknowns surrounding the ideal "last touch" for consumers. Should a drone land or use a leash to drop off goods, for example? Safety is also a fundamental element to consider. But as the technology continues to advance — from high-quality sensors to improved battery life — it won't be long before unmanned vehicles are safer, faster, and smarter than ever before.
Despite the challenges, it's hard to overlook the potential that drones and robots present when it comes to slashing costs, meeting customer demand, and alleviating pressure on the traditional road network used in last-mile logistics. With strategic planning and expert industry knowledge, here's hoping these opportunities can be realized soon.