How much does it cost to build a mobile app? (UPDATED)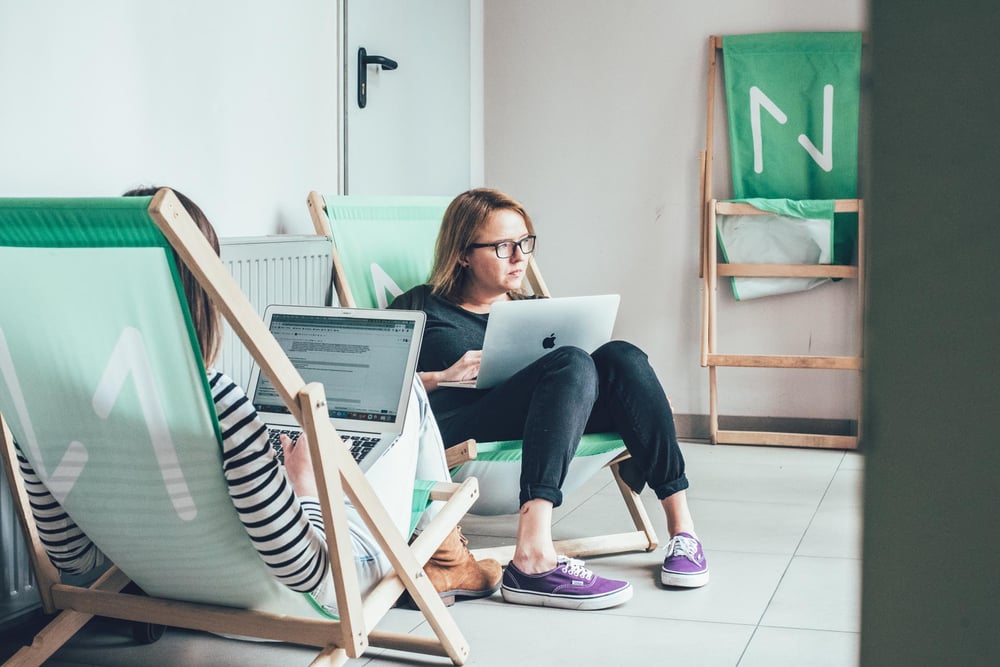 How much does it cost to build a mobile app? Asking this question is a lot like looking at the price of a car: it depends on what you want to accomplish.
First, you need to specify what car you want. What brands do you trust? How many seats do you need, and how much room in the trunk? Should the gearbox be manual or automatic? What about fuel type? Gasoline, electricity or a hybrid?
There are dozens if not hundreds of other questions you need to answer to prepare for buying a car that you'll be happy with. And your answers will have a direct impact on the car's price. App development cost estimation is exactly like that.
Building custom software is a complex service.
It's impossible to put a price tag on your vision for a product without knowing exactly what it is. That's why it's so difficult to get an estimated price early on, without clarifying the app's specifications. Even if you get one, it'll be only as accurate as the information it's based on.
We can't tell you how much it'll cost to develop your app, not without having a conversation first, but we can provide you with a soft mobile app cost estimation template. These are the factors that make up the final cost of your app - you can use them to judge what the budget for your mobile project should be.
The factors influencing mobile app development cost
Have you ever asked about the cost of developing a mobile app and received the answer "it depends"? It's not an uncommon thing to hear because of how many factors influence the cost of app development. The most important among them can be divided into two groups.
1. Internal factors
These are the results of the situation your business is in and your team's knowledge base. Examples include your experience within your industry and your budget.
Project scope
Whether you want to build an MVP, a simple app, or a very complex product. Maybe you need only the backend or frontend for your app, or a new feature added to an existing product. Generally, the smaller the scope, the lower the price.
In-house know-how
How much you and your internal team can offer in terms of knowledge about your market, user base, business model, tech expertise, and software project management. The more experienced specialists you hire the more they cost, but ultimately they can do a better job in less time, meaning a lower spend overall.
Provided materials
What you have prepared or intend to prepare for the app, including full specifications, in-app copy, and designs. You can use existing resources to lower development costs by doing part of the work in-house.
Budgeting
What your budget allows and how you allocate it between your app's lifecycle phases (planning and development, maintenance, scaling, and promotion).
Deadlines
How fast development will have to be. This influences team size and therefore the monthly or weekly development cost (even though the total cost might be roughly equal to what you would spend if working with a smaller team over a longer period of time). Additionally, 'express' services may cost extra.
2. External factors
These factors are tied to which development partner you choose, what tech talent is available to you, and which technologies you intend to use.
Market price
The pricing of mobile app development services, which varies by country and changes over time.
Contractor's size
If you want to work with a big development company with an established market position, their pricing might make you hesitate. But the costs account for the tremendous added value of a stable partner - one who won't have problems with delivering your dream product.
Work with established companies tends to go faster, involve little to no risk, and give you more flexibility in terms of available talent.
Contractor's location
Location affects pricing because operational costs depend on it. You might be thinking about working with a local team so you can make face-to-face communication, but it's not always worth the additional cost of app development. The modern workplace is highly remote, so there are processes and tools to work effectively across different locations and even time zones.
Contractor's know-how
This is the main value the contractor brings into the project, and it affects cost in two opposite ways. On the one hand, know-how means efficient process and well chosen solutions, which lead to a lower overall cost of development.
On the other hand, an experienced contractor will have higher rates per hour than one still working on their reputation. Development with some frameworks and programming languages costs more than with others, and so do the services of Senior Developers.
However, a good team with the right technology can make development go faster, greatly reduce the risk that large issues will occur, and problem-solve effectively in case of trouble. As a result, you won't have to pay for fixing developer mistakes.
Emerging technologies
If you want to use very specific technologies in your project, particularly ones that few developers specialise in, the costs of this service might be high.
Talent availability
As above, if the talent you need is rare (in your area or in general), their services will be expensive.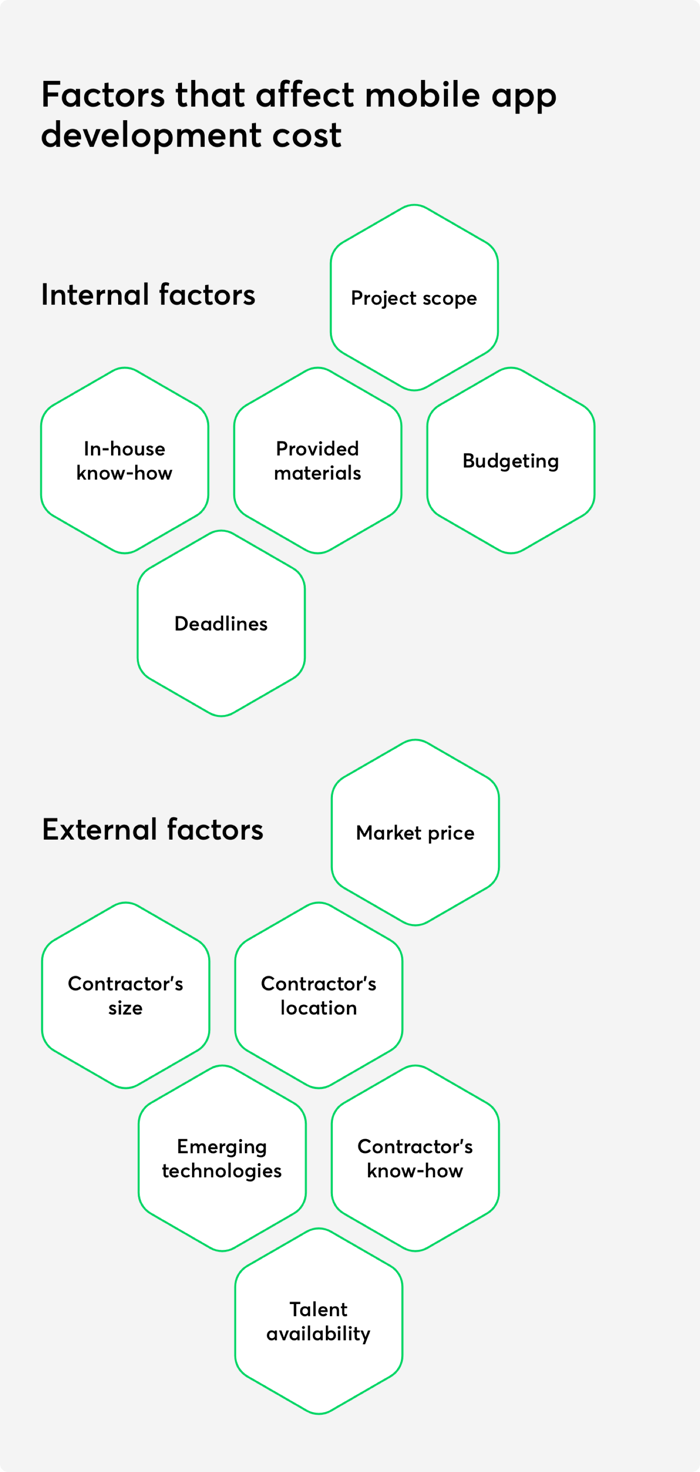 Project team composition
Finally, the way you build your team will have a big impact on project costs.
Freelancers
Freelance contractors tend to work for the lowest rates; however, if they make a mistake you won't have a guarantee of quick help if more workforce is needed. A reputable company is prepared for such cases and can provide your with additional help or even personnel replacement.

A Mobile app development company
Outsourcing means hiring a full team for custom mobile app development to give an organization the capacity to focus on its own expertise. This is a very common solution used by many companies, as it can give the company the opportunity to onboard missing talent or lower operational costs.
A software development and consulting agency
Software consultants offer a fuller package of services that includes project management and product design. They can help you with planning your development strategy, project scope and budget, as well as with UX design. This option is particularly useful for mature companies that require a broad scope of services and usually don't have the internal know-how to establish effective processes on their own.
There's also the matter of hiring internally or managing freelancers yourself, versus working with an external team. Both options offer compelling pros and cons.
Once you choose the options that fit your project, your cost estimation will depend on the amount of work needed to be done to complete your app. Simply put, the cost of developing a mobile application depends on the app's scope.
What to define before you ask for a mobile app development estimation
Accurate mobile app estimation is based on hard data.
To get an estimate from your development partner, you'll have to provide them with a lot of information, and the quality of your input will have a high impact on the quality of their output and the predicted cost of app development.
To make this task easier, you can use the set of questions we've prepared for this purpose.
What is the general idea behind your business?
What is your mobile app meant to achieve? What market need do you want to fulfill? What problems does your app solve? Give a precise description of your business objective.
Example: an app for sales representatives, handling order management. The expected outcome is to improve sales rep performance, increasing conversion and boosting cross-selling.
What is your business model?
This is one of the main factors influencing your app's mechanics and features. Let's take a look at how some of the most common business models affect app development.
Freemium - this model gives users access to a limited free version of the app, showcasing its capabilities, building trust, and encouraging users to upgrade to the paid version.
In-app purchases - the app includes goods or services, for which users can pay directly or the payment is done automatically. Examples include gaming apps where the users pay for virtual goods, or apps with services (like Uber or Lime). Ecommerce apps could be seen as a subtype of this model. Development is going to involve direct payment options (usually either with a payment card or by pre-purchasing in-app currency) and payment data, which means security and stability are going to be important to the app's success.
Ad income - many free apps make money by selling advertising space to other brands. It can be a successful model, but requires a large user base to make the ad space worth its price. Because of this, your app will need to be scalable and ready to handle a lot of traffic.
Selling user data - information has become a new currency in its own right. There are apps which collect a significant volume of information, particularly regarding user preferences and habits, and then sell this data to other companies.
Affiliate - with this model, you make money by promoting other products or services for a commission. Depending on your partner's offer, you might need various types of content to effectively showcase their business, such as videos or graphics.
Enterprise mobile app - businesses are often looking for ways to optimise and manage their processes

. If there's room for this sort of improvement at your company, you can make money through

increasing process efficiency (e.g. boosting sales), or cut costs by automating certain tasks.
Who are your users?
You need to know what the target group of your app is, and divide it into user types (roles assigned within the app, such as content producer and consumer, or teacher and student). What value is your app going to provide for each user type?
What functions does your app need?
Consider the activities that will be available to your app's users. It's often best to describe them as paths of behaviour, mapping how one action leads to another. These paths, or user stories, allow you to predict project scope and improve UX.
What integrations do you need?
Many apps need third-party functionality to operate. What will yours integrate with?
This could be either hardware (e.g. Bluetooth beacons), other applications (e.g. data providers or payment processors), EPR systems, or your clients' infrastructure (e.g. when you're building a SaaS product).
Defining what integrations are necessary for your app will allow your team to make smart choices when deciding on the project's technological stack.
How do you want to divide accountability?
It's important to establish what you and your mobile development partner will provide during development.
Do you need only the frontend or the backend for your app (rather than both)?
Will you build the UI, or leave it to your partner?
What about other in-app content, licensing fees, tools and infrastructure?
Do you want your partner to simply write the code, or to take an active role in product design?
What is your budget?
Yes, you still don't know how much building your app will cost, but you need to have an idea of how much you can invest in it. This can inform development decisions, leading to cutting less crucial features or building an MVP first.
Remember that your budget should go beyond development costs and include maintenance, infrastructure, and marketing.
What is your marketing strategy?
It might seem like it's too early to think about launching your product, but your marketing plan is going to have a direct effect on your budget as well as on your app's features. Start promoting your app early to gain traction and collect useful data on user preferences and behaviour.
This will be a great help for maintaining user engagement, but it's going to require implementing accurate analytics (you might need your mobile development partner to implement them). Consider also loyalty programs, affiliate programs, and social media integrations.
These in-app solutions can help you penetrate the market.
What is your competition doing?
People sometimes shy away from observing their competitors for inspiration. This is a mistake.
Learn how the competition's app works, what it does well, and where it comes short. This way, you'll avoid repeating their mistakes and you'll be able to implement solutions that have already been tested on the market.
Additionally, you'll be able to use your competitor's examples as benchmarks when communicating with your development partner. This can be extremely useful for explaining desired results and establishing a common language with your project team.
What are your post-launch plans?
At the very least, you need to consider maintenance (particularly immediately after launch, when unexpected user behaviour can cause problems or inspire improvement), scaling, and further development.
What is the best platform for your audience?
The two obvious options are iOS and Android, but you can also go with a cross-platform app or even a mobile-optimised web app. Native apps take full advantage of device capabilities and can be designed to suit the expectations of your user base. Cross-platform apps, on the other hand, are the cheaper choice if you eventually want to make your app available on multiple platforms.
Mobile development project estimation questionnaire
Once you've understood the factors that go into building a project estimate, you might want to quickly collect the information for your development partner.
This questionnaire is a simple way to get it done.
What is your app's main goal?
Who is your target audience?
What functions does your app need?
On what platform will the app be available (initially)?
On what devices will your users interact with your app?
What third-party integrations do you need?
What scope of work do you want your development partner to be responsible for?
Which parts of the work will you be responsible for?
What's your deadline for this project?
These nine questions should get you started no matter what app you want to build, but they might not be enough if you're planning to disrupt your market through cutting-edge tech or an unprecedented business model.
If you're an innovator, you'll need to provide details on how our app is going to be unique, and work with your development partner to make the best technological choices for your business.
Mobile development platform choice
Choosing between mobile platforms is actually a fairly complex process.
You have more options than just the two popular platforms (iOS and Android), as you can build a native app for each (or only one) platform, or use mostly the same code for both with a cross-platform app. These choices are very important when you want to estimate app development costs.
Developing two different native apps involves more work and usually two separate teams, and is therefore more expensive, but it comes with a number of benefits for both your users and your business. Cross-platform apps, on the other hand, don't offer the same level of optimisation for users' devices, preferences, and habits. They are, however, faster to develop and can reach a wide audience at the same time.
You'll find out that iOS and Android users differ from each other when it comes to their preferences, spending habits, and geographical distribution. You're going to need a strong idea of who our users are and what devices they use before you choose the right platform for your mobile app.
Once you've done so, the next step is to choose your tech stack.
There are no universal rules dictating which technologies should be used for what purpose. It's something that should be assessed on a case-by-case basis by an expert or an experienced team. In our experience, face-to-face consultations work best, as they allow the expert to truly understand your expectations and needs.
Cost estimation methods
Once you provide your partner with all of the necessary information, they will have two choices of how to estimate mobile app development. The first, time and material, doesn't allow for a precise estimate, focusing instead on hourly rates and the length of time necessary to build your app. The second, fixed price, means that you'll receive an estimation for the entirety of the project.
The time and material model works well when the client doesn't yet have a final vision for the product, or even a detailed specification of it. Perhaps you know what core features you want for your app, but you expect to make significant changes to your plan after conducting user testing. Or maybe you're working with a rapidly shifting market and need to be prepared for a fast pivot. In that case, this pricing model is for you.
The fixed price option's main advantage is that it allows for precise budget planning. If you know the final scope of the project and know what features need to be built, you and your partner can agree on development costs in advance (for everything described in the project's specifications; there's nothing stopping you from adding things later, with the understanding that these additions will be priced separately). Before work begins, your partner will also let you know how long they will need to develop your app.
Netguru's mobile app development cost calculator - average pricing
Our team of mobile development and product design experts have been helping companies across many industries, with very different needs, goals, and limitations. We work with startups, medium sized businesses, and enterprises across the world.
The apps we build can be small, fully coded in 1-2 months, medium sized, or very large and complex. That's why it's impossible to create precise pricing plans for our clients. We can, however, provide you with approximate price ranges, calculated based on your project's level of complexity and the time needed to develop it.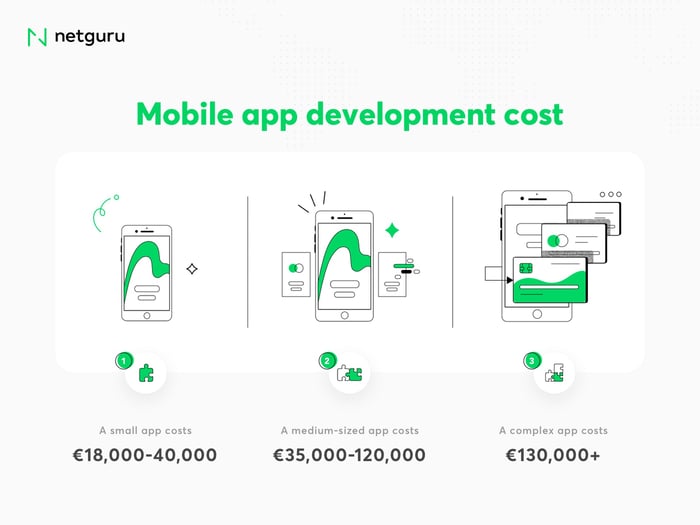 Mobile app development and scoping strategies
There are two main go-to-market strategies, each of which comes with its own pros and cons. The first is building a basic version of your app (an MVP, or minimum viable product), testing it on real users, and making adjustments as you go. The other involves launching a fully featured product. Both are valid options.
The MVP approach
Building a simplified version of your app and focusing on its core features is often a fantastic way to test your idea while gaining traction. The MVP should have very focused goals, ideally solve only one problem, and provide basic features to satisfy early adopters.
Risks:
Often, businesses make the mistake of prioritising too many features, or not identifying the core ones correctly. This can lead to feature creep (where you want to develop every feature in the backlog and essentially end up building the product's full version) and inaccurate feedback as the complexity of your product makes it difficult for users to understand.
It's possible that your competitors will see your idea and copy it. If they have more resources available, they might even implement it faster and make it better.
Benefits:
Your end users will provide you with high quality feedback and you'll be able to use it to make strategic decisions about the future of your product.
If you're going to fail, it's best to do so early. The first version of an app usually isn't perfect. If you start with an MVP, you can make decisions while controlling the risk, and learn from your mistakes.
A validated MVP can be a big help in attracting investors. It's a proof of concept.
You can start building a good relationship with users early on. If you use their feedback to improve your app, they will feel respected and catered to.
The full project approach
Sometimes, it's better to develop the full scope of your product with multiple side functions. This might be the case when that's expected from an established brand, or when you're creating an internal tool for your employees, meant to fit existing processes.
Risks:
You might build a product that nobody needs, as the concept is based only on your vision and theoretical research.
Particularly for a product with a long development process, you might invest a lot of time and resources into the project, but miss your chance to launch it as users' needs and the market change.
Benefits:
You're delivering a fully-featured product that's aligned with your vision, benefitting your brand.
The app will deliver on the promises you make and provide a full user experience.
The quality of experience for users can be high from the get-go, rather than improving over time.
The dangers of mobile app development cost calculation
There are several factors that commonly threaten the accuracy of development cost estimations. Luckily, knowing about then ahead of time is usually enough to avoid these issues.
Superficial input from the client leads to inaccurate estimations. In this scenario, both the client and the development team can be at fault. If you don't provide sufficient data, the error margin for the estimation will increase significantly. Your partner's team should actively seek the information they need, ask questions as they arise, and help you translate your industry's lingo into a language that both sides will understand.
You underestimate your project's needs. During development, it turns out that the project requires more work than what was specified in the beginning. This can involve additional features, localisations, integrations, multiple platforms or adjustments for higher traffic. Whenever you add something to the project during development, the estimation will increase, but it can be difficult to predict by how much if the new feature interacts with or depends on existing ones, which might then need to be rewritten.
Resources aren't allocated properly and one or more of the lifecycle stages of your app suffer for it. The most common version of this scenario is when you spend too much on development, and end up with insufficient resources for maintenance and promotion. The worst possible consequence is that nobody will see your project even though your app is complete and well-designed.
Development team composition
Aside from team size and hourly rates, the composition of your project team can have an impact on development costs. Here are the various roles that will need to be filled on your outsourced team, and their influence on development speed and efficiency.
The Project Manager (or PM) coordinates the workflow, maintains communication between you and the rest of the development team, and understands and conveys the app's vision, which helps developers and designers make better decisions and avoid mistakes.
Quality Assurance (QA) Experts test your application thoroughly to make sure it's truly complete and works as intended. Development usually consists of several iterations (functional chunks of the app being delivered one by one), and you need testers to work on each of them.
Developers are the ones who write your app's code, collect layouts into a single whole, choose appropriate technological solutions, and solve issues.
The work of Designers includes creating graphics, such as menus, navigation tools, buttons, backgrounds, and custom illustrations. They always need to have user experience in mind, providing usable solutions that fit modern trends.
Conclusions and takeaways
Mobile app estimation is complicated and can only ever be as accurate as the information provided by the client.
There's no easy way to judge how much it'll cost to build your product - you need to sit down with an expert, establish project scope, make strategic decisions and base the estimation on that. At the same time, it's easy to identify the factors that go into the costs of app development, and you can use this knowledge for your business' benefit.
Here are the main takeaways from this article:
If you need a complex service (like mobile app development or, say, building a house), you need to make precise specifications of what you want to achieve. Otherwise, the estimation you get won't be very realistic.
App development cost depends on both internal and external factors, as well as on your goals and choices.
To plan your budget well, you need to create clear specifications and strategy for your app, including maintenance and promotion.
There are simple ways to influence development costs, such as: starting with an MVP, hiring a good team that'll build a coherent app architecture, and using an offshore company rather than a local one.
You need to choose the right mobile development partner for your business. One with adequate mobile expertise and the ability to efficiently build your product. This will result in a fast development process with no major issues.
This article was first published on Jul 31, 2018