Fintech API: 9 Key Strategies. Why Open Interconnectivity of Financial Services is the Future

We're near the point where we don't need banks anymore, but only banking in the background. People don't want to do banking; they want to buy cars, buy houses, make payments to friends, or pay for services. All they need is the banking process, said Jörg Howein, Chief Product Officer of solarisBank at the Netguru Disruption Forum.
7. Marqeta – payment infrastructure for fintechs
The US-based Marqueta is developing an open-API platform that enables companies to create their own payment solutions and issue their own cards. They cooperate with other fintechs, such as FinanceIt, Progressive Leasing, Acima, Lendr, and Payability joined Affirm, Kabbage, and Klarna.
They put a lot of effort to make the Marqeta API easy-to-use. The API uses objects to represent various concepts. A payment card is represented by a card object and a cardholder is represented by a user object. You create a new object, such as a card or user, by making a call to the appropriate API endpoint.
Additionally, Marqeta API offers a test sandbox environment, where customers can create the objects required to conduct financial transactions and then simulate transactions using those objects.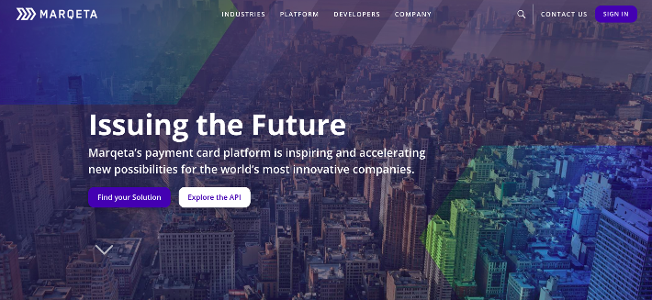 8. Revolut and TransferWise – an open API for developers
Two big fintech players, Revolut and TransferWise, released an open-API platform that will enable businesses and individual developers to build additional services with the use of Revolut or TransferWise.
Revolut released an open API platform dedicated to business users that would like to automate banking operations, such as accounting software, while TransferWise aims at the acceleration of the services they provide.
9. Starling Bank – Banking-as-a-Service
Another fintech from London uses an API to grant access to their cloud-based proprietary BaaS technology. In a similar way to solarisBank, it gives other organizations a possibility to offer white label retail banking and payment services.
Using Starling's APIs, clients can quickly integrate into the UK and European payment schemes to access Faster Payments, Bacs, and SEPA, the Single Euro Payment Area.
Starling Bank has recently expanded its API Marketplace for small businesses, who can integrate their banking transactions with the cloud accounting platform. Using the bank's API startups and app developers not only can build products using the ecosystem and its data but can also instantly reach the Starling Bank's client base, becoming a Marketplace partner.
When you have a selection of products, you're creating an ecosystem where consumers can get the best value. With an all-in-one app, you're basically asking your customers to trust that you're absolutely the best on the market. The thing that a marketplace reverses is that you put all the offers in front of the users and ask them to trust your ranking - explained this approach Ben Chisell, Product Director at Starling Bank.
In the middle: Ben Chisell, Product Director at Starling Bank at Disruption Forum London, hosted by Netguru at Level39.
Countering with the Revolut's approach during the heated discussion at Netguru Disruption Forum, Ben Chisell admitted that there are trade-offs related to marketplace approach, e.g. keeping a consistent customer experience with all third-party products connected via API.
Each company may have different KYC procedures and scaling that kind of platform is not an easy task. But in the marketplace, the selection of offers produces trust. And trust adds value. We don't know at that point which vision and strategy are better. Different fintech companies have their own beliefs and they will execute on them, Chisell added.
Conclusion
An interconnected network of services is the future of software development, financial services, and more. The concept of APIs has encountered a perfect storm as the technology, the business environment, and regulations seem to encourage the safe sharing of customer data in order to deliver better services.
The old big players in banking, investment, and insurance are being disrupted by agile startups focused on developing exceptional customer experience and entering the system at different levels thanks to APIs.