A Billion Dollar Bet on The Future. Fintech Investment Leader BBVA Just Showed How to Deal with Amazon and Google
Even if that word of advice for incumbent banks wasn't heard loud enough, no one could ignore the latest news about BBVA's investments in Atom and solarisBank (by the way, we are happy to have solarisBank as a partner here at Netguru).

BBVA's spending spree is raising many eyebrows, even in the shark-filled VC waters. Within two days the Spanish conglomerate has become the single largest shareholder in Atom and the second-biggest shareholder in solarisBank (for the latter, FinLeap remains the leading investor).
Their digital strategy is being played out with incredible stamina and determination. We could only compare it to a lighthouse, flashing madly: "Now or never. This is the only way" to the banking sector. I think it may be wise for them to turn their ears to this message.
A rough estimate of the total amount BBVA put into fintech M&As is close to $1bn. For some, it might seem like a premature, 'money burning' strategy. I prefer to think of BBVA's strategy as speeding up the learning curve for a relatively insignificant bill. Let's change the perspective: $1bn is peanuts when you are standing up against Amazon.
How Atom and solarisBank fit BBVA's strategy
Both companies chosen by BBVA are by no means accidental. Atom, the London-based digital-only bank, started in 2014, and after just one year of operations secured a banking licence. Then they aggressively pushed the market with its saving accounts, lending for SMEs and mortgages. As of today, Atom has taken about £1.3bn of deposits and loaned almost the exact amount to UK's entrepreneurs and homeowners. The company led by Mark Mullen has raised over £500m in total and, until today, shows no signs of abating - not even a single hiccup.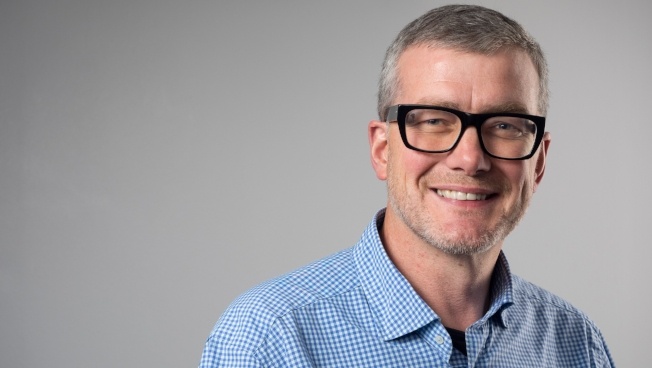 Mark Mullen, CEO of Atom Bank has new resources to fuel further growth.
With the fresh funding round (£85.5m from BBVA and £54.5m from the London hedge fund Toscafund), Atom executives plan to advance the lending part of the business, as well as invest in technology and explore other market opportunities. And with fresh millions of pounds in their war chest, they can undoubtedly prove their point in wrestling with UK's traditional banking industry.
On the other end there is solarisBank, a two-years-old fintech prodigy. The Berlin-based startup is a pioneer of Banking-as-a-Platform with a full banking license, meaning it provides both infrastructure and regulatory coverage to any company interested in getting into financial services (digital payment cards, loans integration or P2P and cross-border payments). SolarisBank is on a roll, with presence in seven countries already and a goal to expand to about 100 corporate customers by the end of the year.
'Our innovative approach has convinced industry leaders from both the finance and technology sectors to utilise the series B round as an opportunity to be a part of our business model and growth story. I am thrilled and inspired by the potential for further co-operations', Dr. Roland Folz, the CEO of solarisBank, said.
SolarisBank vision convinced industry leaders to invest in the company. From the left: COO Andreas Bittner, CEO Dr. Roland Folz, CTO Peter Grosskopf, CCO Marko Wenthin. Photo: Max Threlfall
Why see-no-fintech is the worst strategy
You may deny the importance of the fintech sector or turn a blind eye to the record $16.6bn that global VC-backed fintech companies brought in 2017 (source: CB Insights).
Heck, you can even neglect that it was fintech that proved that financial industry customers were, in fact, ignored for the most of their customer journey. "Insurance is bought, not sold", states the New York insurtech startup Policygenius. "We go for the underserved customers", says Finiata, a Berlin-based startup, on a mission to fix the micro-factoring business (again, we have the privilege to partner with both companies; click for a Policygenius case study).
But as far as fintech companies are concerned, traditional banks might lure themselves into safety zone. It is comforting, and, to some extent, true. The "too big to fail" label is like a golden VIP pass to the state-protected zone. Furthermore, if you look at their revenues, number of customers or profitability, even the biggest fintech players seem harmless.
So pat yourself on the back, have a whisky and a cigar, put your feet up. But just a thought: how long can you sit in your cosy armchair before the big guys, such as Amazon or Google, come after your customers' current accounts and loans?
Denial, an inseparable part of innovation
The history of innovation is full of examples of falling into the psychological trap that is denial. Kodak, unwilling to venture into digital; Microsoft and Nokia failing to catch up to the iPhone; the publishing behemoths, blaming careless youth for not reading (but hey, they will grow up, get a job and start reading newspapers, right?).
If you've been watching closely, the same pattern is now unfolding within the financial industry. Take Atom Bank, for instance. As an app-only bank (with prominent competitors such as Tandem, N26, Monzo, Monese or Starling Bank), Atom was neglected by some incumbent players, being called "nothing but hype". Atom's chairman, Anthony Thompson, was quick to offer a counter view. "Opening a bank today with branches would be like BT putting telephone kiosks back on the high street. The world's just moved on' - he said, as quoted in Business Insider.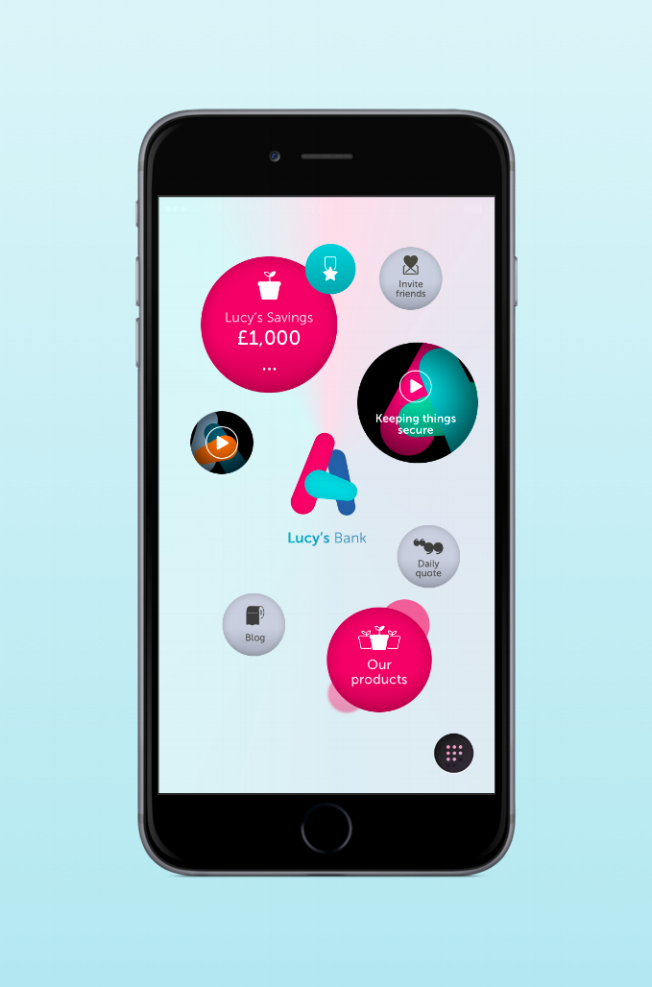 Home Screen of Atom Bank app. Not your usual banking routine, I'd say.
"Frankly, if you look at the neobank [app-only bank] space - they're flourishing everywhere, but we're still waiting for the business model to show up. Where is the money? Where is the return?", ING's head of fintech was curious to know. At the same time, he was referring to ING's own experience with ING Direct as a 10-15 year process. Fair enough.
Just recently we've heard that Revolut has become the first British digital-only bank to break even on a monthly basis. Anecdotal evidence or a marker of some bigger story unfolding? I would put my money on the latter.
"Those who cannot learn from history are doomed to repeat it."
As many traditional financial institutions are still trying to figure out the best approach to the fintech players, you will not find BBVA on the waiting list. The leaders of the Spanish bank were bold enough to dive headfirst into the new sector, and, for some reason, didn't play down the new reality. Back in 2016, Carlos Torres Vila, the CEO of BBVA, highlighted the bank's vision during the first European Money 20/20 conference.
Key pillars of the strategy included:
strategic alliances with fintech players,
internal incubator,
digital mergers and acquisitions (also through an independent investment vehicle),
open API at the disposal of fintech.
What was the point? Thanks to these initiatives BBVA was supposed to gain "an increasingly more important role in the innovation ecosystem", according to a statement by Carlos Torres Vila.
Carlos Torres Vila is one of the most daring CEOs in the banking sector
BBVA was acting fast. On their first entry into fintech in 2014 they acquired Simple, a US online-only bank for almost $120m, and the Spanish big data and cloud computing startup Madiva Soluciones. That was just a prelude. In 2015, BBVA acquired the San Francisco-based UX and design firm Spring Studio and put a $67m into Atom. In 2016, they set up a new investment fund named Propel with $250m at its disposal, and acquired the Finnish B2B digital bank Holvi (for an undisclosed amount). In 2017, BBVA purchased OpenPay, a Mexican online payments startup.
Even without the recent round in Atom and solarisBank, BBVA was named the "most active acquirer of fintech startups in the last five years" by CBInsights.
How well did it play for the bank? The recent March report speaks for itself.
A quote: "Over the past year the bank has seen an almost twofold year on year increase in the number of products and services its customers and clients are taking-up via digital channels."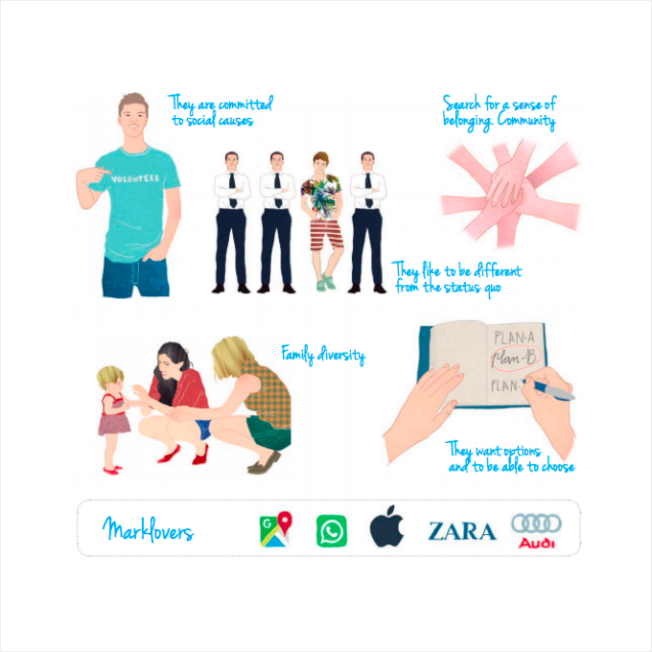 An excerpt from an insightful BBVA's "Millenials Project" - recommended read
Digital sales accounted for around 36% across the BBVA Group (compared with approximately 20% in 2016); the digital customer base in BBVA alone increased by a 44%. The digital expansion also helped the Spanish group achieve the best Net Promoter Score numbers in its history.
The bank keeps pushing its boundaries. The key metric, called digital DIY capability, which shows the percentage of products and services accessible across the web, mobile, app or ATM, is quickly approaching 90% (it is already over 95% in Turkey).
No loose ends. Bold investment moves, resulting in a whole spectrum of digital banking under BBVA's belt. Even if you fall for such tranquilising headlines as "Amazon Checking-Account Plan Sees Banks as Partner, Not Prey", it just feels right to pursue the scenario of becoming a partner on equal terms.