Top 5 Commercial And Open-Source BI Tools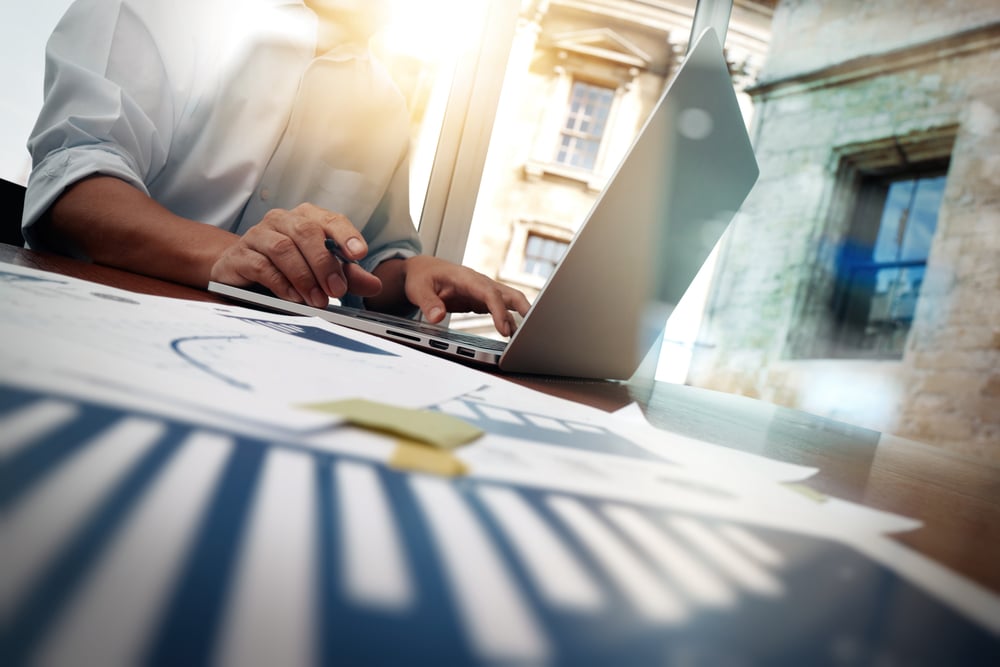 Business intelligence (BI) tools are a friend to any enterprise that uses data for modern reporting, analytics and data science. Below, we delve into commercial business intelligence software versus open-source BI tools.
Are there open-source BI reporting tools without high license prices that rival top commercial tools?
In recent years, more and more companies that draw conclusions from business data are switching from manual reporting to more advanced business intelligence tools, be it using commercial BI software or open-source BI reporting tools. At the same time, more and more companies are expanding (or even basing) their product on providing customers with an analytical panel using BI embedded data analytics.
If you want to harness the power of business intelligence, one of the first steps is choosing the right tool by weighing up functionality, maintenance, and license costs. The most popular commercial offerings are Tableau, Power BI and Qlik.
Alongside these, there are several open-source BI tools to choose from, including Superset and Metabase, whereby the license is free or much cheaper. Are they worth considering? Continue reading for the lowdown.
What are BI tools used for?
Every company that wants to turn data into actionable insights and make data-driven decisions must use business intelligence tools if they're to achieve their goals efficiently.
The process of building a BI solution starts with business data analysis and available data assessment, and then BI specialists prepare data sources and build a dashboard. Once dashboards are ready, they're published on the server and available for end-users in a web browser, mobile application or as a part of a wider platform.
What is the purpose of BI tools?
Generally, business intelligence tools are used to enable connection to multiple data sources, process data, and provide users with data analysis, most often in the form of charts or interactive dashboards. Data prepped in this manner can be then used by data scientists in further processing.
Nowadays, apart from these core functionalities, BI tools offer:
Huge selection of interactive data visualizations
Platform to find insights and collaborate
Data management
Machine learning algorithms and forecasting
Delivery of insights from data analysis using common language
Open-source BI tools vs. commercial tools
The most important difference between commercial and open-source BI reporting tools is that open-source tools offer free business intelligence solutions. Thus, they often require in-house maintenance and infrastructure without official support of the tool provider. On the other hand, you have direct access to the code, making it more reliable because you have greater control over it.
Commercial tools usually offer more functionalities, full support, and you can often take advantage of their infrastructure, significantly reducing maintenance resources.
Open-source BI tools
Open-source business intelligence software gives you the opportunity to make your data analysis capabilities skyrocket, and at the same time you save on the purchase of expensive commercial licenses.
Additionally, open-source BI reporting tools give full code insight, increasing the reliability. What are the best ones? Good examples are Metabase, Superset, and Preset.
Metabase
Metabase is an open-source business intelligence tool that's easy to deploy either on Metabase cloud or on-premise, but it requires managing and self-maintaining infrastructure. It allows users to connect to 20+ types of data sources.
While lots of features are available with the free version of an on-prem open-source license, others such as row-level permissions, white-labeled embedded analytics and SAML authentication are available only with the paid versions.
Prices vary, depending on the configuration. For on-premise:
Open-source: free
Pro: $500 a month including 10 users, then $10 per additional user per month
And for the cloud:
Starter: $85 a month including 5 users, then $5 per additional user per month
Pro: $500 a month including 10 users, then $10 per additional user per month
For both, there's an additional pricing model for the enterprise version.
Key features:
Very intuitive to set up and develop the dashboards
Visual SQL query builder
Advanced embedded data analytics options
Automated reports on Slack or email
On the downside:
No AI/ML capabilities
Not that many data visualizations are available
Source: Metabase
Apache Superset
One of the best-known open-source BI reporting tools is Apache Superset, created in 2017 following an AirBnB hackathon. It's a cloud-native solution that enables data mining, dashboard creation, and embedded analytics.
Apache Superset is completely free to use, but you need DevOps skills to set it up and maintain the infrastructure. The only cost is for the infrastructure, which can be put on a public cloud or on-premise.
The tool itself is very powerful, with various data connections and data visualization types, as well as good user management and embedding options.
Key features:
More than 40 types of data visualization
Integration with most user authentication backends such as Okta and OAuth
More than 30 data connection types
Negatives:
DevOps skills required to set-up infrastructure
Interface isn't very user-friendly or intuitive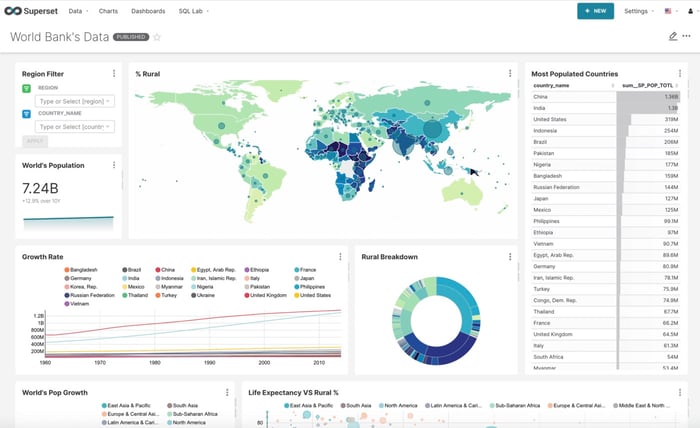 Source: Apache Superset
Preset
Preset is a fully cloud-hosted open-source BI tool based on Apache Superset's capabilities. It offers the full potential of Superset and also takes care of infrastructure, security, and scalability features.
The tool provides no-code interactive charts and a dashboards builder, and depending on the configuration advanced sharing and user management features. The Starter version is free of charge, while the Professional license costs $20 per user per month. There's also an enterprise license model.
Key features:
Over 40 types of data visualization
Advanced sharing options with Slack integration and multiple workspaces to store the dashboards
Charts and dashboards cache to improve performance
No infrastructure costs or maintenance
On the downside:
No AI/ML capabilities
No common language data questioning
No forecasts/clustering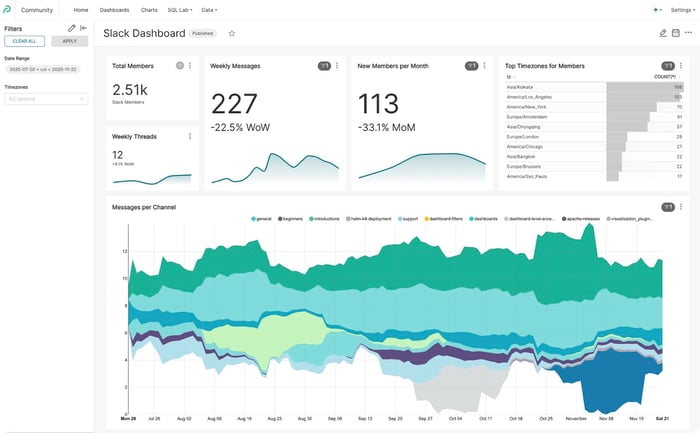 Source: Preset
Commercial BI software
The commercial market for business intelligence tools is large at the moment, with many offering not only ways to create data visualizations, but also machine learning, embedding, and more. The best options for your business intelligence projects include Tableau, Microsoft Power BI, Qlik, and Looker, while more niche tools include Sisense and QuickSight. Below, we'll discuss Tableau and QuickSight. Why? They have completely different license models.
Tableau
TTableau has been listed among the leaders and pioneers of BI tools for many years. Their solution is end-to-end, including connecting to data, transforming it, visualizing, and sharing it in various forms.
For sharing dashboard and data storage, select Tableau Server (hosted by yourself), or Tableau Online (fully hosted and maintained by Tableau). With Tableau Server, it's also possible to create interactive dashboards for embedded data analytics.
Their most popular pricing licenses span Tableau Online, on-premise and public cloud as follows:
Tableau Online. $70 per month for Creator, $42 for Explorer, and $15 for Viewer
Tableau hosted on-prem/public cloud. $70 per month for Creator, $35 for Explorer, $12 for Viewer
Note: if you're considering more than 600 users, it's good to have a core-based license model.
Key features:
Tableau Prep – basic but helpful data preparation tool

Multiple data connectors

– SQL databases and data warehouses, flat files, data lakes, Web Data Connector
Wide customization and visualization options
AskData to ask data-related questions using common language, plus forecasting and other ML capabilities
Tableau Mobile and Tableau Server to share content
On the downside: not flexible pricing models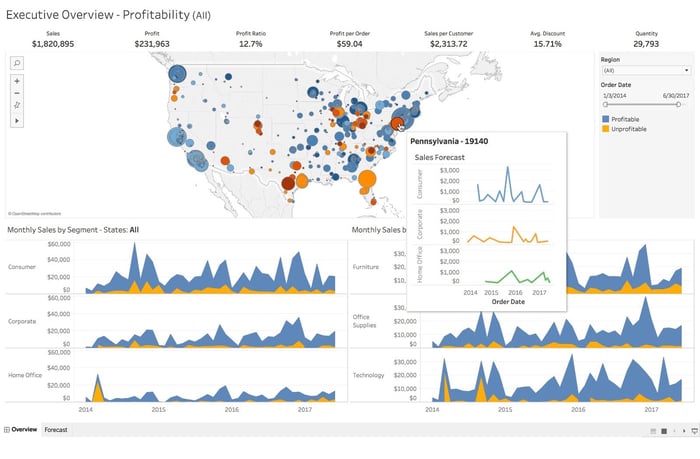 Source: Tableau
QuickSight
QuickSight is provided by AWS and is the only BI tool that's a part of this infrastructure. It gives you the ability to connect to multiple data sources and build different and interesting visualizations and dashboards, and it also uses AI insights.
QuickSight is hosted on AWS and the required resources automatically scale up to the needs of the data, so there's no need to maintain the infrastructure yourself.
Unlike most BI tools on the market, the cost of a QuickSight license is calculated based on dashboard usage – specifically the number of sessions (30 minutes of interaction with the dashboard). It costs $3k/$20k/$57.6k/$94k for the following number of sessions: 6k/50k/200k/400k. This pricing model offers an unlimited users number with no additional paid license per each user. No additional infrastructure fees are charged.
QuickSight also offers another pricing model based on the number of users. Each user license is paid, the prices vary between $5 per a viewer account and $24 per an author account, although there' no limit for the total number of users.
Key features:
Native AWS Integration makes it easy to connect other services like Sagemaker, S3, IAM
License mode can be based on number of sessions
QuickSight Q to ask data-related questions using common language, and machine learning insights to perform advanced analytics
Serverless, and no need to maintain infrastructure
Downsides: limited customization options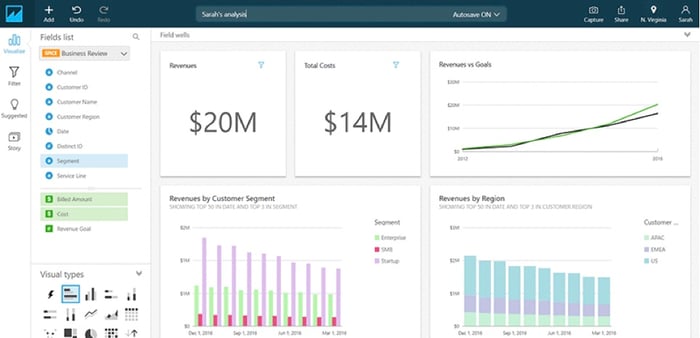 Source: Amazon QuickSight Now Allows Users to Create Analyses from Dashboards and Import Custom Date Formats
How to select the right business intelligence tool?
Despite the fact that there are several unchanged market leaders, choosing the perfect business intelligence platform isn't easy, be it commercial software or an open-source BI tool. The most important step is to define your requirements and the applications you'd like to use the tool with.
Of course, for budgetary reasons, it's worth considering open-source BI reporting solutions at the beginning. In many cases, these turn out to be as good as expensive commercial options.
Some of the most important factors to consider when choosing a BI tool are:
License pricing
Data connection possibilities and limitations
Security, user management and authentication
Types of visualizations
General performance of the tool
Maintenance and cost of infrastructure
Embedding and associated APIs
Sharing options
General BI functionalities
The market is dynamic, and business intelligence software producers keep surprising us with new functionalities to solve existing problems. To choose and recommend the best tool, you need to be up-to-date with what's out there in the market.
Using our expertise, we're happy to help you pick the best BI tool for your individual needs, and develop BI analytics for your company.