Top Technology Trends in Retail in 2021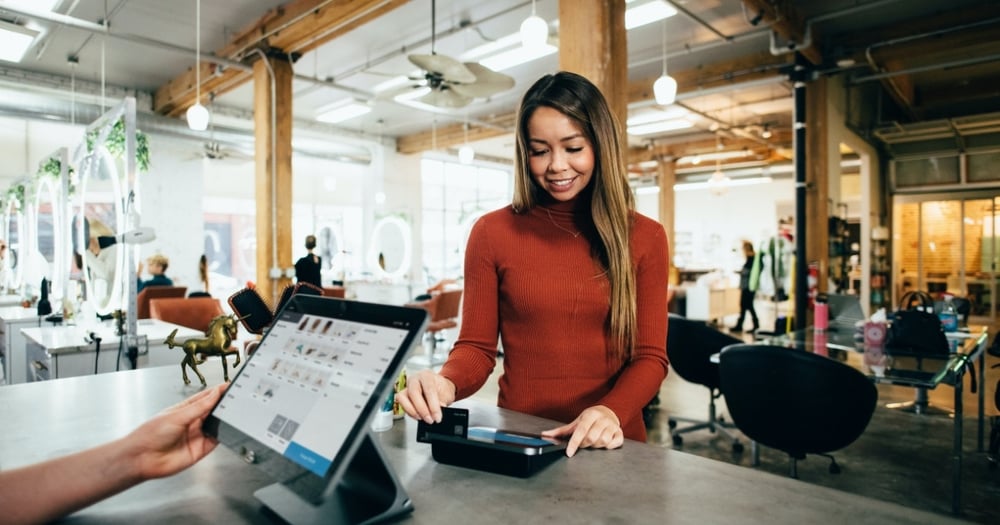 The COVID-19 pandemic has irreversibly changed the retail landscape. It pushed businesses to find new ways to effectively operate in the new reality.
While some retailers quickly responded to the challenges by introducing various retail technology solutions, others are still lagging behind. We're going to take a look at the main technology trends that will shape the retail industry in 2021 and beyond.
What will shape technology trends in retail in 2021?
There are several challenges and goals retailers will need to address in order to succeed in 2021 and beyond. These include:
The need to ensure high health & safety standards. Consumers have grown accustomed to minimizing store visits and avoiding crowded places. This creates a challenge for retailers who rely on brick-and-mortar stores, especially as far as safe checkout options are concerned.
The necessity to accelerate

digital transformation

. Due to limited access to brick-and-mortar stores, customers have turned to online shopping as the more reliable option. They expect flawless digital customer experience.
The need to maintain high customer loyalty and engagement . According to

Paula Cortney, CEO of WisePlum

, "customers are significantly less loyal to retailers in a time when retailers are themselves struggling to survive."The challenge businesses need to face is that customer loyalty in offline stores doesn't translate into the same engagement level online – those who offer a seamless digital customer experience win.
Logistics capacity management. Retailers need to be prepared to scale their logistics capabilities – especially to account for a sudden rise or drop in the volume of both digital and offline orders, caused by, respectively, the reintroduction or annulment of lockdown. The shifts in online purchases have proven to be quite significant in 2020.
Necessity to align with new customer habits caused by the pandemic. Customers moving to online channels for shopping is just one of the many habits retailers need to adjust their business to. According to a

U.S. Bureau of Economic analysis

, in 2020 the wealth gap has significantly increased – personal consumption spending decreased by a staggering $63.3 billion nationwide. This is known as conscious consumerism, i.e., buyers becoming more thoughtful of their spending, which can put into question pre-pandemic customer behavior and their motives.
Top 7 technology trends in retail
Click & Collect
One of the primary retail trends is Click & Collect, which allows customers to purchase products online and pick them up in-store. It offers speed, convenience, and low cost, all of which shoppers greatly appreciate.
While Click & Collect is nothing new, its popularity has skyrocketed due to the outbreak of the COVID-19 pandemic. In 2020 observed a 60,4 % Click & Collect Retail sales growth in the U.S.
It's no surprise that buyers often lean towards this delivery method as it guarantees more safety than in-store shopping. Customers can also avoid crowds while taking advantage of local retail locations.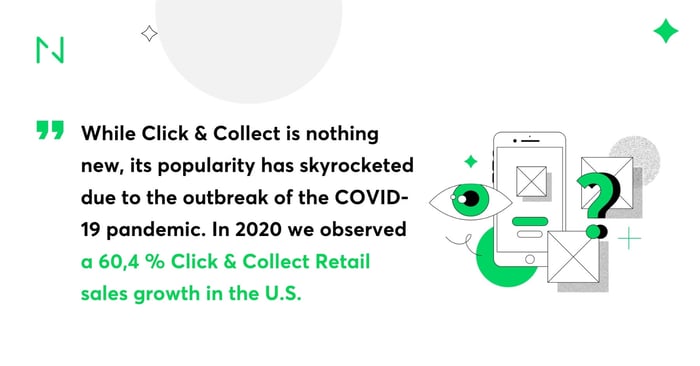 Click & Collect has been implemented by a number of global players, including IKEA, Nike, Walmart, and Zara.

In-store & in-app AR shopping experience
According to a report by Global Market Insights, the Augmented Reality (AR) market value is expected to reach an astounding $50 billion by 2024, with an annual growth rate of 75%. Along with industries like automotive and healthcare, we can attribute a high portion of this growth to the adoption of AR in retail.
As of early 2021, we can already see a variety of AR-powered technologies on the market. Firstly, it is used in tablets to help users find their way around the store or to check a product's price. Secondly, it is used to leverage in-store and consumer apps to allow virtual product fitting.
Global fashion brands Mango and Neiman Marcus let shoppers try on products through their "intelligent mirrors", while Louis Vuitton is focusing on creating virtual product exhibitions on social media.
As the Internet of Business aptly puts it, "blending bricks and clicks with innovative IoT implementations is looking good for retail, especially for shoppers whose hands are always on their mobiles, at home and in the street."
Lastly, with the ready-to-use AR kits from Google and iOS, the technology is more accessible than ever. For this reason, over the coming years, we can expect to see it adopted by smaller retail players on the market.
Real-time recommendations
With the current spike in online and in-app purchases, comes the opportunity to better understand customer intent. Retailers, especially those with an e-commerce presence or consumer mobile apps, can leverage the data they collect on consumers and engage in customer profiling and segmentation. This entails analyzing a variety of information, such as in-store activities, purchase history, or a sudden change in shopping patterns.
With such data, retailers can offer heavily personalized, AI-powered offers and increase the average basket size and consumer loyalty levels. For instance, Korean discount store Lotte Mart noted a 5-fold increase in response to product offers after they've implemented Amazon Personalize – the very technology used by Amazon to power its own real-time recommendations.
Other companies which are now exploring the potential of real-time product recommendations include beauty store Sephora, beer retailer BeerHawk, and fashion & travel accessory store LeSportSac.
Customer-centered shopping
Social distancing has proven to limit coronavirus spread, therefore stores with limited staff and self check-outs are going to take over the retail landscape. According to research by Shekel Brainweigh Ltd, 87% of customers declare that they prefer shopping at stores that provide contactless or self-check out options.
Solutions like mobile cashier or scan and go let buyers pay for their shopping quickly and easily. All they have to do is use their phones to scan the items they're interested in and finalize the purchase in a mobile app. The process is contactless, customers can skip queues, which positively impacts health and safety.
The most prominent example of innovative attitude towards shopping is Amazon's Just Walk Out Technology, which has just expanded to retail outlets outside the US. The technology allows buyers to simply enter the store by scanning the app on their phones, grab the items they want, and leave without checkout.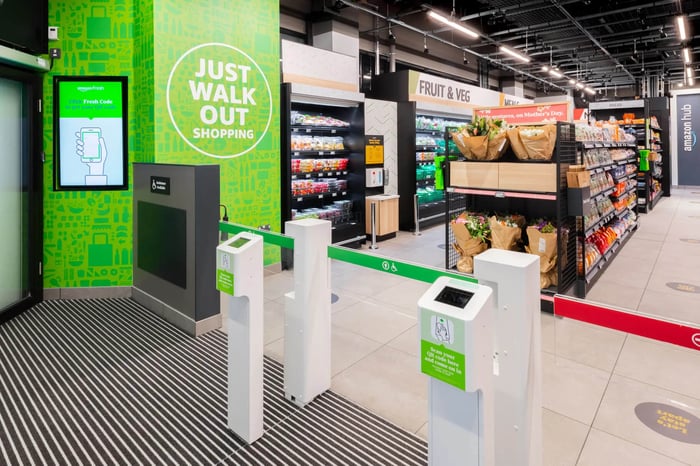 Source:

The Verge

Similar solutions are also being trialed by other players on the US market, such as grocery giant 7-Eleven, who have started testing cashierless stores – initially, only among staff. The brand's vice president, Mani Suri, says that "introducing new store technology to 7-Eleven employees first has proven to be a very productive way to test and learn before launching to a wider audience".
Social commerce is on the rise
As of January 2021, it is estimated that Western & Northern Europe have a 79% social media penetration rate, closely followed by North America at 74%. Therefore, it doesn't come as a surprise that social media platforms are monetizing their presence in people's lives in what is known as social commerce.
We can expect to see a true e-commerce revolution unfold on Western social media in 2021 and beyond.
Most social media channels let you implement chatbots, which can be used for more than simply responding to common customer queries. They can be easily programmed to help hesitant buyers find the right products and finalize their purchase directly in the chat.
Secondly, Facebook has announced that it will introduce Live Shopping – a module that lets people buy during live stream presentations of products.
Given these advancements, it's a good time for consumer brands to deepen their focus on social media sales' potential.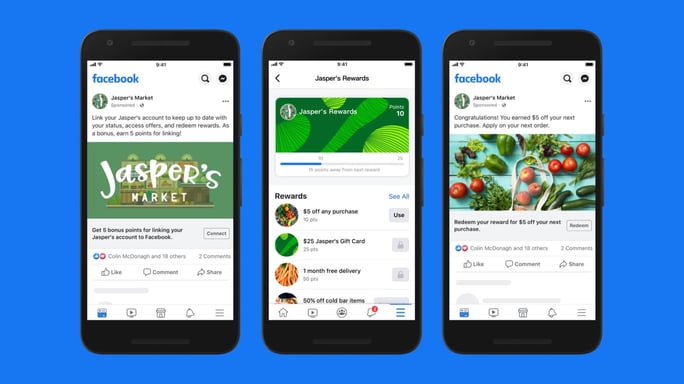 Source:

Facebook

There are several global consumer brands that are already leveraging social commerce – including premium brands Louis Vuitton and Burberry, Dutch accessory brand Cluse, and the popular subscription retailer, The Dollar Shave Club.
Robots as assistants
While robots aren't an entirely new retail technology and are already employed for tasks like product confection, we can expect to see more sophisticated, autonomous robots pave their way into the mainstream.
Firstly, advanced robotics can be used to keep store and warehouse inventory up-to-date. Thanks to real-time stock management, retailers are better prepared to predict demand, lower product waste (i.e. monitor expiration dates), and boost productivity.
Secondly, with ML and AI advancements, voice-activated robots like temi can also be used in-store. Among others, they can be programmed to help consumers find product information, redeem promotions, or finalize purchase.

Other brands that introduced robot assistants include San Francisco-based Lowes, whose Lowe Robot helps customers in store, and Amazon, which leverages robo assistants at their warehouse facilities.
Demand forecasting using machine learning
A lot of retailers wonder how the pandemic will impact customer demand with more brands turning to big data for demand forecasting. Accompanied by machine learning, it became one of the most effective and innovative ways for customer-supplier relationship optimization. It helps businesses better manage their logistics and manufacturing processes and even run smarter marketing campaigns.
Thanks to machine learning retailers can improve their forecasting accuracy which minimizes overstocking and cuts warehousing and logistics costs. Additionally, it comes handy in predicting which customers are at risk of churning and as a result implement some churn prevention tactics.
Summary
It is no surprise that a tumultuous year like 2020 has pushed the need to innovate in the retail industry to the limit.
In order to be better prepared for what's coming in 2021 and beyond, retailers have to pay attention to the top technological trends. These include click & collect, in-store & in-app AR shopping experience, real-time recommendations, self-check-outs, social commerce, robots assistants, demand forecasting using machine learning.
As consumers avoid crowds and visits to offline stores, retailers need to strengthen their digital footprints and implement safety measures in physical shopping environments.
In the end, regardless of whether consumers decide to shop in-store or online, one thing remains unchanged – retailers need to provide the absolute best shopping experience.