Introduction
In this guide, we're going to discuss what digital transformation means for business today, why it's important, and share a selection of digital transformation projects that have been completed successfully. Let's begin.
The digital tech spending is booming
Studies show that global digital transformation technology investments are forecast to reach $2.3 trillion by 2023, becoming a majority share of total IT budgets in enterprises. According to Craig Simpson, research manager at IDC's Customer Insights and Analysis Group:
We are approaching an important milestone in digital transformation investment with our forecast showing its share of total worldwide technology investment hitting 53% in 2023.
What is digital transformation?
Digital transformation – definition
What's the difference between digitization, digitalization, and digital transformation?
The maturity of digital transformation
Why does digital transformation matter?
Before we proceed with further discussion, it's worth explaining why digital transformation matters.
Why digital transformation is important
Digital transformation is crucial for business growth – it gives organizations an opportunity to " unlock even more potential" by enabling them to scale up effectively, reaching new customers with minimal operational overhead, starting from finance, marketing, all the way through customer service.
As digital transformation can have a dramatic influence on improving the effectiveness of business operations, deciding not to go through it is a recipe for a disaster.
Customers become more demanding. They anticipate the same kind of tech experience in a professional setting as they have in their personal lives.
This is extremely difficult to achieve without going through digital transformation. Creating a great user experience is an important aspect. In fact, nearly 50% of companies interviewed by PwC said that boosting customer experience and satisfaction were the main reasons for starting digital transformation.
What are the benefits of digital transformation?
Digital transformation has the power to bring businesses to a whole new level. Here are a few benefits associated with it:
Actionable insights from data
Imagine what happens when you digitize your business operations – you get access to tremendous amounts of data. You can track all kinds of metrics, like process effectiveness, funnel conversion rates, customer lifetime value, customer satisfaction and many others.
Not only does it allow you to have your data nicely organized and easily accessible, but it also lets you base your decisions on data. This in turn eliminates guesswork, reduces errors and as a result boosts your organizational performance through increasing ROI.
Enhanced customer experience
According to Accenture, 91% of customers are more likely to purchase from brands that call them by their name, know their purchase history, and offer product recommendations based on their preferences. To put it shortly – customers demand personalization, and it cannot be achieved at scale without going digital.
Digital technologies can give you an insight into your customers' historical data, including their interactions, interests, and engagements.
Furthermore, they provide means to analyze this data on the fly to personalize the customer experience in order to better meet your clients' needs and expectations.
Increased collaboration across departments
Digital transformation allows for better and more frequent communication with employees across the entire company.
Thanks to the use of online tools like Slack and Trello, not only can co-workers easily share all kinds of information, but they also get a deeper understanding of the processes' bottlenecks and dependencies, which improves collaboration.
What's more, it offers companies more cooperation options, like effective remote working, leveraging professional services marketplaces, or delivering projects in multi-vendor distributed environments which would be impossible without digital transformation.
Improved agility and innovation
Digital transformation enables agility and creates more room for innovation. In terms of the main drivers behind going through digital transformation, 68% of companies mentioned agility in the top three, which isn't surprising. The world's leaders, including Jeff Bezos, know you can't effectively operate in this fast-changing market without being agile:
In today's era of volatility, there is no other way but to re-invent. The only sustainable advantage you can have over others is agility, that's it. Because nothing else is sustainable, everything else you create, somebody else will replicate - Jeff Bezos, Founder, Amazon
Developing new skill-sets
Introducing new technologies is always followed by the need to acquire new skills and knowledge to master them. Skills that come into play when it comes to digital transformation involve:
Overall digital literacy;
Data analytics and AI-guided decision making;
System thinking and understanding business models;
Continuous improvement by using lean and agile methods.
Understanding of these skills' value attracts a lot of interest from the most talented members of the workforce, but at the same time companies find it challenging to recruit employees with these skills. Research by PwC states that 80% of CEOs are concerned about not being able to find talent with the right digital skills.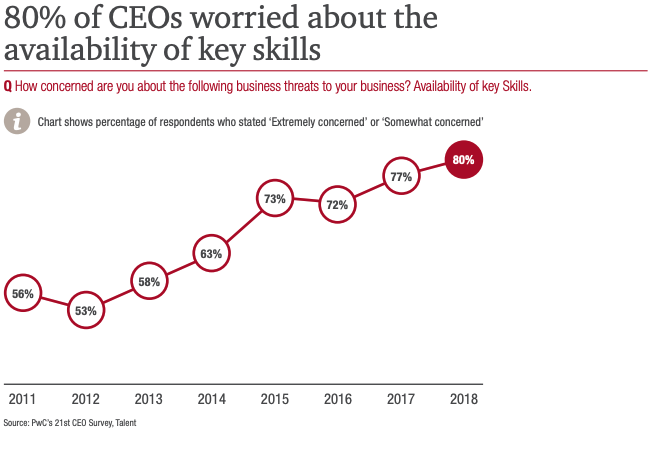 Source: PwC
By embracing digital transformation, companies can encourage their employees to develop new skills and better prepare themselves for the future, all the while supporting their business with the in-house expertise that will help them maintain business growth and a competitive edge.
Enhanced operational efficiency and lower costs
Digital technologies are not only exciting; they also translate into real-cost savings.
Let's take virtual reality: it enables employees to test and review new processes or products without the need to build them first, as they rely on digital visualizations.
Meanwhile, the issue of data storage can be addressed by cloud computing and can be managed by external vendors. This gives your employees more time to focus on projects which bring more business value and worry less about data storage.
Overall, by introducing digitization you can automate tasks and processes which were previously done manually, and were very time consuming, for example:
Customer data collection,
Account changes,
Status updates,
Procurement,
Tech support ticket management,
Invoicing,
Time tracking,
Payroll.
This will have a positive impact on productivity and improve employee satisfaction, as they will no longer have to perform monotonous tasks and will be able to better use their skills.
That being said, let's proceed to taking a look at a few digital strategy examples.
Examples of Digital Transformation
Examples of digital transformation in marketing
Examples of digital transformation in sales
Examples of digital transformation in customer service
Companies that did a successful digital transformation
Digital transformation across various industries
Digital transformation in retail
Digital transformation in healthcare
Digital transformation in Banking, Fintech and Insurtech
Digital transformation in the public sector
What are the key trends in digital transformation?
What are the main digital transformation trends, which you should pay attention to? We're going to discuss them now.
Connecting the consumer experience
69% of consumers admit that disconnected customer experience would push them to changing service providers, which, to an extent, explains why 71% of IT decision makers name customer experience as the main reason for going through digital transformation.
There is an increasing pressure on IT departments to deliver connected and personalized experiences for consumers. This issue must be addressed by organizations, and all stakeholders from customers, to partners, employees and developers must take an active part in this transformation.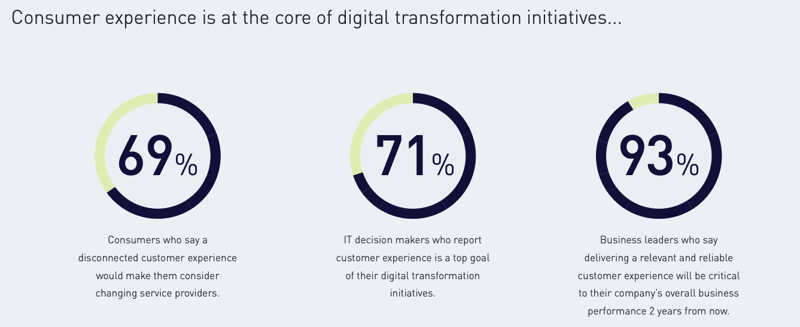 Source: Mulesoft
On average, an organization uses 900 applications. Making sure that all these apps are interconnected is a difficult task, and it's something that a lot of businesses struggle with.
Customers, however, are demanding and they not only expect a consistent journey across various channels, but they also want their experiences to be personalized.
The definition of "customer experience" is evolving and it now requires more players to get involved: partners, customers, and developers. It can already be observed in retail where the physical and digital worlds are merging – think about the above-mentioned Amazon Go.
AI and Machine Learning bring even more power to data analytics
If you want to make the most of analytics, you should invest in AI and Machine Learning in order to make sense of huge amounts of data and to easily navigate between results. Thanks to the use of these technologies complex data sets can be analyzed in no time – it's something which was unthinkable a few years ago.
An increasing number of firms is investing in AI to further personalize their customer experience, minimize human bias, and boost productivity. According to a Salesforce's survey, 42% of companies currently use AI, and an additional 40% plan to use it in the next 2 years.
Prioritizing sustainability
Protecting the natural environment has long stopped being a subject discussed by ecological NGOs, politicians and government, but has also come to the interest of global businesses. Becoming 'green' helps to cut expenses and increases attractiveness in the eyes of consumers (as well as potential employees).
This trend falls ideally into digital transformation, as digitized companies often follow the ideals of sustainability. Namely, DT can reduce not just businesses' operational costs, but also emissions and waste thanks to the use of IoT, AI, and edge computing.
Some examples of how companies that embraced digital technologies practice sustainability include DeepMind AI (used by Google to reduce the organization's electricity bills) or Phillips' IoT solutions that helps extend the life cycle of expensive medical equipment, like X-ray machines, by building a new business line of preventative maintenance services.
Embracing a digital culture
While remote work was already a popular trend, COVID-19 has brought it into the mainstream. In order to operate effectively – i.e. without disruption if another lockdown takes place – businesses need to implement processes that prioritize a digital culture for a distributed team. Introducing the right communication and project management tools or a cloud drive to store documents is just the tip of the iceberg!
In order to fully embrace a digital culture, employees must feel a sense of purpose, work towards the same, cross-organizational goals, and develop mutual trust. These are values that can't be bought.
As discussed in a dedicated piece on digital transformation trends, "without investing in organizational change that empowers employees to act autonomously and take ownership of the decision making process at all levels, there is no successful digital transformation".
Data at the centre of business
Getting access to more data is one of the main reasons why companies decide to go through digital transformation.
They analyze the findings and use them to improve the customer experience, streamline business operations and to deliver new products and services. Good quality data is the backbone of a highly prosperous business, as decision makers can base their decisions on hard facts instead of guesswork.
In order to unlock the full data potential, it's necessary to eliminate data silos – 83% of IT decision makers say that data silos create organizational challenges. There is a positive correlation between data integration and business performance.
For example, a retailer called Lane Crawford used APIs (i.e. Application Programming Interfaces) to integrate their customer and inventory data to create a single data-as-a-service platform.
Their customers can now shop new arrivals, view product information by scanning QR codes in store, update their account, and receive order status notifications – all of this improved the customer experience.
Multi-cloud computing
It's common practice to run on multi-cloud environments, at least as far as modern enterprises are concerned.
This decision is dictated by flexibility – no single platform is able to meet all their workload requirements. Going for multi-cloud computing can be complicated, especially when it comes to moving application workload between cloud environments.
Luckily, it can be addressed using API-led applications development and containerization. According to Capgemini, businesses who have greater confidence in their API and integration capabilities perform better than their competitors in key areas, including revenue growth, innovation, and speed to market.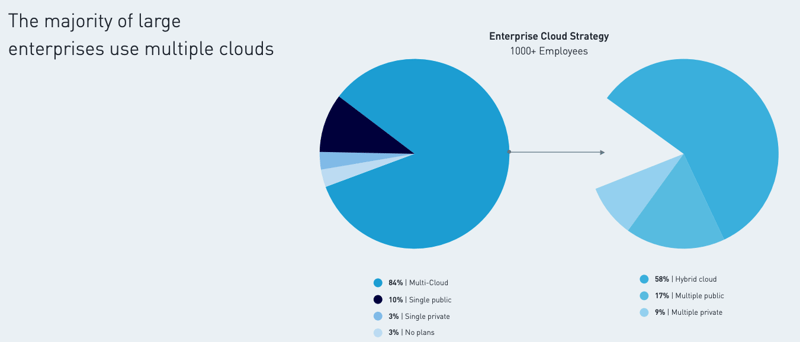 Source: Mulesoft
Cooperating with external partners to create value
Due to the scale and complexity of digital transformation projects, businesses build network effects by engaging with partners, customers, and external stakeholders to create a collaborative ecosystem. McKinsey Digitalclaims that:
An increasing number of industries will converge under newer, broader, and more dynamic alignments: digital ecosystems. A world of ecosystems will be a highly customer-centric model, where users can enjoy an end-to-end experience for a wide range of products and services through a single access gateway, without leaving the ecosystem.
Redistributing revenue across sectors within ecosystems could generate $1 trillion in total economic profit globally.
This makes APIs that link organizations and technologies within ecosystems a crucial capability, which takes us to our next and final trend.
Fueling business performance with APIs
Companies which take advantage of APIs are more productive, have higher revenue growth, and innovate more frequently than those who don't use APIs. Vala Afshar, Chief Digital Evangelist at Salesforce says:
the API economy unlocks countless new value chains, allowing businesses across nearly every industry to position themselves as platforms for collaboration.
APIs provide a lot of room for innovation and growth, provided that they are managed appropriately. Companies that have a product-like approach to APIs increase their chances of digital business success. Overall, the more advanced the API strategy, the better the business results.
How to lead a digital transformation?
At the beginning of this article, we shared with you the five stages of digital transformation maturity.
Let's now take a closer look at how you, as a business leader, can help your company develop a digital transformation strategy, where to start, and how to support your employees and organization each step of the way.
Elements of a Successful Digital Transformation Strategy
Know exactly where you want digital transformation to take your business
Before you decide on implementing changes at your company, make sure that they're rooted in a well-researched, thorough, long-term business strategy. Remember that digital transformation pertains to all business areas, so its goal shouldn't be improving a single process or department.
When you discuss your digital transformation strategy and its goals, make sure to address the following questions:
Where and how is your business siloed?
How much do processes and tools differ among departments?
Do all your team leaders understand the company mission, business goals, and how their team contributes to them?
What does communication between teams currently look like? How do teams make sure they're on the same page with their work and priorities?
What is the current information and documentation flow at your company?
How would introducing certain technologies impact all areas of your business (i.e. not just single departments)?
Given the current state of things, can you conduct digital transformation using internal resources only, or should you reach out to external digital transformation partners or new hires?
Base your decisions on insider knowledge
Although your current employees might not be experienced in implementing digital changes, they have the single most important asset – insider knowledge.
If you decide to engage an external contractor to help carry out your transformation, make sure that they have access to your team.
Making the right digital transformation decisions means asking a lot of questions and discussing hypotheses with those who've been with your company for a long time.
As noticed by Harvard Business Review, certain decisions made during digital transformation
fail to improve organizational productivity not because of fundamental flaws in the technology but because intimate insider knowledge has been overlooked.
Don't underestimate customer insights
Ask yourself – why have you decided on digital transformation in the first place?
Certainly, to boost your customers' engagement, improve their loyalty, and to create experiences that make a lasting impression in the competitive market.
In order to do that, you'll need to drive your decisions based on insights from your users. As mentioned earlier, you'll need to shift from a product-centered approach to a customer-driven model.
Depending on your business, you can collect insights from customers by running surveys through the app and/or website, run interviews, or conduct meetings with focus groups.
Now's the time to dig deep into your customer conversations, check your customer satisfaction scores, and derive information on any customer goals or pain points which transforming your business should fix.
Align the company culture
Ensuring that your employees have a full understanding of the goals of your transformation and actively participate in it is critical to succeeding.
You should commit to transparency and regular communication. Letting your team understand what, how, and why you're looking to implement can help nurture a culture of focused execution. Not to mention, they'll feel encouraged to contribute and share their insights!
For instance, when Adobe decided to shift to a subscription-based service business model in 2012, the leaders knew they needed to instate a sense of purpose across the entire team.
In order to achieve that, they decided to put their employees into their customers' shoes through a program called 'Experience-a-thon'.
Employees who already had an insider perspective were now able to incorporate a customer perspective into their mindset. As a result, the employees felt a stronger sense of purpose, understood customer goals, and have helped turn the transformation into a full-blown success.
As you can see, the benefits of keeping your employees informed extend well beyond HR and are crucial to your digital transformation success.
Embrace experimentation and rapid decision making
The most disruptive and digitally-enabled companies originated in Silicon Valley (e.g. Google, Salesforce, Apple). What do they all have in common and are famous for?
Agile decision making;
Fast prototyping;
Flat organizational structure.
All of these qualities are necessary for a successful digital transformation – decisions must be made and adjusted fast, and teams from various departments must get on board.
This explains why a traditional hierarchical structure could never work. The best solution is to create a flat organizational structure and separate it from the rest of the business.
Nourish a culture of change
Returning to your old habits and practices will be unavoidable if you don't make change part of your business mentality. The main goal is to build a culture of continuous innovation, willingness to change, and desire for improvement.
It's a good practice to ask employees to regularly share ideas for innovation – you can set up an innovation management platform or organize meetings where your peers can talk you through the solutions they came up with.
You can even go a step further and build an innovation team who will be responsible for gathering insights on quality improvement, brainstorming them, and selecting the best ones to take to the management team. That being said, let's look deeper into the essential roles you'll need during your transformation.
Essential digital transformation roles
As we've already proven in many parts of this article, digital transformation can be a gateway to incredible business success – provided that it's carried out properly.
In order to ensure a sound transition, many companies decide to hire new employees, transform current roles, or engage external partners to oversee the process and play the key roles in their transformation.
Let's take a look at the most important players:
Chief Digital Officer (CDO)
In the simplest terms, the role of a Chief Digital Officer is to oversee the digital transition of a business to ensure its growth in the future.
CDOs are hired to generate bold, creative ideas, back them up with data for internal buy-in from C-level executives, and to work alongside other departments to see the implementation through.
In their work, the CDO analyzes internal and external data from multiple sources. Starting from customer insights from client service, through user behavior from product and the IT department, to market trends and reports.
The ultimate metric of a CDO's success is when they can take a company from point A to point B and instill a digital mentality so strong within the organization that their services are no longer necessary.
After digital transformation is completed, CDOs are often moved to other C-level roles (which depends on the CDO's skills and company needs).
According to a McKinsey study, "less than one-third of all respondents say their organizations have engaged a chief digital officer (CDO) to support their transformations. But those that do are 1.6 times more likely than others to report a successful digital transformation."
Chief Innovation Officer (CIO)
Another C-level role often introduced during digital transformation is the Chief Innovation Officer, who works hand in hand with the CTO in the IT department.
Though often confused, CIOs and CDOs aren' the same – CIOs play a role at the intersection of business and technology, and most often have a strong IT background. Their role is to drive innovation through an understanding of both business goals and technological capabilities of software and infrastructure.
Technology-innovation managers
Technology-innovation managers are often hired to work alongside the CIO or CDO to remove any blockers, such as informational and technical gaps that are keeping departments from embracing a company-wide digital strategy.
Some companies that choose not to hire a CIO or CDO decide on hiring technology-innovation managers to work with operational and IT units.
Integrators
Another important role, integrators work at specific departments to ensure that new digital solutions are soundly implemented by each team.
As integrators provide ideas on how certain processes can be introduced, they are often hired from among candidates who have both business and technology experience (for example, people who have worked as IT Product Managers or Tech Leads).
They are a great asset to each department, as they can explain the technical and strategic importance of a process in simple terms to fellow team members.
These four roles are most often created from scratch when the company decides to enter the digital era. However, a sound digital transformation strategy requires that several other roles are either altered or strongly engaged in the process. These include:
C-level executives: As with other decisions of critical strategic importance, all C-level executives need to be on the same page and agree on company-level changes.
Senior IT employees: Tech leads and senior developers must all be onboarded to propose technical solutions that will leverage various data points and bridge previously-siloed departments.
Human resources professionals: long-term digital success requires a shift in hiring, with certain skills becoming more important than ever. New employees need to have a digital-first mindset, and relevant training needs to be offered to them upon onboarding. As reported by McKinsey, "27 percent of respondents report successful transformations when their companies set cross-functional or enterprise-wide hiring goals based on specific skill needs—nearly twice the share of respondents whose organizations do not".
Agencies specialized in digital transformation: oftentimes, the best decision a company can make is to hire an external digital transformation partner to guide them through the process. Such agencies have implemented hundreds of successful transformations, so engaging them gives your company access to invaluable insights and years of market experience.
Author: Karolina Przybysz-Smęda