4 Examples of Digital Transformation: Starbucks, Adobe, KW and More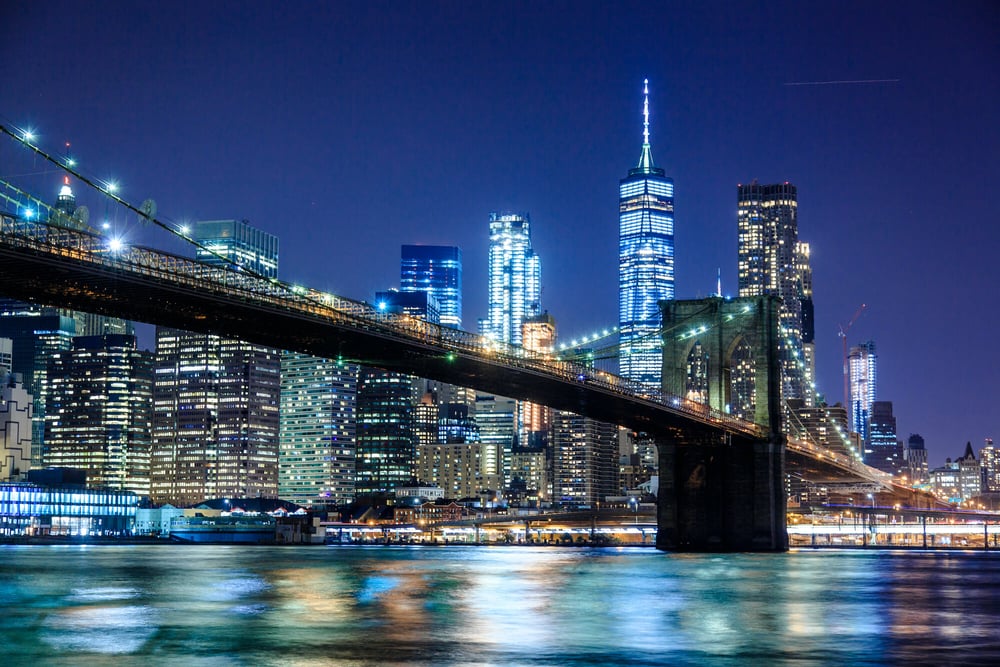 Every transformation a company can go through is hard, but digital transformation seems to be the most challenging.
According to McKinsey research, only 16% of digital transformation projects will yield sustainable positive results. Therefore it is crucial to understand what effective approaches have in common to increase your own chances to succeed. Let us show you 4 examples of digital transformations that fully realized their potential.
Adobe: technology-enabled business model reinvention
Photoshop, Lightroom, Premiere, Flash or Acrobat Reader - these are some of the most popular programs made by Adobe. For many years they were distributed in the traditional way. All over the world shops offered boxes with DVDs and license keys.
Things started to change rapidly in the early 2010s. Adobe announced Creative Cloud (CC) in October 2011 and moved its entire product base online in 2013. Creative Cloud offers a set of applications that gives subscribers access to a collection of their software, mobile applications, and cloud services. All of Adobe's programs are now available only from the cloud.
Just before the original launch of CC in 2013, Adobe had an install base of 12.8 million customers using different versions of the traditional Creative Suite tools. That base had been built up over a decade. At the end of 2017, Adobe had approximately 12 million subscribers to its CC services. A year later the number increased to around 15 million subscribers. New Creative Cloud products have achieved a similar number of users in just a few years. Their growth is steady and fast, which is very impressive.
For many photographers and graphic designers, the subscription-based model is a blessing. It's more affordable to pay 19 dollars a month than, for example, 1000 dollars upfront. From the business point of view, Adobe's bold and proactive move truly paid off. According to a recent report, in the fourth quarter of the fiscal year 2018, Adobe achieved record quarterly revenue of $2.46 billion. This represents 23 percent year-over-year growth. In the fiscal year 2018, Adobe achieved record annual revenue of $9.03 billion, which represents 24 percent year-over-year growth.
What's more, in the past many of Adobe's core product users didn't pay for the software. Their products were among the most frequently illegally copied software in the world. The problem was solved when all of their products were moved to the cloud and all their functionality started to be hosted and controlled online.
Starbucks: leveraging data to build consumer intimacy
Starbucks is well-known for its roasted coffee. But it's also a bright example of a successful, effective digital transformation. How is it possible to connect coffee and digital data?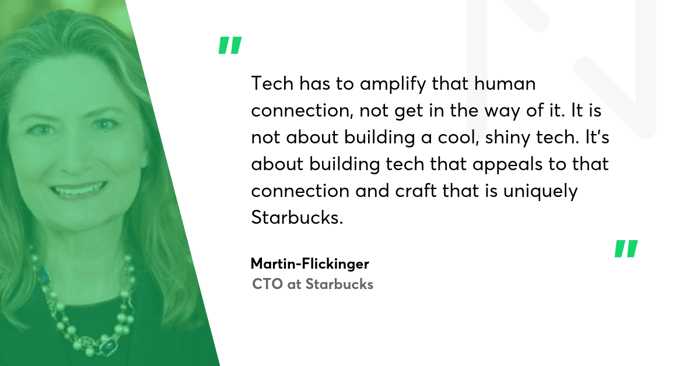 Starbucks' customers generate 90 million transactions a week in almost 25,000 stores worldwide. Over the last couple of years, Starbucks started to accumulate and analyze this huge amount of data. It is now incorporating predictive data analytics into their marketing and sales efforts as well as supply chain management.
"Starbucks is an experience. And it's centered around that customer connection in the store, the human connection, one person, one cup, one neighborhood at a time. I think that mission is so critical to how technology has to show up for us. Tech has to amplify that human connection, not get in the way of it. It is not about building cool, shiny tech. It's about building tech that appeals to that connection and craft that is uniquely Starbucks" - said Gerri Martin-Flickinger, Starbucks CTO.
The most important part of that process is a mobile application and the Starbucks Rewards program. The app allows for quick and easy payments. The loyalty program rewards users and offers some additional features like a store locator and music recommendations.
Starbucks' "Digital Flywheel" is focused on four pillars: rewards, personalization, payment, and order. It's a good example of a customer-first strategy. The app, together with a large loyalty program, addresses the basic customer needs: convenience and line avoidance.
The company has more than 14 million people signed up for its Starbucks Rewards loyalty program. In 2017, rewards represented 36% of sales in US-based company-operated stores and mobile payments made up 30 percent of all transactions. In comparison, only 5.5% of Apple users use Apple Pay.
Starbucks has enormous amounts of data about their clients. They can see what coffees their customers are ordering, how their taste changes depending on the weather or time of day and personalize their offerings accordingly. They can adjust their store assortment, manage inventory effectively, and optimize marketing materials. All of those capabilities help to increase sales and cut costs across all the company's departments.
Unilever: digital transformation becoming the core of the strategy
How is it possible that a behemoth like Unilever transformed itself? It has 2.5 billion daily customers, 161,000 employees, owns 400-plus household brands, and runs 300 production facilities operating across 190 different countries. Orchestrating digital transformation efforts required full dedication and placing digital technology at the heart of its business strategy.
Unilever's digital transformation journey started with a realization that consumers are becoming more and more digitized, moving their attention, presence, and communication into new channels. Unilever aimed at building a technology platform and data analytics infrastructure in order to connect directly with its consumers to build relationships and start a conversation. To do this effectively, the company needed to collect huge amounts of data - in 2019 it amassed 900 million individual consumer records, up from 200 million the year before. Then it leveraged machine learning technology to segment consumers based on their preferences and use programmatic, data-driven marketing to target them with a relevant message in digital channels.
Creating quality assets and maneuvering in the fragmented digital media space is a task that no human can accomplish, but luckily Unilever has algorithms that can do it. Over 700 processes were augmented with RPA (Robotic Process Automation) tools, reducing costs and freeing up people's time and energy to focus on activities that drive growth. In 2018, while the competition was increasing brand and marketing budgets, Unilever was able to generate savings in BMI of over €500 million by increasing effectiveness of marketing operations.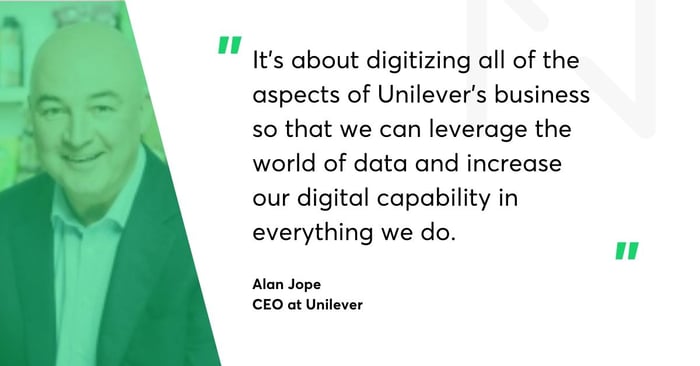 But digital transformation doesn't end here, each DT success uncovers new opportunities worth pursuing. Having data and predictive analytics capabilities, Unilever can increase the accuracy of demand estimations and plan its production. Manufacturing is transforming too - embedding sensors in every machine and building makes it possible to create digital representations of every process. This gives full visibility across all levels of plants. The collected data is mined for insights and patterns using advanced analytics and AI algorithms, which can precisely predict events like malfunctions, quality issues or production line slow-downs. Previously, operators were responding to 3,000 alerts a day on average . This put operators into constant reactive mode and slowed down production lines. Unilever was able to reduce the number of alerts requiring action by 90% per day, ensuring far fewer interruptions and more timely interventions.
Streamlining manufacturing and getting to know consumers can help bring products to market much faster. Unilever launched 10 new data-driven brands in 2018. Each launch was 40%-50% quicker than using old methods, bringing new products from the idea to the shelves in as little as 6 months .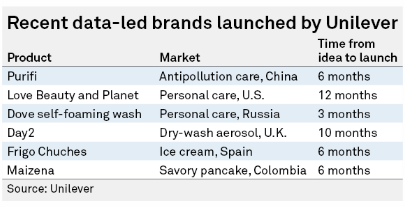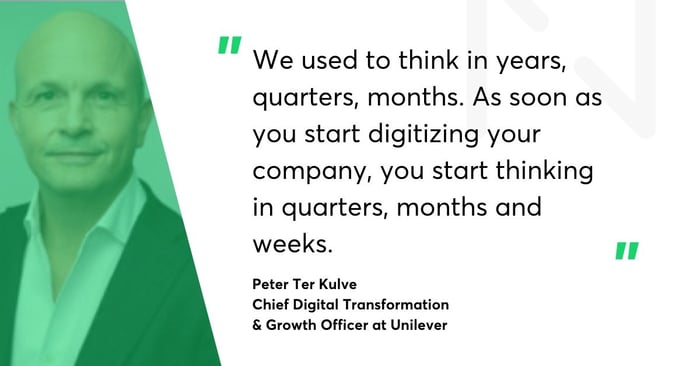 Keeping up the digital transformation initiatives running and succeeding also required a thorough cultural change for the company. Unilever learned from external companies, reaching a better understanding of the digital world and fostering relations through Unilever Ventures and Unilever Foundry - investing and partnering with startups, even implementing reverse mentoring programs to create a culture built on innovation through collaboration, and one that embraces disruption.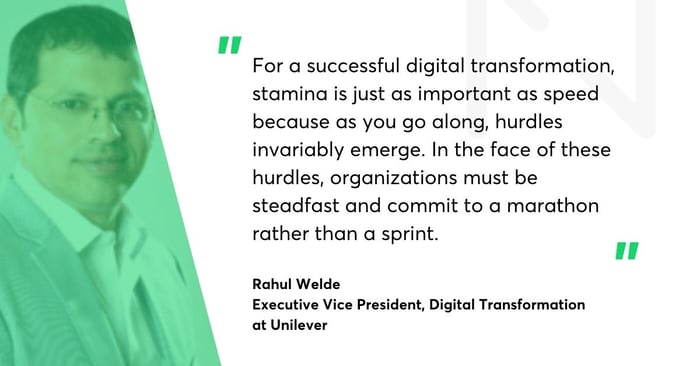 Keller Williams: the forefront of AI-driven revolution
Keller Williams (KW) is the world's largest real estate franchise ranked by agent count and no.1 in the USA in sales volume and units sold. The company operates on an impressive scale - it has a worldwide reach with over 940 offices, 180,000 agents, and millions of customers.
This would not be possible if KW leaders had not recognized the value of technology as a growth enabler. Their digital transformation journey started in 2015 when they decided to not depend on third-party solutions and build proprietary software on their own. In 2017 they launched KW Labs - an innovation hub dedicated to transforming KW into a technology company.
KW uses its vast collection of data to empower agents all around the world with several AI-powered apps e.g. a CRM system, a virtual assistant playing the role of Siri for real estate, or seemingly magical property search. These apps not only make it easier to manage deals and clients, but also help agents to do their best by providing hyper-local market analysis to better advise clients, suggesting right offer parameters, or estimating the probability of closing a deal. All this is made possible by mining 36 years of rich historical data and using best-in-class machine learning capabilities to produce actionable and relevant insights.
What is probably unique to KW's digital transformation is how its participants respond to it. Typically a company needs to face laggards and put in a lot of effort to make its employees change their ways, but Keller Williams is not a typical company. Agents are engaged early on in KW Labs pilots, providing feedback in the design and testing phases, ensuring that the final design of KW apps will be tailored to their needs. Tech-enabled agents respond very positively to KW apps because of two reasons:
Intuitive, modern design that offers a great experience by guiding users through complex operations with ease;
AI-powered insights are relevant and helpful, enabling agents to be more effective.
This digital transformation results in the continuous growth of Keller Williams at an unprecedented pace. It's breaking records of numbers of agents as well as units sold and enjoys stable 20+% y/y sales volume increase. All of this while receiving recognition as the World's Most Innovative Company in the real estate by Fast Company and one of the "happiest companies to work for" by Career Bliss.
Can I make digital transformation work for my business?
The International Data Corporation (IDC) estimates that more than half of all ICT spending will go toward digital transformation strategy in the next few years. Enterprises will be spending over $2 trillion by 2023.
Digital transformation affects every business in every industry. At Netguru, we understand that it can be a great opportunity for your business to grow, increase revenue, and cut costs. Drop us a message and let us show you how we can help your company.