Top 10 Digital Transformation Trends for 2021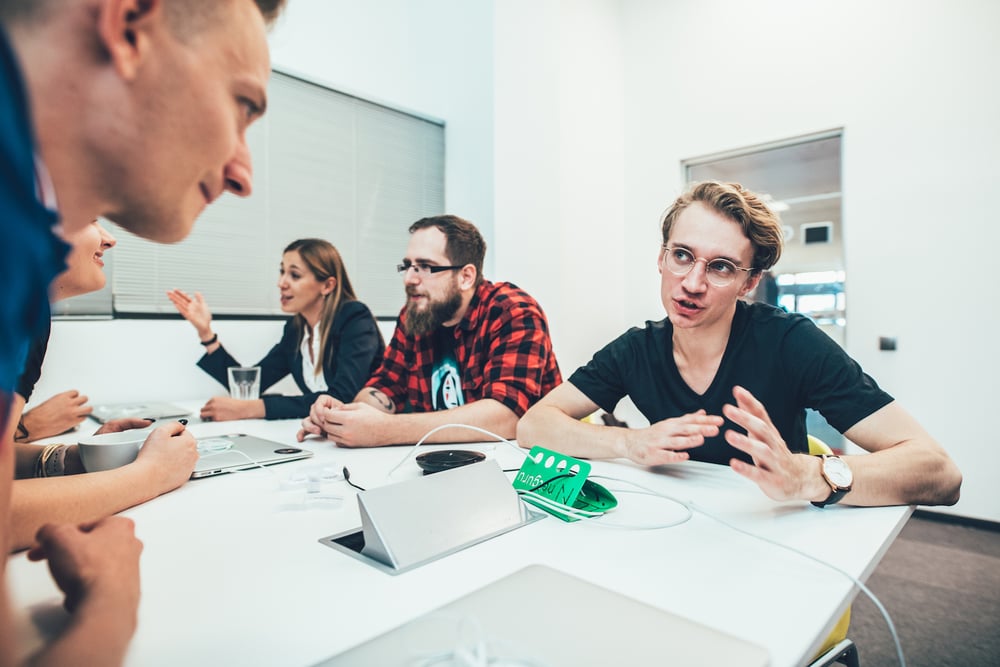 What is the future of digital transformation?
Typically, the answer starts with a list of the latest buzzwords and new technologies, but these are only means to making companies resilient and adaptive to the winds of the Digital Revolution.
Let's take a look at the business areas that will require digital transformation, and explore the direction of the necessary changes.
There are four main themes that will be at the center of digital transformation discussions among C-level executives in 2021: cost reduction, digital scale up, business growth, and organizational change.
Many different technologies and solutions will drive transformation in those areas, most notably machine learning and artificial intelligence, but instead, let's focus on benefits and threats making 2021 the right time to start digital transformation efforts.
Cost reduction
Saving money usually means limiting budgets, reducing resources, and hoping that the organization can deliver as good results as always but with less to spend.
Thankfully, there is a better way – leveraging digital technology helps to unlock the potential of your organization by tracing waste in processes, eliminating mundane activities, or giving people extra "digital senses" so that delivering good results takes less time and less effort, and costs less as a result.
1. Sustainability
There's a narrative increasingly seen as an urgency that business leaders would do well to heed. Perhaps the most visible spokesperson of this urgency in recent times is the 17-year old Swedish environmental activist Greta Thunberg, TIME magazine's Person of the Year 2019. But while Thunberg may be the most visible representative of the climate emergency, empowered customers are asking the same questions.
Typically, becoming environmentally responsible means investments, changes in the supply chain, reinventing products, increasing costly governance… but not in 2021.
Digital transformation merges with sustainability very well, often being mutually reinforcing. The Internet of Things (IoT), artificial intelligence (AI), and edge computing come together to bring down operational costs and reduce carbon footprint, emissions, and waste.
The first area of interest is energy efficiency. By placing smart sensors in appliances and running AI algorithms on the collected data, companies can automatically monitor and respond to wasting energy. Google used DeepMind AI to reduce the electricity bills in its data centers by 40%. HVAC (heating, ventilation, and air conditioning) systems are becoming very affordable and basically pay themselves off.
There's no need to invest in a huge infrastructure revamp, as IoT can be embedded into your existing machines and networks. There's no need for an expensive central monitoring system either. AI-driven edge computing capabilities will enable autonomous operations of each device, so it is possible to test small building blocks and connect them later on as easily as LEGO bricks.
The second area of interest is taking ownership of the product's whole life cycle, including the after-consumption part. Philips used IoT capabilities embedded in manufactured products and a big data analysis of secondary markets to understand how the cycle ends.
As a result, the company discovered opportunities to extend the life of expensive products, e.g. X-ray machines, by building a new business line of preventive maintenance services. Offering support and spare parts before products wear off enabled Philips to develop a trustful relationship with its customers that the company hadn't had before.
The circular economy also gets a boost with digital capabilities – for instance, this year P&G plans to use digital watermarks to make the recycling of its products easier and cheaper. This solution increases the attractiveness of their products to a rising base of environmentally aware consumers.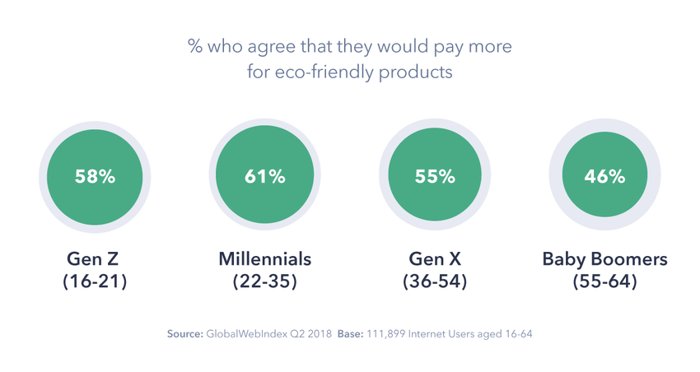 2. Automation
Automation is possibly the lowest hanging fruit for digital transformation – relieving people from mundane, repetitive work of keeping business processes running, and shifting their focus to business growth opportunities instead.
Robotic Process Automation (RPA) tools have been around for some years now, and the growth of this industry is not slowing down, according to Gartner. But this is just a fraction of the possible potential. So far, RPA has relied on scripts, specifying exactly what, when, and how to do. By adding AI capabilities we can extend what RPA can do for us, by giving it the ability to learn and adapt, better handle exceptions, and "see" the physical world.
Imagine algorithms scanning different documents and invoices you receive, correctly recognizing relevant information, and entering it to appropriate systems without any human assistance. While data collection constitutes 17% of total time in all US occupations, McKinsey suggests that businesses can automate 64% of their data collection processes. By automation, businesses will reduce the amount of required manual data entry, save time for their organizational processes by collecting required data faster, and thus cut their costs.
The possible benefits do not end here. Once you had data in the system, a human employee was needed to process it and make some decisions. Not anymore, as data processing is another frontier of AI-enabled automation. This report by EY states that automated data processing can support 65% of HR tasks. These tasks include assessing and creating newcomer data, CV screening, data cleansing, payroll processing, etc. With automation, HR can remove process delays and reduce costs by 65% compared to an offshore-based FTE in the Shared Service Center.
Finally, imagine systems that can recognize physical objects and respond to their behavior by sending alerts or triggering automatically executed actions adequate to the situation they witness. Companies like Samsung, Microsoft, or Uber are using Knightscope K5 robots for securing large outdoor spaces. These are outdoor machines that run 24/7 on their own, including autonomously recharging without any human intervention.
3. Digital twins
By using sensors embedded in physical objects to collect ubiquitous data, which is automatically processed and visualized, we can create digital representations of real-world objects – digital twins. They are built on the concept that virtual asset models coexist and are connected to real assets. Nowadays, this helps enormously in reducing costs in supply chain management and manufacturing.
One of the companies leveraging digital twins already is Unilever. Its factories' machines and equipment send various kinds of data – everything from temperatures to production cycle times – into the model. This creates a representation of every machine and process, offering visibility across all levels of the plant.
The collected data is mined for insights and patterns using advanced analytics and machine learning algorithms, which can predict outcomes based on historical data to control part of a machine or process directly and prevent malfunctions, downtimes, and quality errors. This allows operators to make better-informed decisions and frees them up from repetitive manual tasks to let them focus on more value-added functions.
In 2021, this approach will propagate to other parts of the business world. All processes can be digitized to reveal hidden problems and fix them to improve efficiency. If we have a data log of how the process works, we can apply machine learning algorithms to optimize it.
This approach is called process mining and, according to Harvard Business Review, it must not be foregone by large companies, as its benefits are too great to ignore. Eighty-two percent of professionals using this approach assure that processes with machine learning help to find solutions to unseen problems.
The Gartner report predicts:

"Benefits will include asset optimization, competitive differentiation and improved user experience in nearly all industries. By 2021, half of the large industrial companies will use digital twins, resulting in those organizations gaining a 10% improvement in effectiveness."
Digital scale up
Currently, the average number of applications used in a large organization is getting close to 900, with at least 5 cloud services vendors, a growing number of SaaS products, and only a fraction of them able to pass information effectively – many of those still interface via "export to Excel".
In 2021, companies will need to figure out how to prepare their infrastructure to handle efficiently even more apps, more devices, and more data than they ever anticipated.
4. Abundant connectivity
There are two breakthrough technologies that will hit the road in 2021: WiFi 6 and 5G mobile networks. The sixth generation of Wi-Fi, also known as 802.11ax, provides more speed, lower latency, and increased device density.
The fifth generation of cellular technology is engineered to increase the speed and capacity of wireless networks. It simply means we will be able to transfer vastly more data and connect more devices to our networks. Internally, this will be a great enabler of the development of IoT capabilities in the supply chain, healthcare, energy, and urban planning. Externally, it will put broadband Internet access into the pockets of consumers, providing enhanced mobile experience.
Ubiquitous connectivity will open new possibilities for businesses in all industries. Capturing data from networks will be faster and cheaper, making edge computing a reality. Not only data collection but also processing will be able to happen at the peripheries, without the need for centralizing operations.
Consumers will enjoy broad data connections, limiting the need to cache data on their devices, which might have a significant impact on applications using Augmented Reality (AR). Currently, AI models driving those experiences are large and hard to update frequently as downloading them might take more time than the typical single usage of the app – with 5G, it will take seconds at most.
As those technologies are planned to be rolled out this year, there are no examples of their practical application yet. However, those who will realize their potential first are bound to get a business advantage.
5. API-based integration platforms
Regardless of who your favorite cloud services provider is, multi-cloud strategy is the way to go for businesses that want to balance cost efficiency, versatility of operations, and security. Add to this multiple enterprise mobile apps, SaaS products, partners' and suppliers' software and you get a pretty messy picture.
According to a study by MuleSoft, only 29% of those systems can connect with each other and seamlessly interface their data. This is one of the biggest show stoppers for leveraging the full potential of analytics, machine learning, and artificial intelligence solutions.
All of them can be only as good as the data they use, and as long as employees connect them via manual processes prone to human errors, there will be no significant ROI of enterprise AI. The most promising solution to this problem is the utilization of Application Programming Interface (API) exposing application's "connectors" that other systems might use to exchange data.
The trailblazer of this approach was Amazon's CEO, Jeff Bezos, who wrote famous Bezos Mandate basically ordering every team to write their API and share its documentation with every other team at Amazon or be fired.
It's hard to argue that this bold movement laid the foundation for the future integration of Amazon's services leading to frictionless user experience and unlocking the impressive power of Amazon's data analytics. Luckily, companies do not need to undertake a huge internal effort today as Amazon did in the past. Instead, they can use EiPaaS (Enterprise integration Platform as a Service) – tools that Gartner expects to become the norm for most midsize and large organizations.
Taking into account the exponential growth of data and number of devices resulting from abundant connectivity, it's hard to argue with Gartner's prediction.
Using API-based integration might not be a choice but a matter of survival. In 2021, the decision to start such a digital transformation project will be easy, though. The Forrester's research of integration platform implementation in companies across different industries (healthcare, insurance, CPG, and finance) shows an average ROI of 445% over 3 years.
Business growth
It's been a long time since digital transformation broke away from the confines of IT departments – now it spreads throughout all business areas. It promises not only to increase productivity and cut costs but also create new ways to fuel top-line growth – new marketing and sales channels, new business models, new business opportunities. Let's see where the first movers can gain the biggest advantage in 2021.
6. Getting closer to consumers
A traditional way of selling products through a chain of intermediaries – wholesalers, distributors, retailers – is not going away anytime soon, but it surely can't remain the only way for manufacturers of CPG products.
Getting closer to consumers and eliminating middlemen has never been easier and more attractive. There are too many benefits to ignore this channel – taking greater control over the brand, reputation, marketing, and sales tactics, as well as the ability to directly engage with consumers, collect data, and learn from them.
Amazon has been a great platform to sell products and reach broad audiences, the company also took care of logistics, returns, and customer service providing the best in class experience.
However, many brands strived to regain full control by leaving Amazon and taking advantage of going direct to consumer (D2C) in recent years, since it offsets the burden of additional processes (which can be streamlined with the use of digital technologies).
Nike had the most famous Amazon exit and it served the brand well, similarly to Rolex, Louis Vuitton, North Face, or Allbirds. Brands establish their own digital channels because this investment has a positive return – getting more data and providing more personalized experience results in higher sales volume, higher margins, as well as stronger relationships with consumers.
Male grooming products are a prominent example of this trend. Dollar Shave Club took the US market by storm, reducing the product retail price by the traditional cut that goes to distribution and retailers' margins.
The company's rapid growth and effectiveness of the D2C subscription channel left incumbents off guard. Gillette tried to catch up by introducing Gillette Shave Club but could not compete with DSC without cannibalizing its traditional offering. The D2C channel has proved to be a competitive advantage and gained a significant market share for Dollar Shave Club. As a result, Unilever took this opportunity and acquired Dollar Shave Club for $1 billion.
Procter & Gamble is using D2C effectively for a different purpose: going to the market faster. Speed is another skill that companies need to master in the Digital Age. P&G leveraged crowdfunding to get traction for its newest bold innovation in razor products: a heated razor. This way, P&G is able to sell the first batch of products, build strong relationships with consumers, get engaged testers, and act on their feedback before the final product hits the market.
Experts agree that D2C is here to stay. Companies do not need to go full in but they surely must consider diversifying their sales strategy. The digital transformation of their operations, marketing, and sales is a great chance to build a closer connection with consumers – according to Deloitte, going digital means going direct.
7. Digitized experience
The new possibilities of reimagining consumer and employee experience emerge from the ever-growing connectivity, technological breakthroughs in machine learning, and edge computing hardware advancement. Such industries as retail, hospitality, and healthcare will be revolutionized by providing digitized user interfaces (conversational, gesture, augmented reality) and using sensors to collect data about the user context in order to personalize services.
Blending digital technologies into the user experience in an effective and value-adding way requires a detailed understanding of customer journey, awareness of all the touchpoints, and reinventing how different channels work together. Many organizations already benefit from having cross-functional workshops to define digital experience to fuel their growth and social impact.
One of the most exciting trends in building a unique experience is Augmented Reality (AR). Augmented brand experiences and interactive consumer products provide a great entryway for companies and their customers to forge new relationships immersed in the brand story.
It also drives revenue opportunities for manufacturers like Fujitsu by providing a way to demo products without their physical creation. American Apparel, Uniqlo, and Lacoste have deployed showrooms and fitting rooms that provide try-before-you-buy options in augmented reality spaces. Smart mirror technologies that scan RFID tags also offer the ability to bring recommendations to the brick-and-mortar shopping experience by suggesting complementary clothes and appliances to whatever consumers are trying out.
Operations of mission-critical environments will be another area of quick AR adoption. Hospitals invest in AR to make their staff more effective. Surgeons – both in the theater and in training – use AR solutions to alert them to risks or hazards, while nurses use it to find patients' veins and avoid accidentally sticking needles where they aren't wanted. Volvo Group is equipping its quality assurance operatorswith virtual work instructions on inspection lines for flexibility, agility, and quality. AR will become a critical workforce technology within industrial processes, connecting humans to the physical environments they work in and driving critical operating KPIs for their organizations.
8. Proliferation of AI
Artificial Intelligence and machine learning have already found their niches in the enterprise, mostly in the specialized areas of big data analytics, consumer engagement (as we all know from the way Spotify and Netflix are guessing our unspoken preferences), fraud detection, and decision support in healthcare.
In 2021, AI will outgrow those niches and find its way to various business areas. Its proliferation will be driven by Software as a Service (SaaS) products, which are so easy to configure and operate that they are often brought into the organization without the governance of the IT department. Amazon AWS provides a number of ML services that just need access to data to "magically" produce an analysis of text, image, and voice, recommendations, or forecasting models.
According to Accenture's research, 88% of companies that use machine learning technologies for automation have improved their processes efficiency and main KPIs by over 200%. However, automation is just the beginning and the economy of pursuing the utilization of the full potential of AI is very tempting.
Companies can grow their KPIs by even more than 1000% by embedding AI in all three areas: processes, technology, and people. Accenture shows that currently only 9% of companies are joining this race, so the size of the prize is impressive and organizations that start those transformations will be able to hugely outperform the laggards.
When discussing previous trends, we have already presented opportunities for process automation, using AI-powered analytics to manage resources and make sense of overwhelming amounts of data. But this is only the tip of the iceberg of ML/AI applications.
In marketing, machine learning will enable hyper-personalization and optimize pricing and ad placement (both physical and digital). In sales, it will estimate the chances and value of deals, making sure sales reps are pursuing the right leads and help them make decisions to close deals. In analytics, image and voice recognition will add additional layers of data, which previously couldn't be processed.
Operations in such industries as finance and insurance will rely mostly on algorithms and automation, freeing up people's productivity. IDC predicts that AI-powered organizations will respond to competitors, consumers, regulators, and partners at least 20% faster than their peers.
Data is the oil of the digital transformation and major players in every industry understand that harnessing their data is the key to their future prosperity. There is a massive consolidation on the market for analytics tools – from Salesforce acquiring Tableau to all tech giants providing their own analytics platforms. There is simply far too much valuable customer data to be collected, processed, and turned into insights for any company to remain competitive without making full use of modern analytics tools leveraging machine learning technologies.
Organizational change
A common misconception about digital transformation is that at its center lies technology, while in fact, you can't digitally elevate your organization without transforming the people first. To successfully guide a company through transformation, leaders have to shift the mindsets of their employees, change their behaviors, and equip them with skills that will enable them to harness technology and thrive in the digital age.
9. Security and governance
One of the pivotal moments of 2016 was the US presidential election. It triggered discussions about cyberterrorism, the security of personal emails, manipulations on social media, and the ability to identify and take down fake news. With the 2021 US presidential election looming before us, we can see that those issues are still far away from being solved and humans are the weakest link of any technological solution used to protect organization assets.
With the growing numbers of systems and devices, and the increasing complexity of IT infrastructure, the risk of potential vulnerability grows as well. Relying on vendors and partners, even the best-in-class services, cannot be the only solution. In October 2019, Amazon Web Services (AWS) suffered a major DDoS attack (roughly eight hours long), disabling a large part of the Internet.
Companies need to have strong governance practices and disaster recovery plans in place, so that they keep their operations running even when some parts of the infrastructure become compromised. Resilience might be the crucial aspect of security practices and employees need to be trained on how to recover after the attacks or proceed with their work even when some tools fail.
If resilience is the key aspect for employees, trust will be its equivalent for consumers. After implementing GDPR, governments are planning further regulations that companies must comply with. Consumers are increasingly aware of the risks that sharing their personal information entails, so companies will have to build trust with their consumers to get access to the most valuable data they need. This trust can be lost quickly upon a data breach, and those happen even to most advanced tech giants. Implementing advanced digital cybersecurity and monitoring systems is obligatory and here AI also comes to help with detection and prevention. However, organizational change is still required to build awareness and responsibility of each employee and hone their digital skills, so that they feel confident while navigating the Internet both professionally and personally.
10. Culture
The defining event of early 2021 is no doubt the COVID-19 disease outbreak. It has already been named the black swan of 2021 (as popularized by Nassim Nicholas Taleb – a highly unpredictable outlier event that has an extreme impact) and its negative influence over our daily lives, as well as business operations, is growing, touching new people and new companies each day.
The first outcome of this epidemic was an effort to reduce the possible spreading of the disease and minimize personal touchpoints. As a result, we are in the midst of the largest work-from-home experiment in history.
Digitally transformed companies usually have the tools to support their operations in a remote setting – from video conferencing software and running services in the cloud, to digital twins of their processes and using remote as a service to equip their employees in tools they need to work from home.
But tools and procedures are not enough to succeed – working effectively in a distributed team requires a specific type of culture, having a sense of purpose, autonomy, and trust that organizations can't buy. If their culture lacks those foundations, no technology will help them survive this storm.
Black swans often reveal how strong a company's culture is. Speed and adaptability are crucial aspects of overcoming adverse conditions and getting through a crisis successfully. How fast is an organization's top-down communication (that will align the necessary strategy shift), how effective is its bottom-up communication (that will provide feedback if the new strategy really works better), and how coordinated is the execution, will often determine who is the fittest to survive.
Applying Darwin's theory to business yields "winning companies are not the ones with the strongest strategy, but those with a strong culture that enables them to adapt to change their strategy at speed".
Digital transformation is a training ground for strengthening the culture. The main advantage of digital technology is that it makes it possible to do more with less, go faster, shorten delivery cycles, and time-to-market.
However, not all companies can use their potential, because their culture is full of procedural and psychological speed bumps.
Without investing in organizational change that empowers employees to act autonomously and take ownership of the decision making process at all levels, there is no successful digital transformation. In 2021, leaders must accept that unless they build a culture where control is transferred from them to the whole organization, they will neither be able thrive amid coronavirus threat nor to fully leverage digital transformation benefits.
"If everything seems under control, you're just not going fast enough."
- Mario Andretti
The Wrap Up
Some of the digital transformation trends will start in 2021. Others have already started, and they will develop even further in the coming year. Altogether, they will continue to change how we do business in every industry – most of them will involve enterprise mobile app development.
If you want to stay on top of the changes, check out more articles on our blog and send us a message. We will help you to start a digital transformation journey in line with the most promising trends.