Netguru's Core Values and Their Impact, According to the Team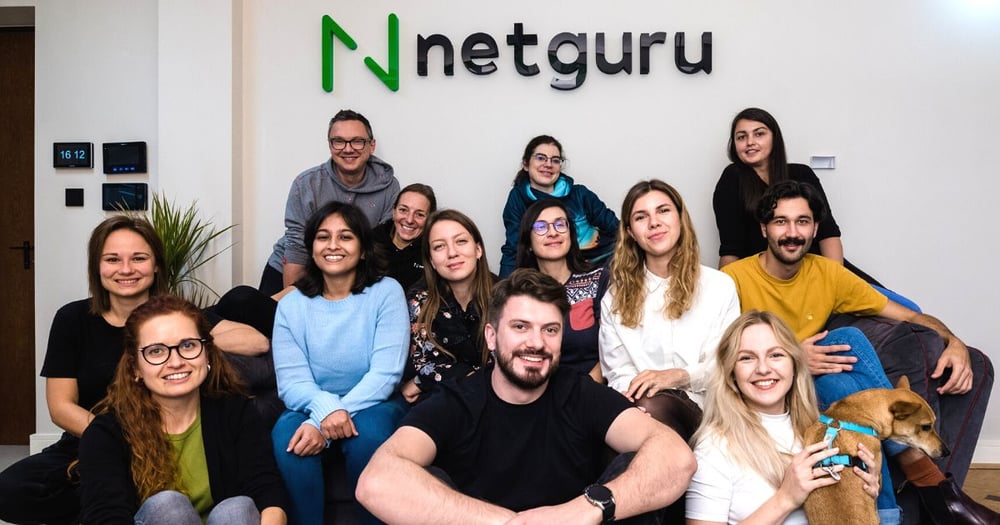 Netguru's core values evolved with us as the company grew and we learned from our experiences.
They sum up what we want to achieve, and they might change in the future, as we aim higher and higher. We think of them as important to our culture and individual sense of accomplishment.
They go as follows:
Exceed clients' and colleagues' expectations
Take ownership and question the status quo in a constructive manner
Be brave, curious and experiment. Learn from all successes and failures
Act in a way that makes all of us proud
Build an inclusive, transparent and socially responsible culture
Be ambitious, grow yourself and the people around you
Recognize excellence and engagement
Simple, right? And yet it took us years to arrive at this point. Developing a healthy company culture is no small feat – and neither is keeping it alive. I've spoken to Netguru's team to find out what their opinion of our values is and how they influence their everyday work.
Which of Netguru's values is the most important?
Interestingly, respondents did not forget about a single value from the list in their answers. These are the results of the Netguru core values popularity poll:
33% - 3. Be brave, curious and experiment. Learn from all successes and failure
20% - 6. Be ambitious, grow yourself and people around you
13% - 2. Take ownership and question status quo in a constructive manner
13% - All of them
7% - 5. Build inclusive, transparent and socially responsible culture
7% - 4. Act in a way that makes all of us proud
7%

- 1.

Exceed clients' and colleagues' expectations
Do they affect our work?
The answer to this question is a resounding YES. Everyone we asked agreed that the values we set for ourselves as a company have a real impact on all employees.
Maciej, Cyber Security Lead at Netguru, notes that they inspire us to make things even better through new processes and improvements. They empower the team to challenge the status quo.
This allows me to shape the environment around me – change things that are not right, improve processes, and learn new things through experimentation.

Maciej Markiewicz

Cyber Security Lead

Maciej Markiewicz

Cyber Security Lead
It's not about always maintaining perfect alignment with our values. People aren't perfect, and Netguru is a company that allows its team to try new things, experiment, and fail.
Yes, sometimes I fail, but I see every failure as a possibility to learn. It is a constant improvement process. Each day I'm getting better, and I have a strong support team which encourages me to keep on fighting.


Zuzanna Wiler

Project Management Lead
This attitude helps us be brave and confident when we try something new, like using a new library for a project, or giving a suggestion to a client. Another benefit of holding on to these values is that they make us feel more responsible. We approach our work with a more critical outlook, and we don't settle for just any results.
These little guidelines are a comfort and a guiding light to all of us. We get to learn new things, expand our perspectives and focus on personal growth, because the company supports us.
Why are our values so important?
According to the team, our values have a huge impact on the company culture and the way Netguru has been changing over the years. "I've worked here for 4.5 years, and I'm still developing professionally at a good pace," says Robert Kuśmirek, Netguru's Senior Ruby on Rails Developer, Team Leader. The work is challenging and fun, and every team member is full of passion for what they do. We're allowed to be brave and curious, to experiment and make mistakes. We can learn from both successes and failures, because we don't play the blame game and we don't allow fear to sneak into our everyday reality at work.
Working in an including environment and knowing that there's no place for any kind of discrimination in my workplace makes all the difference. It makes me feel good and safe on an everyday basis.


Marta Grzesiak

Senior Quality Assurance Specialist
Transparency is hugely important as well. You'll find plenty of mentions of Netguru's transparent approach to our work with clients, but we apply the same principles to ourselves. Communication is something we value immensely. Everyone can be involved in making important decisions for the company, like choosing the new office or changing the flow of requesting paid leave. "It makes me feel that I'm an important part of the team and that my voice matters," says Marta.
You can't build a great, valuable business without an amazing team. For a company to develop well, everyone needs to learn constantly and share their knowledge (and not just inside the organization). "A company is worth as much as the amount of knowledge and skills its employees have," says one of the respondents. For some, Netguru's core values are like a safety net for when they want to take a risk and experiment. For others, they are a measure of how good of a teammate or specialist they are. Everyone we've talked to agrees that the rules serve the team rather than the other way around. This creates a truly positive working environment.
Teamwork and good will go a long way, too. We're growing very quickly, and there's a lot on everyone's plates. We can't always introduce processes for everything, or police all that goes on in the company. As Adam Nowak, our Engineering Manager, puts it, "we need to start with ourselves. If I see something is not the way I would like it to be, I feel obligated to raise awareness about it. Or even better: I take it upon myself to make it better for everyone else!"
A company culture that accepts mistakes as natural (as long as they are used as learning opportunities) is an ideal environment for growth. Every team member knows what they can expect from the company, and that the values we uphold lead all of us towards professional and personal growth.
I can't imagine working in a company where you can't admit you've made a mistake. It would affect transparency, personal growth and overall honesty. Sometimes you fall, but you have the power to get back up and correct your mistakes. A chance to do so makes us learn from them and improve constantly. Only by providing an atmosphere where people are not condemned, judged and brought down, you can be sure that people will truly spread their wings.


Zuzanna Wiler

Project Management Lead
At Netguru, cultivating a culture that celebrates mistakes is an investment. We understand that people with potential need room to grow - not only vertically, but also horizontally. We've had cases of people climbing up their career path with amazing speed, and cases of complete career shifts that brought value to the individuals involved and the company as a whole. Nothing needs to be written in stone.
Many of our team members say that Netguru's values are similar to those of their own. This can perhaps be taken as a sign that our company culture attracts like-minded people, who want to develop themselves and make things better for everyone else, to make mistakes and explore opportunities. People who value communication and transparency, and who push themselves hard, but also expect the best from everyone else. An atmosphere like that is almost impossible to manufacture, and we consider ourselves extremely lucky for the fact that we've managed to maintain it throughout Netguru's history.
Part of the secret behind this success is the trust we have for each other. "I've been working here for more than 2 years and never felt that someone was trying to control me," says Marta. We feel safe communicating with each other, stepping out of our comfort zones, testing new ideas and failing. We also try to build the awareness that we welcome active cooperation from everyone when we make company-wide decisions.
Recognizing engagement is very important so that people feel appreciated and want to do even more and do even better. It builds a positive relationship between the employer and the employee.


Marta Grzesiak

Senior Quality Assurance Specialist
We respect the values of individual employees and incorporate them into our everyday reality. Netguru's team members speak different languages, have varying beliefs and orientations. Every company outing that involves food has options for vegans, vegetarians, and people with other known preferences. We're ready to invest in causes the team believes in, such as taking care of the environment or general social responsibility. Most of all, we recognize the value in each other. Maciej sums it up perfectly: "be ambitious. Grow yourself and the people around you - because it will encourage people like me to act and improve things around me, which might involve you in turn."