What Is Click and Collect and How It Can Help Your Retail Strategy
Order fulfilment and retail strategy are essential parts of any major or even minor retail outlet. Click and collect is a delivery experience that gives customers control over when and where they collect their packages from.
Especially for ecommerce businesses, delivery makes up a huge part of this experience and, often, uncertain delivery times or out of the way locations make customers reluctant to shop with new brands.
The adoption of click and collect by many major retailers as well as the creation of drop boxes in convenient places has made awkward delivery locations a thing of the past, allowing customers to try out new brands and retailers without having to worry about their courier service.
What is click and collect?
Click and collect is a service where customers can order items whilst shopping online and have the option of picking up those items elsewhere if they don't want the item delivered directly to their home. There are two major types of click and collect.
In-store click and collect services
In-store click and collect is exactly what it sounds like – a customer orders an item online, that item is then held for them at a click and collect counter in the physical store location in preparation for pickup by the customer.
Third-party click and collect
Third-party click and collect is a service where the item from the online store is delivered from the retail store to a different location, but not directly to the home of the customer. Instead, the item is placed at a secure collection point run by a third party, like an affiliated store or specialized mail drop-box.
Perhaps one of the most well-known examples of these secure drop-boxes are the large, orange Amazon click and collect points that are often found in shopping centers and central supermarkets.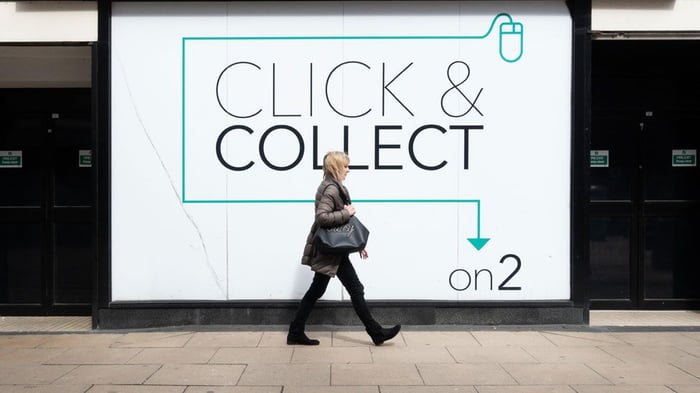 Many customers enjoy the convenience of click and collect service, as they can control when and where they pick up their orders. Image source: BBC.
The benefits of click and collect
There are many benefits to offering click and collect to your customers. The service allows retail outlets to maintain delivery control, improving the post-purchase customer experience. As mentioned earlier, customers who may live in a remote location that's difficult to find for couriers will have no worries about ordering your products, since they can order it to the nearest click and collect point.
Additionally, if a customer feels particularly vulnerable or doesn't want their name attached to their address on a package, their home location can remain anonymous whilst still allowing them to enjoy a delivery service.
Click and collect locations also work both ways, meaning that customers who want to return items can leave their packages at the nearest click and collect point for couriers to pick up rather than at an inconvenient post-box or post office. Click and collect, especially in-store click and collect, also reduces the cost for retailers by removing the need to hire third-party services.
Opportunities for cross-sale and upsell
Providing customers with a click and collect option gives your business a digital edge and an opportunity for cross sales. If a customer decides to use click and collect to pick the item up from one of your retail locations, you will be able to offer additional items to the customer through attractive displays or even further product recommendations based on their purchase.
Another reason that customers often use click and collect services is to eliminate the often-substantial shipping costs. In fact, in a survey conducted by Retail Customer Experience in 2018, almost half of the respondents said that they used click and collect to avoid shipping charges.
Having customers physically come into outlets to pick up their items allows companies to maintain direct control over the purchase lifecycle and customer experience.
How retailers approach click and collect: Zabka case study
Zabka, one of the largest Polish retail chains, offers a dedicated click and collect option as part of their retail strategy. When ordering on the Zabka mobile app, customers can choose a click and collect option. It guarantees that delivered products will arrive with a long shelf life and securely packaged to avoid the possibility of tampering.
Click and collect also helps minimize contact between people during the COVID-19 pandemic when protecting the elderly and vulnerable is crucial. Order and collect allowed people to reduce social contact and keep themselves safe.
Zabka's click and collect services allow customers to make quick and secure shopping. Image source: Zabka.
One of the other reasons that Zabka exemplifies the use of click and collect is their rapid fulfilment time. Once a customer has ordered their click and collect products, their items will be available for them to pick up a mere 15 minutes after the order has been placed, about the time it would take the average shopper to walk to the store.
Additionally, elderly shoppers and consumers with disabilities no longer have to worry about having to pack and carry their own bags.
Improving the customer experience through click-and-collect
Although for some shoppers click and collect may be seen as a gimmick or something to use only in very specific situations, the service provides a more convenient alternative to regular shipment methods. Whether it's helping the elderly or disadvantaged by removing the need to carry their own bags, or providing a secure way to receive packages for those living in awkward areas, click and collect is an essential feature offered by more and more retailers.
Click and collect can help to diversify retail strategy by giving customers greater control of their delivery, improving customer post-purchase experiences and taking the last stage of the purchase cycle out of the hands of third parties.