Top 6 Virtual Try-On Examples which Enhance Personal Shopping Experience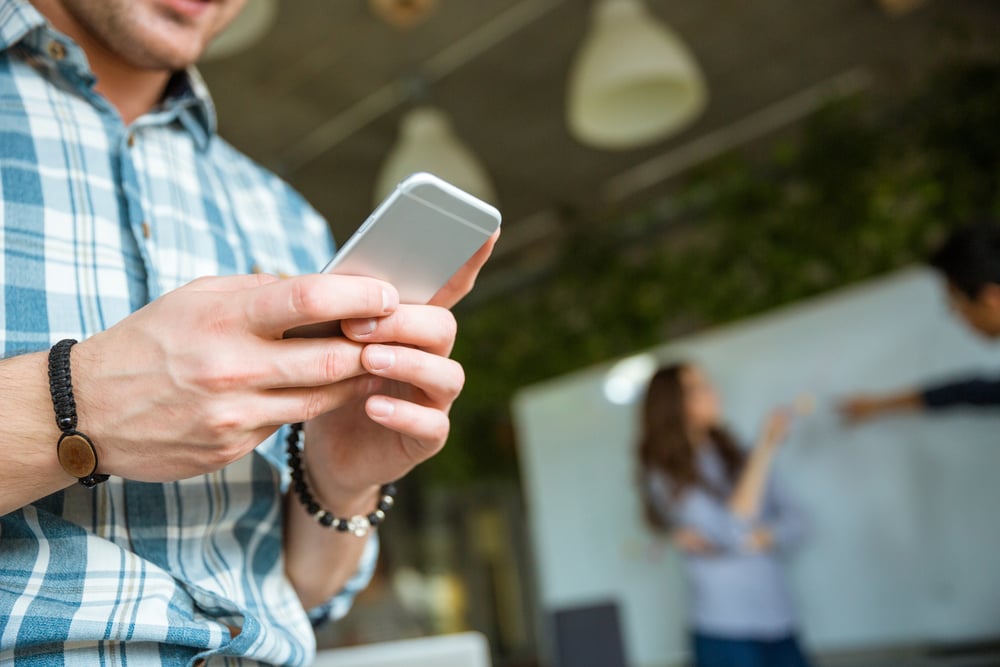 Online shopping puts millions of products at consumers' fingertips. However, there's a risk of receiving items that don't fit or look as stylish as they had imagined.
According to Snap's Global Product Marketing Lead, businesses lose up to $550 billion annually to customers returning items, and 70% of customers find it difficult to get clothes that fit. Mckinsey discovered that poor fit or style accounts for 70% of returned fashion items.
On the other hand, offline shoppers can try on items before buying, resulting in higher confidence in their purchases. Thanks to augmented reality (AR) and machine learning (ML) technologies, it is now possible for online shoppers to check how clothes fit.
What is virtual try-on?
Virtual try-on technology allows customers to virtually try on clothes, makeup, and other products before they buy them. The technology replicates the in-store fitting experience using augmented reality and machine learning or AI.
By virtually previewing products, shoppers gain a clearer understanding of their appearance, which helps them make more informed decisions and reduce potential regrets. Additionally, this interactive approach makes shopping more enjoyable, leading to the discovery of new products that may have otherwise gone unnoticed.
Benefits of virtual try-on
Improved customer satisfaction: By enabling customers to visualize how items will appear on them, virtual try-ons help build confidence. This assurance in their purchasing decisions contributes to a more satisfying shopping experience.
Reduced return rates: Shoppers can now see how a product would look on them without physically trying it on, making it easier to select the right size, color, and style. This, in turn, helps to make more informed purchasing decisions, reducing the likelihood of returns.
Increased sales and conversions: As customers feel reassured about their choices, they are more likely to complete transactions, ultimately boosting a business's growth.
Enhanced brand loyalty: By providing personalized, interactive product exploration, businesses differentiate themselves from competitors and establish strong customer connections.
Sustainable and cost-effective: By reducing return rates and encouraging conscious consumer behavior, virtual try-ons help retailers to reduce operational costs.
6 virtual try-on examples:
1. Warby Parker:

Warby Parker is a pioneer in using virtual try-on for eyewear, where customers can use the Warby Parker app to virtually try on different frames before buying. The website allows to check five frames and includes free return shipping. The app uses computer vision to analyze face shape and skin tone to create a personalized fit recommendation.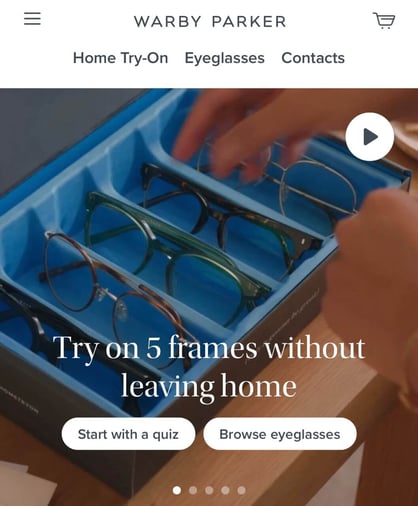 2. Sephora's Virtual Artist: Sephora's Virtual Artist is a makeup try-on app that allows customers to try different makeup products virtually. Users can do a complete makeover using other products and share them with friends. The app uses facial recognition technology to analyze face shape and skin tone to create a personalized makeup look.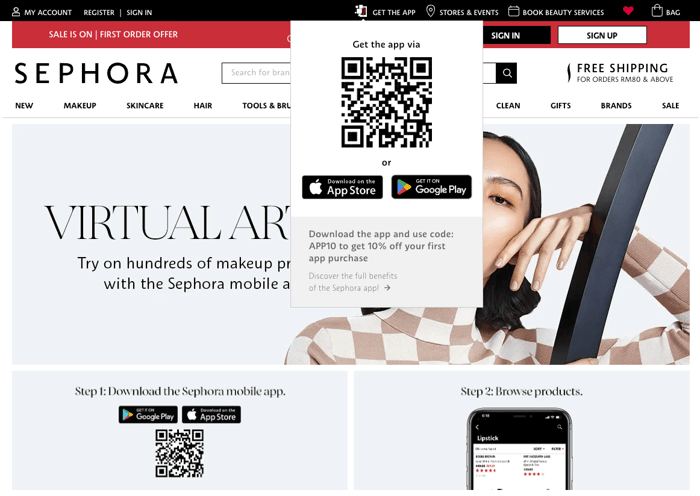 3. Nike Fit: Nike Fit was embedded in the Nike App and used augmented reality (AR) and artificial intelligence (AI) to provide the perfect shoe sizes for users by scanning their feet. Nike has since discontinued the Nike Fit experience.
4. Zalando: They introduced a virtual fitting room for customers. It uses machine learning, computer vision, and other tools to predict the perfect size for their customers. They're still perfecting their virtual fitting room and are launching campaigns to gauge user response and adoption. So far, over 30,000 customers have tried it. According to their Vice President of Size and Fit, "Our goal with these pilot campaigns is to learn and understand how customers engage with this new technology so we can develop a seamless, scalable solution for the future. We can already see that customer engagement with these campaigns increases and, in fact, around half of the customers try more than one size on the avatar..."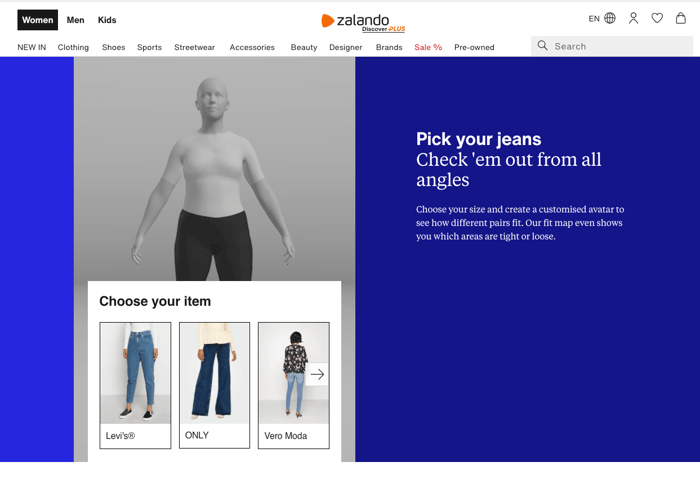 5. Prada: Prada offers customers virtual try-on on their website through augmented reality and computer vision technologies. Their advanced computer vision algorithm measures customers' faces or bodies to ensure the product is accurately positioned on them. Customers can use the feature to test different sunglasses and accessories before purchasing.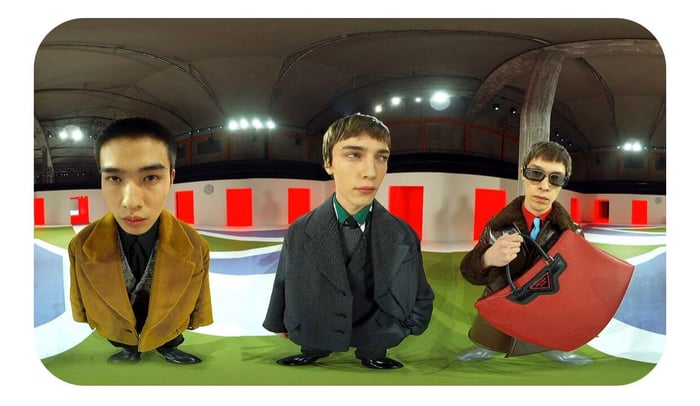 6. Cosmo: Cosmo Group offers virtual application of over 2,500 nail polishes and other products through their Neonail manicure app. Neonail uses augmented reality and machine learning to create a real-life nail salon experience for their customers.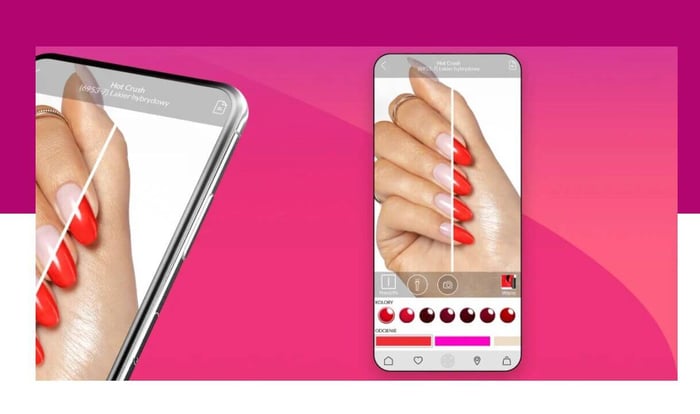 Bonus example
Virtual Dressing Room Concept by Netguru: Netguru presents a virtual dressing room concept for online stores, which allows users to preview their look before purchasing. The solution uses AI to allow customers to customize clothes on specific body types. There are more features like mix-and-match recommendations, uploading their own photo, adding complete stylings to their cart, and sharing their looks on social media. The benefits of implementing this virtual dressing room include reduced returns, improved conversion rates, increased sales volume, and enhanced brand reach.
Conclusion
Virtual try-on technology seeks to revolutionize the online shopping experience by addressing the challenges of poor fit and uncertainty. It improves customer satisfaction, reduces return rates, increases sales and conversions, enhances brand loyalty, and more. With the implementation of virtual try-on in industries like eyewear, makeup, fashion, and accessories, retailers are already reaping the benefits. It will become an indispensable tool for businesses and a source of confidence and convenience for customers in the near future.