Designing and Developing Sococo's Virtual Office Tool From the Ground Up
Enhancing remote collaboration with a visual representation of the workplace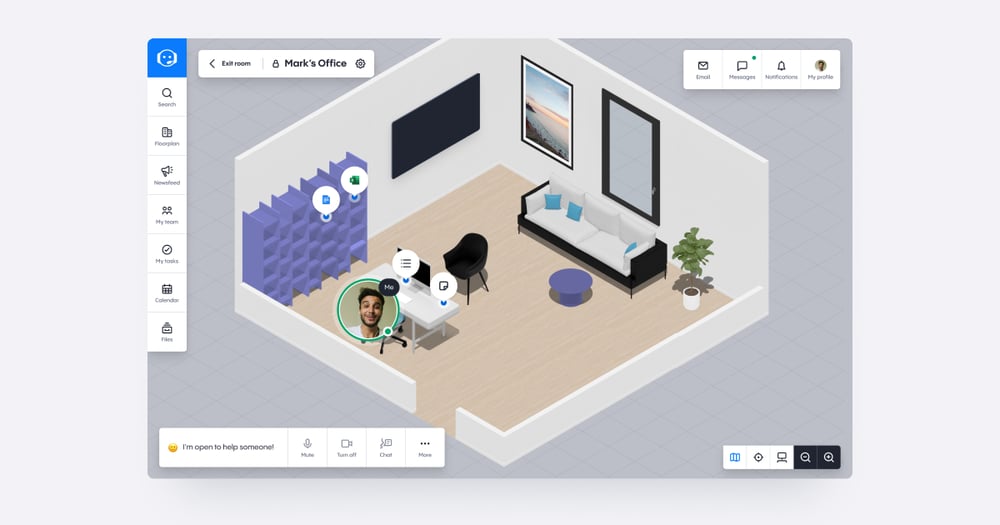 About this project
Sococo is a virtual office platform for remote and hybrid teams. Sococo turned to Netguru to design and build its software from scratch. Thanks to our collaboration, the client now offers a fully-fledged product that helps remote teams work together more efficiently.
Supporting the new era of remote work
As the way we work has undergone a significant change in the past few years, companies are trying to adjust to new ways of doing things: either remotely or in a hybrid model.
Sococo is an immersive virtual workspace built for this new wave of remote and hybrid teams. Leveraging the best characteristics of collaboration tools, video conferencing software, and resource management integrations, users can discover people and content, enjoy enhanced meeting dynamics, and experience serendipitous interactions, all "under one roof."
When this solution was just a concept, its creators paired up with Netguru to turn their idea into reality.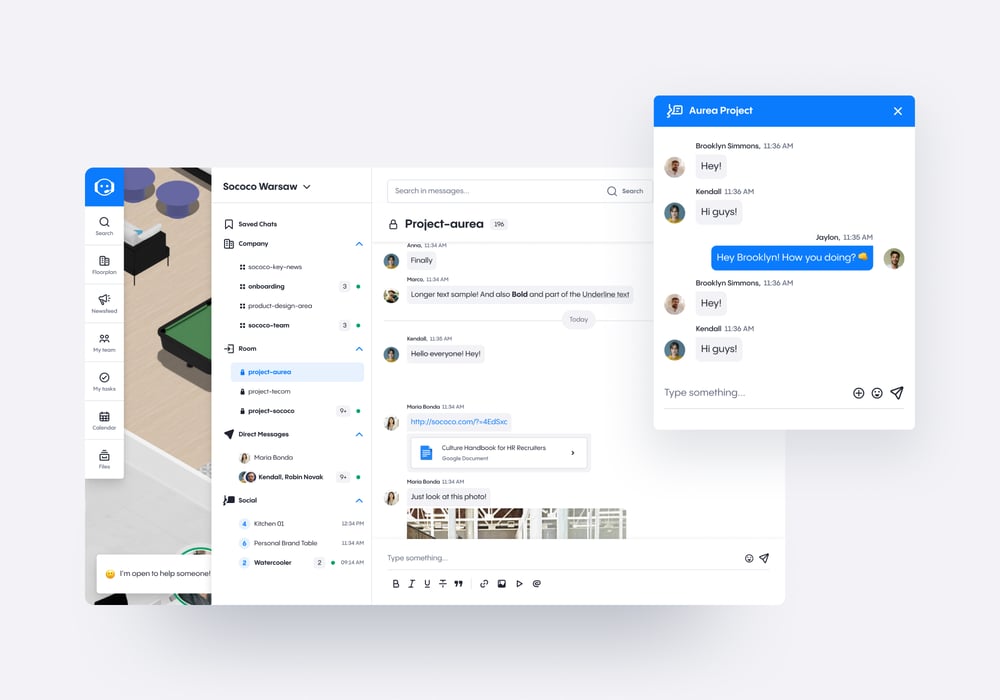 Solving the challenges of managing virtual teams
During initial workshops with the client and based on our research, we identified five key themes for Sococo that guided us through the process of designing the solution:
Virtual office
Rich presence
People and content discovery
Enhanced meeting dynamics
Enterprise administration
Initial desk research and user interviews allowed us to uncover significant problems to solve in the ideation and design phases. We divided them into three groups based on the impact they might have had on the project.
High-impact problems centered around lack of in-person contact and remote workers being separated from office life. Online interactions can also seem more artificial and pre-planned as opposed to the natural and organic nature of interacting in real life.
Medium-impact problems included troubles with work-life balance, transferring organizational culture online, and managers not trusting their remote workers.
Finally, low-impact problems included difficulties managing disjointed teams, employees losing visibility and influence (or a sense thereof) by working remotely, and a lack of best practices when it comes to working remotely.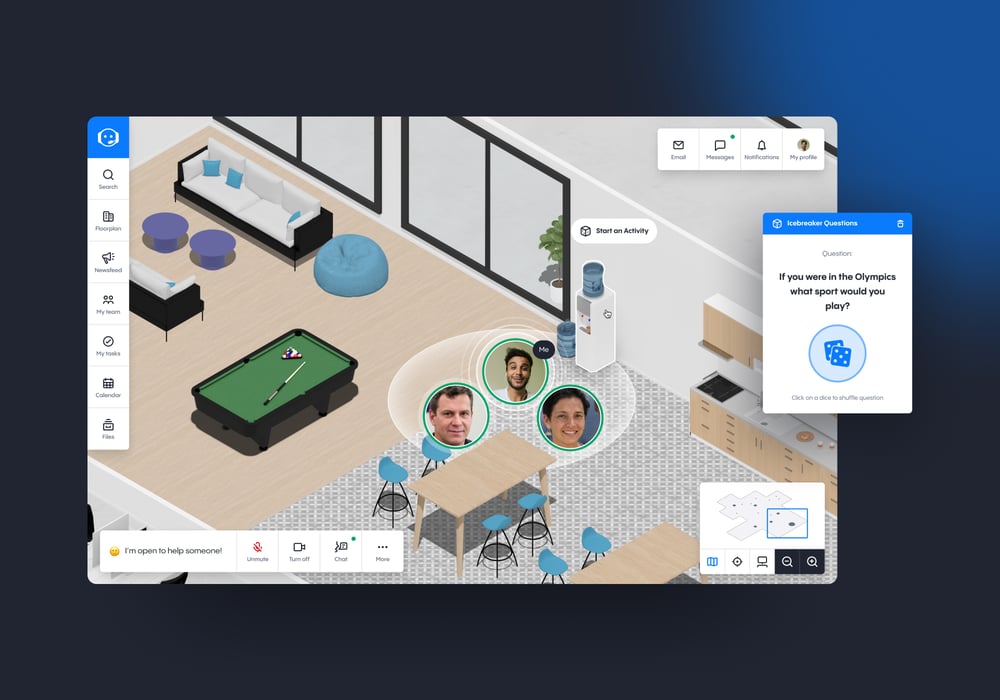 Defining the product vision
Prior to the design phase, we conducted extensive desk research and competitive analysis followed by a two-day workshop to define the problem and start working on the solution.
We then went through the process of creating low-fidelity mockups, prototyping, high-fidelity designs, creating a style guide, and validating the product with user testing.
Bringing the vision to life
To transfer the benefits of the physical office to the virtual world, using expressive avatars and rooms comparable to those in real life was key.
Avatars
Sococo's avatars allow users to express themselves by adding some customization to their profiles — be it their name, nickname, pronouns, availability, or custom status. It only takes one click to start messaging, "poke," say "hi," or just walk next to another avatar. The actions were validated during usability testing sessions, and an additional customization layer was added.
Room types and floors
To further enhance the immersive experience of being in a virtual office, we created five room types fit for a range of purposes: a personal office, breakout room, project room, social room, and corridor to corridor – an interactive space aimed at supporting social interactions. With places to focus, collaborate, connect, or take some time out, employees can experience the benefits of the physical office while working in a remote setting.
As platform scalability was one of the key project goals, we designed rooms and floors to cater to different company sizes: from small teams to companies with 5,000+ employees.
Features
To address the challenge of remote and hybrid team members feeling separated from office life, we paid extra attention to designing solutions that will allow people to connect, interact, and share great moments together through social interactions.
This included features such as:
A messaging screen for internal and external communication
A meetings feature to support spontaneous interactions without a need to schedule meetings
Voice and video calling, screen sharing, and the ability for meeting participants to engage with speakers
A calendar that aggregates meetings from external video conferencing platforms or third-party calendars
A company directory to discover and connect with employees across departments
We also enriched the platform with features to support work-life balance, and spaces and attractions to enable workers to get to know each other in a more informal way.
Wrap up
As more companies embrace flexible ways of working, technology is key to keeping employees engaged and connected. Thanks to our successful collaboration, Sococo will offer a virtual office product that blends the best of both worlds: the benefits that come with an in-person work environment along with the convenience and flexibility of working remotely.