Disruption Insights: Drive Alignment Across Diverse Teams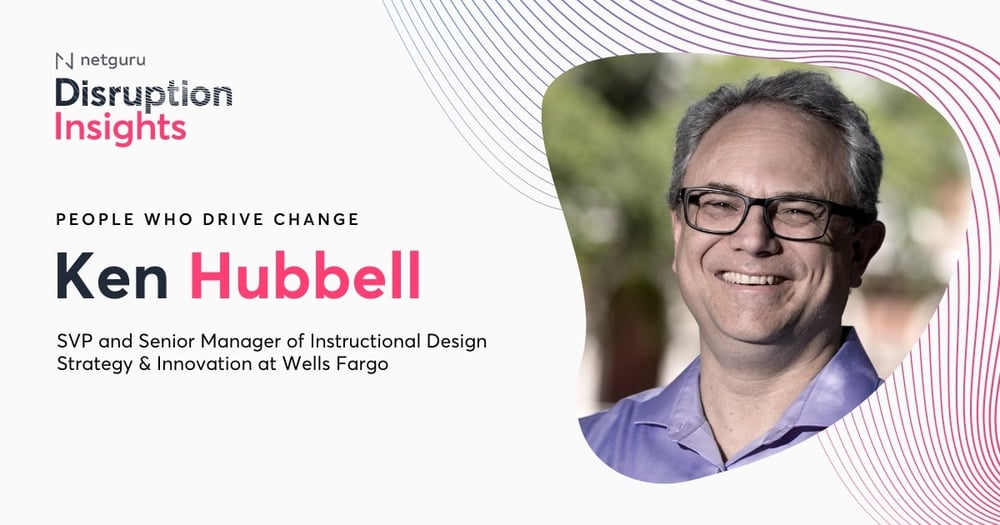 Innovative thinking and curiosity are deeply rooted in Ken Hubbell's professional journey, one that has lasted more than 30 years now.
His career started in interactive video and animation, expanding to serious games and simulations. Over the years, Ken was an instrumental visionary for the development of 3D authoring tools for Adobe Shockwave 3D and helped transform the world of immersive training programs on the World Wide Web.
Ken's experience spans creating award-winning solutions and leading the transformation of learning programs for organizations like NASA, the United Nations, the Federal Aviation Administration (the largest transportation agency of the U.S. government), and Caterpillar (the world's leading manufacturer of construction and mining equipment).
Currently, as the Senior Vice President of Instructional Design Strategy & Innovation for Wells Fargo Bank, Ken leads a team of 60 specialists and innovation experts. He's responsible for leading the edtech strategy for their learning and development programs that impact over 270,000 employees.
In the Disruption Insights series, we discover inspirations and insights from global innovators who shape how we live and do things today. True innovation doesn't happen as an overnight breakthrough — it's an ongoing process of constant trial and error done by teams and organizations who strive to solve real human problems. Ken Hubbell is one of the people who push those ideas forward, making things possible.
💼 Corporate innovation
How do you choose one idea out of one hundred?
When working with ideas for innovative projects, I divide them into three groups. There are ideas I want to turn into reality, there are those I have to explore, and there are those that are great ideas but for one reason or another, they are not ready to be pursued. My role is to help the team and our stakeholders differentiate between the three. This is often impacted by dependencies between innovations. You can't run until you learn how to stand.
How do you convince decision-makers to back innovative ideas?
It's not about convincing them, it's about letting them convince themselves. In other words, it's about helping them determine what they are actually trying to solve or accomplish and then guiding them to the innovation best suited to deliver the desired results.
In some cases, it's simply looking at how to apply an existing solution in a new way. At other times, it involves some inventing or research and development. And sometimes it's recognizing that the situation doesn't require innovating at all.
One thing you'd change about your work
I wish I had more ways to directly communicate with decision-makers to avoid internal politics.
💪🏼 Innovation mindset
One personality trait that helps you at your daily job
A desire to help others cooperate more efficiently and achieve alignment which enables them to maximize their potential and find the right solutions.
What drives you at work?
Personal passion combined with an understanding of the needs of the business. I also enjoy discussing the future in terms of what could and should be, and not what it can't be.
Your dream profession when you were 20
I wanted to be a 3D computer animator for Industrial Light & Magic. I still have my rejection letter, handwritten, with notes on how I could address my skill gaps. You don't see that anymore.
The biggest milestone in your career path
Having faith in my abilities to "fake it till I make it" in the up-and-coming field of multimedia. I trusted my instincts in knowing I could learn what I needed to know as I went along because I had raw foundational knowledge and skills in related fields that I could bring to bear. I took a job with a small startup, leaving the comfort of a stable company, and the rest is history.
The biggest accomplishment in your career path
Creating some of the first real-time 3D simulators on the web. As a result, I got the opportunity to stand on the launch tower about 15 feet from a NASA space shuttle. This took place before 9/11, during a trip to Kennedy Space Center where I taught rocket scientists how to use our 3D technology to create payload simulations.
💡 Inspiration corner
Biggest source of daily inspiration
In the rapidly changing field I am in, innovation is required to stay ahead for our employees and customers. I read constantly, I experiment on a regular basis, and I look for opportunities to make a difference in what, why, and how we can operate more efficiently and effectively.
Books that inspire you
"Ender's Game" by Orson Scott Card
"The Last Lecture" by Randy Pausch and Jeffrey Zaslow
"No Rules Rules: Netflix and the Culture of Reinvention" by Reed Hastings and Erin Meyer
"The World Peace Game" by John Hunter
"The Illusion of Life: Disney Animation" by Ollie Johnston and Frank Thomas
Blogs and magazines you follow
Animation Magazine
MagPi magazine
International Journal of Artificial Intelligence in Education
Scientific American
Bon Appétit
Podcasts you listen to
ifyouaskbetty.com
StraightTalk.Live
Edufuturists Podcast
Trends & Issues in Instructional Design, Educational Technology, and Learning Sciences
The Hidden Brain
Movies that inspire you
"Swiss Family Robinson"
"Who Framed Roger Rabbit"
"Indiana Jones" series
"Jurassic Park" series
"Family Man"
Want to be a part of the Disruption Insights series? Shoot us an email at: paulina.burzawa@netguru.com
---
Discover insights from other inspiring innovation leaders: