Everyday Innovation #6 – Look for Inspiration Outside Your Industry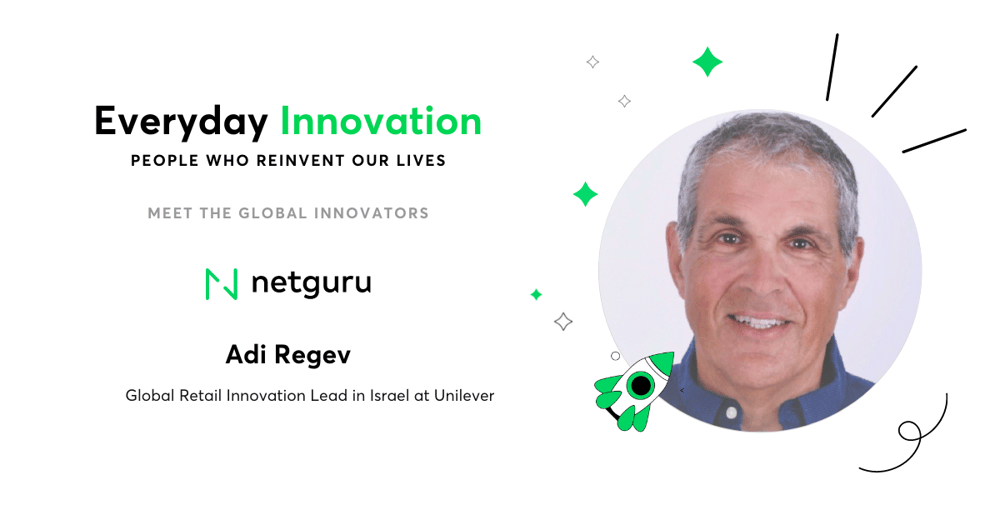 Meet Adi Regev, Global Retail Innovation Lead in Israel at Unilever. In this episode of the Everyday Innovation miniseries, Adi shares what's behind his success in driving change and delivering innovative solutions that are widely adopted and bring benefits to consumers.
While working in leading consumer goods organizations for almost 30 years, Adi developed unique approaches and an authentic, hands-on leadership style. This vast experience helps him lead teams and organizations to profit and growth.
He believes that innovation should be fueled by constant learning, looking for inspiration in other industries, and focusing on the next possible innovation. He calls it "staying beyond the curve."
In the Everyday Innovation miniseries, we discover inspirations and insights from global innovators who shape how we live and do things today. True innovation doesn't happen as an overnight breakthrough — it's an ongoing process of constant trial and error done by teams and organizations who strive to solve real human problems. Adi Regev is one of the people who push those ideas forward, making things possible.
Corporate innovation
🤔 How do you choose one idea out of one hundred?
To decide which ideas to invest time and resources in, I always split them into three different levels of innovation: breakthrough innovation, incremental innovation, and variant innovation. For me, variant innovation is an improvement of an existing innovative product or service which consumers are looking for at the moment and it answers their current needs.
Improvements in existing products should lead to the development of incremental innovation, which means introducing the next generation of an existing solution.
Breakthrough innovation should result in creating products that haven't existed before and are entirely new for consumers and the market. The development horizon for breakthrough innovation is much longer compared to variant or incremental innovation.
After dividing the portfolio into these three levels, I also place ideas on the following matrix: existing users, new users, existing benefits, new benefits. It helps me understand which users will take advantage of the innovative idea and whether it offers additional value to them.
Then, if I had to choose one idea, I would select it from one of these categories depending on the current goals and expected outcomes. In our usual process, I would split resources between all categories to make sure that we cover each of them.
💬 How do you convince decision-makers to back innovative ideas?
My team has to prove the relevance of the innovation they want to pursue. It must be an idea that will solve a problem. Then, depending on the horizon of innovation, whether it's a short-term or long-term project, they have to calculate and adjust ROI. It's easy in the case of variant and incremental innovation where factors are known. If they have an idea for breakthrough innovation, they also need to have a vision and present examples of such innovation from other industries.
But again, the relevancy and proving that innovation will solve a problem are the most important here.
💼 One thing you'd change about your work
I'd like to spend more time on opening my horizons, learning more, looking for patterns and best practices, especially in other industries. I believe the DNA of innovative processes is similar, no matter what industry we're looking at. That's why, with the right adjustments, you can implement innovative ideas from other sectors into your domain. You have to learn from everybody.
Innovation mindset
💁🏼 One personality trait that helps you at your daily job
It's not about any personality trait, but my ability to think on both the high level and low level, look for high-level inspiration, and also pay attention to details. It's easy for me to switch between these two and not get stuck too high or too low.
💪🏼 What drives you at work?
The possibility to create new, relevant things. For me, a relevant product or service is one that is widely adopted and used by consumers. This is when I know that innovation is relevant.
💭 Your dream profession when you were 20
At the age of 20 I was still in the army, but when I finished my duty I wanted to work in the creative industry, in an advertising agency. Then I realized that I am better at product innovation than in communication.
🧗🏻‍♀️ The biggest milestone in your career path
Working abroad in Europe was something that broadened my horizons. I experienced European diversity and its stimulating environments. This was my most influencing job in the area of innovation, and it gave me almost endless opportunities and endless capabilities to work on developing innovative solutions.
🏅 The biggest accomplishment in your career path
It's definitely building diverse, innovative winning teams. By winning teams, I mean groups of people who at the beginning of their journey don't understand what they do together because they are so different, but in the middle of the journey become a coherent unit, solving problems and challenges together.
Inspiration corner
💡 Biggest source of daily inspiration
My strength is what I call "being beyond the curve", "beyond the horizon." To get inspired, I try to look beyond what exists now and think about what will be the next development, what will be the next change. In this context, I'm not referring to breakthrough innovation, but rather what will be the next, closest next development. That's why I also look for inspiration in other industries because this next thing may already be there in a different form and I can adjust it to my own industry.
📚 Books that inspire you
"Blue Ocean Red Ocean" by W. Chan Kim and ‎Renée Mauborgne‎
🗞 Blogs and magazines you follow
Blogs about the retail industry, retail innovation, foodtech
Magazines about foodtech, retailtech, edtech, HRtech
🎬 Movies that inspire you
"Minority Report"
"Star Wars" — all series
"Looper"
Want to be a part of the Everyday Innovation series? Shoot me an email at dominika.blaszak@netguru.com
---
Discover insights from other inspiring innovation leaders: