Disruption Insights: The Way Financial Institutions Approach Innovation Has Changed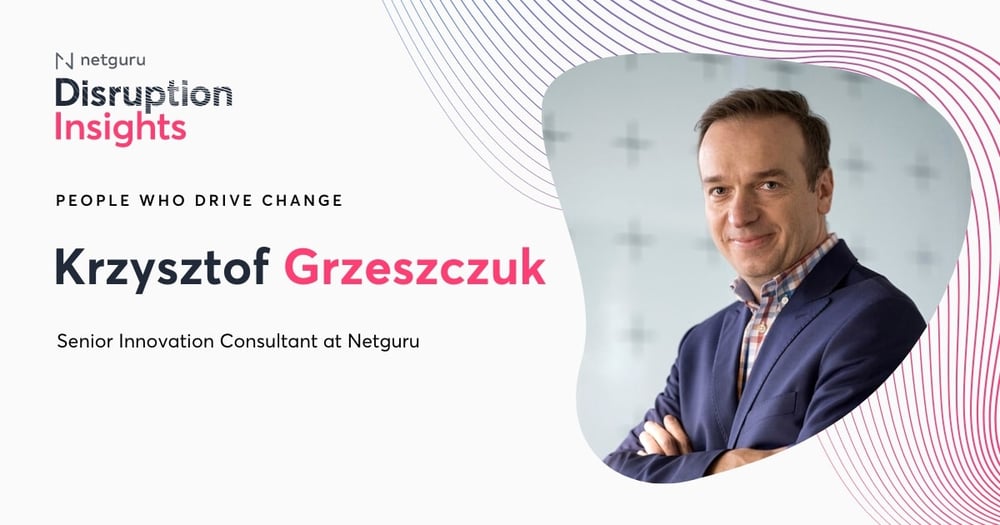 In this episode of Disruption Insights, we meet with Krzysztof Grzeszczuk, Senior Innovation Consultant at Netguru, to talk about the current state of affairs in the financial sector.
We also discuss some bets about the upcoming trends in the industry.
Our guest is an extremely experienced finance professional. He spent more than 18 years at Citibank, where, among other roles, he managed digital products and explored digital innovation. Krzysztof also held the position of Open Banking Director at the Polish financial institution Alior Bank, managing a bank-wide implementation of their API platform and building PSD2-compliant API services. Today, you can learn from his incredible experience.
What technologies or solutions are really trending in fintech? Can we expect exponential growth in any fintech areas (like regtech or insurtech)? What role will regulators play in the expansion of financial startups? In the Disruption Insights series, we gather insights and opinions from industry experts to answer the most pressing questions and foresee the future fintech landscape.
💡Trends in Fintech
Technologies disrupting the industry right now
Cloud computing is and will continue to be a game changer for the banking industry. This technology will not only decrease the processing and maintenance costs, and offer better resilience to outages and disruptions, but also bring new business opportunities to companies in the sector.
Combining data from multiple sources of siloed infrastructure will leverage the power of data analytics and pave the way for the creation of innovative products and services.
Flexibility, scalability, and lower cost will facilitate quicker iterations and shorten the time to market.
While I remain skeptical of AI in the context of chatbots and voice banking, it is a powerful tool in combating fraud, especially when combined with human expertise. There are many use cases available, including the possibility to lead investigations, find patterns based on previous learnings, confront them with rules and regulations, and make recommendations to experts.
Advanced solutions will become even better at detecting fraud and money laundering, which will increase the security for end users, significantly reduce the losses, and, hopefully, vastly reduce criminal activity.
Most impactful solutions in fintech
We will continue to see banks investments in their BaaS platforms, either self-developed or acquired from third parties.
PSD2 regulations have changed the paradigm. The once closed and sealed banking infrastructure was transformed to handle easy and secure external integrations without affecting internal system performance. The growing demand from non-banking players to embed financial services into their core offering is opening up new revenue streams for banks. When executed well, a BaaS strategy will drive a significant increase in transaction volumes and lower the cost of new customer acquisition by "outsourcing" this to third-party apps.
Wealthtech will be on the rise.
Despite the recent turmoil on the markets and with cryptocurrencies, we will see continued interest in providing easy-to-use and smart crypto solutions for broad audiences. The democratization of such services results in interfaces and tone of voice that was not associated with investments in the past.
The challenge will be to keep the right balance between creating an engaging experience and making sure the users are aware of the risks and understand what they sign up for.
We can also expect a little revolution in the payments sector. The number of various payment methods is constantly increasing. I use different forms of payment depending on the service and the level of trust I have in its provider.
We may expect some methods to be replaced by others, as in the long term it will make little sense to maintain dozens of payment forms. The customers will decide, and the most convenient yet secure forms of payment will prevail.
There's also one area of the financial sector that's often overlooked. The number of ways to pay, to invest, or to save is increasing. And with more technically sophisticated financial products, it is easy to get lost in the offering and harder to make educated decisions. Trusted advisors, who are on a mission to help the customer make the best decisions, will be increasingly in demand.
This may not necessarily be a human, but often digital assistance, powered by AI and machine learning, that will help with the basic and more complex aspects of managing money.
💸 Fintech now and then
VC investment in fintech
The investments in fintech have decreased significantly in 2022. There were many reasons for this, one of them being a reality check for the real value of fintechs and going back to the roots when it comes to how such investments are evaluated.
The investments will continue, but the VCs will be more careful in choosing their bets.
I expect significant investments in tech or acquisitions made by large financial institutions, which may shift the balance. The greentech and other ESG-related tech companies will become the new VC favorites.
Evolution of corporate innovation
The majority of large financial institutions have changed the way they approach innovation and product design. While labs and R&D units were run only by the most forward-thinking banks in the past, they have now become a standard element of the organizational structure.
How well they are utilized and embedded into the processes is another story. There are markets where there is more innovation coming from the traditional players than the fintech scene, which proves how well they have reacted to the market demand. Corporations are now more open and more willing to take risks in launching new solutions that push the boundaries of what a banking product is.
🌱 Sustainable fintech
Definition of sustainability in fintech
We need to look at the whole picture of actions around sustainability. What is a company delivering advice on sustainable lifestyle or offering carbon footprint calculators worth, if they are not practicing what they preach?
In large organizations, change may require more time and more effort due to the complexity of processes, scale, and dependency on long-term contracts. Which does not mean it should not be on top of the priorities list. Fintechs that have more flexibility in choosing where and with whom they play and are by definition more agile than large companies have no excuses and must quickly enter the sustainability path.
Way to more sustainable financial services
Most companies need external help to become more sustainable, especially in the early stages, where there is little to refer to, no best practices, no in-house expertise, and often different visions as for what should be done. Sometimes, it is hard to discover elements that could be changed without that external view and independence from internal business relations and the daily activities.
An external partner, when cooperating with a company, is able to question things which are often treated as defaults, which have become so common that nobody even stops to think why they are done this way. Additionally, the experience from projects done for other companies, often for other industries, gives a different perspective and helps external experts to come up with better solutions to the challenges.
Want to be a part of the Disruption Insights: Fintech? Shoot me an email at: paulina.burzawa@netguru.com
---
Learn from other fintech experts: