Netguru's Take on... Innovation Consulting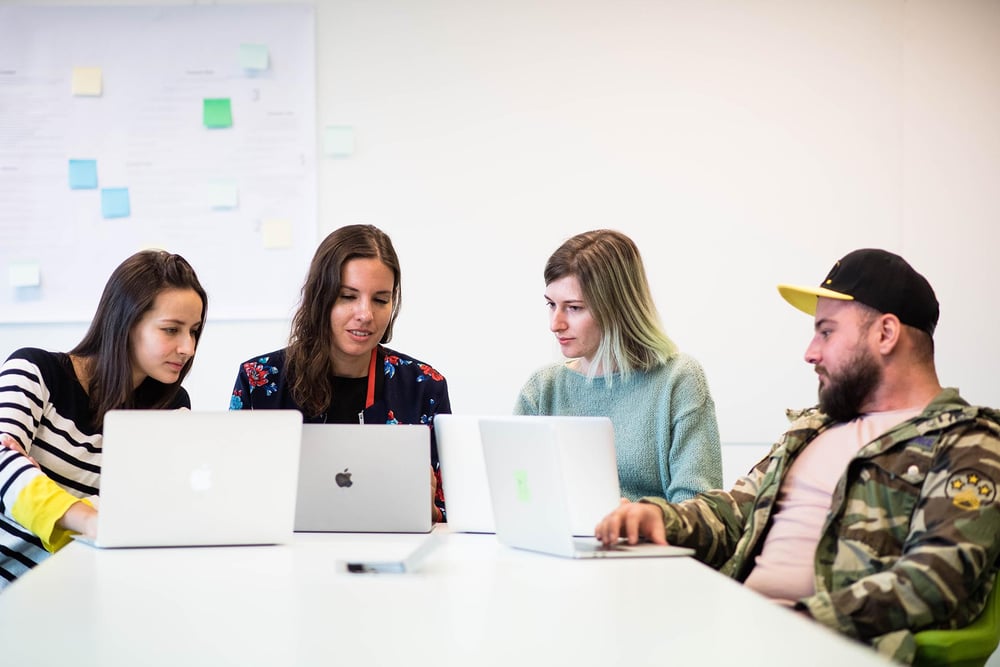 Nowadays, it is very easy for a company to start building innovative solutions. At the same time, it has become much harder to finish any of them successfully.

Digital technology is cheaper and more available than ever, digital transformation is becoming a norm, and customers are ready to embrace the next big thing. All this seems to be a part of a problem. Interview with Paweł Jarmołkowicz, Netguru's Consulting Director.

"Netguru's take on…" is a series explaining how Netguru approaches important subjects that are often overhyped or misunderstood within the industry such as sustainability, digital transformation, or strategy. We break them down to shift the discussion from abstract concepts to tangible actions that influence our everyday work. This article lays out our take on innovation consulting.
The struggle of innovation trailblazers
According to Paweł Jarmołkowicz, Netguru's Consulting Director, "as entry barriers are becoming smaller and more companies jump on the innovation bandwagon, the crowded competition ensues, speed becomes a crucial factor, and the complexity of managing an innovation portfolio grows. Many companies are not used to such pace of work and focus on the technical aspects, overlooking the human and organizational ones".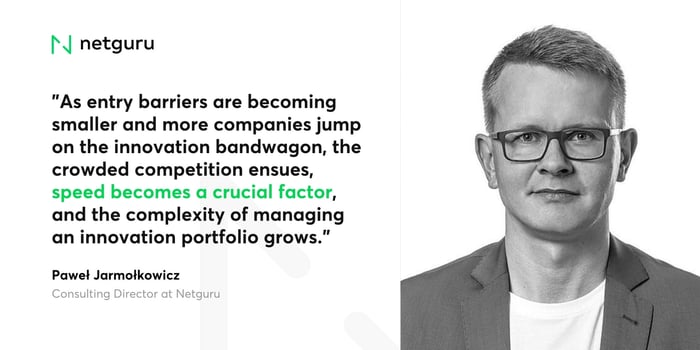 Non-technical challenges for digital disruptions
People's needs, fears, and doubts should be addressed with just as much attention as technical requirements.
"Many organizations simply announce Agile roles and practices, counting on successful delivery to follow. What they are missing is a change management process that should accompany every innovative endeavor. Without it, people will disengage and the breakthrough idea will not get enough traction to, well, break through," says Paweł.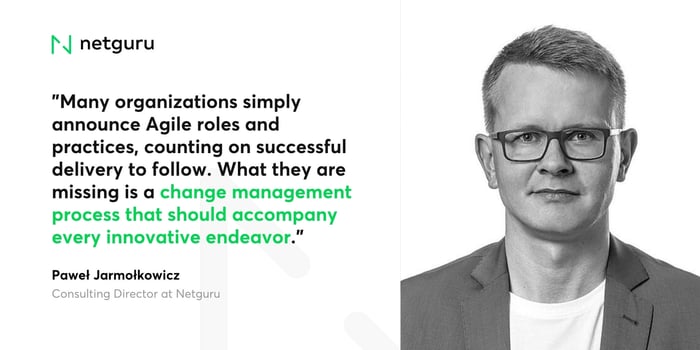 Good change management prepares the organization for embracing new solutions and ensures that business continuity is maintained during and after the disrupting of the impacted business processes.
The second important factor is overcoming the complexity of managing an innovation portfolio. Paweł explains that "tracking business value across innovation projects is crucial and requires a regular evaluation of the outcomes throughout a product's life cycle. Without the right methods, companies often blindly follow the initial plan, instead of pivoting or even stopping the project. As a result, they misuse resources to deliver solutions that no one really uses."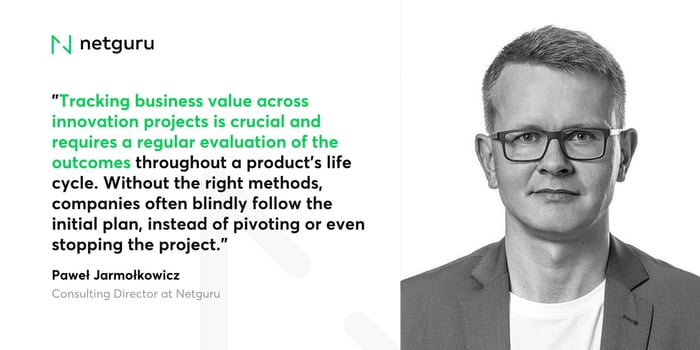 Enter the innovation management
There is a naive belief that innovation should not be constrained by any managerial processes because it will block people's creativity and passion. Paweł disagrees. "There is no company in the world that has unlimited resources. Even the Googles and Amazons of the world need to prioritize and evaluate their initiatives to make sure they will see a return on investment and remain competitive".
Too much administrative overhead might suffocate creative efforts for sure, but some level of managerial supervision is necessary to build an effective innovation pipeline.
"It's all about finding the right balance between freedom to experiment and accountability for the results of those experiments. There needs to be a way to inspect, provide constructive feedback, and make decisions about the further progress of innovation projects," explains Paweł .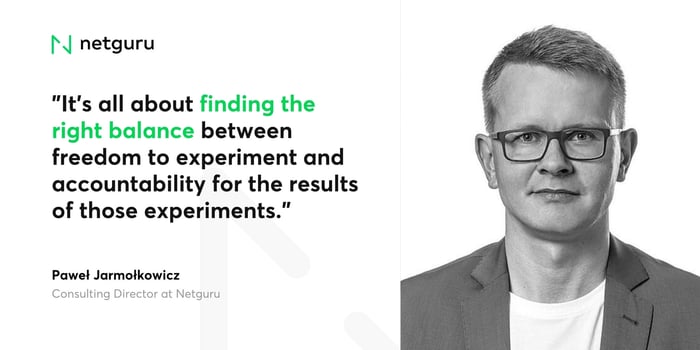 The innovation management practices help companies to effectively source ideas, prioritize the most promising projects to launch within the available budget, and evaluate their progress to optimize the ROI of the portfolio. According to Paweł, "it should not be a rigid framework that constrains innovators, as many may think. On the contrary, good innovation management enables the flexibility necessary to make informed decisions about where to allocate time and resources to succeed".
End-to-end innovation consulting
Managing the innovation pipeline requires significant resources and keeping up with the pace of digital transformation across industries. Even companies that can afford this investment benefit from having a partner with a fresh perspective, different experiences, and compatible skills that help them to discover and take new opportunities. "Unfortunately, many innovation consultants stop at a PowerPoint displaying Business Model Canvas. At Netguru, we support our clients all along the digital innovation journey," says Paweł .
Netguru Innovation Journey starts with an opportunity or a problem and ends with a product that people want to use. Whatever step a company is at, Netguru can jump in to provide support and expertise to increase the chances of solution delivery.
Strategy and Culture of Innovation
"We help to assess and shape the innovation culture that unlocks the true potential of employees. We advise organizations on how to think strategically about innovation to harness the energy of engaged teams and make the most of their ideas"
"Being deeply rooted in the startup ecosystem helps Netguru in sourcing breakthrough ideas and cutting-edge technologies. Additionally, having experience in different industries enables us to cross-pollinate surprising but effective solutions."
"It's all about assessing potential business value and feasibility of making it happen. We can achieve it by organizing a hackathon, running a Product Design Sprint, or conducting customer development."
"We have a broad design and technical expertise coming from the experience of over 600 completed projects. We use agile methods and practices to quickly and iteratively deliver working solutions."
"Knowing when to increase the amount of resources and when to pull the plug is crucial for a portfolio's overall success. We help to create and monitor Key Performance Indicators for tracking projects' business value, and then use prioritization frameworks to keep the most promising ones flourish"
"As soon as an idea is validated, we start working on how to effectively communicate its value proposition and ensure adoption, both internally and externally. Change management makes the transition from legacy solutions smooth and effective."
"Work doesn't end with shipping the product – making people use it is the final goal. We offer Growth as a Service support to effectively reach potential customers and convenience them to try out our innovative solution."
The art of finishing
It's easy to start an innovation journey. Many executives read Gartner reports, pick a handful of latest buzzwords, and jump into software development. The harsh reality is that it takes much more than this: organization design, strategic thinking, expertise in domains beyond technology, and experience in effective innovation management. It's difficult to grow all those capabilities internally.
That's why only a few will see their ideas delivered and succeeding in the market.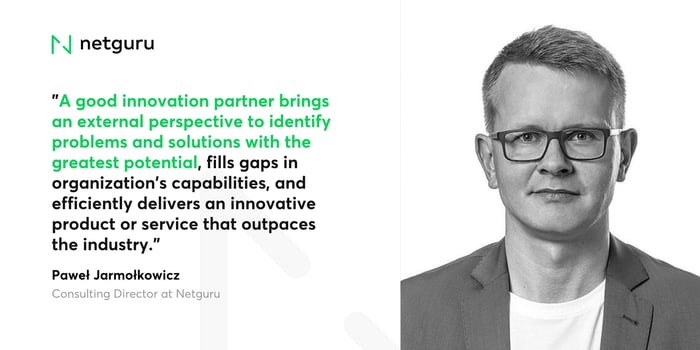 Collaboration with an innovation consultancy can get companies up to speed quickly without jeopardizing their regular business. It enables them to get the most out of the organization's knowledge and use proven tactics to develop their innovative idea into a successful product. Paweł concludes that "a good innovation partner brings an external perspective to identify problems and solutions with the greatest potential, fills gaps in organization's capabilities, and efficiently delivers an innovative product or service that outpaces the industry."
More posts by this author